As the astounding winding Western ghat roads take you up to the curious hill station of Kodaikanal, you immediately get revitalizing smell of pine trees. It is no big surprise that the name Kodaikanal actually means 'Gift of the forest'. Swamped by foggy mountains and seemingly unlimited stretches of forests and wildflowers, Kodaikanal spreads a warming peacefulness. Regardless of the crowd and honeymooners that keep on coming here, Kodaikanal never fails to make an impression. From the sunrise and sunsets to secret trekking trails to exotic cheeses and chocolates, at Kodaikanal, there's something for everybody. So here's our list of some the must-visit spots and activities that are certain to make your excursion to Kodaikanal really remarkable.
Best time to visit Kodaikanal
You can visit Kodaikanal at any time of the year, yet the perfect time to visit is in the winter (October to March). This is the time when the climate is the best. The monsoon ( July to September) and summer months ( April to June ) additionally make for a decent Kodaikanal trip.
We have listed some popular and off-beat places you must visit in Kodaikanal: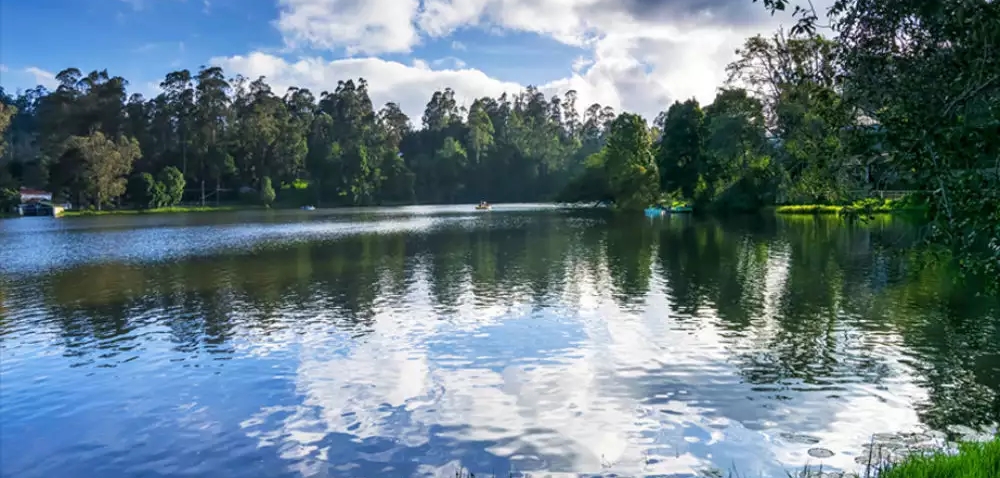 Image Source
Your Kodaikanal visit is incomplete without visiting this quiet lake. Go for a boat ride in the lake in the evening, and a languorous stroll along the lake or you can even rent a bicycle; this lake is certainly Kodaikanal's most popular tourist spot. This lake is without a doubt the most well-known picnic spot in Kodaikanal – so get your picnic supplies.
Timings: 06.00AM to 05.00PM
Driving directions to Kodaikanal Lake
Green Valley View (Suicide Point)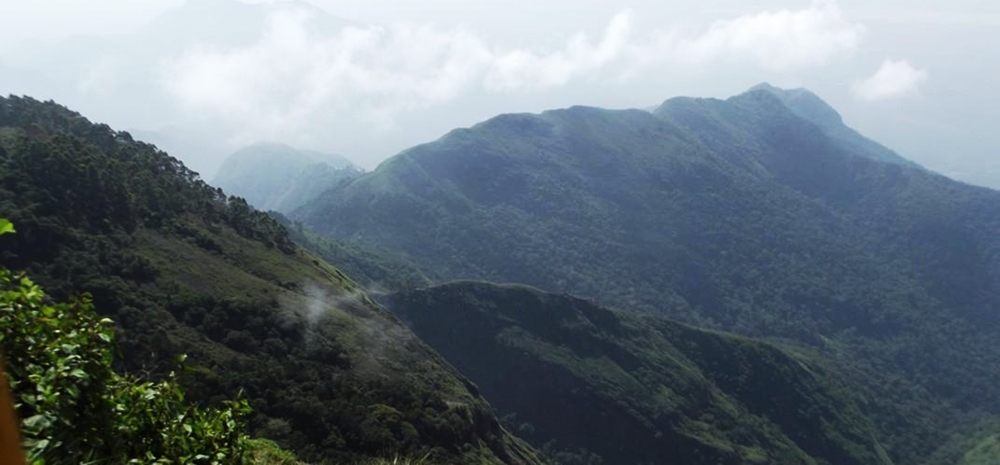 Image Source
Also known as Suicide Point, the Green Valley View offers a stunning vista of the fields, deep valleys, and hills. The spellbound vista on the Vaigai Dam is an exceptional experience. It used to be known as suicide point in view of the dangerous valley which is deep and dense; it is about 5000 feet drop.
Timing: 07.00AM to 06.00PM
Driving directions to Green Valley View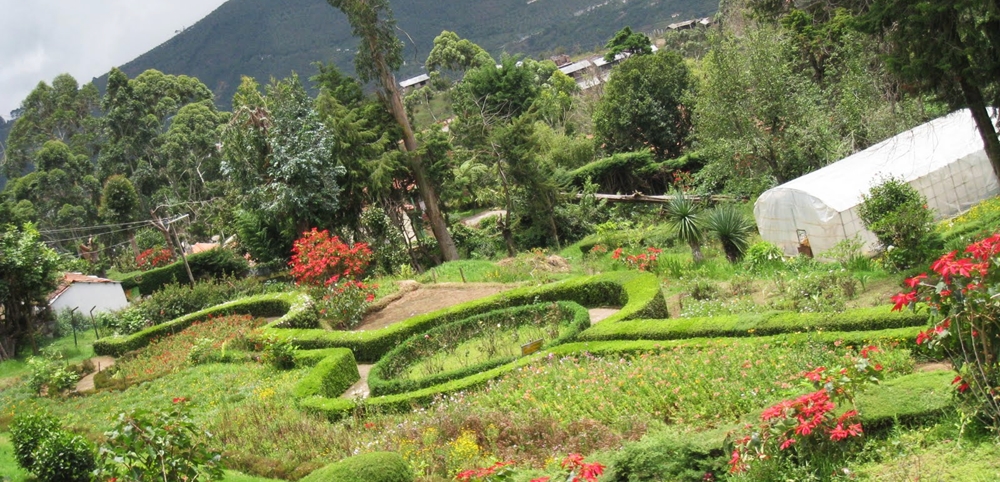 Image Source
Chettiar Park is a standout amongst the most prominent Kodaikanal tourist attraction pulling in a huge number of people every year. This well-maintained park is elegantly arranged with an intriguing assortment of the blooms. The highlight of this park is the purple Kurinji blooms that bloom once in 12 years!
Timings: 9:00 AM – 5:00 PM
Driving directions to Chettiyar Park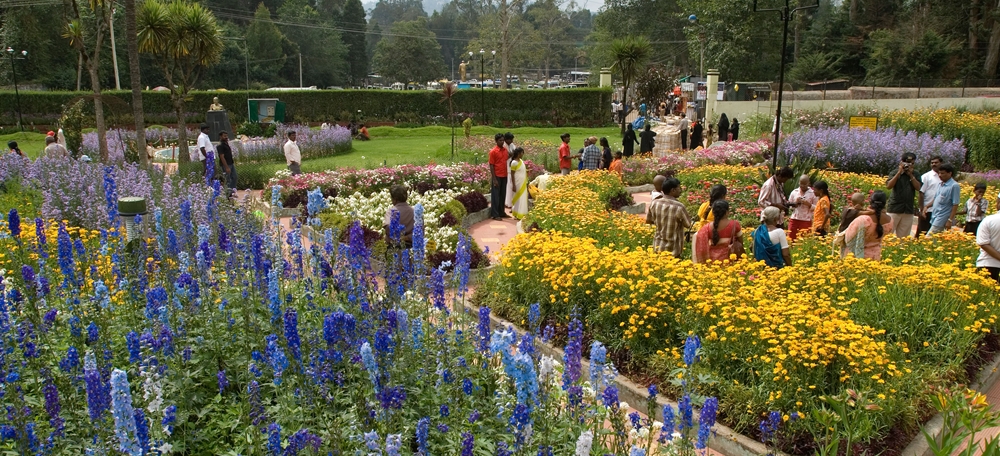 Pic Courtesy: Yatra
Bryant Park is must visit place for nature and flower enthusiasts. Get wondered by more than 325 types of blooms, trees and plants, and a surprising 740 types of roses that grow in this park. On account of the yearly flower and horticulture shows, this park turns into a hotspot for visitors during summers.
Timings: 09.00AM to 06.00PM
Driving directions to Bryant Park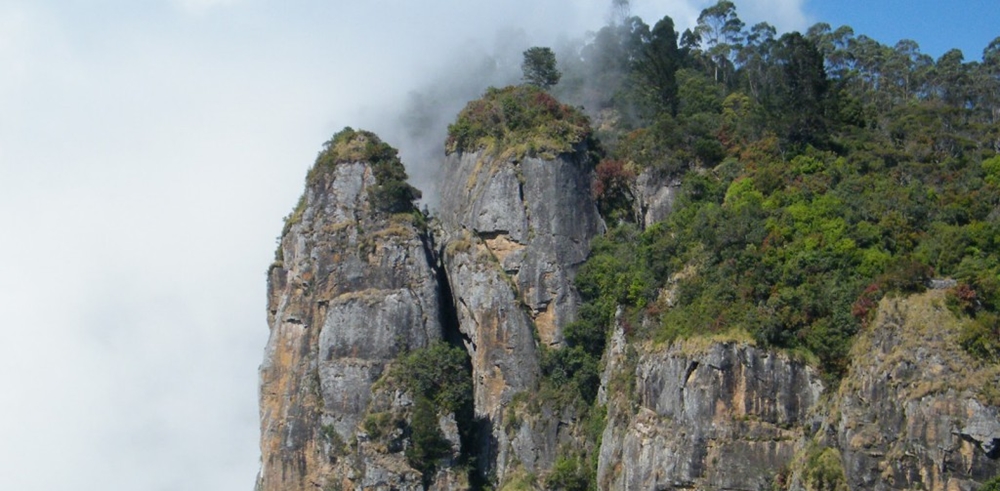 Image Source
Get your trekking shoes and hike up the highly praised Pillar Rocks, a group of three enormous granite rocks. A short and marginally unsafe uphill walk will take you the highest point of the stones from where you can witness the best vista of the verdant mountains encompassing Kodaikanal.
Timing: 9am–4:30pm
Driving directions to Pillar Rocks
Sheep Farm in Poomabari Village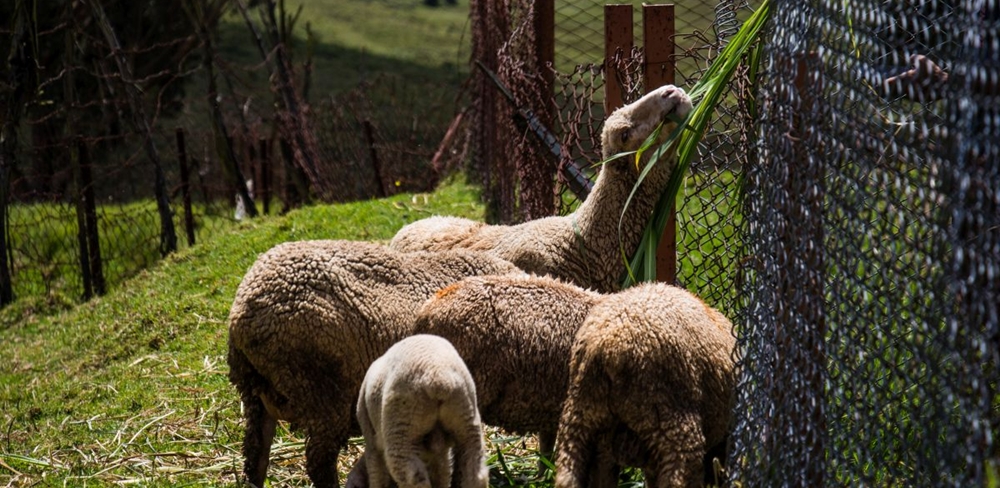 Image Source
Spend time with adorable little sheep at a sheep farm in the perfect Poombarai village. Foggy mountains cloaked in shades of plush green and spotted with white sheep grazing along make a picturesque setting. A stroll around Poombarai offers a wonderful look into the simple farm life of hill village close to Kodaikanal.
Timing: 9 am–6 pm
Driving directions to Sheep Farm
Mannavanoor Village & Lake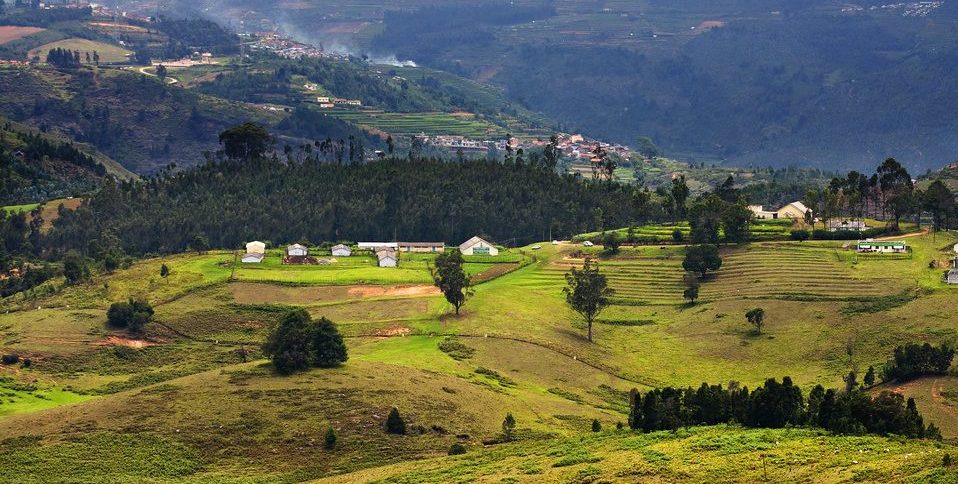 Mannavanur is a farming village of 1500 odd households in Mannavanor Panchayat. It is a beautiful village, 35 km from Kodaikanal main town. There are a  sheep farm, rabbit farm and the lake. The lake & surrounding grassland are scenic and incredibly beautiful.
Driving directions to Mannavanoor Lake
Mannvanoor Village is one the place in Kodaikanal where you can find (during monsoon season) the Magic Mushrooms.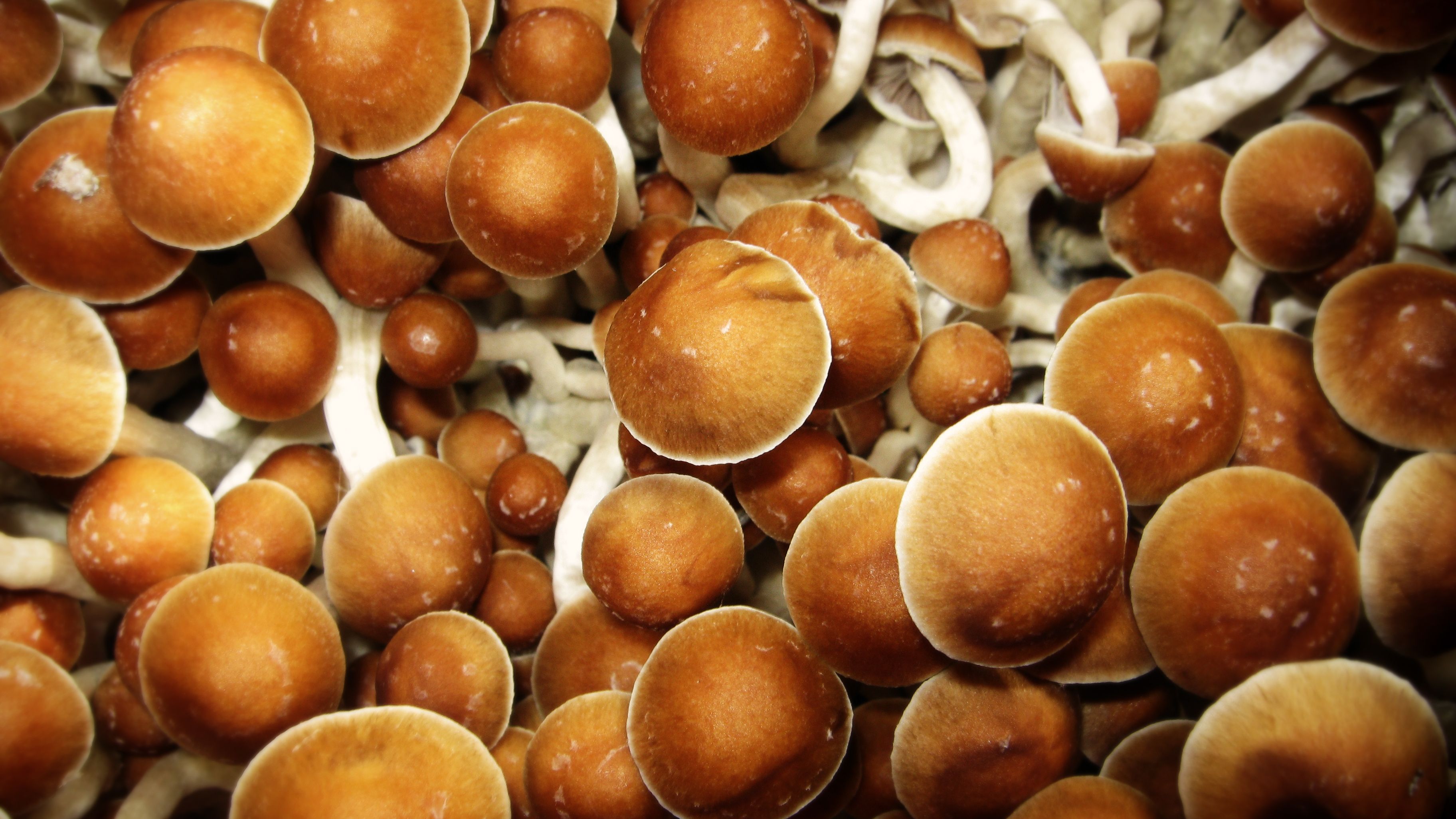 The magic mushrooms of Kodaikanal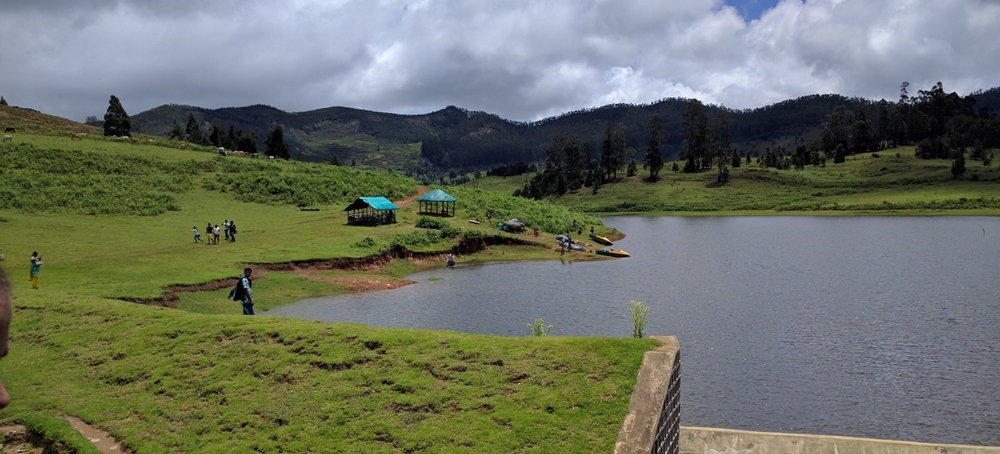 Image Source
Bejiram Lake is a perfect lake in the midst of thick Shola forest in Kodaikanal outskirts. An enchanting drive through the thick reserved forest will take you to this perfect lake. In the mornings, buffaloes, deer, and countless birds are spotted around this lake, making it ideal for photography.
Timing: 09.00AM to 03.00PM
Driving directions to Bejiram Lake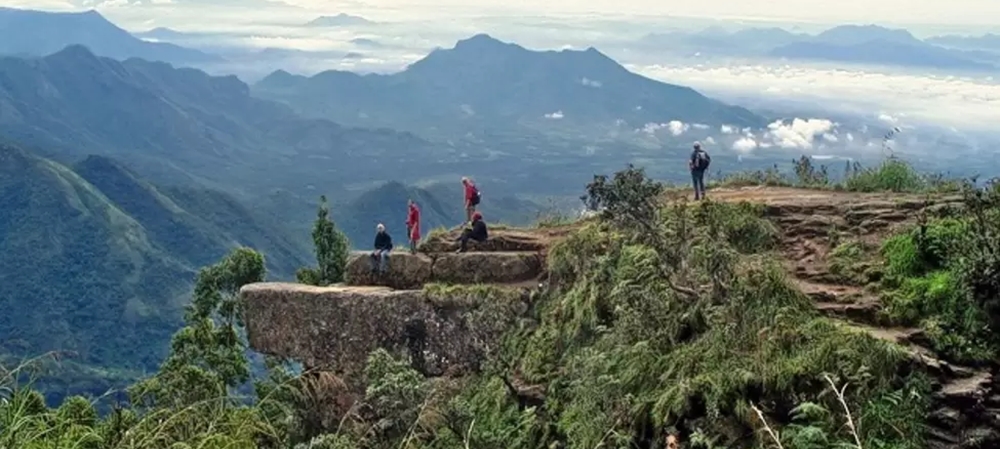 Pic Courtesy: Thrillophilia
Trek up the curvy trail to Dolphin's Nose for a bird's eye view of picturesque mountains, farmlands, and valleys. Dolphin's Nose is a flat rock that looks like a dolphin's nose projecting out of the edge of a mountain sitting above a cliff. With natural stairways shaped by tree roots and a thin trail fixed with tall pine trees, the trek up to Dolphin's Nose is as beautiful as the view from the highest point of the hill.
Timing: 6:00 AM to 5:30 PM
Driving directions to Dolphin's Nose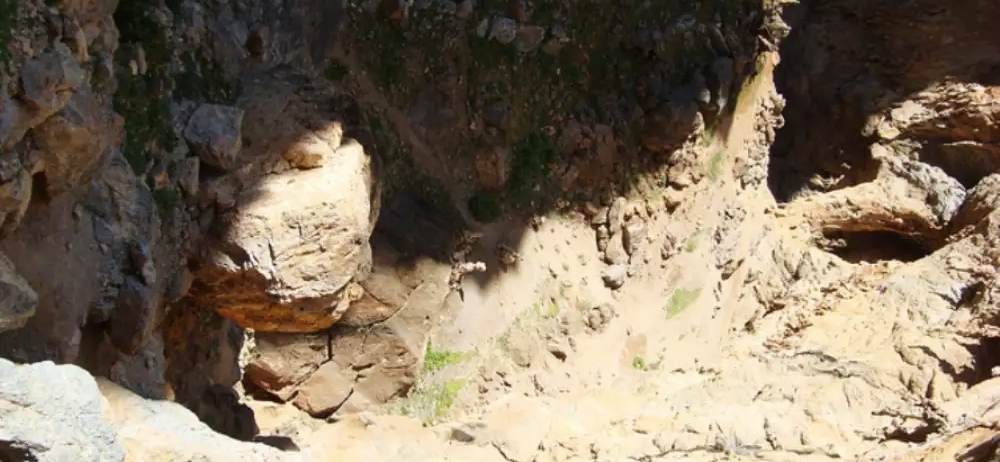 Image Source
An outing to Kukkal Caves is perfect for the individuals who love adventure and trekking. Known to be one of the oldest caves in India, Kukkal Caves are old rock caves belonging to the now extinct Palaiyar clan. The stunning trekking trail to Kukkal Caves will take you through dazzling pine woods, fields of geranium and mountain streams.
Timing: 10.00AM to 05.00PM
Driving directions to Kukkal Caves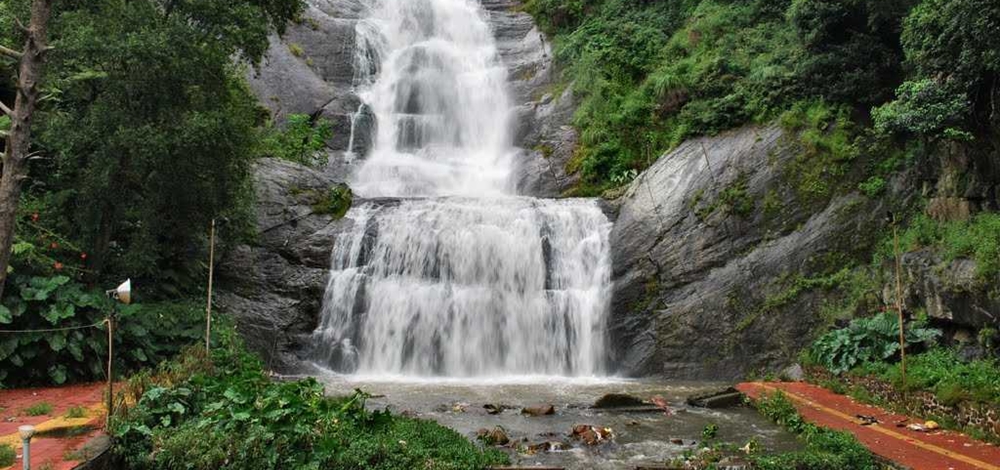 Pic Courtesy: Holidify.com
Home to the dazzling Glen Falls, Fairy Falls, Bear Shola, and Silver Cascade falls; Kodaikanal is the most loved destination among the people who love waterfalls. During rains, Kodaikanal's falls come alive, drawing tons of sightseers.
Driving directions to Silver Cascade falls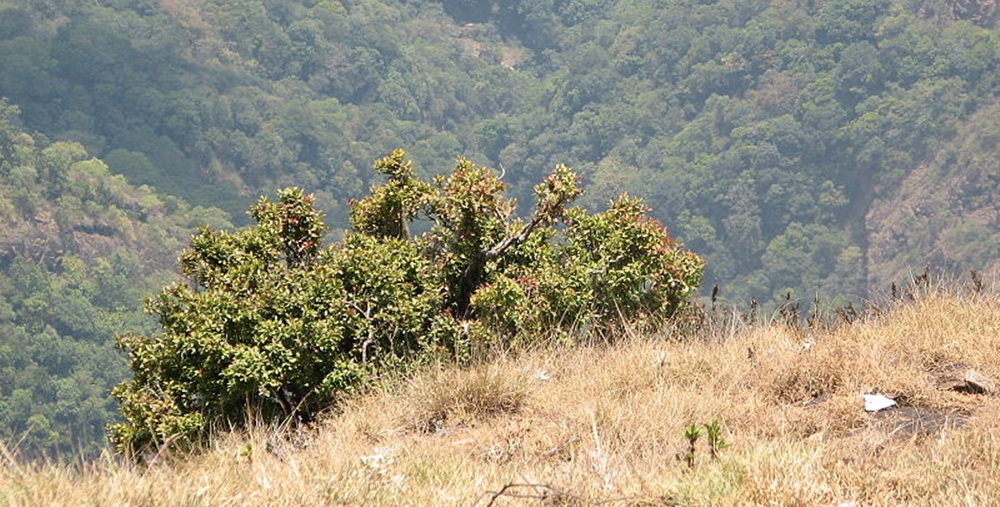 Image Source
This viewpoint is a spectacular place that offers spellbinding views of the misty mountains. A lush green valley lies underneath this viewpoint making it a top tourist spot in Kodaikanal.
You can watch the sunset and sunrise from this point, and validate that you are for sure in the 'princess of hills'. The winter season covers the valley with a white fog that collaborates to shape a panoramic view that is unique to whatever else you have ever observed.
Driving directions to Silent Valley View Point
View Kodaikanal on Google Maps
Bonus Read: Activities to Do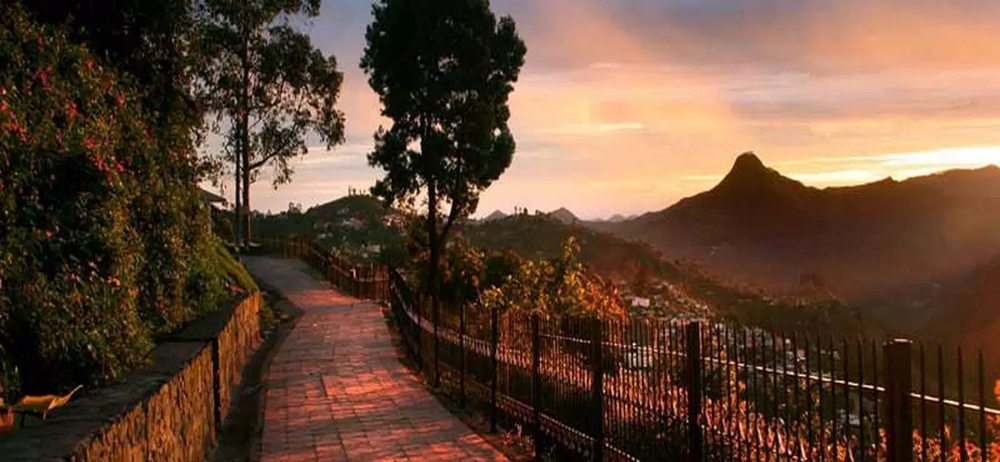 Image Source
Built-in the year 1872 by Lt. Coaker, Coaker's Walk is a picturesque slender pedestrian way perfectly meandering along the edges of mountains. Regularly cloaked in a dense fog, at Coaker's Walk you can actually go for a stroll through the mists. On a sunny morning, you can witness spellbinding vistas on the encompassing valleys and hills. It is a beautiful, long stroll to recall. There is a telescope near the main gate, from where you can watch the vistas closely. The best time to go for this stroll is before 3 pm.
Driving directions to Coaker's Walk
Go boating in Kodaikanal Lake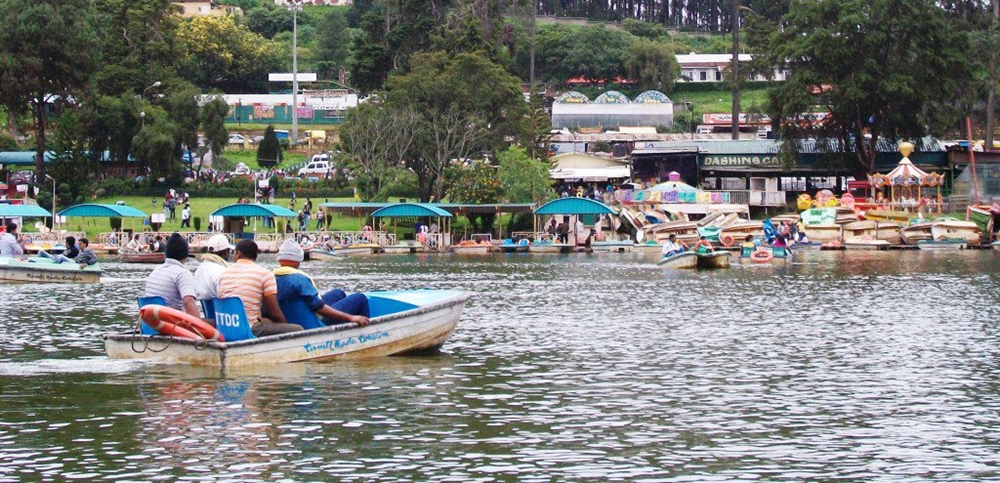 Image Source
A lovely artificial lake, Kodai Lake is well known for its unique star shape, sparkling waters, and quiet appeal. The gleaming waters surrounded by greenery look stunning during a boat ride.
Driving directions to Kodaikanal Lake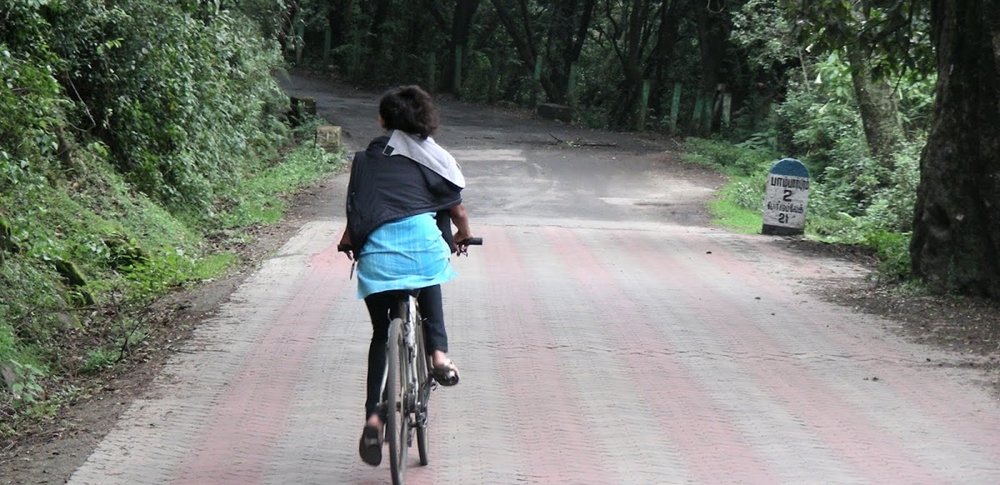 Image Source
Despite the fact that Kodaikanal can be seen by walking or cab, bicycling around this beautiful town is an exceptional experience you should enjoy.
A lot of health freaks and adventure seekers that visit here rent bicycles and ride around the hill station, stopping at little bakeries and cafes, and have a great time on their bicycles.
Explore the eerie Guna Cave
Image Source
Otherwise called the Devil's Kitchen, Guna Cave is a set of caves situated between three big stones. Perched between the pillar rocks lie the extraordinary Devil's Kitchen caves or famously known as Guna Caves, named after the popular Tamil film Guna (1992) that was shot here. The cave is made of dark rocks that are haunting in appearance. Tucked around 500 feet deep into the ravines, these caves are home to a huge number of bats. A green pathway with very old trees creating unique shapes takes you to the caves, adding to the eerie component of the caves.
Driving directions to Guna Cave
Visit Kodaikanal yoga centre
A meditation and yoga workshop at the Kodaikanal Yoga Center is an unquestionable must-visit for the wanderers searching for peace. This yoga centre is perfectly located amidst a natural farm and offers an assortment of short and long workshops in yoga. For short stay explorers, the yoga centre offers speedy orientation workshops in meditation and yoga.
Driving directions to Kodaikanal Yoga Centre
Get lost in the Pine Forest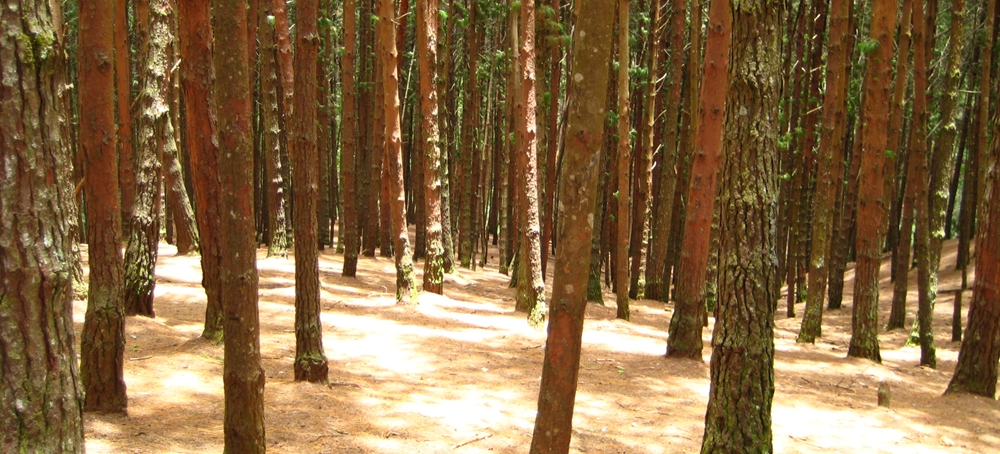 Pic Courtesy: Wikipedia
While going to Guna Caves, take a stroll in the beautiful Kodaikanal pine woods. Numerous South Indian and Bollywood movies have been shot here. Hiking through the dense, enthralling pine forest is an exceptional experience.
Driving directions to Pine Forest
Play boomerang with your cap
Caps Fly Valley is an offbeat destination situated around 15 km from the city centre. It is a fun spot to visit. In the event that you toss a light item, for example, your cap or an empty bottle, it returns flying at you.
Driving directions to Caps Fly Valley
Where to Eat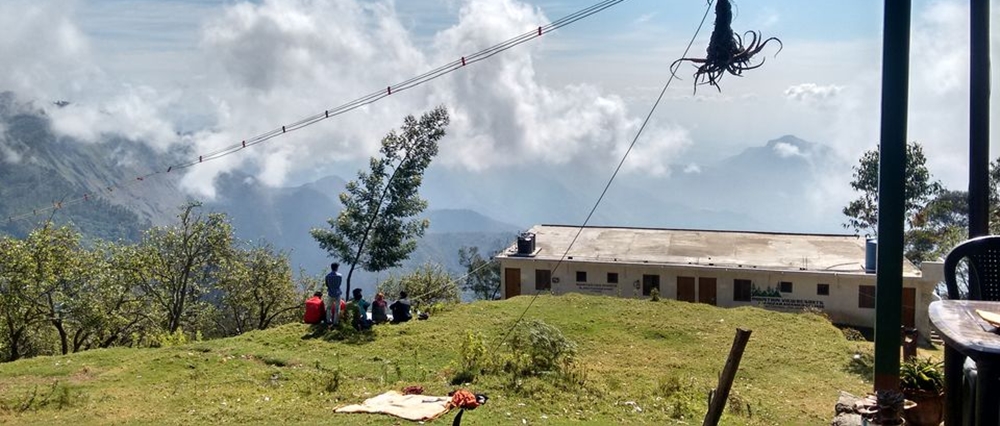 Pic Courtesy: Tripoto
Indian, Middle-Eastern
It is a restaurant offering mainly Indian and Middle Eastern cuisines for the travelers and locals of Kodaikanal.
Driving directions to Altaf's Cafe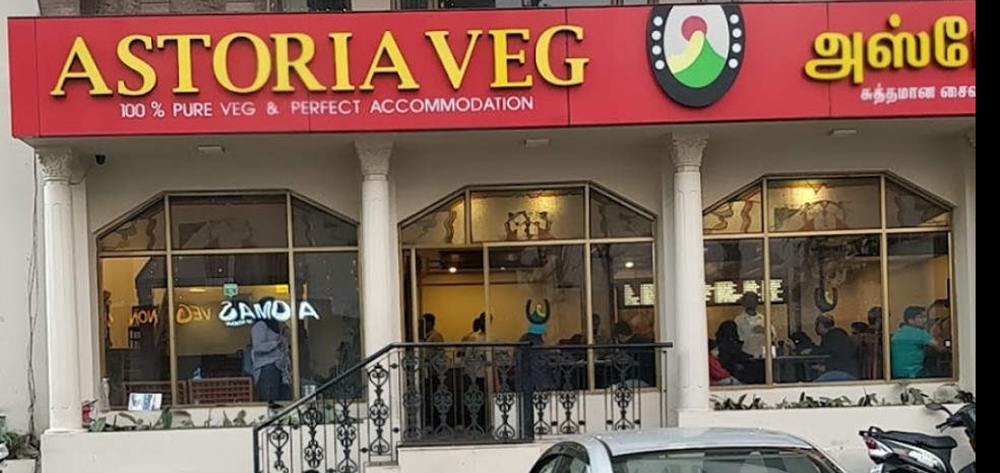 Pic Courtesy: JustDial
Indian
Packed with locals and tourists, Astoria is almost not possible to find a seat during the lunch hours when it offers the all-you-can-eat thalis.
Driving directions to Hotel Astoria
Indian
For an extensive variety of Biryanis – ranging from veg to chicken to seafood specialities – stop at Hilltop's Biryani.
Driving directions to Hilltop Towers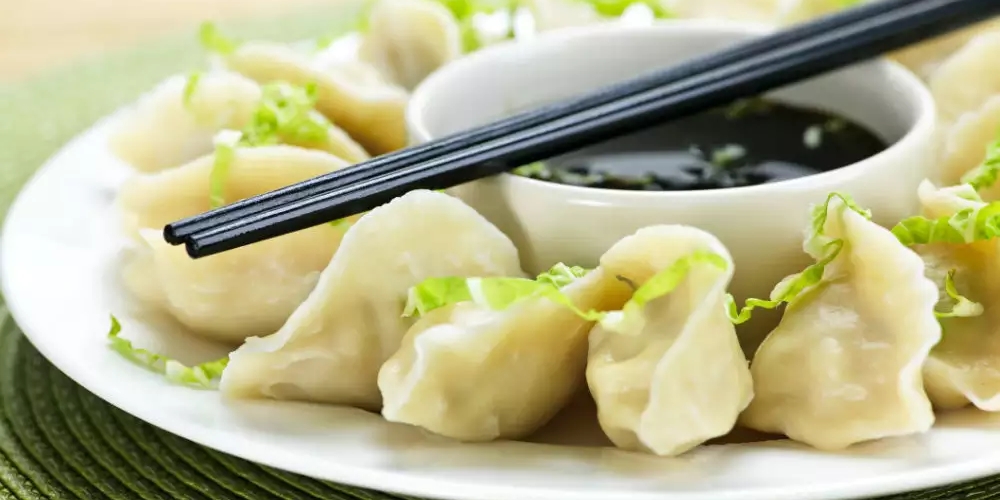 Image Source
Tibetan
Drop by this place if you are craving for the Tibetian steamed dumplings or momos.
Driving directions to Royal Tibet
Indian
As per the locals, this place serves the best tandoori chicken in South India. Other North Indian dishes are also really good here.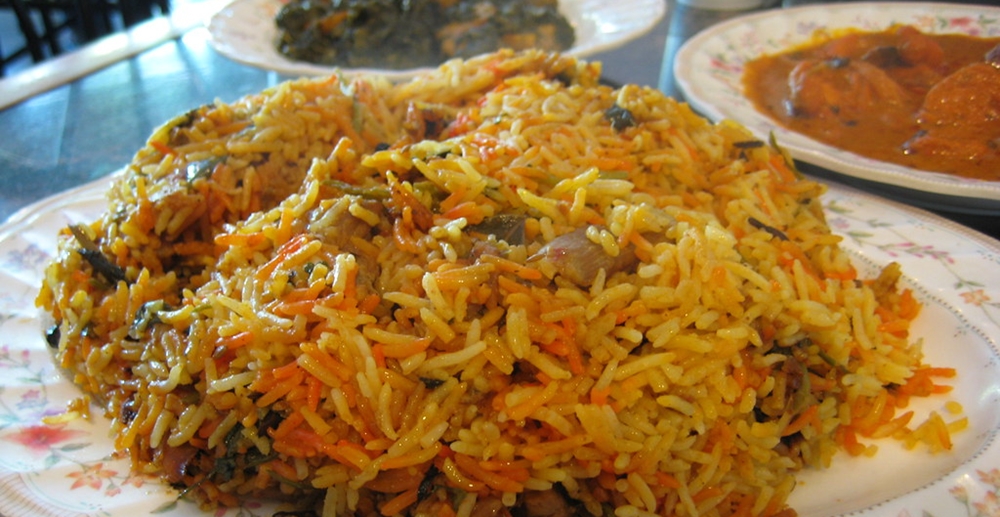 Pic Courtesy: Tava
Indian
Tava offers a wide-ranging vegetarian menu, which is also very reasonably priced.
Cafe
Situated next to a pottery shop, this restaurant serves mostly breakfast items and snacks such as omelettes, pancakes, etc., on a small terrace with a very pleasing view.
Driving directions to Pot Luck Cafe
Take a look at the best accommodations in Kodaikanal.
(Visited 488 times, 1 visits today)