Best Places to Visit in Thekkady
'Wildly adventurous' – these are the words that can be utilized to depict Thekkady, the biggest wildlife sanctuary in India. Home to elephants, panthers, tigers, buffalo, boars, sambar deer and plenty other rare types of flora and fauna, this sanctuary is certain to make your visit totally noteworthy. This ought to be on the top of your bucket list in the event that you have been a wildlife or nature lover. Nothing can be compared with a ride in the wildernesses, with just nature surrounding you, no hustle-bustle of the cities, no traffic, nobody to trouble the flawless nature. It is an outing that will leave you feeling fresh, relaxed and wanting more.
Such is the charisma of this quaint town of South India that travelers rush from all over the world to have a look at its picturesque beauty.
Best Time to Visit Thekkady
Given its lovely weather for the greater part of the year, Thekkady makes for an all-year travel spot.
October to February: Winters
March to May: Summer
June to September: Monsoon
During the summertime, it tends to get hotter during the day time but the weather gets pleasant during the evening.
Here are some of the popular and off-beat places you must check out at Thekkady:
Periyar Wildlife Sanctuary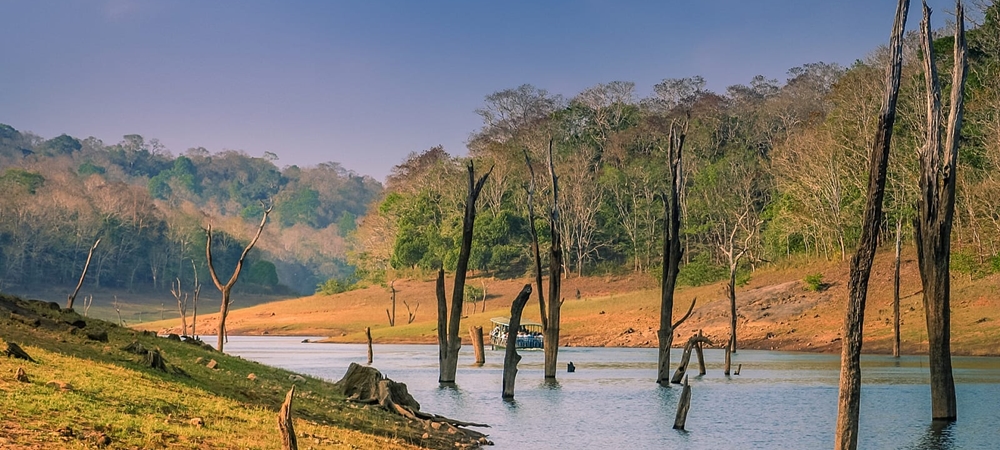 Pic Courtesy: Goibibo
A standout amongst the most perfect wildlife parks of India, Periyar National Park is home to various rare types of widely varied flora & fauna and its magnificence is improved further with the proximity of beautiful Periyar Lake inside.
The sanctuary is situated on the banks of Periyar River, offering the most excellent wildlife sighting you will have in India. Periyar Wildlife Sanctuary has a beautiful view on the green backdrop that gives you tons of moment to cherish and capture.
Driving directions to Periyar Wildlife Sanctuary 
The peaceful lake, situated close to the Periyar National Reserves, is a renowned tourist attraction. You can go for boating and revel in the tranquil magnificence of the environment. In the event that you are fortunate, you may get an opportunity to see elephants bathing.
Driving directions to Periyar Lake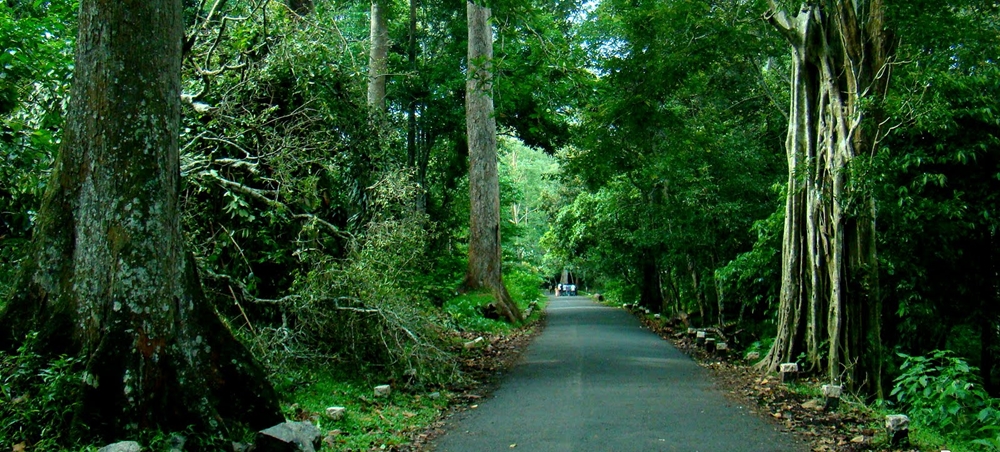 Image Source
Apart from its splendour, Kerala is likewise well-known for the spice plantation; however, this spot has something different in its bag. Murikkady is well known for spices however it is additionally known for cardamom and coffee gardening. This spot produces several types f spices including vanilla, ginger, turmeric, clove, and tea.
Driving directions to Murikkady
Situated in Idukki, the Mangla Devi Temple is another key spot in Thekkady. This is inside the property of the prestigious Periyar Tiger Reserve. The temple isn't just visited by devotees; this place is visited by the individuals who are looking for a calm spot with the perfect atmosphere.
Driving directions to Mangla Devi Temple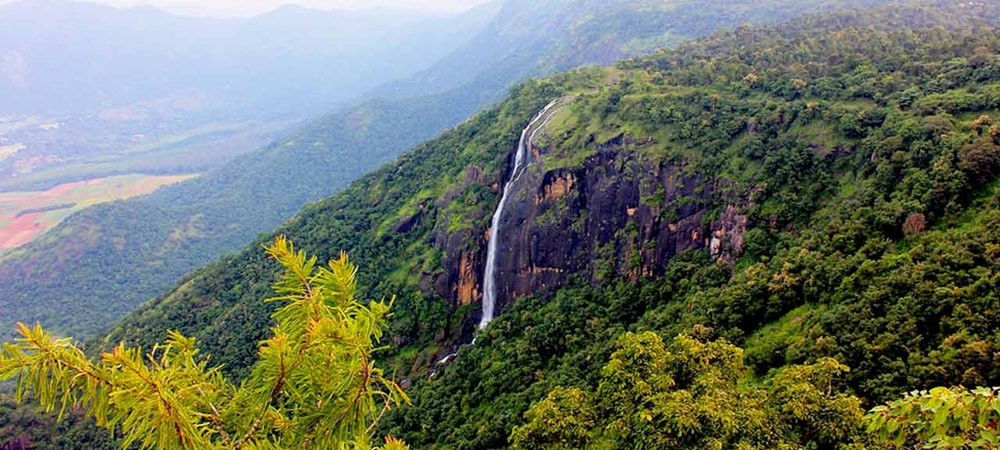 Image Source
The picturesque village has found its place among the off-beat spots to check out in Thekkady. The spectacular natural exquisiteness of this spot coupled with the peace and solitude pull in a decent number of visitors. The sunlight reflecting on the gushing waterfalls will totally spellbind you.
Driving directions to Chellarkovil
This place is dotted with pleasant landscape and, extraordinary flora & fauna. The spot is loaded down with various meandering streams that are packed in between Chellarkovil & Tamil Nadu. It is a superb spot for picnicking with flowing streams and greenery all around.
The magnificence of Thekkady becomes even more amazing because of its fragrant Cardamom hills and amazing vistas of stunning hill station Kumily. The spot is some 4 kilometres from Thekkady, hiding far away from the busy tourist activities. Kumily is remarkably famous for tea and spice estates.
Kadathanadan Kalari Centre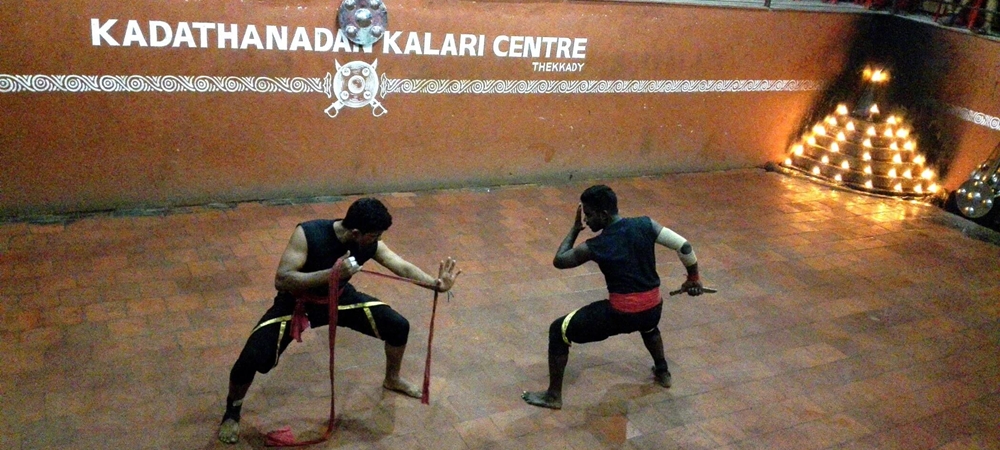 Image Source
This place is well-known for the eminent Kerala martial art form known as Kalaripayattu. You will be able to watch this eminent martial art form here. This art is exclusive to Kerala and is intended for self-protection.
Driving directions to Kadathnathan Kalari Centre
Mudra Cultural Center is well known for cultural events that particularly include India's oldest martial art, Kalaripayyattu and the traditional dance form, Kathakali. People can likewise observe the artists preparing before they watch their breathtaking final performances.
Driving directions to Mudra Cultural Centre
This viewpoint is famous for a spectacular sight of hilly landscapes covered in greenery and a captivating waterfall. You will also find a watchtower here where there is a telescope that enables people to get a marvellous panorama of the beautiful place.
Driving directions to Chellarkovil Viewpoint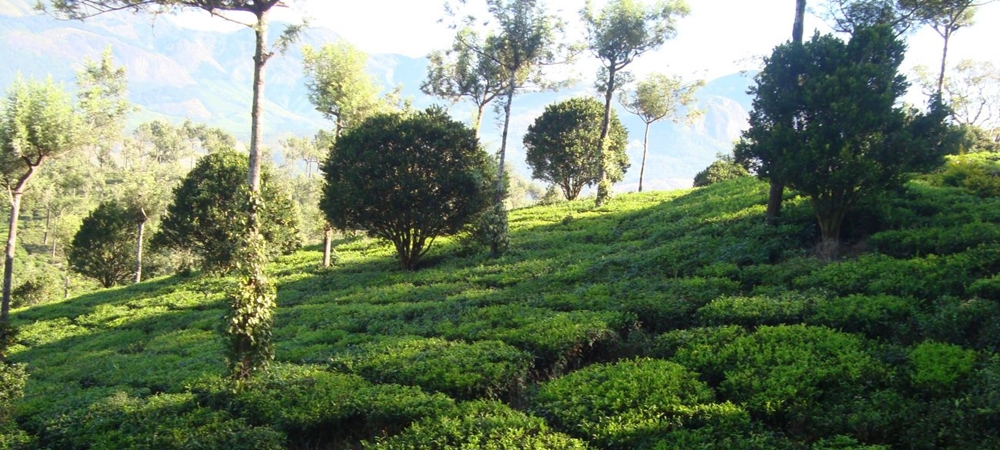 Pic Courtesy: HolidayIQ
A picturesque small town, Vandiperiyar is renowned for the spice & herbs cultivation, and its stunning natural beauty. The River Periyar also meanders through this town. Nature enthusiasts can check out the Flower Garden and Government Agricultural Farm, besides the extensive tea and coffee gardens.
Driving directions to Vandiperiyar
View the best places of Thekkady on Google Maps
Activities to Do in Thekkady
Covering such a significant number of exciting activities will not be possible if you just spend a day at Thekkady. So you can prioritize the best activities in Thekkady as per your interest.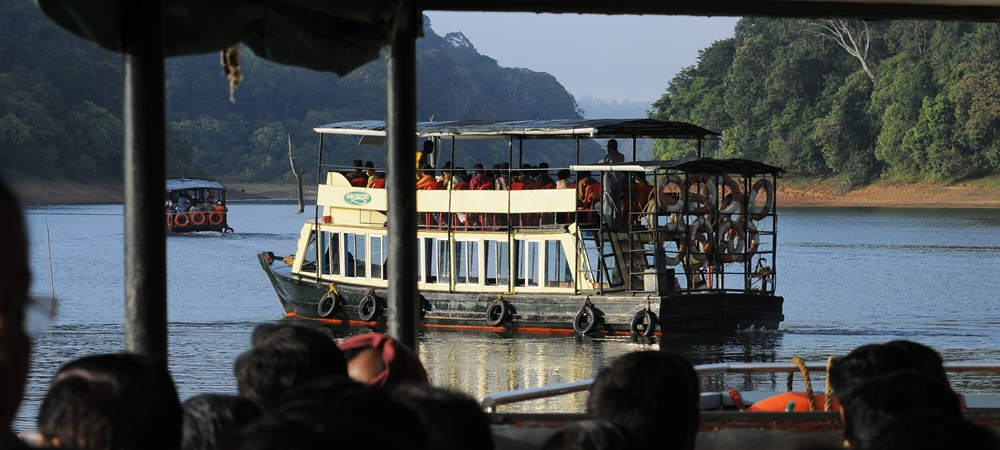 Image Source
Boating in the Periyar Lake is amongst the most popular activities in Thekkady. The lake, which lies at the centre of the Periyar Wildlife Sanctuary, is where critters of the sanctuary can be seen drinking, bathing, resting, and also looking for sustenance. The fortunate ones may also be able to spot elephants playing with their babies. The boat service is available multiple times a day.
Timings: 7 am, 9am, 11:30 am, 2pm, and 4pm
Driving directions to Periyar Boating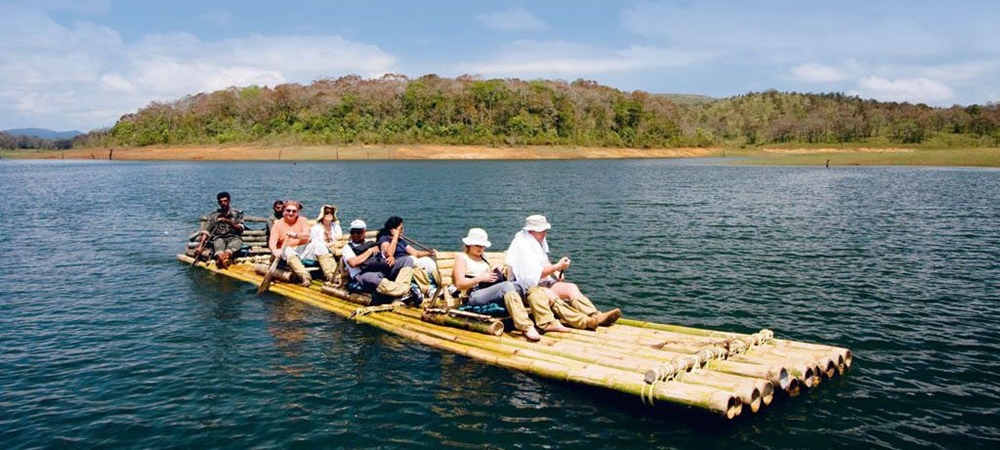 Image Source
Bamboo Rafting in Periyar Wildlife Sanctuary is an ideal activity for all the water sports lovers. The Forest Department at Thekkady offers this service where you can have some fun day with friends or family.
Timings: 8 am – 5 pm
Driving directions to Periyar Sanctuary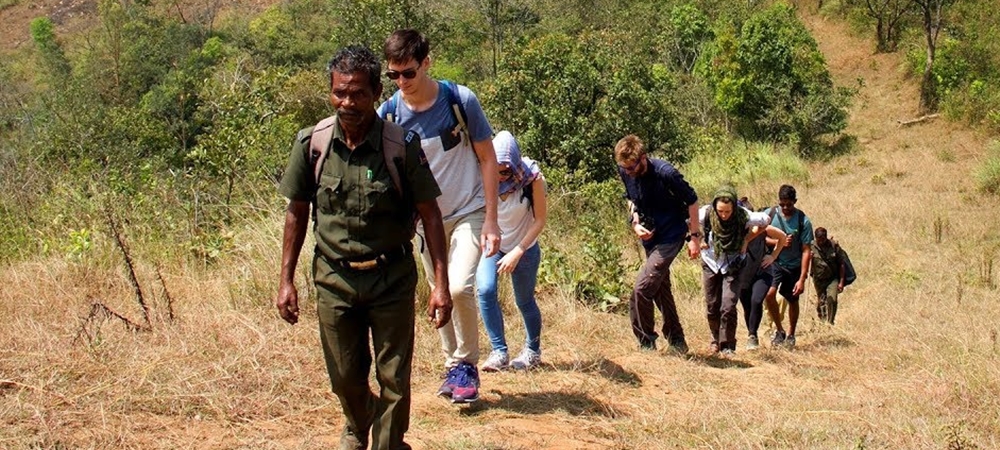 Image Source
Border hiking is another amazing activity in Thekkady. Daily two groups of 10 explorers each can go for wildlife conservation treks. 2 guides and 1 armed forest guard come with every group. The trekkers can see the mesmerizing hills flanking the park and the huge fields. The hikers can find a few types of birds and animals during their trek.
Timings: 8 am – Late evenings
This is one of the most exciting activities to try in Thekkady. This trekking starts at two different spots in the Periyar National Park – one starts from the Periyar Tiger Reserve Entrance Gate and another one starts from the Bamboo Grooves. This is done under the care of two expert guides as well as armed personnel. The exciting thing is unquestionably going to give you an adrenaline surge and a memory for a lifetime.
Timings: 10 pm – 4 am
Driving directions to Periyar National Park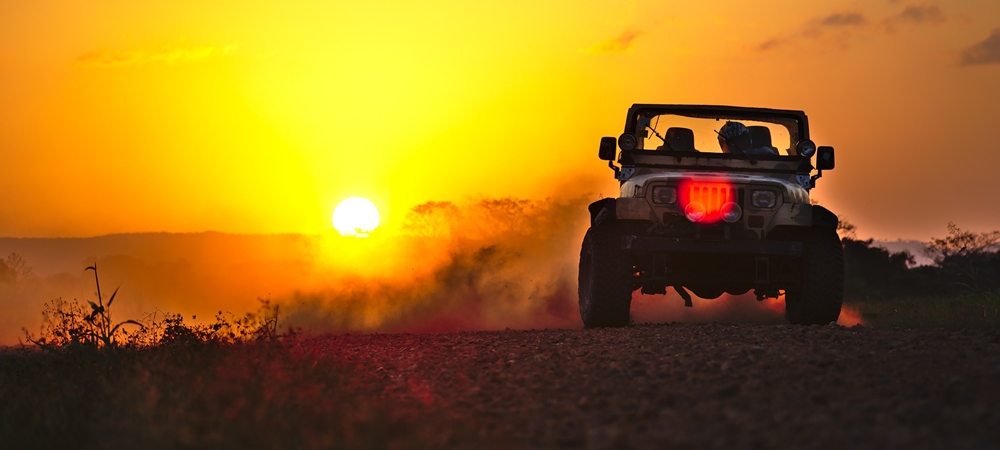 Image Source
A prominent activity in Thekkady, the Jeep Safari to Gavi will take you through the waterfalls, thick woods, spice plantations, as well as the green vegetation. If someone doesn't wish to go on hiking tours, then jeep safari is an ideal substitute.
Timings: 6 am – 5 pm
You can trek along the Periyar Tiger reserve Tiger Trail under the supervision of the guides and officials. It is one such experience that you will never forget. You may also spot tigers, elephants, and sambhars there.
Driving directions to Periyar Tiger Reserve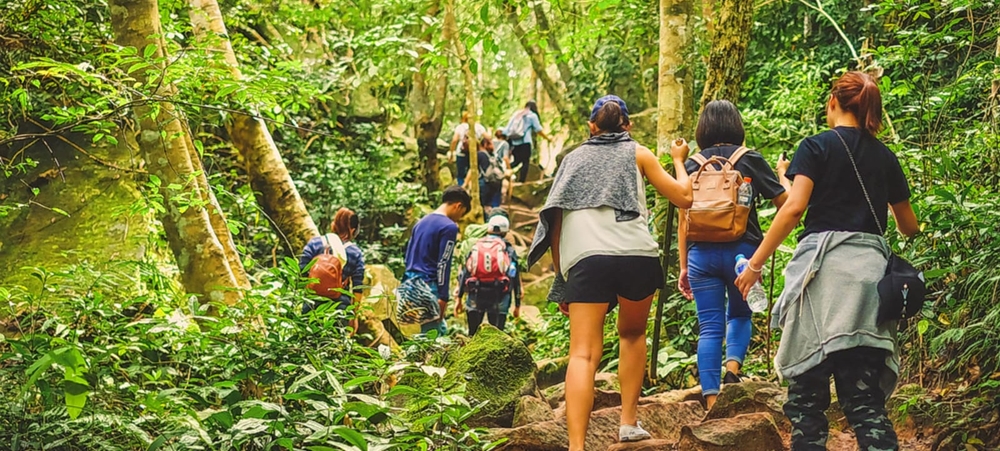 Pic Courtesy: Thrillophilia
Nature Walks is a soothing activity to partake in Thekkady. Strolling through the staggering wildlife as well as the flora of this mesmerizing town, you will find assortments of widely varied vegetation, wild animals, birds and more. It is a dreamlike experience with outstanding panorama in front and hills in the background. A guide will accompany you for the stroll.
Timings: 7am – 10am, 2pm – 5pm
The Tribal Heritage Walk is a unique thing to do at Thekaddy. But not many people do it. The program includes trekking through a Tribal Village in the region of Periyar Tiger Park guided by a tribal. There is a tribal heritage museum also which has artefacts related to old agriculture practices, wedding ceremonies, customs, etc. You will also discover fishing gear, weaponry, bamboo furniture, and a lot more.
Timings: 8 am – 10 am, 10 am – 12 pm, 2 pm – 4 pm
Spice Shopping is amongst the most well-known activities in Thekkady. The area is well-known for its authentic as well as rich spices. You can purchase the most costly and fragrant spices here at exceptionally reasonable rates. A few travellers likewise buy spices as gifts for their friends and relatives.
Where to eat at Thekkady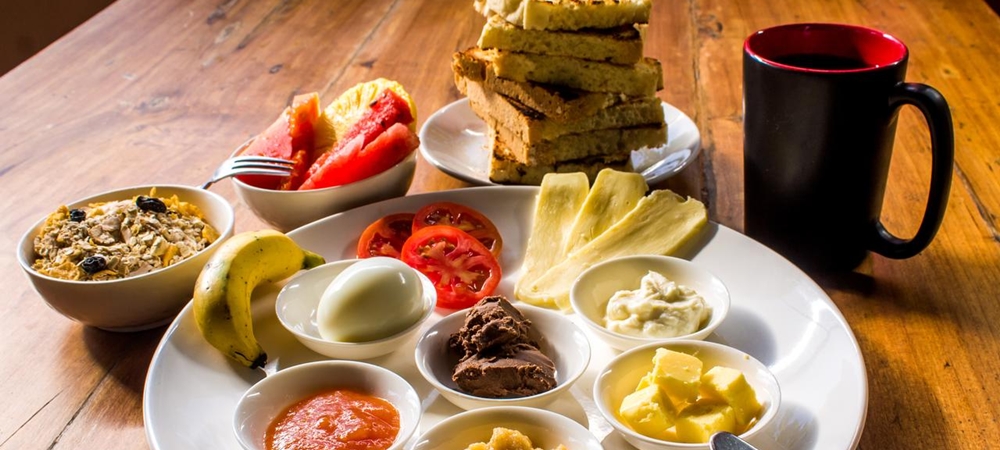 Pic Courtesy: Booking.com
You will discover a ton of foreigners at Chrissie's Café; owing to its amazing Continental dishes that they offer. For those with a sweet tooth, try their desserts and cakes.
Driving directions to Chrissie's Cafe
With chic decor as well as good music, this rooftop eatery is a pleasant spot to have a chilled beer alongside some yummy Indian and Continental food.
Driving directions to Ebony's Cafe
A meal at this restaurant is unquestionably worth a shot. It offers a wide-ranging menu of both South and North Indian dishes, and the food is great as well. The service is great and the costs also are reasonable.
Driving directions to Ambadi Restaurant
French Restaurant & Bakery
This place offers great breakfast and lunch options. You must try the pancakes, pasta, as well as the noodles. It won't disappoint you.
Driving directions to French Restaurant & Bakery
Take a look at the best accommodations in Thekkady and see the Activity Guide for Thekkady.
(Visited 752 times, 1 visits today)