In Sanskrit, the coconut is known as "Kalpavriksha", which means "Divine Tree". The name is originated from the 'Kalpadhenu' which means cow. Everything from a cow is utilized by individuals. Similarly, coconut is a 'Vriksha' or tree which can totally be utilized by humans.
The coconut tree is valuable for humankind in its entirety. The coconut tree has many uses. To begin with, a tender coconut serves as a refreshing drink which can be directly sipped from the unripe coconut and is also very tasty; the inner portion of the tender coconut is equally delicious. In the event that it is ripened, it is utilized in various curries or even for desserts. Â The shredded and dried coconut is used to thicken curries and the oil derived from coconut is commonly used for frying. Jaggery or Palm sugar is prepared from the sap and it is further fermented to make the toddy which a mildly alcoholic beverage. Other parts are utilized as firewood.
Uses of the Coconut Tree in different ways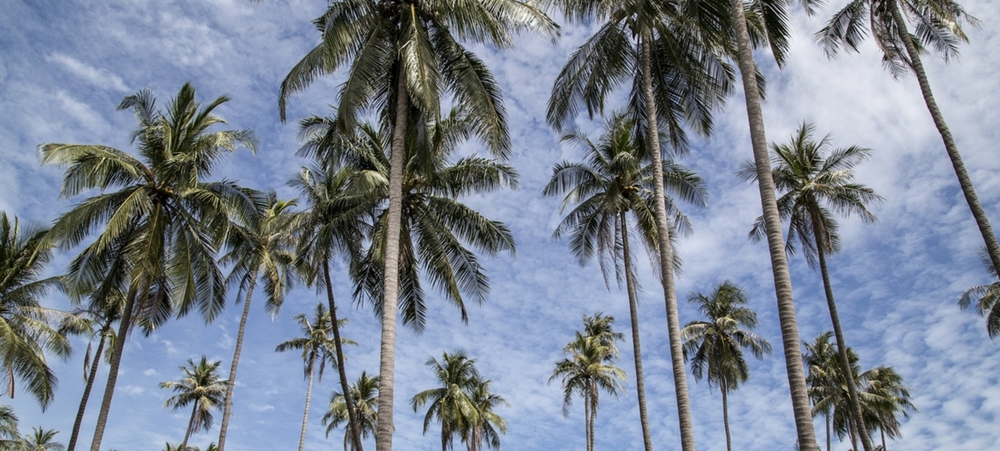 Image Source
Besides providing food, drink and shade, this tree also offers the myriads of possibilities of roofs, hats, mats, bowls, furniture, cordage, brooms, dresses, charcoal, hand-fans, jewellery, musical instruments, oil, ointments, and that's only the tip of the iceberg. The leaves of the coconut tree are utilized to make containers, fence and so on. The coconut tree is viewed as the most useful tree since it gives everything required to live life!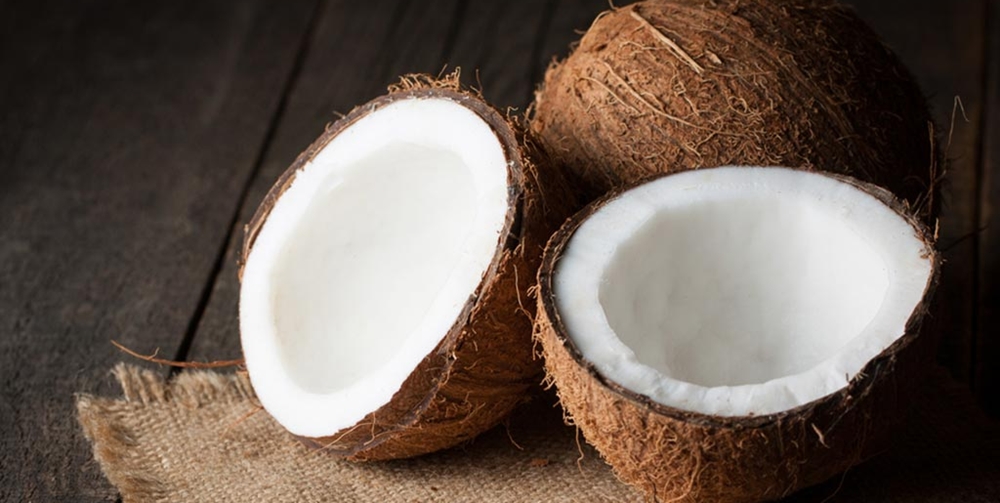 Image Source
Coconut is commonly utilized in different dishes in India and Asia and is presently utilized more in the west for its health advantages. The following are the different ways you can utilize coconut in your cooking.
Coconut is an ingredient that is broadly utilized in various dishes across the planet and now it is gradually becoming more prevalent for its medical benefits. Coconut water, the white pulp, and the coconut oil extracted from it are known for its different medical benefits. But it is vital to know that utilizing the correct cooking methods help preserve its nutrition value.
Coconut has a decent fat quantity that is majorly medium-chain saturated fatty acid. They assist in removing the extra fat from our body. Our body's metabolic rate is additionally decreased by removing pancreas stress. It helps in burning calorie and causes obese people to lose weight.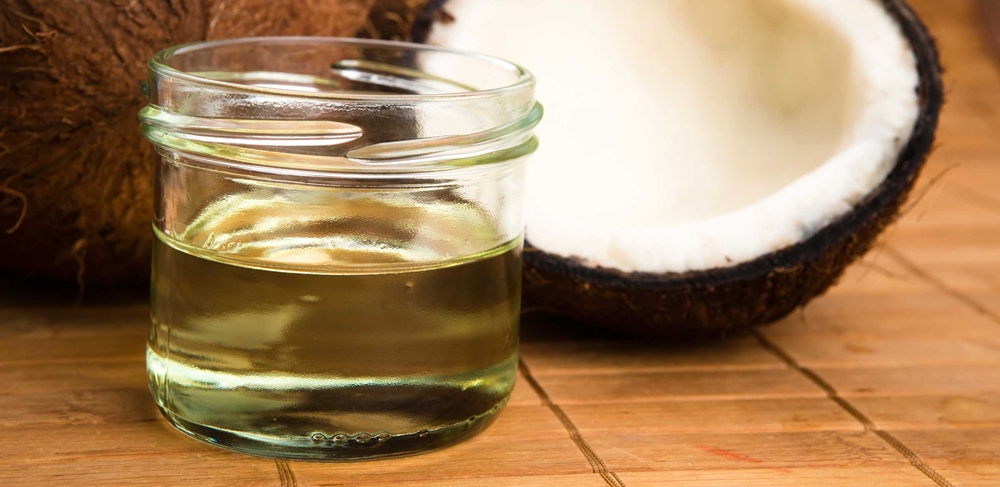 Image Source
Coconut oil can remain well in typical room temperature for over 2 years. The oil hardens in the winters and you will regularly need to take little bits of the oil and dissolve it on low heat to utilize it in its fluid structure. Make sure you purchase coconut oil that is utilized for cooking; you will be able to utilize the coconut oil in cakes, pastries, cooking and pretty much anything. You can even make your omelette utilizing coconut oil.
The coconut oil produced from the dried coconut has an extensive array of utilization. You can apply it to your body in regular form or even the medicine version. It is a prominent ingredient in bathing soaps.
As one of the efficient foods, coconut oil is gradually becoming a potent tool against diseases by the medical community. They are doing a lot of research on its adequacy and on the unimaginable nutritive value of unadulterated coconut oil.
Teeth need sufficient calcium for its development and upkeep. Coconut enables the human body to retain a good measure of calcium. So it helps to develop healthy teeth and keeps you from tooth decay. Formation of plaque is decreased when oil pulling is done using coconut oil.
For Hair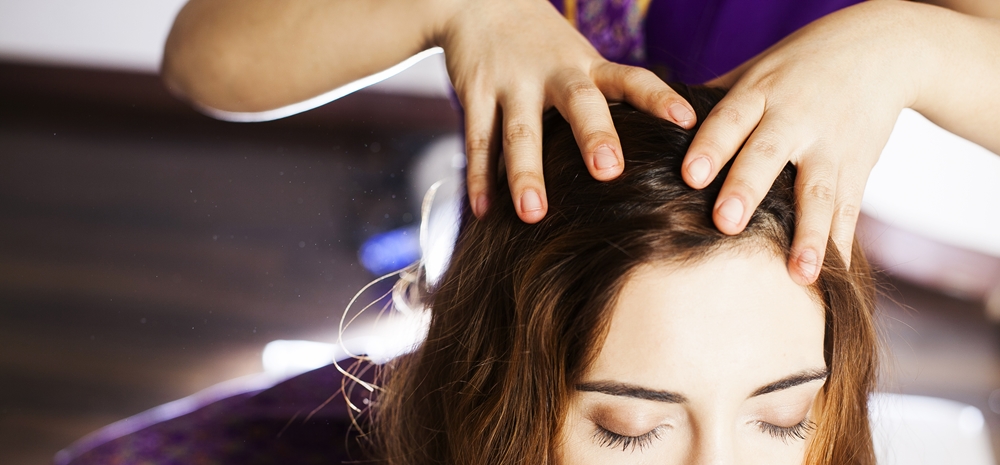 Image Source
It's a great hair conditioner. Rub into hair from the scalp to the roots. Keep it on for some time. Wear a shower cap on while sleeping. Or simply put a towel on your pillow. Wash your hair with shampoo in the day.
It helps in taming frizz and dry ends. Simply massage onto the ends of the hair.
For skin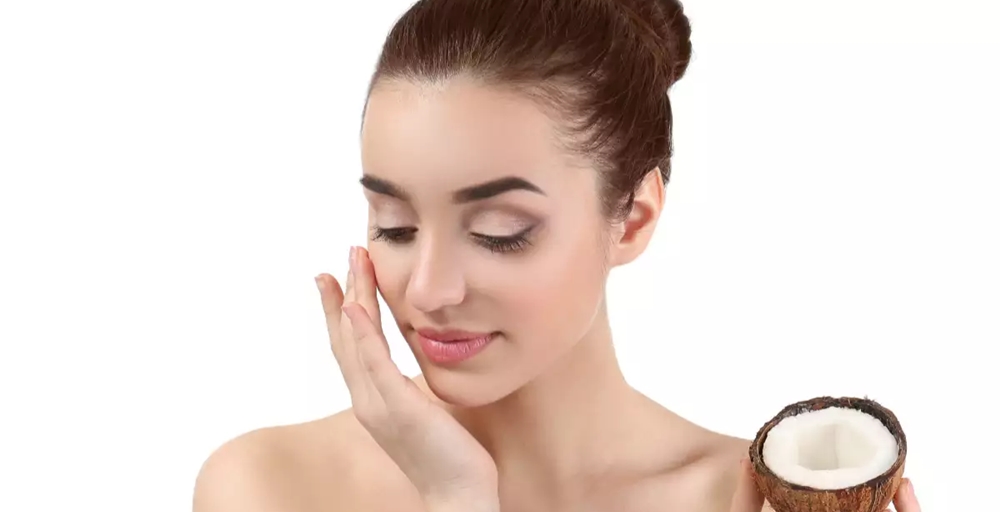 Image Source
Coconut oil is one of nature's best beauty secrets which is readily available and is also very economical on the pocket.
Lotion – use it as a skin lotion, it makes your skin very soft.
Makeup Remover – a great natural makeup remover.
Massage oil – used to massage on your skin.
Spots – helps in lightening spots when you rub it directly onto your skin.
Soothing – helps to soothe psoriasis or eczema and also helps sooth chicken pox or poison ivy.
Elbows – use daily by rubbing on your elbows to help get rid of flaky and dry elbows.
Moisturizer – use it as a face moisturizer.
Shaving Cream or Lotion – use it as a natural substitute for shaving creams or aftershaves.
Body Balm – whip it together with shea butter to create a great body balm.
Allergies – if you have allergies, just rub some coconut oil on the inside of your nose to help lessen the symptoms.
Dry Skin – use with a combination of oil and salt to help in removing the dry skin on your feet.
Anti-ageing – use it on your face as a natural anti-ageing moisturizer.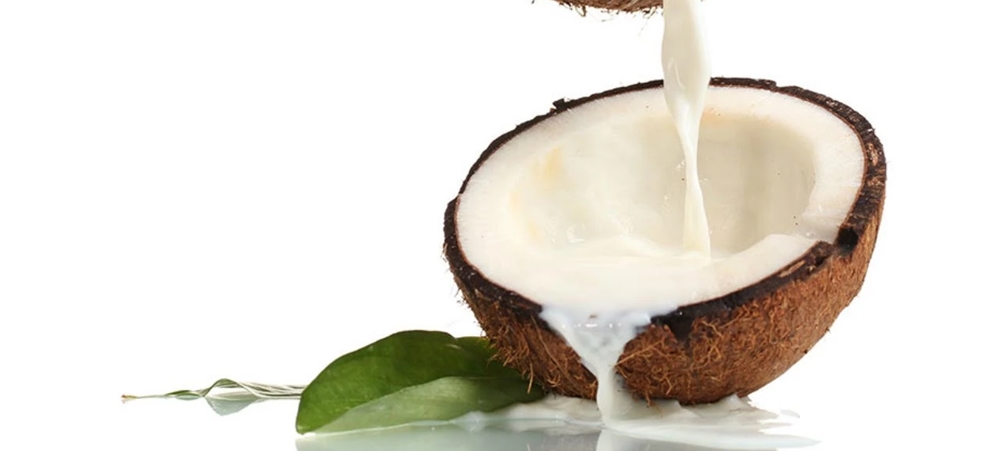 Image Source
You can extract coconut milk from the white coconut pulp. Grate coconut and mix it with lukewarm water and blend the two in a blender until you see milk. Utilize a strainer to separate the milk from the blended mix. It's best to use coconut milk when it is fresh, however, it can be stored in a refrigerator for a few days. The fresh coconut milk is the main ingredient various recipes – from Thai curries, stews, desserts, smoothies, puddings, and much more.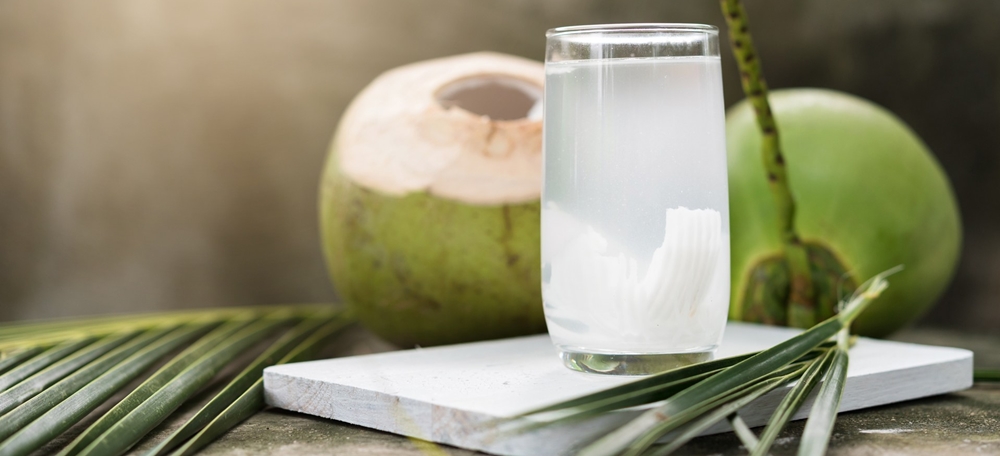 Image Source
As mentioned above, Coconut water comes with a lot of benefits to the human body. It tastes best when it is fresh but you also refrigerate it for around 2 days. The fresh one is definitely better than the package or bottle one, as it doesn't have any additives and has all the basic nutrients.
Fresh Coconut Water is highly rich in nutrients and also contains 5 essential electrolytes that are available in the human body, from calcium, sodium, phosphorous, magnesium and potassium. It helps in strengthening the bones, muscles, helps in weight reduction and a ton of advantages that your body will start to benefit from when you have it on a regular basis.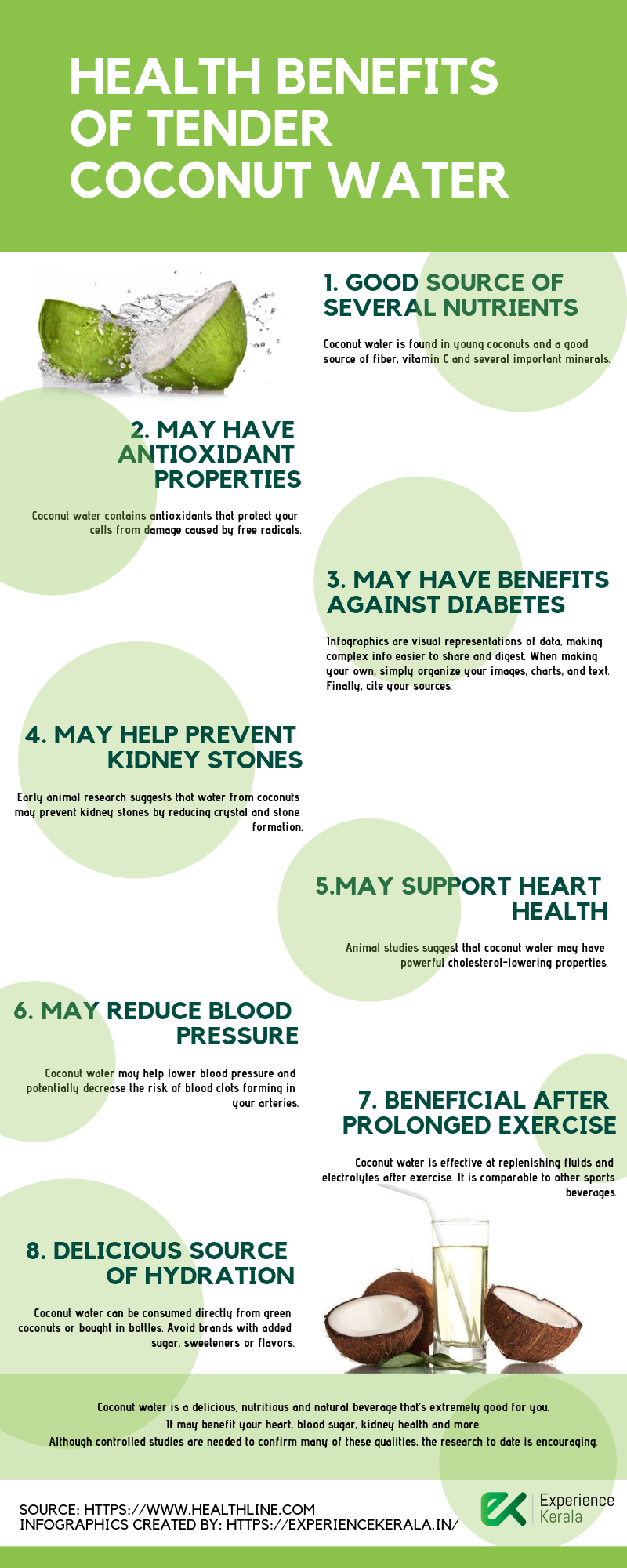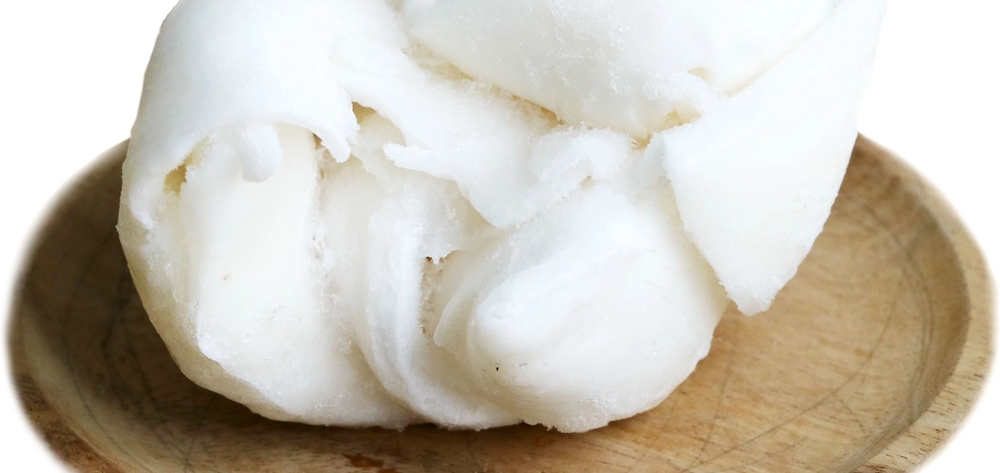 Image Source
Coconut pulp is the white covering that is present inside the coconut shell. The pulp of the Coconut can be tender and delicious, or a bit thick, fibrous and hard depending upon how old the coconut is. It is a smart idea to grind the coconut pulp and keep it in a tight container. The pulp can remain fresh for about two months when stored in a deep-freezer. You can use it in an assortment of dishes such as Curries, Smoothies, Stir-Fries, Soups, Rice, Korma, and a lot more.
Desiccated Coconut and Coconut Flour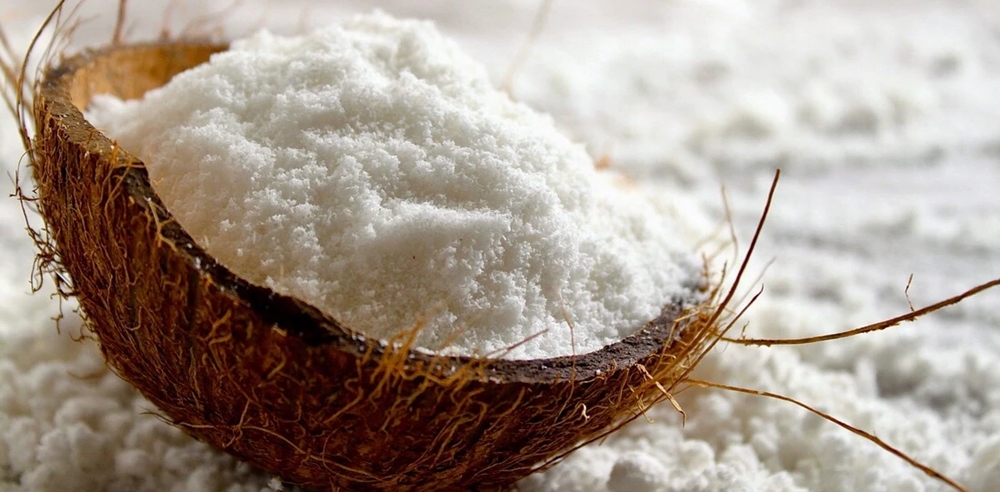 Image Source
Coconut flour comes from the pulp that remains after separating the coconut milk. If we finely grind it, it turns into flour. If we grind it coarsely,  them it becomes desiccated coconut. Both have different uses in different types of cuisines and are extremely popular in gluten-free foods.
Make sure that you keep the flour in a tight and secure container and in the deep freezer so as to keep it fresh for quite a while.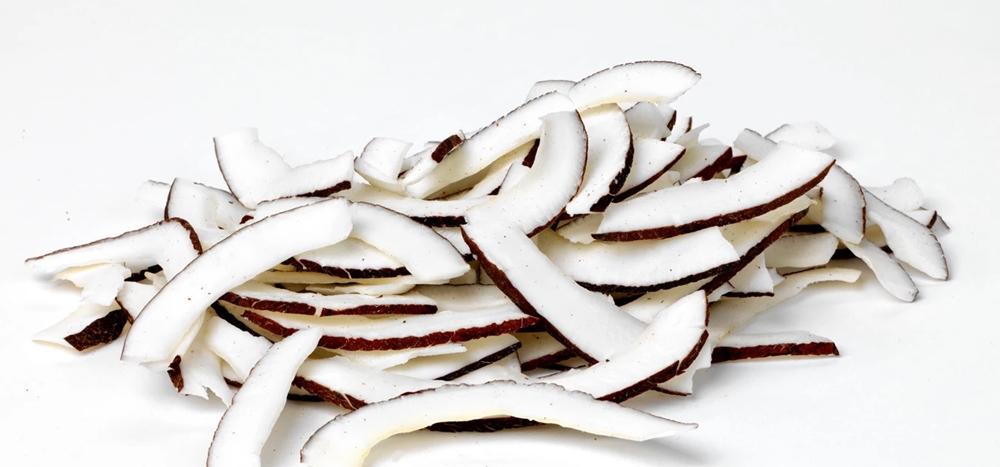 Image Source
Copra comes from the white pulp of coconut. It comes in the shredded form mostly used by people who don't reside in the tropical climate. Copra is oil-rich with a light, nutty and sweet flavour. Just like other organic products, it is best consumed fresh, however, stays well in both dried and frozen state, and have a long shelf-life when stored properly.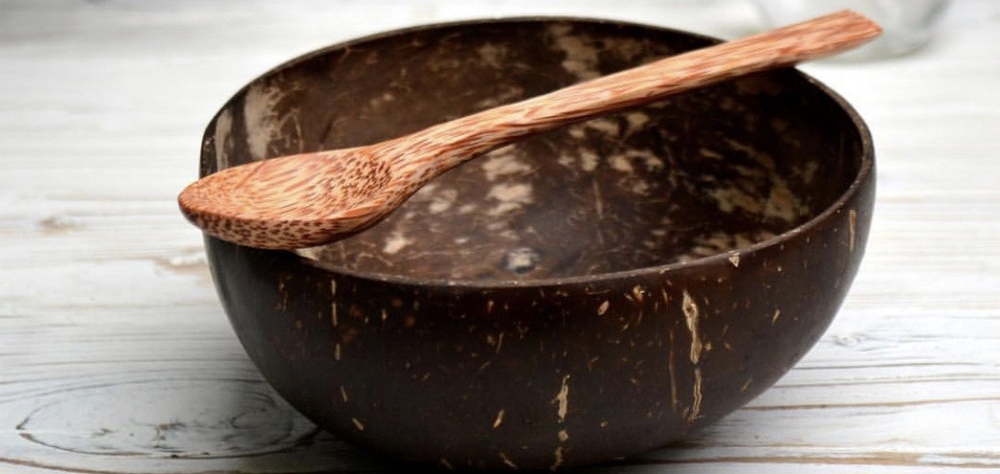 Image Source
You can use coconut shells it to make handicraft items, ladles and spoons. Used to make an assortment of tumblers, bowls and showpieces, these are generally high in demand in the handicraft industry. Shells can be utilized as firewood and are a source of charcoal and furthermore, a dried half coconut shell with husk can be utilized to buff floors.
Coconut Outer Cover Coconut Fibre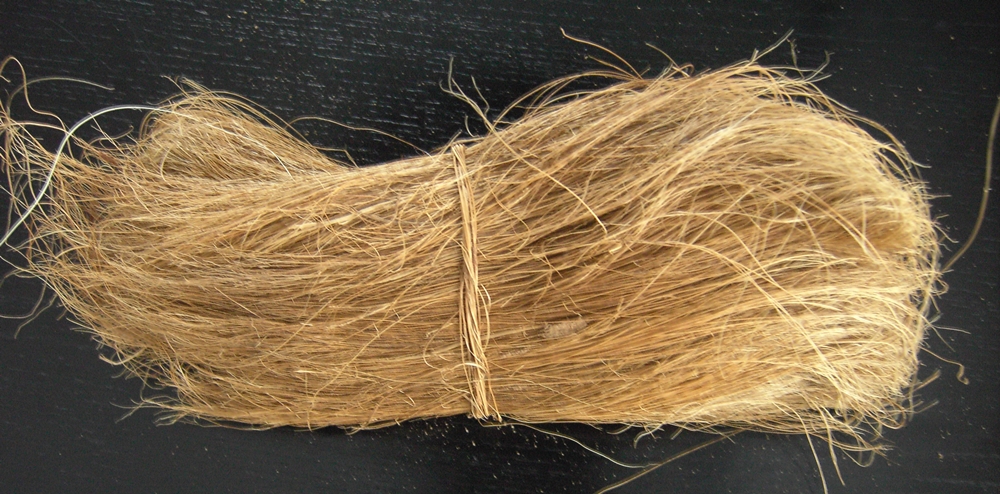 Image Source
The jute-like external cover of the coconut is the raw material for making coir and coir items. When treated, the coir pith changes over itself into great manure.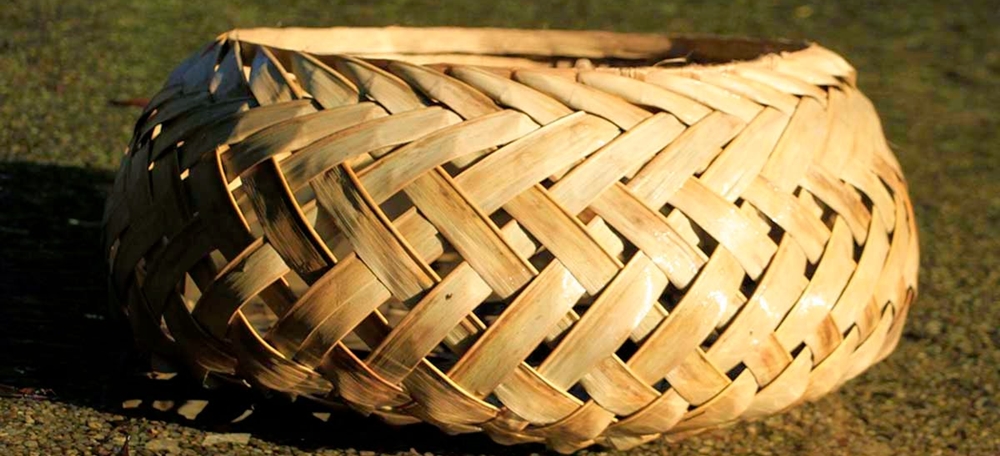 Image Source
The leaves of the coconut tree can work as roof coverings in rural areas or you can also use them to make temporary structures to store things or for animals. With individual sticks present in the leaves, they can make broomsticks.
Rooftops are easy to make. The rooftops work extraordinarily for things like chicken coops, manure bins, garden sheds, and also—with more attention —houses. They can last a significant number of years, after which you can use in the garden, and replace the old leaves with new ones.
The fence made of coconut leaves is a totally long-wearing wall from effectively accessed assets. Essentially, the fronds are put together horizontally. The leaves make an almost impermeable wall for birds and other creatures. With the leaves and other pieces of the coconut trees, people make beautiful, multicolour baskets, hats and high-quality artworks like figurines.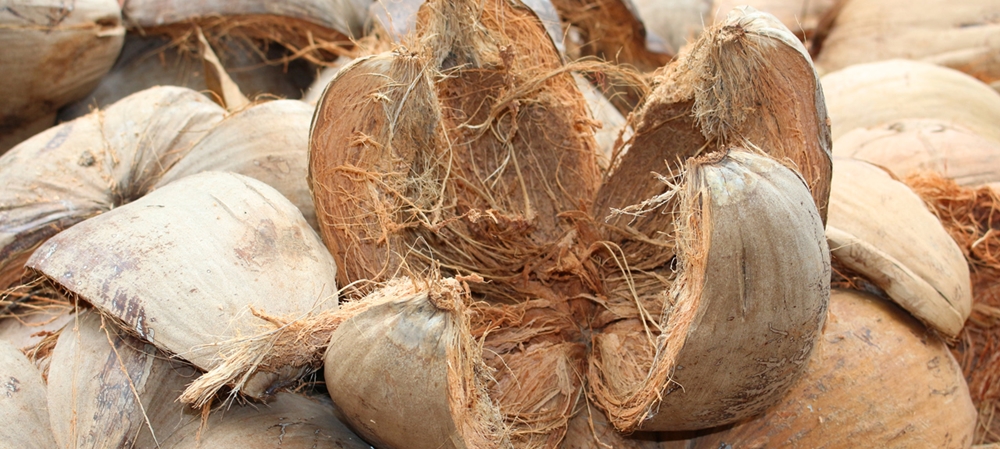 Image Source
Cocopeat is a versatile growing medium that comes from coconut husk. The fibrous coconut husk is washed, machine dried, sieved and cleaned properly to get rid of sand and different contaminations, for example, animal and plant buildup. Cocopeat is an excellent option as opposed to conventional Rock wool and peat moss. The high porosity and water-retaining capacity of it makes it a perfect growing medium for the plants.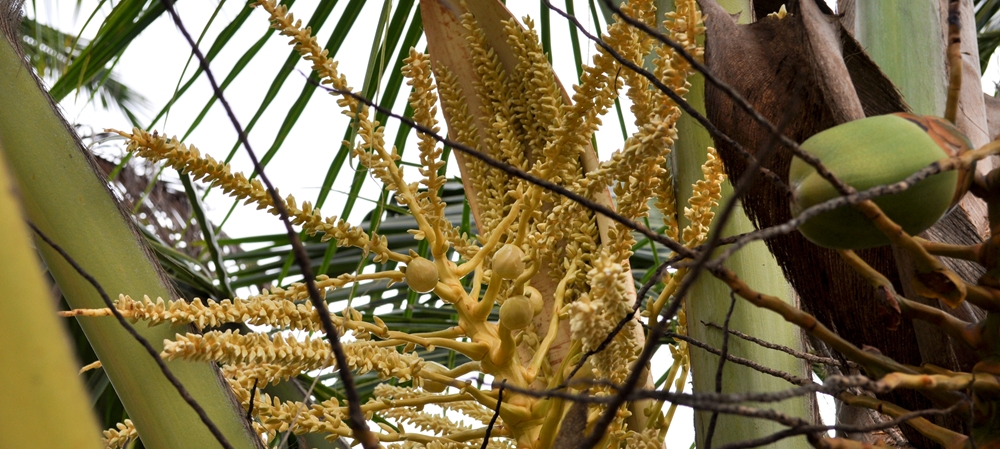 Image Source
If you leave it to ferment, it can be changed into an extraordinary, mildly alcoholic beverage called the toddy. People cut budding flower stalks open and use earthenware pots to get the liquid that pours out. Coconut sap ferments quickly — in a couple of hours after collection, it changes from a sugary syrup into an alcoholic beverage. In 24 hours, it further becomes vinegar that can be utilized to make pickles — however, is quite awful to drink. Its short life span implies that you cannot bottle or package it.  Coconut tree's flower also works as a medicine during pregnancy in Ayurveda.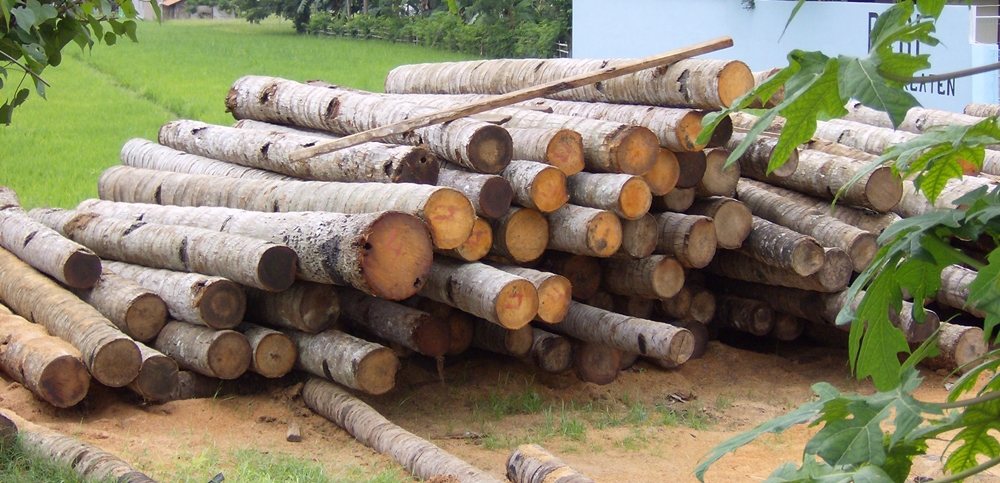 Pic Courtesy: Wikipedia
One of the main uses of coconut timber is for construction. Coconut timber is good for housing parts like walls, supports, purlins, doors, joists, and window frames. Coconut wood materials with low-density ought to be utilized just in non-load bearing structures like panels and walls while high-density coconut wood can be utilized for load-bearing structures like joints, trusses, floor tiles, girts, purlins, floor joists, railings and balustrades. The wood with high density finds use in making posts and telephone and power poles.
Coconut wood can also be a promising material for the making furniture, and different handicrafts because of its excellent grain and appealing appearance. High value coconut wood items which incorporate furniture, inner walls, parquet floors, and different things like walking sticks, handles, egg containers, plates, vases, bowls, and so on are similarly, if not more than, equivalent to the conventional wood species regularly utilized in the furniture business as far as appearance goes. Henceforth, with successful promotion, quality products and other coconut wood items can have a potential place in the residential as well as on the world markets.
The spine of the front and rest of the tree is used as firewood.
Consider all the above points, we can conclude that the coconut tree deserves the name 'Kalpavriksha'. And time and again, research has proved that the different forms of coconut are greatly beneficial for human health.
Why not plan a trip to Kerala, the land of coconuts!

(Visited 4,769 times, 1 visits today)