Gavi- Flawless natural beauty in the lesser-known forests for a peaceful getaway
Kerala- God's Own Country, is one of the best places on the planet to enjoy natural beauty at its prime. But off-late, due to the heavy inflow of domestic and international tourists, all major tourist destinations have started to become crowded and expensive. So if you are looking for the perfect getaway, away from the mainstream tourist places, into a serene and blissful destination- then Gavi is your answer.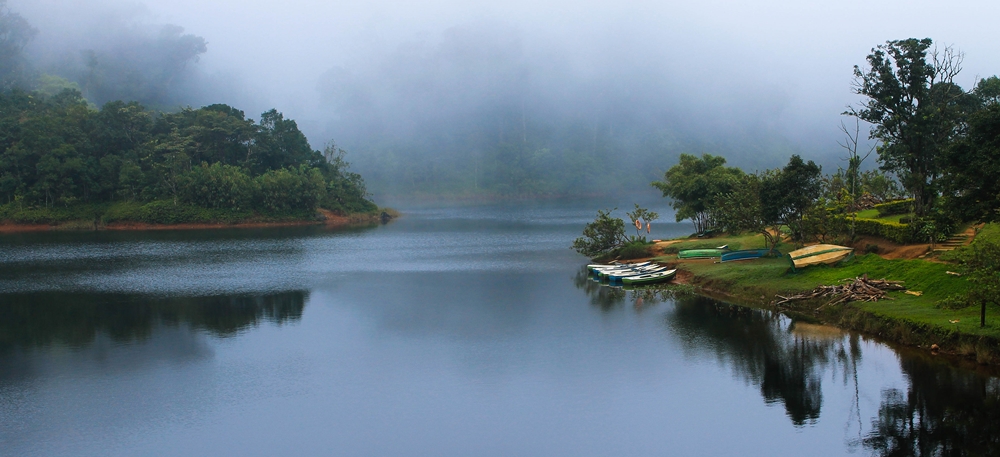 Image Source
Situated about 40 km from Thekkady, Gavi is Kerala's top eco-tourism destination, and easily one of the best in India. Tucked away from the hustle-bustle of city life, it is located inside the Ranni reserve forest of the Pathanamthitta district. For a tourist, Gavi presents an opportunity to be up close with nature, in the middle of the unspoiled rich flora and fauna, and with an unparalleled tranquillity and serenity. Here are the various things that are on offer for you at Gavi.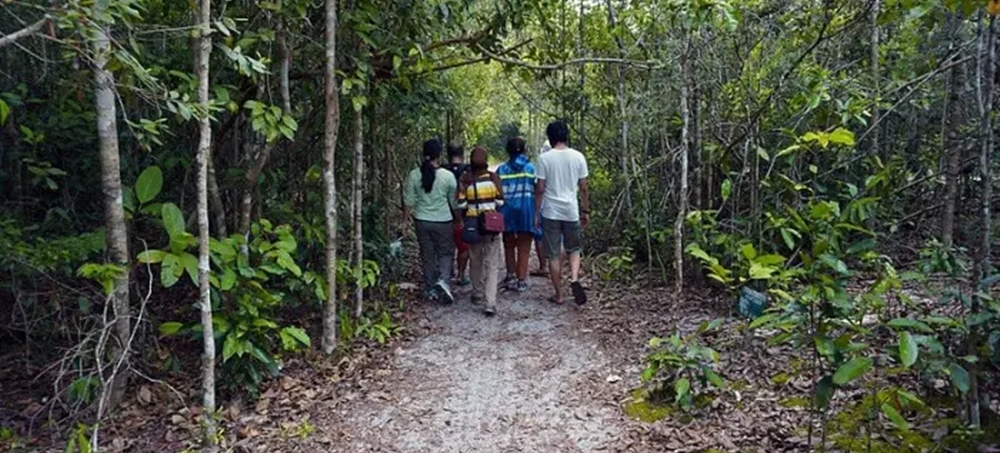 Pic Courtesy: Travel Triangle
What's better than to explore nature on your foot. The trek is about 2-3 hours and wouldn't need any preparation from your end and is an easy one. There are multiple routes that promise adventure and fun. The trekking path is about 25 km long and you'll enjoy the silent walk along with it. You may come across some wild animals so be careful about it, especially elephants. Do stick with and follow your guide always. Avoid feeding wild animals.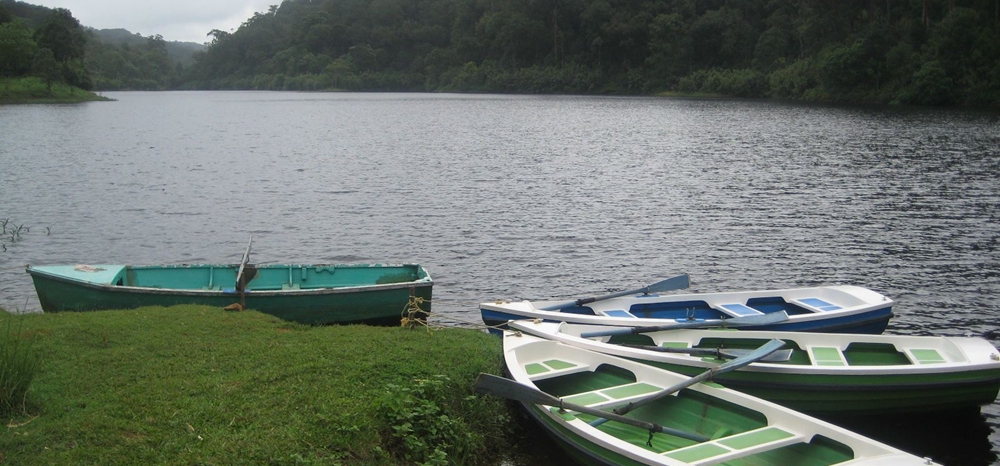 Pic Courtesy: Pinterest
Boating at Gavi is an enthralling experience because it offers you a peculiar way to explore Gavi and its surroundings. Gavi Lake is very alluring and well maintained. The boats that ply here are eco-friendly and comes with life jackets for all persons. Do mind your step while steeping in as weight and balance of the delicate boat has to be maintained.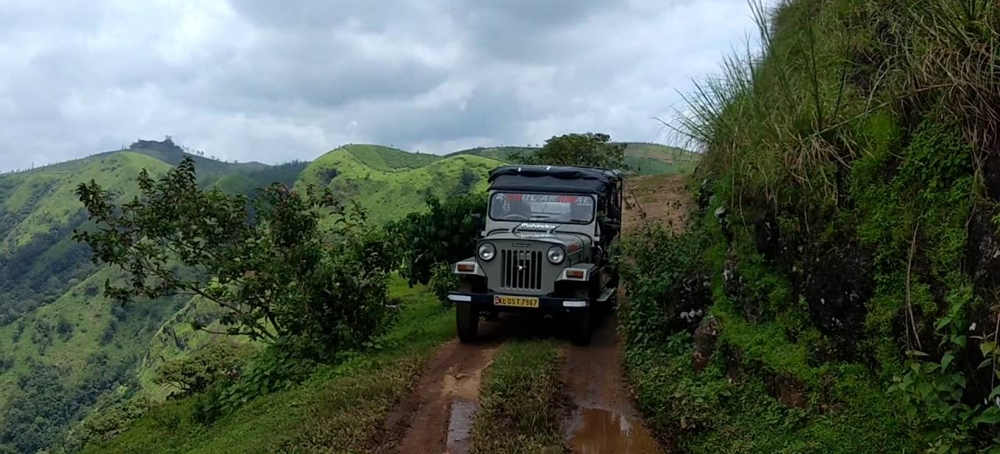 Image Source
For the ultimate wildlife exploration, you should experience the Jeep Safari. The open-top Gypsy allows you to stand and have a better view of the surrounding wildlife. The safari is approximately 2 hours long and takes you through some of the lesser-explored areas of the Gavi forest. KFDC arranges one such Jeep Safari at early morning hours, as an inclusion in their package. Elephant sighting is the highlight of this activity as there is a high probability to spot an elephant herd on these routes.
Sabrimala View Point from Gavi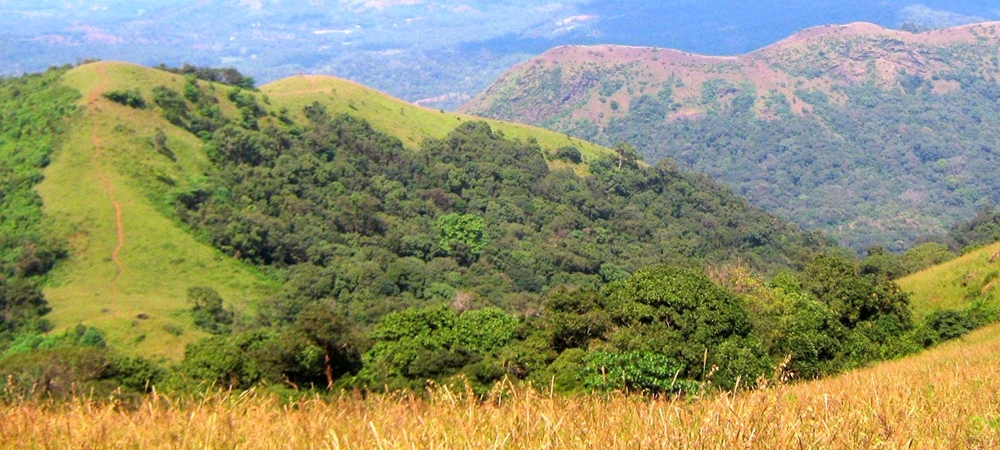 Image Source
You can get a splendid view of the famous pilgrimage temple which is also located nearby. The viewpoint is located near the Gavi reception building. You need to walk uphill and reach the top of the meadow. Sometimes due to mist, the visibility conditions may hamper your view, if you have a binocular, do carry it along with you.
Gavi Stay Over Programs at Gavi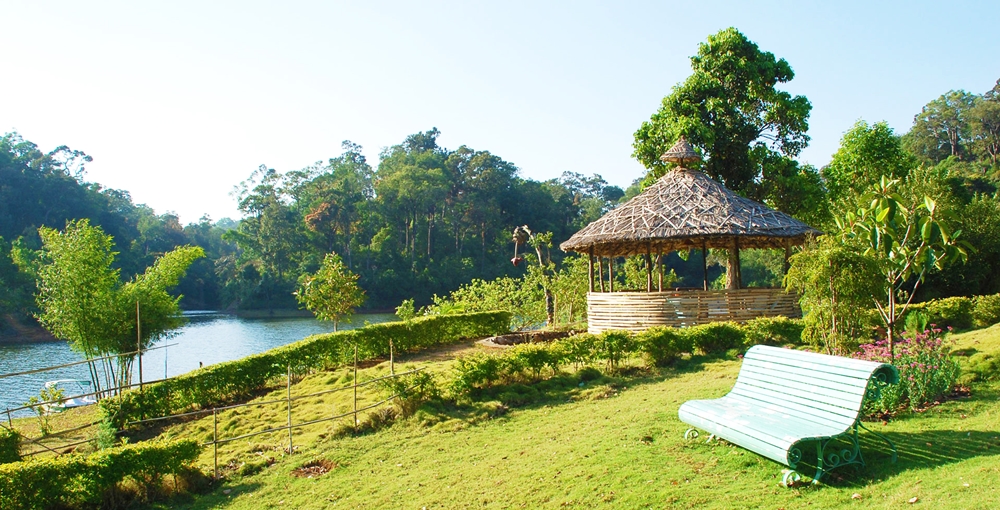 Image Source
This program is ideal for people who want a deeper and more enriching experience at Gavi. You can spend a night in the Forest camp or a tent. It offers a nice opportunity to become part of the forest for one night and go back with everlasting memories. This program costs about INR 2000 per person on a twin sharing basis and can be booked online. For children between 6 to 12 years, the price is INR 1000.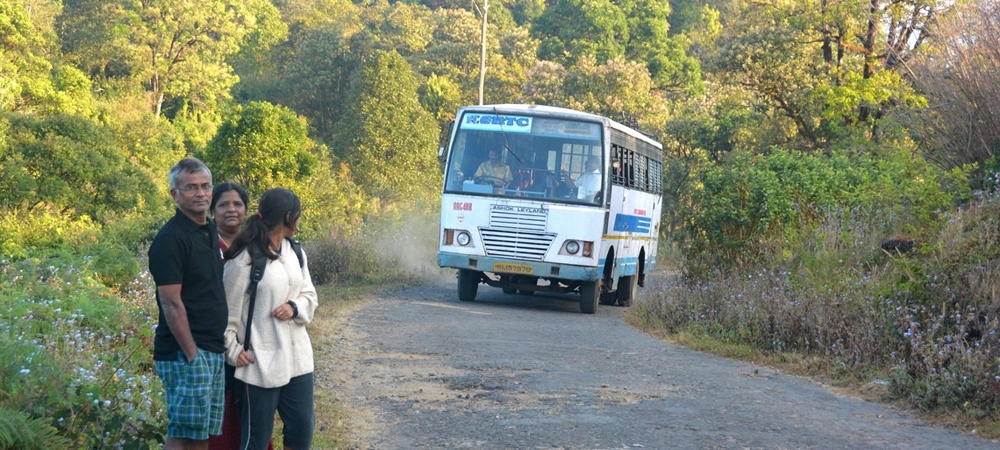 Image Source
Bus Trips are a fantastic way of exploring Gavi if you are on a tight budget. The trips are organized by the Forest Departments and cost about INR 300. The best part about it is that one doesn't need a prior booking for this 3-hour trip and you can join in anytime, making it altogether more convenient.
An ideal picnic for people living in and around Thekkady region, this Day Tour is organized between 7 am to 4 pm. It cost about INR 1000 per person which includes breakfast and lunch. If you prefer, you can also bring your vehicle on this tour. This is best for people who have a very short time but still want to get a glimpse of Gavi.
How to Get There:
You have two options to reach Gavi by road. There's one from Pathanamthitta via the Angamoozhy village (55 km) or take the Thekkady road from the northern side near Vandiperiyar (28 km). The first one offers you some scenic views along the way.
Nearest Railway Link: Kottayam Railway station (128 km)
Nearest Air Link:Â  Cochin International Airport (160 km)
KFDC Day Trip to Gavi Forest
KFDC also organizes Gavi Day Trip. An ideal day trip starts with breakfast at 8 am after which you visit the beautiful plantations with a trained forest guide. About half-an-hour post noon, you return from your plantation visit to have a sumptuous Kerala style vegetarian lunch. A relaxing boat ride after the lunch will take you deeper inside the forests where you'll see the cardamom plantations and the curing house. Then you'll be taken to the viewpoint where you get a panoramic glimpse of the famous Sabrimala temple. After that, you'll visit a Museum where skeletons of animals are preserved. After such rich flora and fauna experience, you'd come back to the registration point to have a refreshing evening tea and the tour ends at 4:30 pm. This trip is ideally suited for those who have a very short time at hand and interested in daily adventures. The package is affordably priced at INR 1659 per adult and INR 830 per child. You need to book for this Day trip only through the government's official website – https://gavi.kfdcecotourism.com/Home/DayTrip/4 .
Gavi Car Entry Pass to Gavi
If you plan to visit Gavi on your own vehicle, you need to get a Car Entry Pass. You can also purchase one online here and show the same at the Ticket Counter at the Angamuzhy Forest Range Office. The Entry time is from 08:30 am to 11:00 am only. Also, you can get it changed from the counter to enter via the Pathanamthitta side if you wish too. But do remember that vehicles entering through Kochandi check post should leave only through Vallakkadavu Check post before cut off time of 6:00 pm.
Accommodation at Gavi
If you want to stay inside the jungle you need to book accommodation with the Kerala Forest Development Corporation (KFDC's) Gavi Eco-Tourism Rooms. There are three types of accommodations available. You can choose for Jungle Camping in which you'll stay in a tent in one of KFDC's two camping sites, situated in the deep forest. This experience is rawer as it includes a boat ride, a visit to cardamom plantations, cardamom curing house, Sabrimala view-point and a bonfire at night. The meals- Breakfast, Lunch, Dinner and Evening Tea, and guide charges are also included in the package. Also, do note, this camping is not desirable for Ladies and Kids, who are recommended to choose any of the other two accommodation options.
The Swiss Cottage Tent provides more comfort and privacy amongst the woods and is more suited for families. A pitched tent with proper shaded roofing and with room-like facilities which include a cot, side table, chair and an attached bathroom. The stays are extremely comfortable and the package includes full meals, rowboat, vehicle safari, a visit to cardamom hills and Sabrimala view-point.
For an up-level experience, you can choose KFDC's Green Mansion, which has the most captivating views of the Gavi Lake and surrounding nature. This is a more immersive experience and you'd feel pampered by KFDC's top-notch hospitality. Like the other two packages, this one also included boating experience, a visit to cardamom hills, curing house, Sabrimala view-point, vehicle safari and full meals.
The check-in time for these accommodations is 2 pm (although flexible) and check-out time is 2 pm next day or 24 hours after check-in time, whichever occurs earlier. Children up to 6 years of age can enjoy free entry while those between 6 to 12 years will be charges half tariff. Do note the meals are fully vegetarian only. To book these accommodations inside the forest premises, you need to book only through KFDC's online website- https://gavi.kfdcecotourism.com/home/Index . You can find more details there.
Best Time to Visit Gavi
The ideal time is between September to February but if you want to experience the monsoons, you can also visit from June to September
Travel tips for Gavi:
Try to avoid taking Alcohol, as the same is banned in most of the forest areas.
Leeches are present in abundance and may cause minor injuries. Carry a small quantity of salt with you. You can pour it over them to eject them out of the skin. Are you afraid of the blood-sucking leeches? Here is the Ultimate Guide on how to Deal With Leeches During Trekking and Hiking!
Nights can be really chilly during the winters, carry some woollen clothing.
Exercise deep caution when inside the forest reserve, you may not watch, but wild animals might be watching you from behind the bushes.
Always travel in a group and stay inside between 6 am to 6 pm.
The terrain is pretty rugged, so carry your trekking shoes. It is also recommended to carry an extra pair of footwear with you, just to be prepared.
In case you get the golden opportunity to come face to face with a wild animal, do not panic or try to provoke the animal. Stay calm and composed and don't make them feel threatened by your presence, and you shall have your way.
Don't forget to collect your Entry Pass from the Forest check post at Vallakadadavu.
Try not to make noise while inside the forest and especially during the night time. Instead, enjoy the surround sound of the forest animals.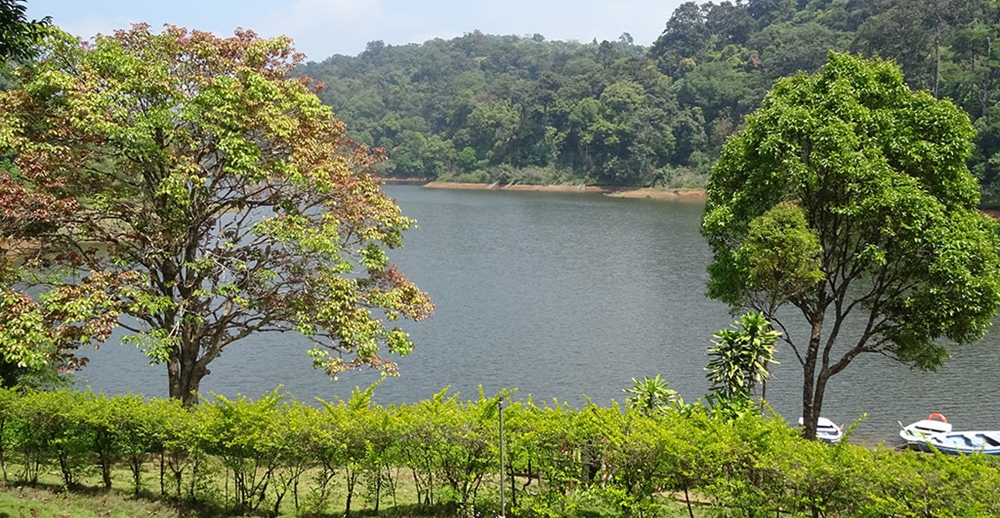 Image Source
Gavi, an extension of the famed Periyar Tiger Reserve, is also well-preserved scenic beauty and also home to some endangered species like the Nilgiri Tahr and Lion-tailed Macaque. It plays hosts to more than 260 bird species. Gavi's pristine and untouched forests are sure to provide a rejuvenating experience.
Have a look at other interesting activities you can enjoy in Kerala.
(Visited 1,881 times, 2 visits today)