About Jatayu
In Hindu mythology Ramayana, Jatayu is described as a demi-god who was Aruna's younger brother. He had the form of a vulture and was a dear friend of Dasharatha, Lord Ram's father. Jatayu attempts to rescue Goddess Sita as King Ravan was kidnapping her to his kingdom Lanka to take revenge from Lord Ram and Laxman.
Jatayu stopped Ravan's chariot named Pushpaka Vimana and got into a fight with Ravan. During the fight, Ravan cut off Jatayu's left-wing and left with Sita. It is said that the injured Jatayu and his lost wing fell on this stone where the statue of Jatayu is presently built. The stone is named Jatayupara (Jatayu Rock).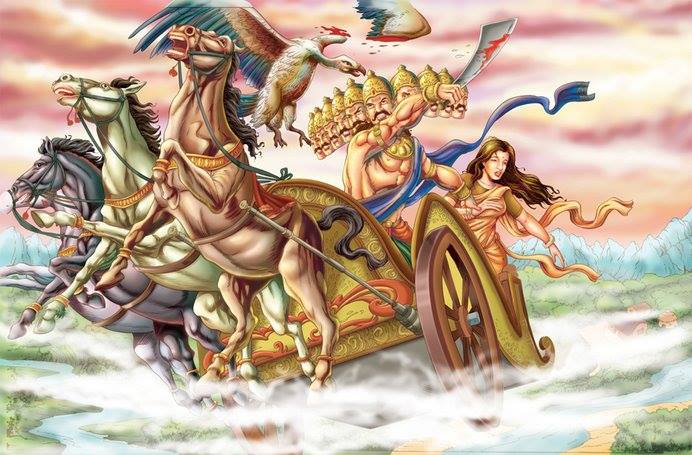 The epitome of courage and chivalry, Jatayu did not think twice and flew to rescue Goddess Sita from King Ravan. After Ravan cut off his wings, Jatayu waited for Lord Ram to tell him that Ravan has gone in the southern direction. With the agony of Jatayu dying trying to rescue Sita, Lord Ram blessed Jatayu and did his rites. Since then, Jatayu has been a personification of courage and represents the protection and empowerment of ladies.
What does Jatayu Earth Center Signify?
Jatayu Earth Centre is the artful creation of sculptor, film director, and art director, Rajiv Anchal with a devoted work of 10 years and the message being Women Honor and safety. Jatayu symbolizes a time where human and other living creatures cared for one another.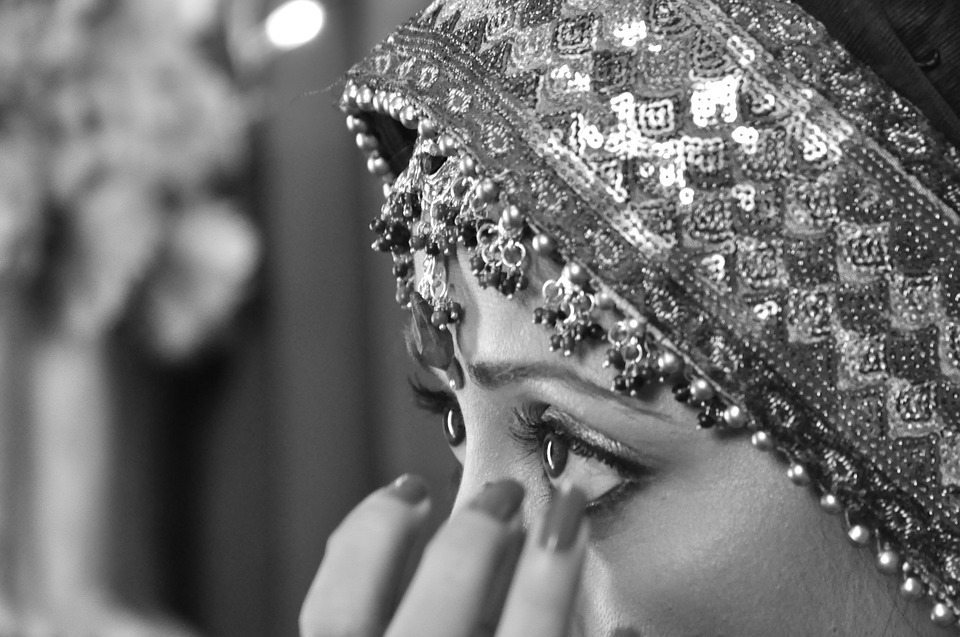 According to Rajiv, the Jatayu rock signifies women empowerment. In this present era, ladies face various problems and the crime rate against them has increased drastically. This grand structure which features the courage of Jatayu to rescue Goddess Sita, tell people that women are important and they must not be subjected to any kind of misbehaviour or harm. With Jatayu giving up his life, it is vital for men to stand up for the women rights. Uplifting them and ensuring that they live in a sheltered and secure condition is essential. It is a tribute to Women.
You will positively get spellbound by this most recent tourist destination in Kollam, the Jatayu Earth's Center that has the world's biggest bird sculpture. Spreading across 65 acres of land, this is the first-ever Build-Operate-Transfer or BOT tourism in Kerala.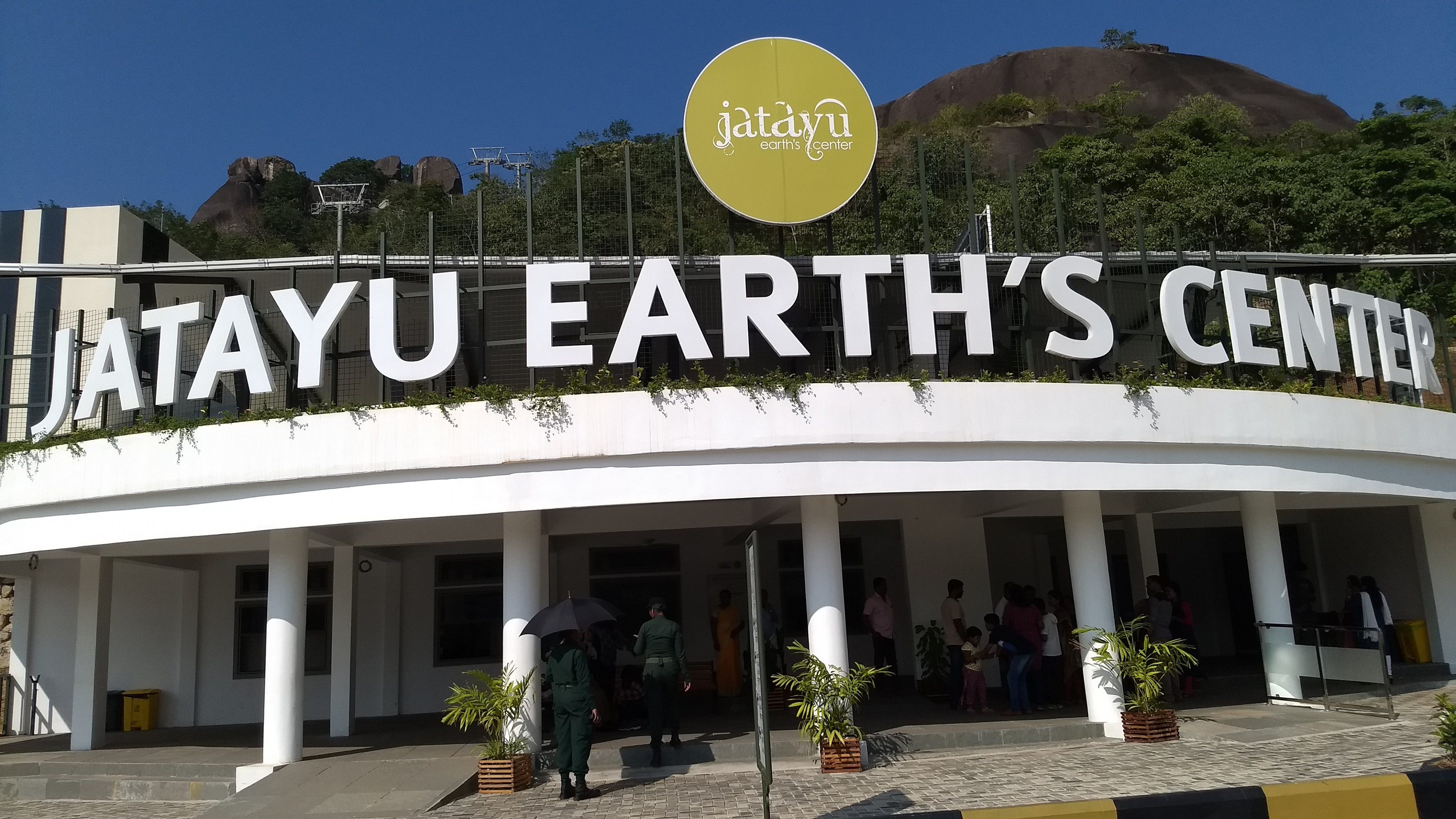 The incredible Jatayu sculpture resting up on the hill grabs your eye even from a far distance when you are travelling to Chadayamangalam. It is already the new favourite travel destination in Kerala. Now we have another reason to go to Kerala. Read on to know more about the fascinating  Jatyu Earth Center!
What you can expect?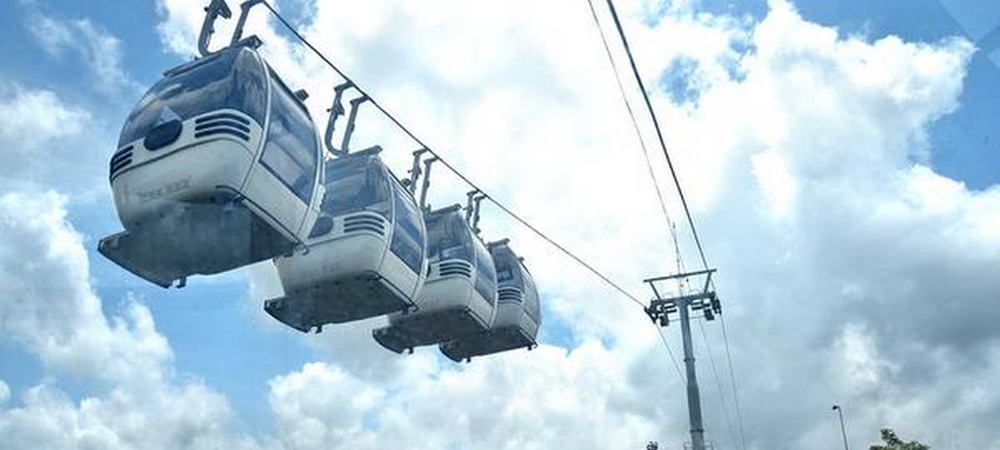 Image Source
You can get to this place easily with a cable car. Jatayu Rock offers a huge number of experiences to the explorers. One of the most amazing things you will experience here is the 6D Theater and the museum located in the sculpture.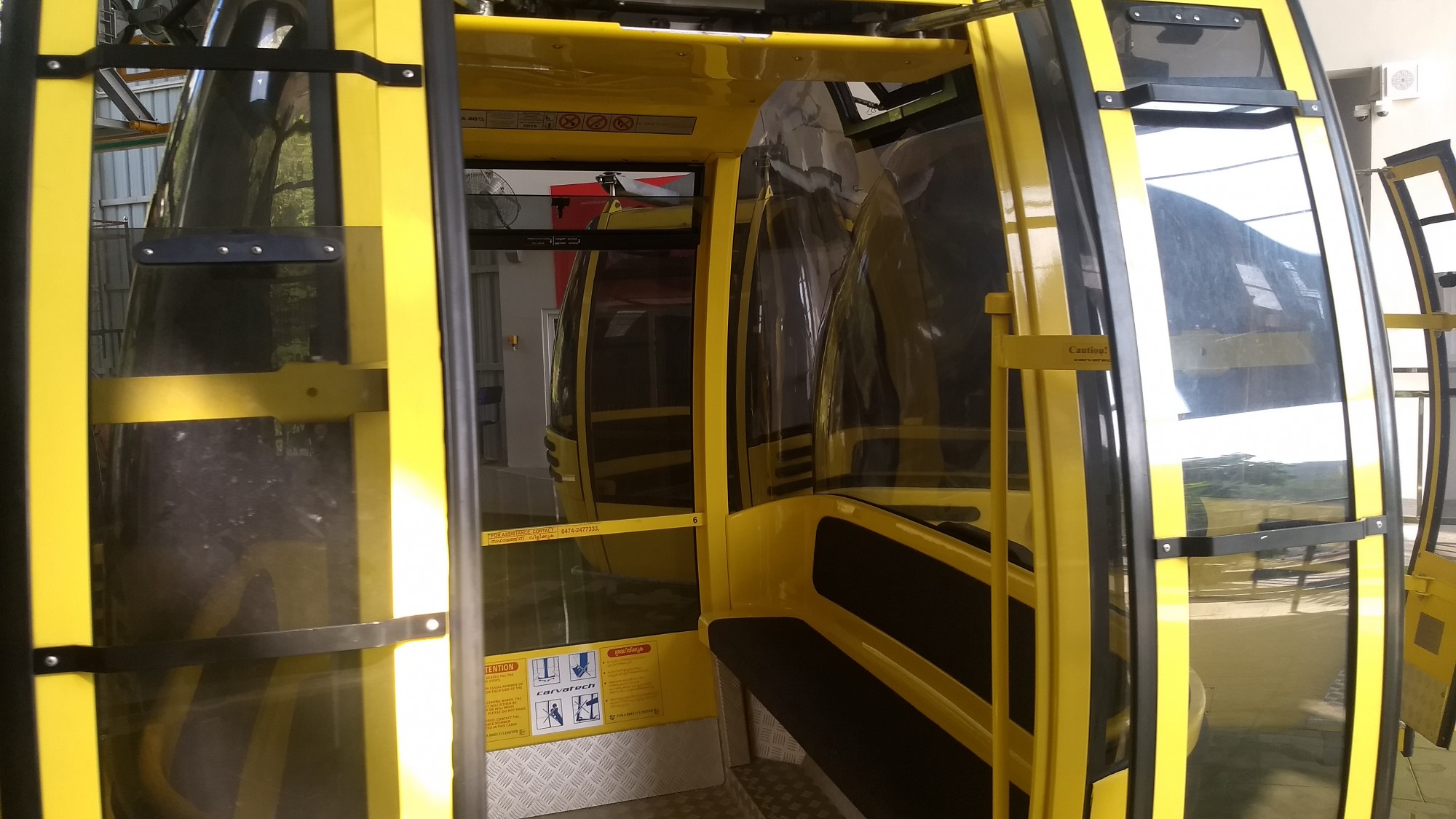 This is an ideal weekend escape for all the adventure lovers! Take part in adventure activities in the surroundings of amazing vistas of nature. Regardless of whether it is commando nets, vertical ladder, Burma spans, side joola, chimney climbing or log walk, take your pick and feel the adrenaline rush through your body. The new Paintball zone adds to the excitement of this place.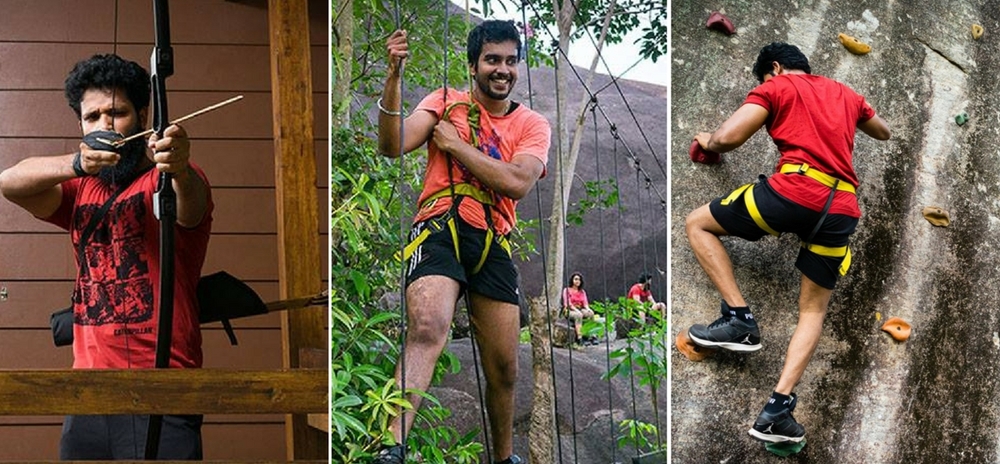 Image Source
Apart from all these special experiences, it also includes camping, trekking, Ayurveda, live kitchen and much more that will make your tour fabulous. You must visit this destination for an exceptional experience that you will not get in any other tourist spots in Kerala!
Timings: 10 am to 5 pm
How to reach:
By road: It is located about 200m  away from Trivandrum- Chadayamangalam Main Central Road; which connects Kesavadasapuram (Thiruvananthapuram) and Angamaly (Ernakulam). Buses come here from all the major spots in Kerala.
Closest Railway Stations: Kollam Junction (35 km) and Thiruvananthapuram Central (55 km)
Closest Airport: Trivandrum International Airport (52 km)
Google Maps Location of Jatayu Earth Centre
About Jatayu Earth Center
This is an absolute must-visit during your Cochin or Trivandrum tour. It is perfect for a day tour or even when you are on a Kerala tour, keep a day assigned for this amazing place. The place is a blend of art, folklore, innovation, culture, experience, relaxation and wellbeing set up together majestically like never before. The big sculpture is the major attraction alongside ropeway and numerous courageous activities make this place perfect for families and also for adventure seekers.
To give an overview, the whole Jadayu Earth Centre is built on four hills. Each hill has its own significance.
Hill 1: Jatayu Rock Hill (also known as Jatayuppara in Malayalam):
This is the tallest rock here with an altitude of 305 m and is the main attraction of this place. The Jatayu figure has been built on this rock.
This rock was already perfect for adventure activities. So, there are many activities on and around this rock and requires a full day to cover them. If you are not interested in any adventure activities, you can skip this one. They have a separate package for adventure activities that start in the morning and end in the evening.  It includes lunch as well as refreshments.
Hill 3: Elephant Rock Hill (also known as Aanappara in Malayalam):
The activities around this rock include a zip line, pit fire, night tent, sky cycling, moonlight dinner with live music, live kitchen and so forth.
Hill 4: Kitchen Rock Hill (also known as Adukkalappara in Malayalam):
The activities in this stone will incorporate Siddha rejuvenation in caves that are natural with herbal garden and accommodation. The helipad is close to this hill. You can also enjoy the outdoor paint-ball activity which has scenic natural surroundings.
You have to pre-book a rope car in order to reach Jatayu rock. For pre-booking, you can use the online booking portal http://www.jatayuearthscenter.com/hill1.html.
There is no ticket counter at the site and just online booking is permitted with different time slots and the charge is Rs. 400 +tax /per individual including rope vehicle ride. So, you must book the time slot beforehand as per your choice.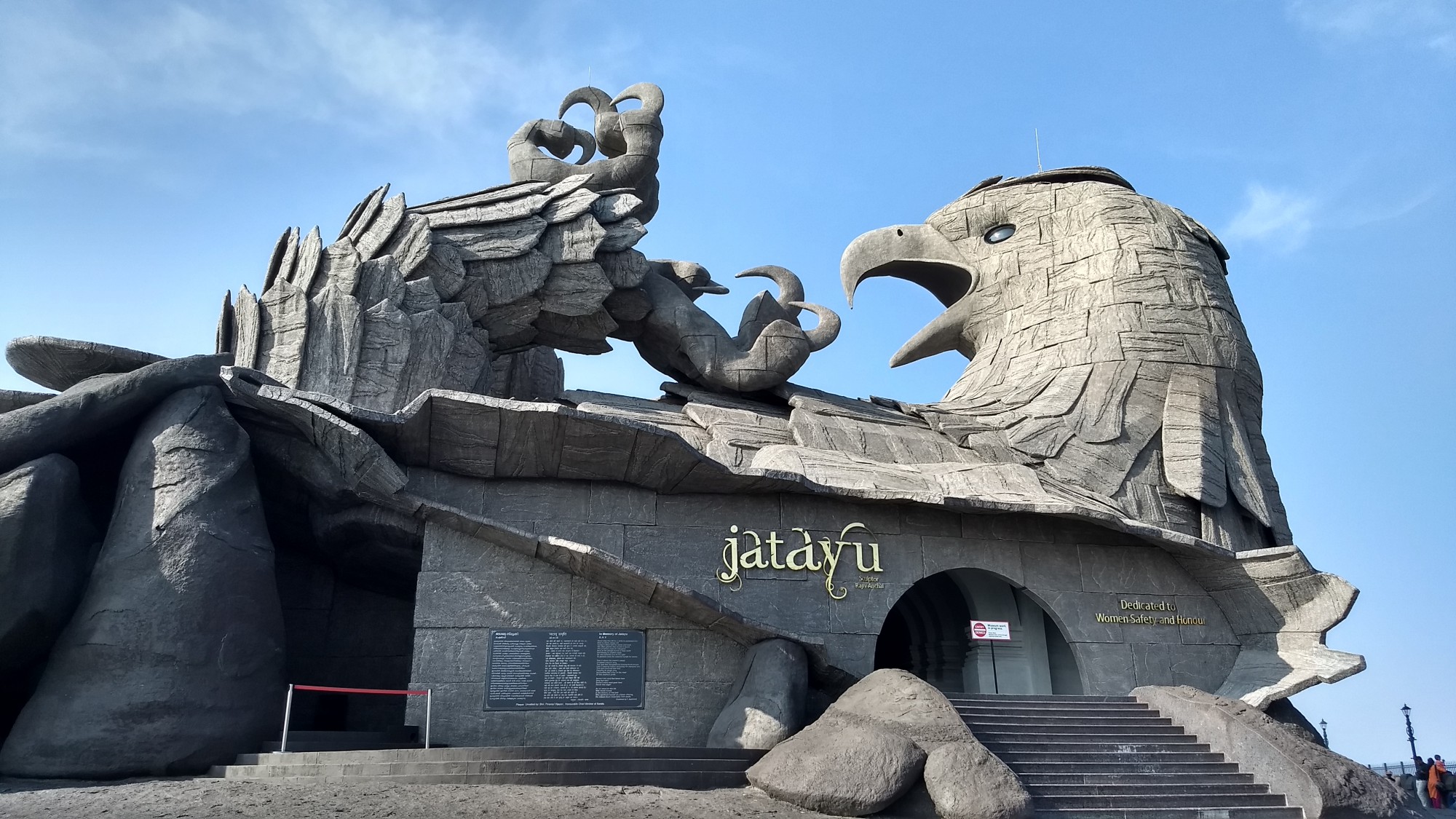 As you enter the main gate, you need to move to the Jatayu Earth Center after security check. A cloakroom is available where you can keep your personal stuff.
After entering the main gate of the sculpture, you will get the tag and then you will go to the rope car. The tag of various colours indicates individuals of different time slots. They also have wheelchair facility if required. This spot gets visitors from all the four generations from Grandparents to kids since it has components that are fascinating to all generations. From adventure enthusiasts to family to couples, it caters to a wide range of audience.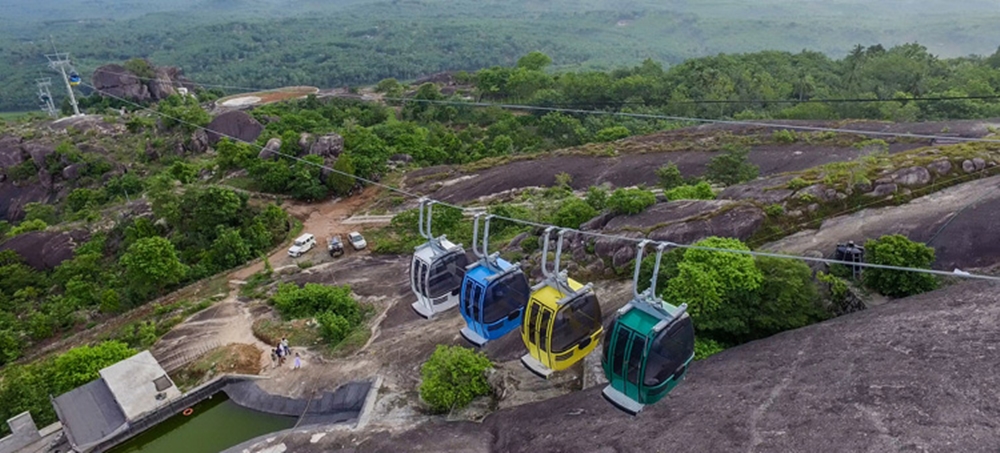 Image Source
The rope car gives a unique experience. The picturesque beauty that you see from the top is mind-blowing as well as memorable. After getting out of the rope car, you will get to the Sculpture. Disabled/old people can go up steps using a special chair assigned for them after getting out of rope car.
The sculpture is 60m long, 45m wide and 21m tall, making it the largest bird sculpture in the world and it also has a place in the Guinness Book of World Records.
Experiences at the Jatayu Earth Center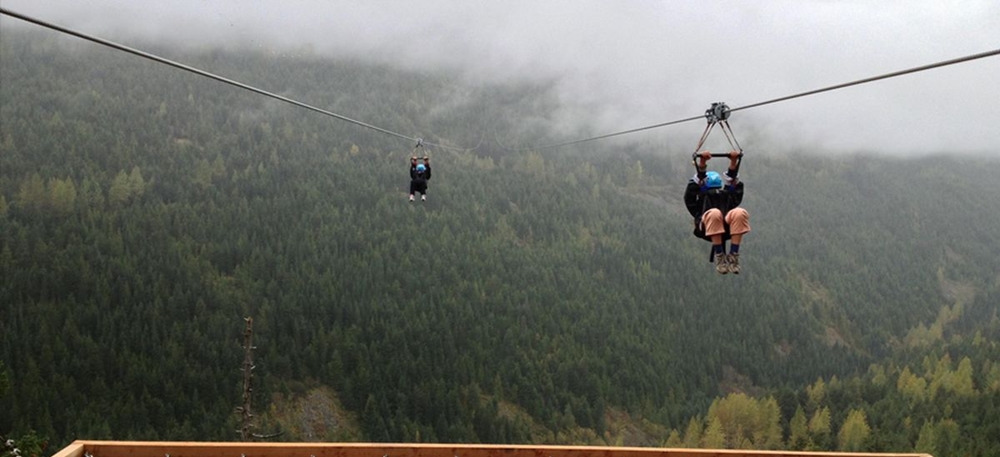 Image Source
The space inside this sculpture is 1394 sq.m. They show you visuals that bring the authentic effect of Treta Yug. You will be able to experience Jatayu fighting with Ravan to save Goddess Sita in a 6D theatre, therefore by giving the audience a message to respect and honour women.
There is a small pond close to the rock and it never goes dry. The pond is thought to be made by Jatayu's beak. A water body situated at 304m height is not very common and looks mesmerizing. You can also see a footprint that said to be of Lord Ram.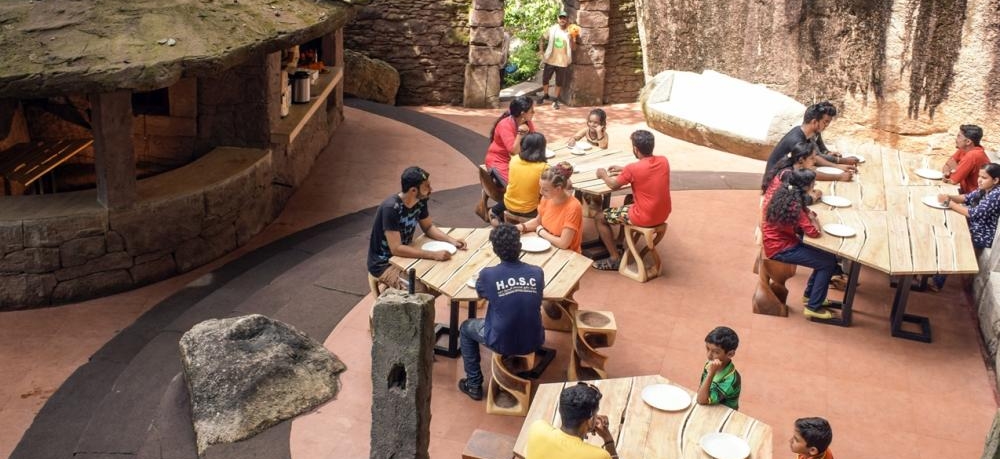 At the top, there is a snack counter where you can buy snacks, water, soft drinks and so forth. You can also go for a helicopter ride and take a round over the Jatayu sculpture. The charge is Rs.2400/ per person + GST. This 10 mins ride gives an aerial vista of the spot.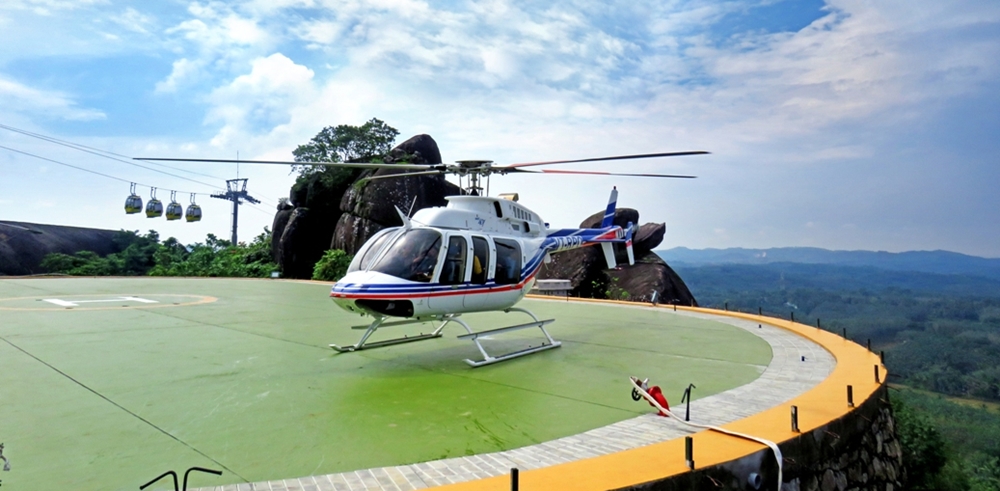 Image Source
The cost of Adventurous activities is Rs. 500/ – per person where you can go for 15 activities without any additional expense. An adventurous soul would require one entire day to experience all of them. In the event that you are on a tight schedule, you can skip this part.
You need to walk to reach this territory which itself is an amazing experience because of the great natural beauty around. There are 15 staff members to guide you in these activities. All safety precautions are in place.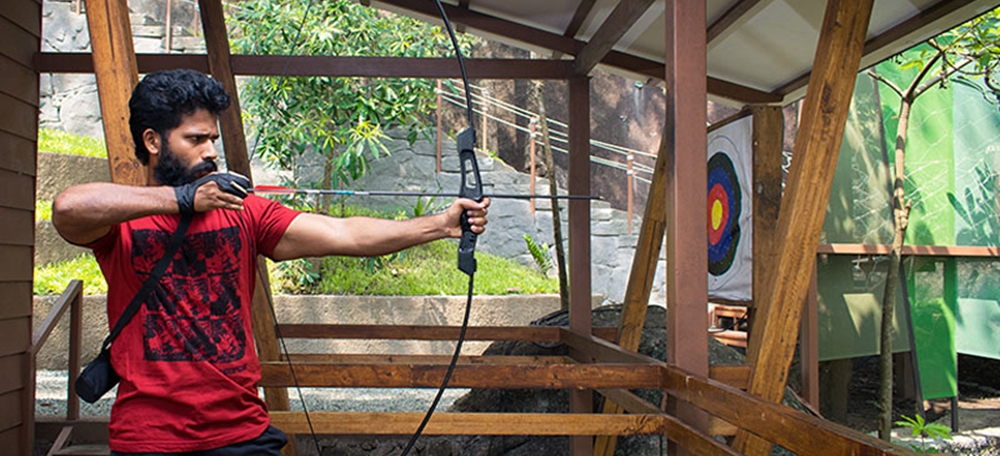 The activities include Archery, Riffle shooting, Rappelling, Wall Climbing, Chimney Climbing, Vertical ladder, Walkthrough swings, Commando, Net Jumaring, as well as Log walk. Paintball, Valley crossing, etc. are also popular activities in this paradise.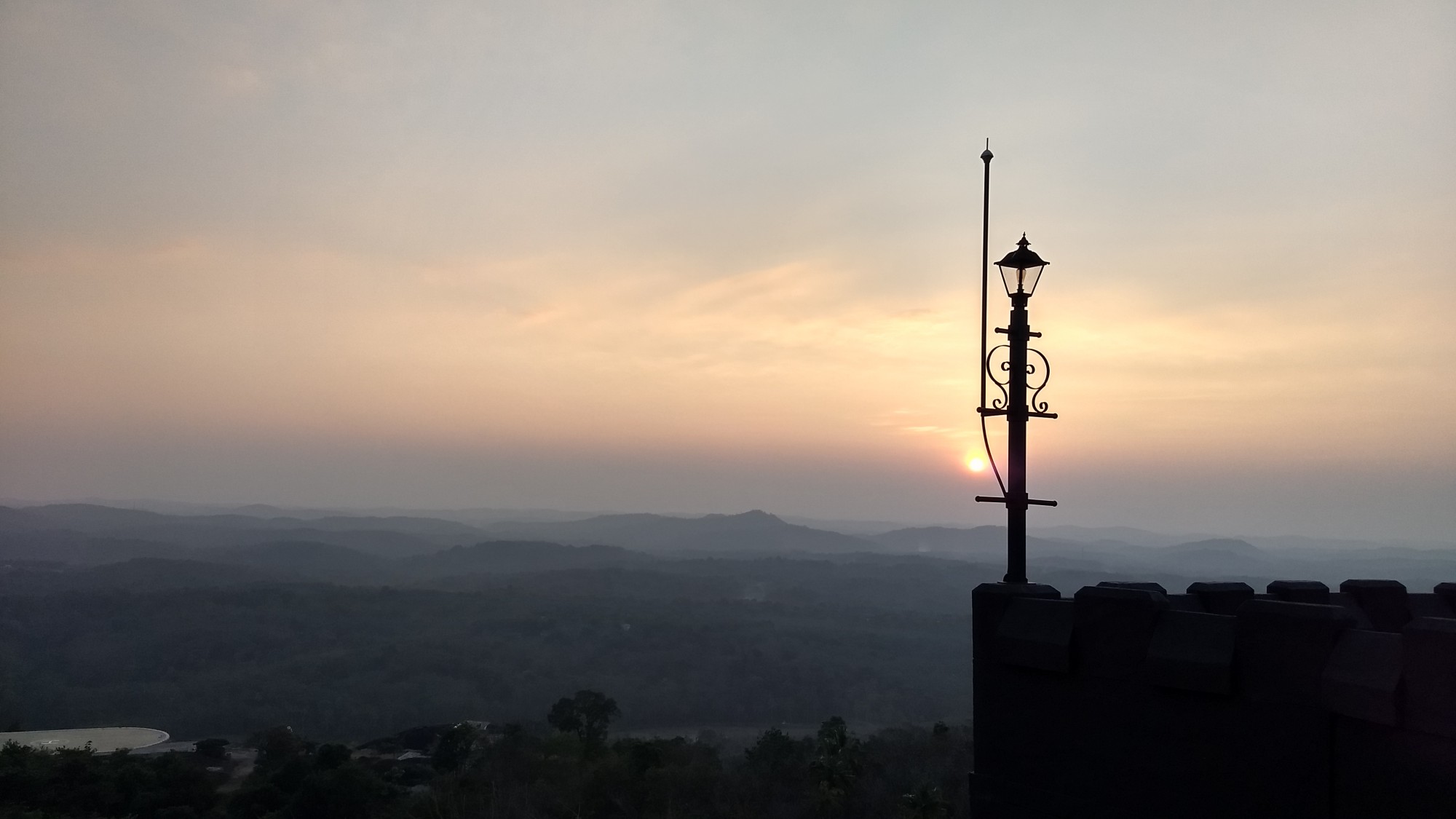 Every traveller must include the Jatayu Earth Center in their itinerary for a unique experience that will last a lifetime.
Have a look at other interesting activities in Kerala.
(Visited 1,863 times, 1 visits today)