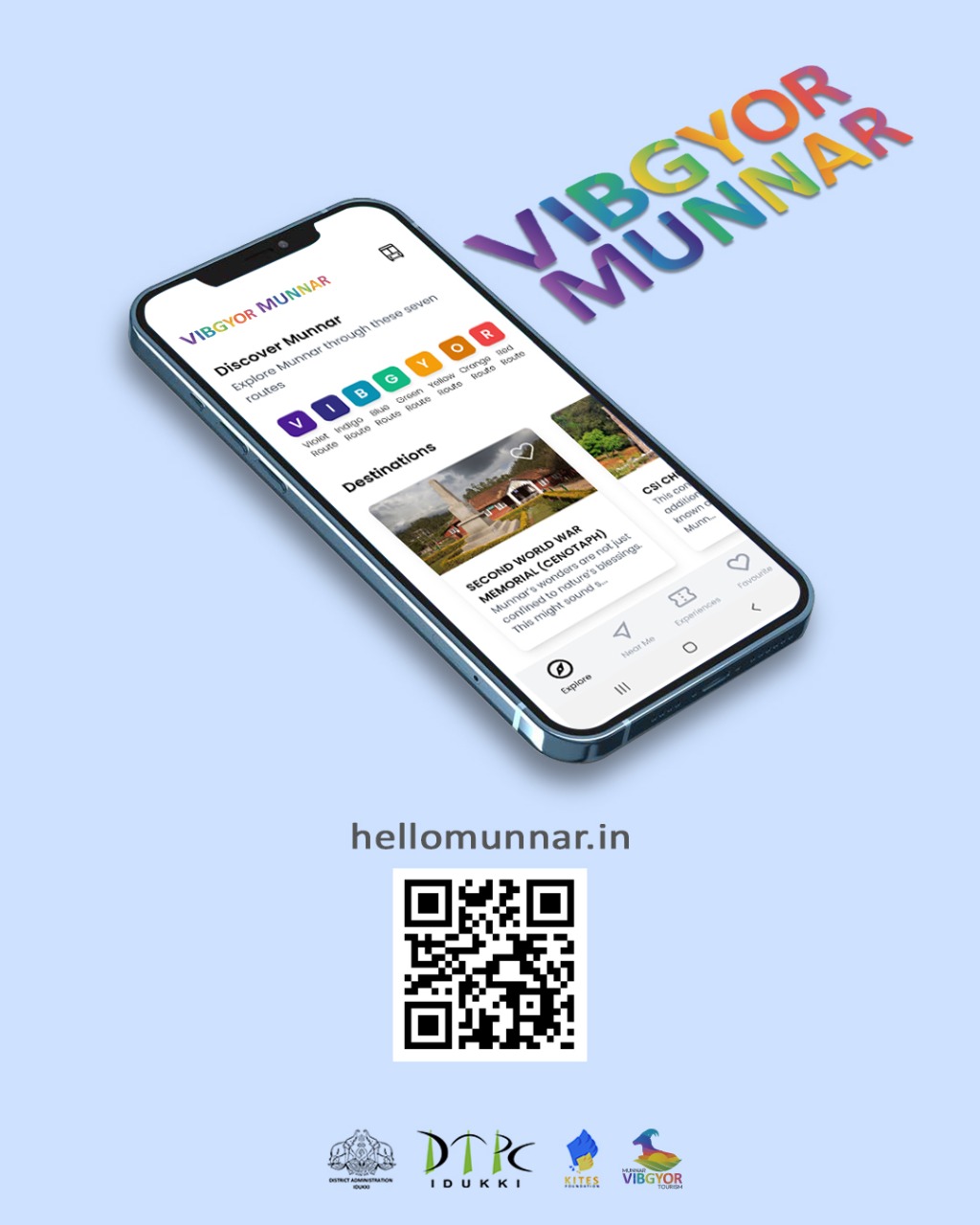 Vibgyor tourism is a scheme developed by the Idukki district administration with the help of the KITES foundation to brand Munnar tourism in the international arena and to help the tourists visiting the place to know about its details easily.
This program is implemented under the leadership of Devikulam sub-collector S. Prem Krishan IAS, with the help of Munnar Merchant Association, Showcase Munnar, MDM, Lion's club Munnar, Merchant youth wing, KHRA Munnar, Auto and Taxi Association, Guide tourism and promoters.
The aim of this programme is to create a travel-friendly atmosphere for the tourists visiting Munnar. For this purpose, the place has been divided into seven zones and each zone is named after a rainbow colour.
As a part of this, an app called VIBGYOR TOURISM is developed by the district administration. The QR code directing to this app is displayed in public places, vehicles and hotels which would make it easily accessible to tourists to locate and travel the places. Anyone can get access to the information in the app by using their mobile phones.
From February 17th onwards the primary version of this app will be made available to the public. Afterwards, various updations will be done to it phase by phase. By July, the complete version of this app will be made accessible to tourists.
Important tourist destinations, the speciality of those places, stay, hospitals, hotels, petrol pumps, toilets, police help, accessibility to vehicles, the apt time to visit each place and all other necessary details a tourist must know while visiting a place in Munnar is made available at your fingertips through the Vibgyor Munnar.
To introduce the diverse flora and fauna of Munnar to tourists, the description of the same from each place including their IUCN status is also made available through this app.
One can also do booking to various important National gardens including Meesa Pulimala via this website. The information regarding KSRTC bus services along with its timing is also available. As the second phase of this, the booking of this service will be made available.
Citizen reporting with live updates and other information regarding various places in Munnar to tourists is another speciality of this.
Though this app is developed as a website, it can be availed as a mobile application on mobile phones. This helps tourists to go through the information in the app even when the network is scarce.
A hackathon was held on January 29, 30 and 31 at the Munnar College of Engineering for developing the website, led by Idukki District Administration in collaboration with Kites Foundation, Devikulam Block Panchayat, Munnar Grama Panchayat, Kerala Startup Mission, Innovation Incubator, Faya Corporation, Students Developers Society and Idea Roots.
The app is run by a team of over 60 people, including IT professionals.
Inauguration of Munnar Vibgyor Tourism Project and Website Launch implemented by Idukki District Administration in collaboration with Kites Foundation was carried out by The Minister for Electricity Shri. M.M. Mani by handing over to The Minister for General Education Prof. C. Ravindranath.
Web App Address: hellomunnar.in
(Visited 482 times, 1 visits today)