Thanks to the high literacy rate and a Human Development Index that is on par with developed nations, Kerala is one of the safest regions in India. It is one of few places where tourists can relax without being followed by touts, guides and taxi drivers. The state scores high on parameters such as education and health, and as a result, the localities are very friendly and welcoming. In fact, it is the first state in India to open a dedicated Tourist Police Station. It just goes onto highlight how much the government cares for the tourists who visit here.
But having said so, it's not a 100% crime-free state and so it's better to be prepared than to be sorry later. Here are some important emergency contact details in Kerala which you need to save in your phone contacts, and can be quite useful on your Kerala Trip.
Here we list of all the Emergency Contact Numbers in Kerala that need to be kept as a ready reckoner while you travel in Kerala.
100 –
POLICE STATION
This is the emergency Police helpline number which is also valid throughout India. Try to memorize it. You can dial it from any mobile or landline number, it'll connect you straight away to the nearest police station.
 101 – FIRE & RESCUE TEAM
Kerala's roads are one of the most accident-prone in the country, due to the narrow width of the roads and topography of the state. Often teams are called in to rescue trapped vehicles and passengers. It is wise to save this number.
108 – AMBULANCE
Kerala's Health care and Hospitals are one of the best in the country. Save this number for any kind of medical emergency.
1090 – CRIME STOPPER
If you happen to witness any crime and want to stop it, just dial this number. Since it's inception in 1998, its available in all the districts of the state and is manned round-the-clock by police personnel chosen by Superintendent of Police. Also, it is not necessary to reveal your identity while reporting any crime.
1099 – TRAFFIC ALERT
You can dial this toll-free number for traffic alerts across the state. Knowing some of the traffic advisories on your route will save your time also.
+91 9846100100 HIGHWAY HELPLINE
Once in Kerala, you would have to crisscross through the various National Highways running across the state. If you need any kind of Highway assistance just dial this number.
+91 9846200100 – RAILWAY ALERT
This is a dedicated Railway helpline number and you can dial this number from any train or stations across Kerala.
+91 471 272 1547 / +91 9855925993 – HI TECH CELL POLICE
Kerala Police's High Tech Crime Enquiry Cell (HTCEC) is equipped to handle cases of Cybercrimes and Techno related incidents.
+919497900000 – POLICE MESSAGE CENTRE
For any police assistance or reporting any incident of crime, terrorism, anti-social elements, traffic problems, etc., you can simply SMS (containing maximum 140 characters) on this number and necessary action shall be taken accordingly.
1098 – CHILD HELPLINE
In cases of incidents against children, this dedicated helpline number can be used. You can also report instances of child labour here.
112 – SINGLE EMERGENCY HELPLINE
This is a recently launched Pan-India helpline launched by the Government of India, for Police, Fire & Rescue, Health and other services. You can also set a panic button on your smartphone for quick assistance.
Here I'm trying to summarise these Emergency Contact Numbers in Kerala into a useful infographic form:)
Emergency Contact Numbers in Kerala

After discussing the General Emergency Contact Numbers in Kerala, let see the list of Women Safety Contact Numbers in Kerala.
Women Safety In Kerala
Kerala is relatively safe for women, compared to rest of India. Being traditionally matriarchal society, women enjoy respect, dignity and priority almost unheard in other parts of the country. In public transport like buses, the front rows are reserved for women and men don't occupy it even if it is vacant. But to be frank, the atrocities against women are not less in any part of the country and care should be taken to avoid any such circumstances. There are many dedicated helpline numbers for women and saving these can be useful at times.
1091 – WOMEN HELPLINE
This is a dedicated helpline for Women citizens for all kinds of assistance. Incidents of harassment against women, neglect, desertion, family discords, etc. are some of the cases this special cell is equipped to tackle.
181 – NATIONAL WOMEN HELPLINE-Â  MITRA
This toll-free National helpline, established by Union Ministry of Women and Child Welfare, is now available throughout Kerala. All grievances of women and children can be addressed here. Mithra181.
+91 471 2338100 / +91 9995399953 -Â  STATE VANITHA HELPLINE
This is a State Level Women cell dedicated to addressing incidents of atrocities on women. You can reach out to the mobile or landline numbers for any kind of help https://kerala.gov.in/helpline-against-atrocities-on-women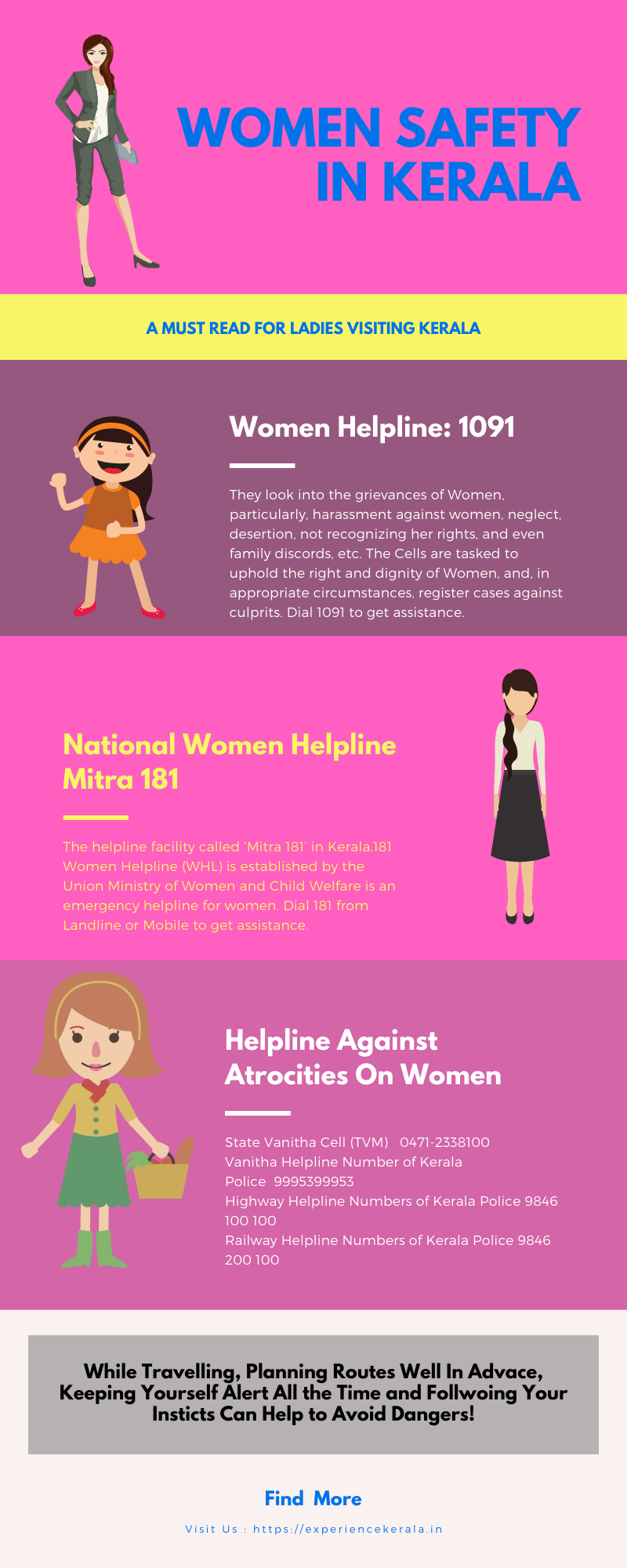 Safety Tips While You are in Kerala!
Dress modestly. Kerala is a conservative state and you should respect the state's rich culture. Wearing too revealing clothes for women can be frowned upon.
It is perfectly okay and safe to wear swimsuits and bikini at the beaches.
Watch out for pickpocketing in crowded areas like buses, festival grounds, shopping areas, etc.
Strikes and Hartals are very common in Kerala, it's better to submit your itinerary at the Foreigner's Registration Office (FRO). Kerala Police operates free buses under police convoy to transport tourists.
While doing boating or any water-related activity, do insist on wearing a life jacket. The state government has already strengthened precautionary measures after the 2009 Thekkady boat tragedy.
Kerala has tropical-humid weather, drink a lot of water.
Alcohol consumption in public places (for both men and women) is against the Keralite culture and should be avoided. If you want to enjoy the nightlife at pubs and bars, the metropolitan city of Kochi is best suited for this.
Exercise precaution for floods and landslides if you are visiting during the monsoon seasons.
Beware of beggars that have migrated from poorer neighbouring states.
(Visited 1,415 times, 1 visits today)