Plantation Stay would give you the pleasure to stay amongst the beautiful coffee and tea plantations where you can explore some beautiful natural views along with the essence of leading a serene lifestyle. Here you can enjoy being close to nature and when it is in a beautiful place like Kerala, the joy of living here would be doubled. So if you are planning to visit Kerala on your next trip, then do consider staying at a Plantation. You would love the experience. In this article, we bring you some of the most amazing plantations stays in the heart of Kerala.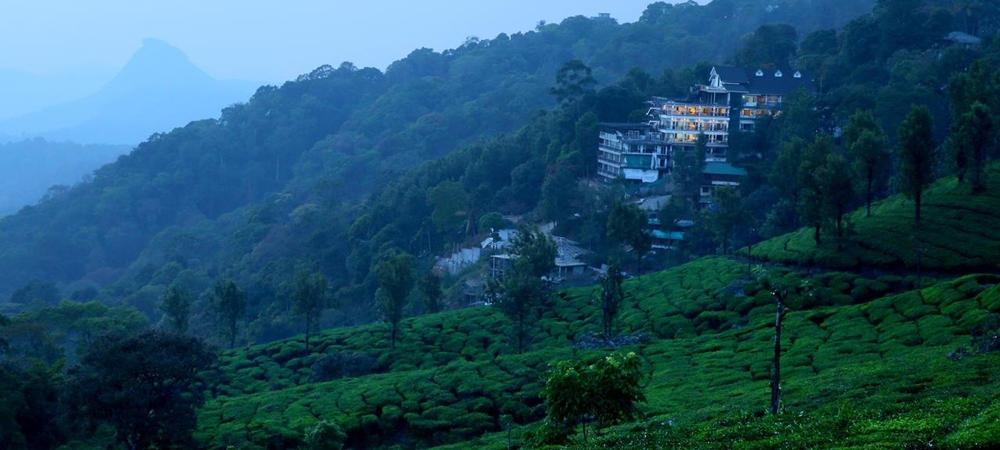 Image Source
The plantation stay at Parakkat Nature Hotel and Resort is something that you are looking for. You would also be able to enjoy mountain retreats here and the amazing views of the tea gardens would definitely take your breath away. This plantation hotel has a wonderful reception lounge along with an open-air restaurant and a delightful coffee shop that would provide you with some amazing coffee with a great view of the whole area. Whether you are here to spend some quality time with your family or if you have come here for a honeymoon trip, the place would give you some amazing memories that you would never forget. The accommodations provided in this property are very luxurious and full of all the amenities that you need. You would also get a jewellery and curio shop here which has some amazing collections.
The Kitchen here is managed by professional chefs. So you would be able to get the finest taste of Indian cuisine along with enjoying some views from the open-air restaurant. Do not forget to try the local Keralian dishes at this place, it would be a treat to your taste buds. Here you would get four choices of room depending on the amount of luxury you want. Each of the rooms is spacious and provides a great view, but the luxury quotient increases with the prices that you pay for the rooms which include classic rooms, superior rooms, premium rooms, and club suite. The
rooms are arranged in ascending order with respect to luxury.
Location – Munnar
Read More about Parakkat Nature Hotels and Resorts Munnar
Image Source
If you love to stay in bungalows amidst a beautiful plantation garden, then this property in Kerala known as Parisons Plantation Experience would be the ideal staying destination for you. Situated at an elevation of about 3000ft, this 4025-acre property is a great accommodation option. It is a luxurious property with all the amazing facilities, great views and memorable experiences. The surrounding landscapes are very royal and the bungalows have recently been remodelled to give you the best living experiences. You can enjoy swimming in the fresh water swimming pool which is present in this huge property. You can also enjoy multiple facilities like gym, laundry, and high-speed internet Wi-Fi.
The rooms provided here are made keeping in mind your luxury and requirements for space. All the rooms have beautiful décor and would give you the best surrounding views. The most demanded room in this property is Cedar and to enjoy the best of views, you should definitely opt for the west wing accommodations. For privacy, go for the Caracara Bungalows.
If you love swimming, then go for the Talapoya bungalows which are just next to the swimming pools. You can enjoy lip-smacking delicacies here with varieties of vegetarian and Non-vegetarian items. Also, indulge in fun activities like trekking along the beautiful trails. The nearby site seeing spots include the Nagarhole National Park, Tholpetty Wildlife Sanctuary, Kurava Island, Pakot Lake, and Banasura Dam. The property is also ideal for a campfire and holding barbeque sessions at night.
Location – Wayanad
Read More about Parisons Plantation Experiences- Wayanad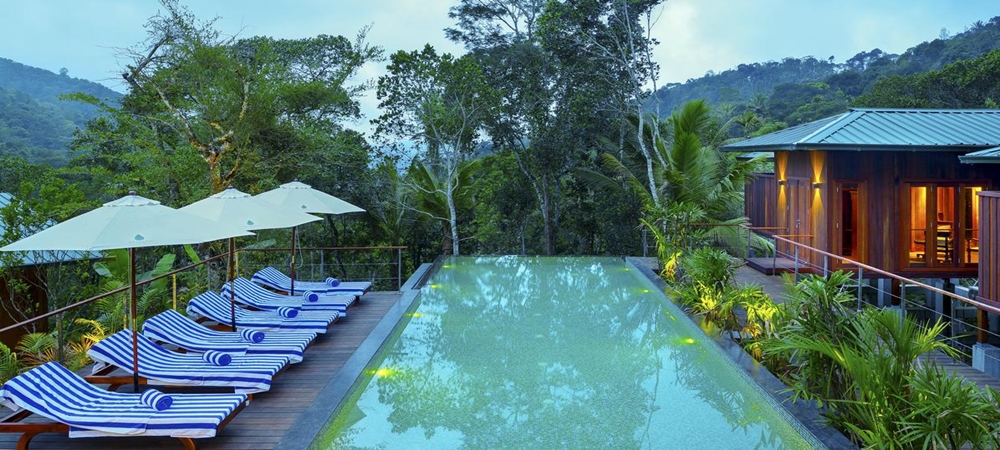 Image Source: www.niraamaya.in
Situated at the lap of the Cardamom Hills, the Niraamaya Retreat is a place for nature lovers. This property has 6 deluxe cottages that provide the best view of the surrounding hilly areas and is ideal for a family vacation and honeymoon trip. If you want to live behind the hustle and bustle of city life and enjoy some peaceful days with your loved ones, then this is your ideal place to be.
One of the best things about this property is the hospitality. The staffs here are very friendly and are always ready to help you with anything that you want. You get many facilities like spa, room service, high-speed Wi-Fi and a beer parlour You can watch the birds and the giant Malabar squirrel playing everywhere, as the essence of nature is preserved here in its purest form. You can also go for spa therapies which would relax your body and soul.
The restaurant here is multi-cuisine and all the foods are prepared by well-trained chefs. You would get a complimentary welcome drink on arrival along with a fruit basket, a platter of cookies and a delicious cake in case you have opted for the honeymoon package.
There is a whole lot of activities that you can enjoy here, starting from boat riding to walking through the spice plantation. The flora and fauna are very rich and hence you can witness some of the finest natural beauty here. Going for a trek and meeting the Asian elephant would surely be a treat for you.
Location – Thekkady
Read More about Niraamaya Retreat Thekkady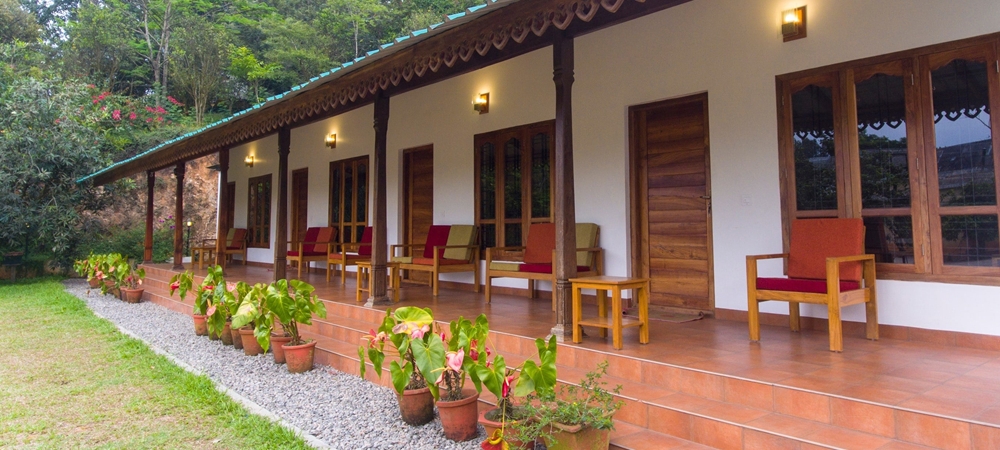 Image Source
If you are planning a vacation with your family and friends in Kerala, then this beautiful plantation stay would give you the true essence of the place. Being located amidst the hills, the views that you would get from the accommodations here is mesmerizing. The ambience here is very soothing. You will enjoy all the modern amenities while staying among the peaceful natural surroundings. The whole property is well decorated with flowers and trees and the well-maintained rooms would give you all the luxuries that you want. Spread over an area of 65 acres, there is an abundance of cardamom plantation here along with coffee and pepper.
You can go for sight-seeing at Idduki Dam, Periyar Wildlife Sanctuary and Rock Hill Adventure Park. You can go for a walk through the coffee plantation areas and also can enjoy fishing at the nearby ponds. The natural surroundings attract a lot of birds here, so you can do bird watching. At night you can spend some fun time with your family while grilling and barbequing delicious food. If you 're with kids, then they would also have fun in the playing area with lots of swings, see-saw etc. You can also engage yourself in some indoor and outdoor games.
There are basically two types of accommodations available in this place. For homely, spacious bungalows, you can opt for the classic ones. The premium rooms would give you a more luxurious feel. If you love a more modernized touch to your rooms then do opt for the ones in the new wing. However, the speed of Wi-Fi is higher at the older wing. In case you want to stay close to nature, go for the room that has been built with clay. You would get a unique experience.
Location – Idukki
Read More about Kalarickal Heritage Bungalow Idukki
You can find various Kerala Tour Packages with Plantation Stay Experiences on Experience Kerala!
(Visited 1,514 times, 1 visits today)