There are some specific questions that every lady traveller will have in their mind before visiting a foreign country. Here I'm trying to address some Frequently Asked Questions by Lady Travellers who are visiting India especially Kerala. I'm trying to answer those question, and along with that some Safety tips to follow for a Lady Traveller travelling to Kerala is added as a bonus read:)
Is it okay to wear a bikini in Kerala beaches? Which are all the beaches that others may less stare you if you wear a bikini?
Answer: Wearing bikinis in Kovalam and Varkala Beach is okay, but if you are planning to go to other beaches, you should avoid it. It is best to bring other options like swimsuits that are not too revealing if you are planning to go into the water.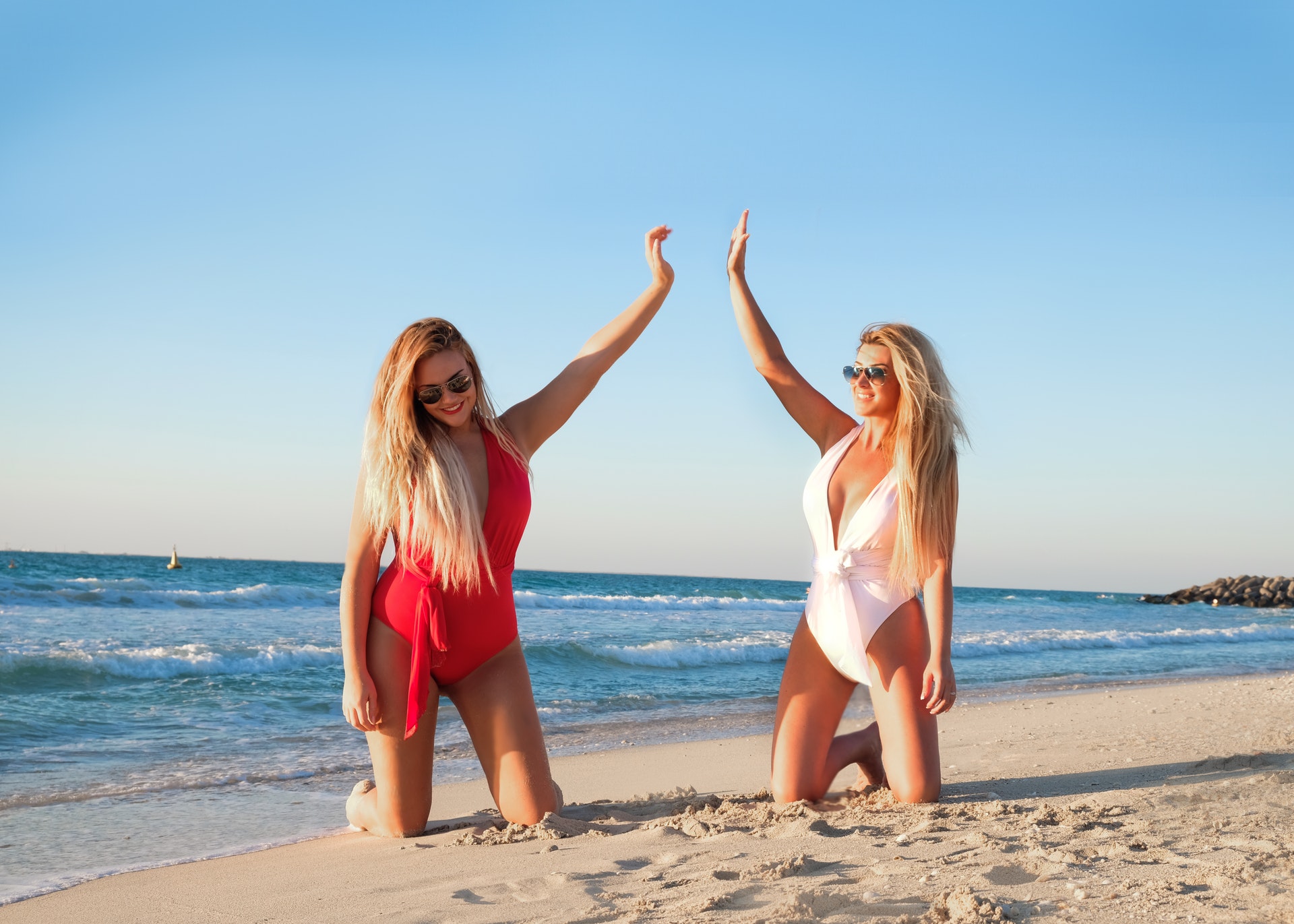 I would recommend you buy swimming costumes for your Kerala trip as you will feel much more comfortable in those. 
Is it ok to wear flip flops/open-toed sandals? 
Answer: Yes – everyone here does! For anyone who values comfort over glam, flip flops are heaven-sent. No other sort of footwear is more comfortable. However, if you are visiting colder places like Munnar and Wayanad, you must carry closed shoes.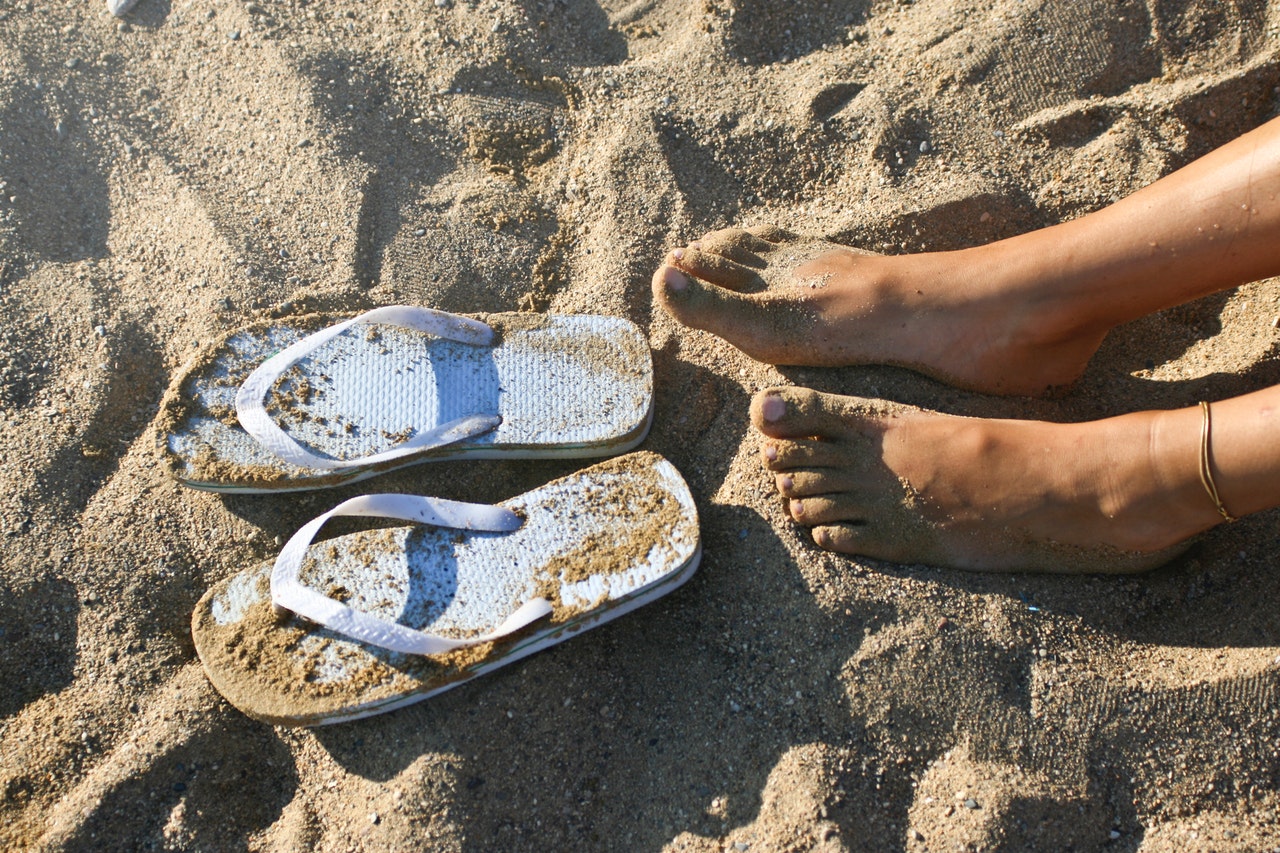 Is it ok to walk around streets/markets etc. with skirts that are just above (not mini) the knee? 
Answer: Yes, it is, but you would feel much more comfortable with clothes that are longer. It can get uncomfortable when people stare at you. In addition, a long, flowy skirt is generally a better option than something shorter than your knee.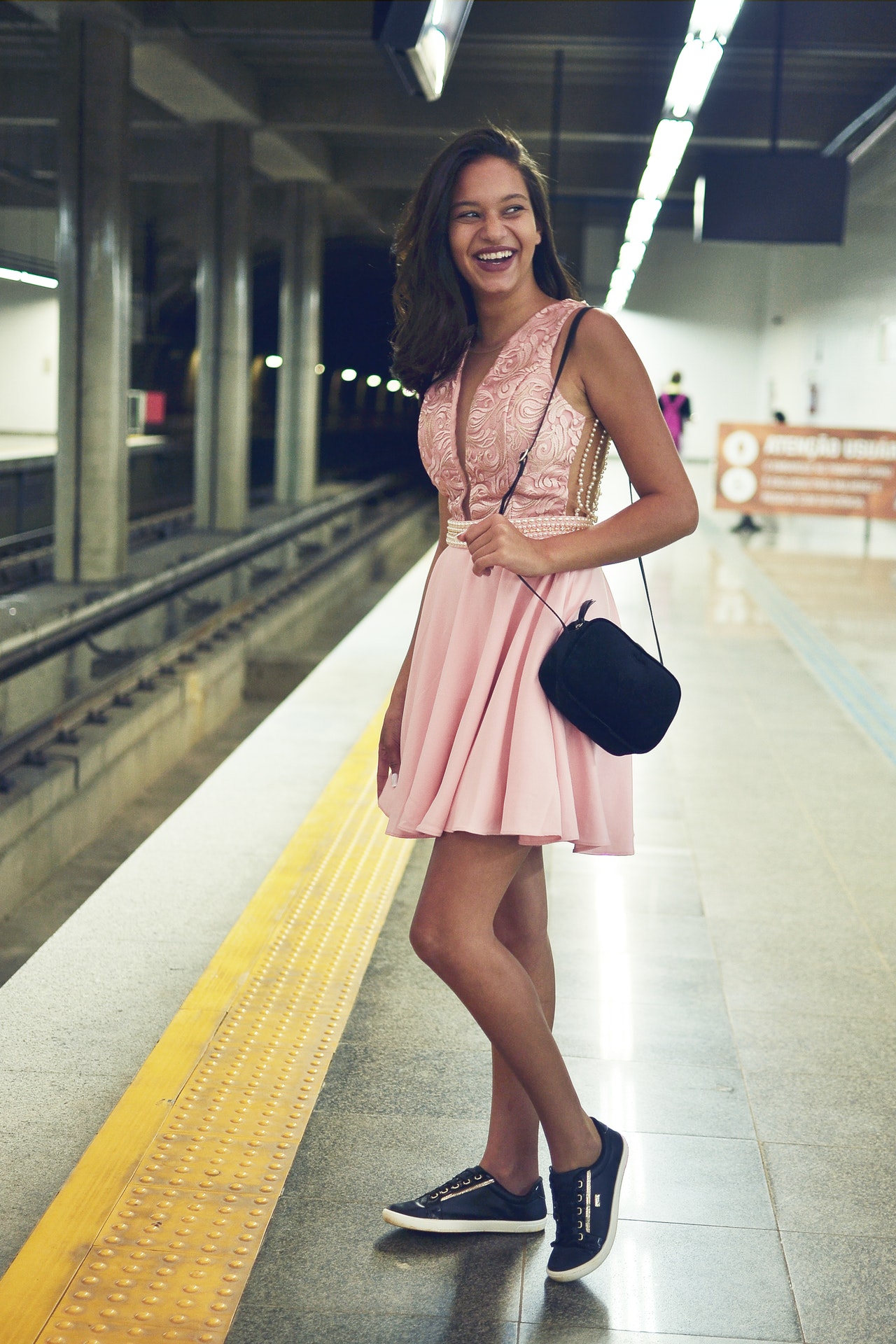 The individuals who are visiting Kerala must know that India is a conservative country, and there are still people who believe in traditional dressing. Ensure you are dressing right while moving around. Ditch short skirts and shorts. It is a good idea to cover your knees and shoulders. Sometimes, dressing right could make all the difference in a country like India. 
Is it ok to wear scoop-necked tops and also tops that scoop at the back under the neck?  
Answer: Yes, however, make sure they aren't too revealing. However, if you are visiting small towns and villages, it's better to cover yourself more. Dressing, according to the place, is a good idea. You can dress more relaxed on the beaches, so it totally depends on the location you are.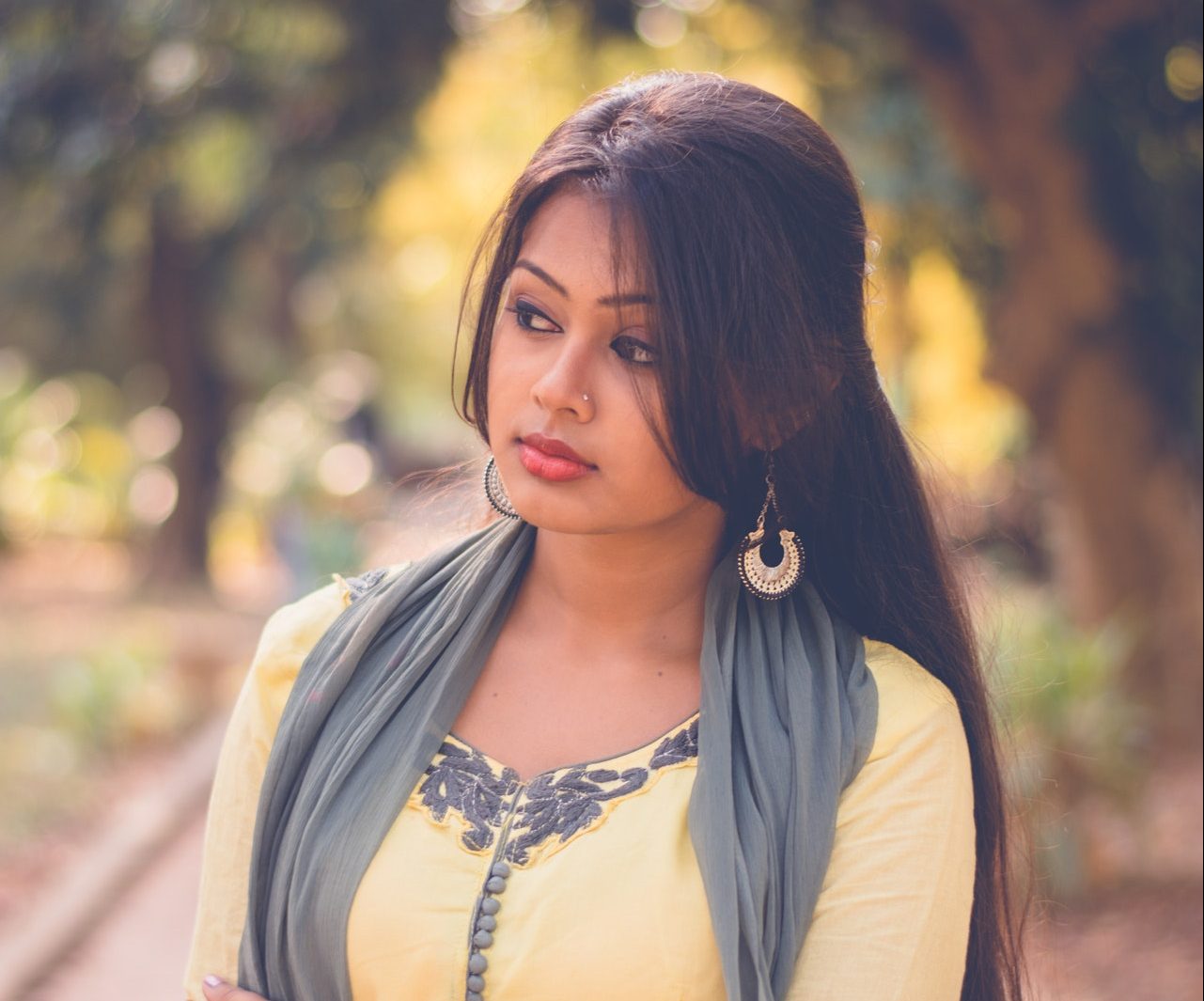 However, if you are planning to visit temples in Kerala, there are strict dress codes in all the temples across the state. Short pants, sleeveless tops or shirts and so on are not permitted. Hence, you should pack full pants or full-length skirts, dresses for your Kerala trip. Furthermore, your arms should be covered too. You can carry a long scarf with you in your bag if you are more comfortable wearing sleeveless. Simply wrap it over your shoulders and cover the arms. This trick you can apply anywhere in Kerala, whenever you feel uncomfortable, just use the scarf to cover yourself. 
In some of the temples of Kerala, women are allowed only in sarees. So you may have to buy a saree if you want to visit those temples. In fact, it is a good idea to wear clothes that are locals prefer, to avoid unwanted attention.
Till what time one can freely roam around?
Answer: Keep your street smarts about you as you would anywhere else in the world, yet Kerala is usually a far safer destination than most other places on the planet.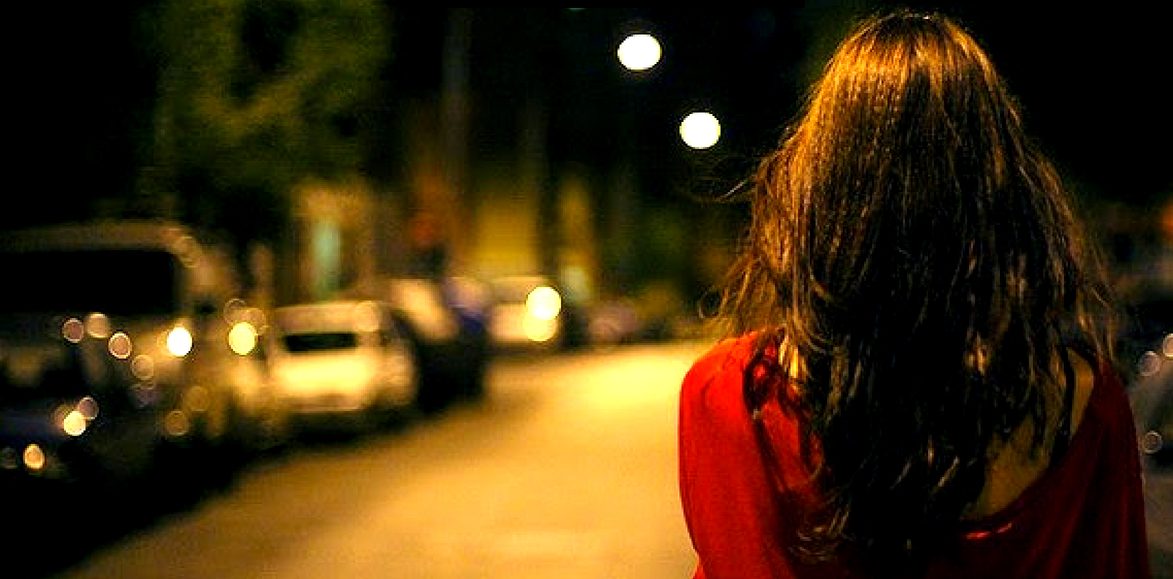 However, it depends where you are, however the shops usually close by 8 to 9 pm in most places, except for the big cities. After that, it tends to be a little eerie in light of the fact that everything becomes deserted, however, it's not really like there are muggers waiting around each corner. But it is always good to be cautious and not roam around in isolated places if you are alone.
Is Kerala safe for solo female Travelers? 
Answer: Kerala is amazing for Solo Travelers. It is one of the safest places in India. However, I would advise you to avoid roaming around alone after 8 pm, except if you are in the city centre. And this isn't just for Kerala, for overall India. 
Now coming back to Kerala, one great thing is you will find many other foreigners as its one of the most significant touristic spot in India. You won't face much language issue since Keralites are well educated and can communicate in English well. People are helpful, and I can guarantee you won't feel unsafe there. 
What are the top travel destinations for a solo female traveller in Kerala?
Answer: There are many breathtaking destinations in Kerala. From beaches to hills to backwaters- there is a lot explore. Below are some of the places that you must include in your Kerala trip:
Kochi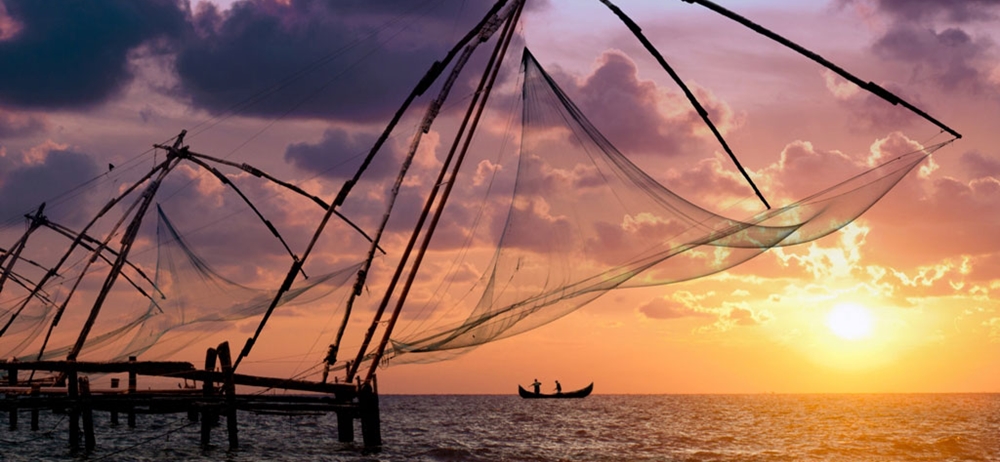 Lovingly named as the 'Queen of Arabian Sea', Kochi is a beautiful city of Kerala. It is outstanding for its spice estates, and flavours like black pepper, ginger, chillies, turmeric, and nutmeg are grown here in great quantity. Backwaters, Willingdon Island, Chinese Fishing nets, St. Francis Church, beaches are other significant attractions. 
Kovalam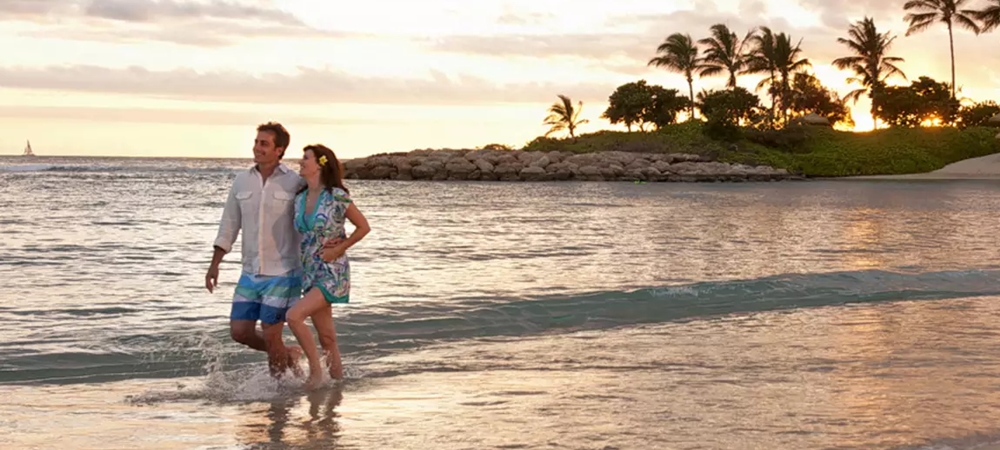 Picturesque to the hilt, Kovalam is synonymous with beautiful beaches. Kovalam attracts many foreign tourists. The beaches here are trendy among foreigners. Most of the hotels here have their private beaches that are well guarded. So, even if you are planning a solo trip, you will feel safe.
Alleppey and Kumarakom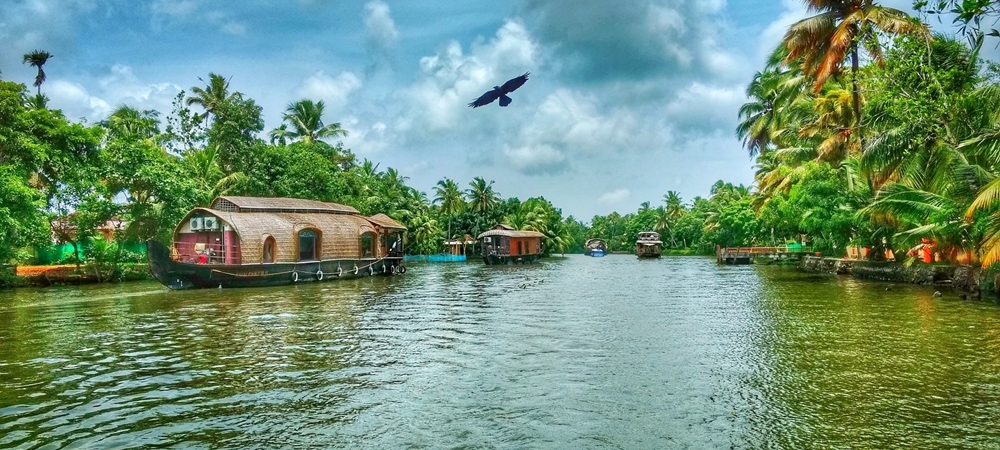 It is an exciting place known for its backwaters. Famously known as the 'Venice of the East', Alleppey is loved by all kinds of travellers. The well-known snake boat race of Kerala is likewise held here. 
Wayanad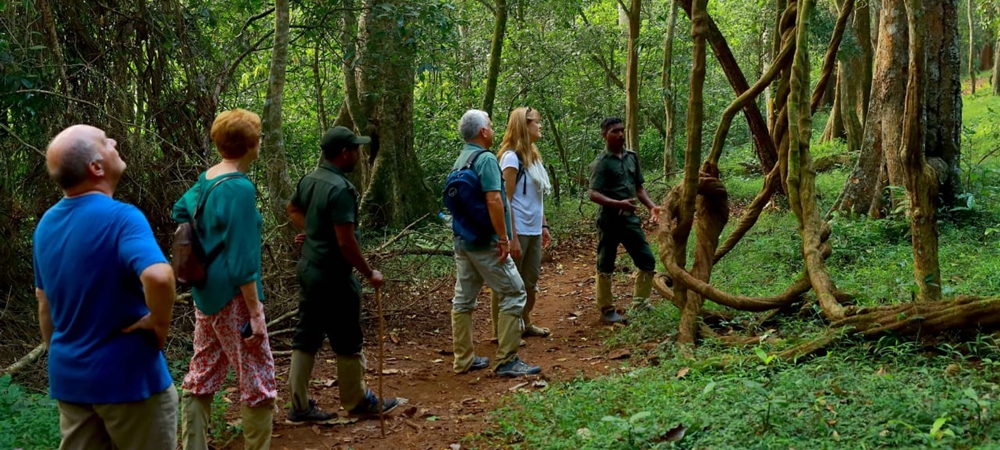 This destination boasts of entrancing environment, arresting hills, natural beauty, salubrious weather, islands, and enthralling wildlife. 
Munnar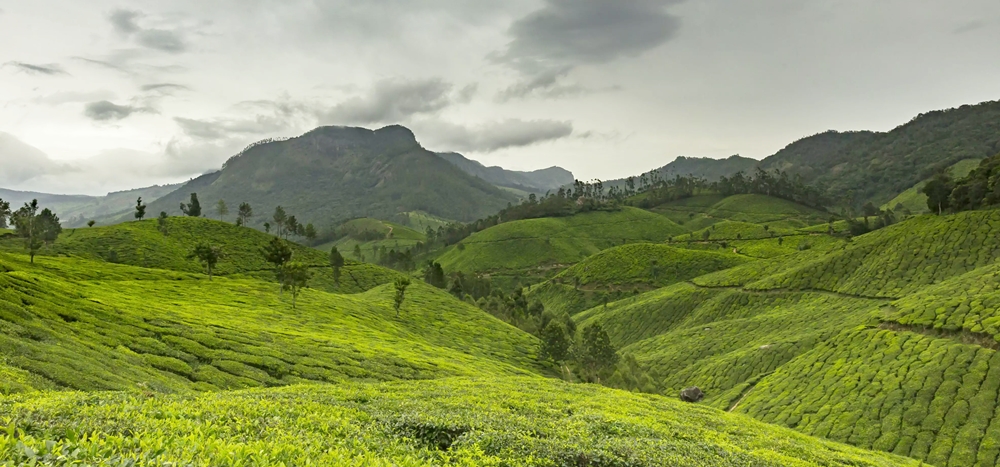 There is no denying that Munnar is one of the most amazing hill stations in Kerala. The most entrancing sight here that spell-bounds every spectator is that of the lush green mountains covered with estates of tea and coffee. The place is additionally home to some stunning waterfalls, trekking destinations, dams and so on that exudes charm. 
Safety tips to follow for a Lady traveller travelling to Kerala
Answer: There are general safety tips that you should follow everywhere, not just in Kerala. Here are some important ones to keep in mind:
Researching Well
Researching your travel is significant, and time spent doing the research never goes waste. It is all the more critical when you are travelling alone. You should learn about their culture, food habits and get a good sense of the location. Is it a conservative place? Then, make sure you are carrying the right clothes, and know-how to dress and fit in accordingly. As individual explorers, you may not agree with how people their dress but rather it is imperative to be a humble traveller, especially when you are in a foreign country to stay away from unnecessary problems. By getting prior information of the place, you will be able to adjust to the place with ease. 
Plan Routes Ahead
Regardless of whether you're getting back to your accommodation from a beach, museum or bar, know the road you are going to take. You should avoid quiet zones, paths or other perceived regions of danger. You should consider hiring a taxi and ensure you book it from a trusted company. 
Travel Agent Vs Tour Operator? Which one should I select?
Follow Your Instinct
The key to avoiding danger is to pre-empt circumstances and give yourself time to react. This comes down to preparing and practice; learning from specialists about how to determine risk and respond accordingly, yet the fundamental principle is to follow your instinct. In the case something feels strange; there is a good possibility that it really is. React straight away to make sure you are safe and do not spend time pondering whether you are wrong or right at that moment. You can do that when you're 100% free from any danger. 
Situational Alertness
Being alert of your surroundings is of high significance to determine the dangers ahead of time. This is the reason learning fundamental anti-surveillance is essential. Predators and offenders may follow their victim for a brief span before an ambush to give the best chance of when to assault. With functional observational abilities and alertness, probability of seeing an attacker or risk is high and having time to respond. It is likewise advantageous in avoiding opportunistic criminals, muggers, pick-pockets, and numerous different dangers. 
Helpline Numbers for Women Safety in Kerala
Women Helpline:Â 1091
'Mitra 181' the National Women Helpline – Call: 181
181 Women Helpline (WHL) is established by the Union Ministry of Women and Child Welfare is an emergency helpline for women.
In Kerala, it is managed by Kerala State Women Development Corporation (KSWDC). The scheme was initially set up by the Central Government of India in 2012.
Helpline Against Atrocities On Women: https://kerala.gov.in/helpline-against-atrocities-on-women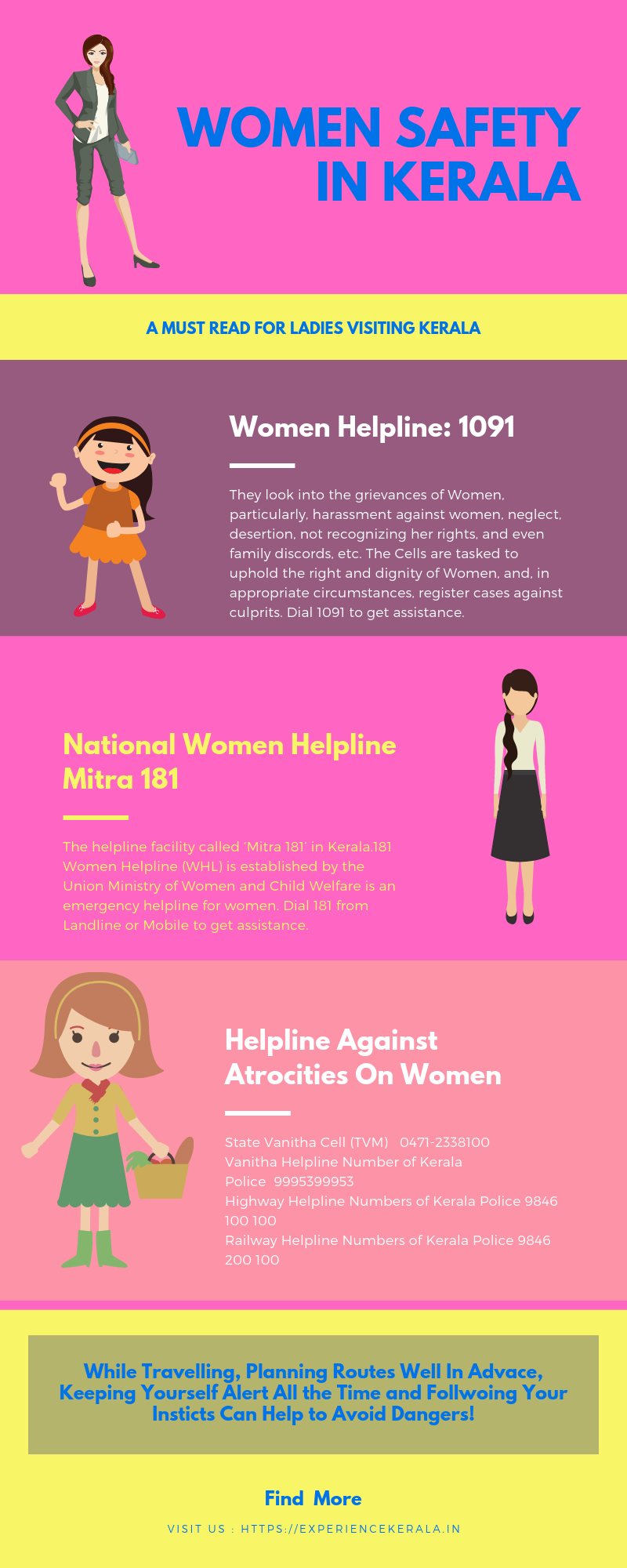 Women Cell Office numbers in Different Cities of Kerala
Do you know why do women travellers prefer Kerala over the other Indian States for a holiday?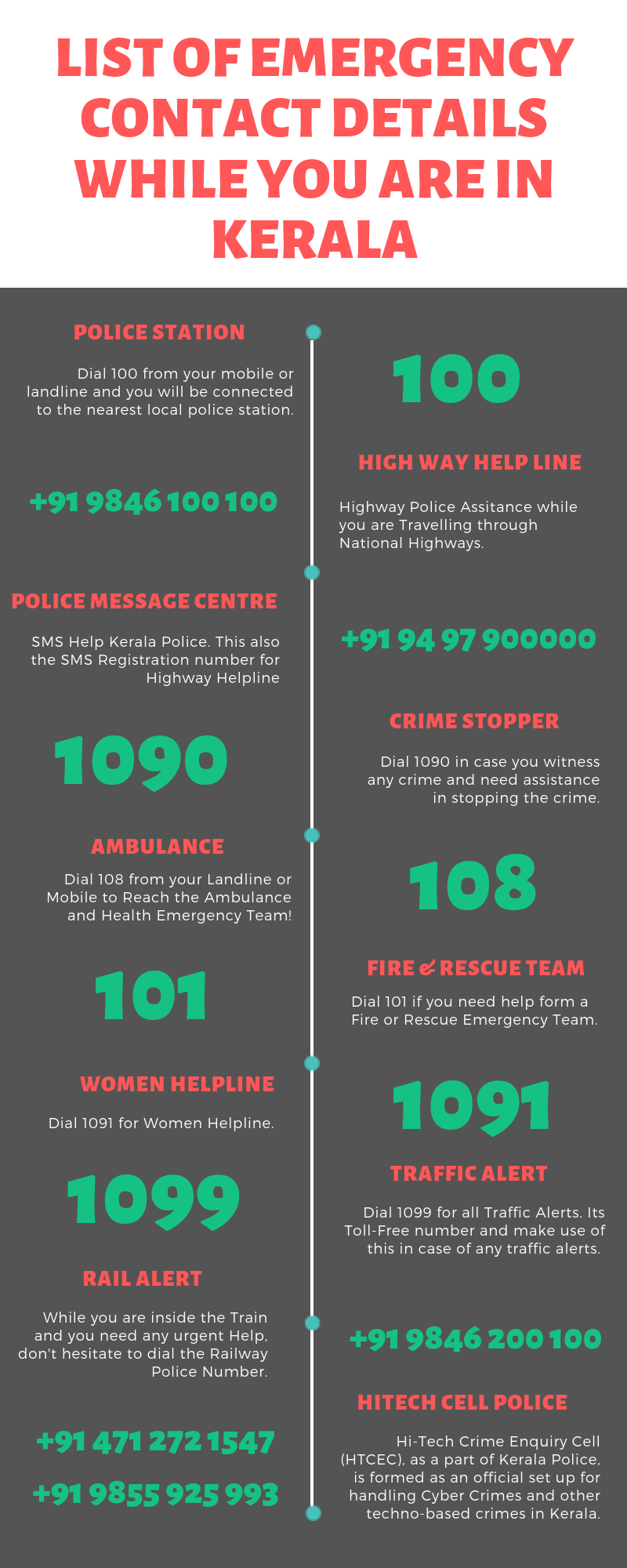 (Visited 794 times, 1 visits today)