From the sources citing the Sangam age, the Hindu Cuisine of Kerala had always been an elaborate affair, especially during the festivals, Onam and Vishu. They use coconut in preparing almost all vegetarian food items. Also, there is practically no use of cow milk qualifying the cuisine as a complete vegan platter. The medium of cooking is coconut oil. In fact, the flavors of the vegetarian dishes enhance up to a great extent when they use coconut oil in the preparation.
It's not that the Keralite Hindus abstain from eating fish or meat. Some of them like eating non-vegetarian food regularly while others like it only on occasions. When they prepare fish or meat items, they follow the Islamic or Christian recipes. On the other hand, Islamic or Christian households follow the traditional Hindu recipes while preparing a feast meal or Sadhya meal. This is how, at some point, the cuisines of Kerala get beautifully blended and influenced by each other.
To know more about the Hindu Cuisine of Kerala, we need to know about the food items prepared during the popular Hindu festivals of Kerala, Onam, and Vishu.
Food Items prepared for observing Hindu Festivals in Kerala: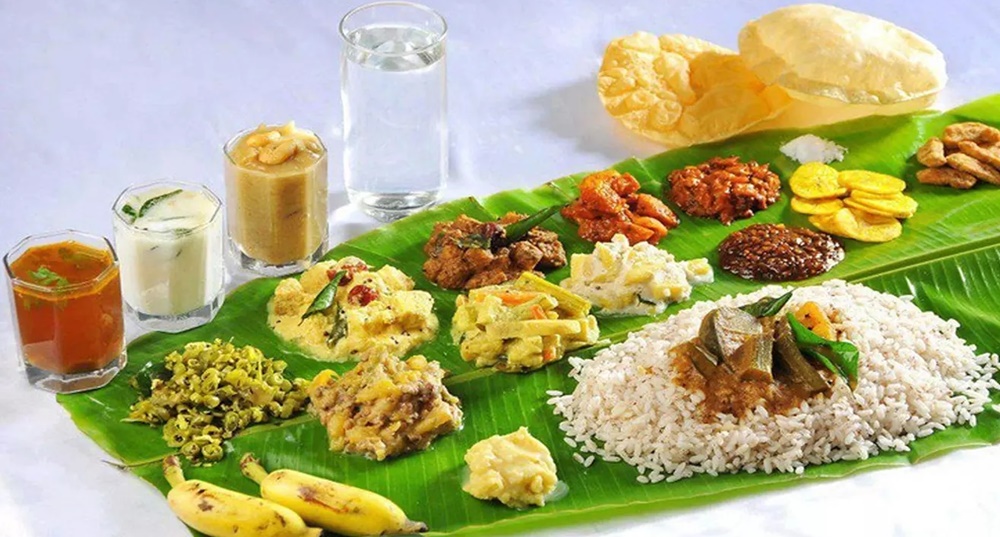 Image Source
Food is of primary importance in any Keralan festival; the Hindu festivals, too, are not different in this aspect. During the festivals like Onam and Vishu, they prepare a Sadhya (grand feast) to celebrate the festivals. Typically, they serve and eat Sadhya following the rituals. Before and after the feast, they have traditional boat race songs remembering the roots of Keralan culture.
There are some 24 to 28 food items in a traditional Sadhya. Keralites eat the food using the right hand as a ladle while sitting with legs cross on the ground. Usually, spoons are not used. Sadhya is generally a lunch menu and comes on a banana leaf. However, the Vishu Sadhya is not as elaborate as that of Onam.
Kerala Onam Sadhya
A traditional Kerala Sadhya consists of the following food items:
1. Rice: Kerala Red Rice or Matta Rice
2. Parippu Curry: Moong Daal or Tuvar Daal ( For tempering, they use onion slices, mustard, coconut and curry leaves.)
3. Sambar: Kerala Sambar has vegetables, lentils, roasted spices and roasted coconut. Then for tempering, they use asafoetida.
4. Aviyal: It is a densely concentrated curry prepared by mixing different vegetables with coconut and tempered with curry leaves and coconut oil.
5. Kootu Curry: This curry has banana or yam and they add chickpeas, coconut and black pepper.
6. Kaalan: Kaalan has raw plantain or sometimes yam with curd and coconut base and very low water content. This preparation is sour in taste.
7. Olan: Olan is a sweet curry having coconut milk. White gourd or black peas are the vegetables in Olan.
8. Thoran: Various vegetables are sautéed with grated coconut for making Thoran. Usually, they use cabbage but, Thorans taste awesome with beetroots and ash gourds too.
9. Kichadi: Kichadi is raita like yoghurt-based preparations. Cucumbers and Okras (Ladies' Fingers) mix along with grated coconut and yoghurt while making Kichadis.
10. Pachadi: Pachadis are coconut-based curries that taste sweet and sour. Cucumbers and Ash gourds are generally used.
There's more
11. Sweet Pachadi: In Sweet Pachadis, they have sweet fruits like pineapple and grapes, sweet vegetables like pumpkin along with grated coconut and cumin seeds.
12. Pulliseri: A thin, sour curry with curd and cucumber. Sometimes they have ripe mangoes. When it has ripe mangoes, the curry tastes sweet.
13. Ulli Theeyal: Ulli or pearl onions are the main ingredients of this curry. Along with pearl onions, they also use tamarind, coconut and other spices.
14. Pumpkin Erisseri: Pumpkin, cowpeas, and coconut are the main ingredients in preparing Erisseri. This curry tastes mildly sweet.
15. Koorka Stir Fry: Stir-fried potatoes prepared in Chinese style that uses very fewer spices.
It's still not over
16. Injipuli: Sweet pickle that uses ingredients like ginger, tamarind, jaggery, and green chilies.
17. Achaar: Commonly three different spicy pickles or achaar are prepared using raw mangoes, lime, and lemon.
18. Pappadam: Papad prepared using lentil powder which also serves as an appetizer.
19. Kaaya Varuthathu: Plantain chips
20. Sharkara Upperi: Banana chips sweetened with jaggery.
21. Appam: Rice flour pancakes prepared with bananas and whole wheat are also served in a Sadhya.
22. Uniyappam: They are the sweet rice flour fritters made with bananas and coconut.
23. Payasam: Assorted sweet dishes made with either rice, chana daal, moong daal, pineapple or aval (flattened rice) combined with milk, coconut milk and jaggery.
24. Buttermilk (Sambaram): A cool drink made with whisked curd, spices, curry leaves and refrigerate for an hour before serving. It is normally served at the end of a Sadhya meal.
Vishu Sadhya
The Vishu Sadhya consists of food items made from seasonal fruits or vegetables like Maanga (Mango) Kaalan, Chakka (Jackfruit) Erissery. A quintessential Vishu platter includes Aviyal, Sambar, Rasam, Cabbage Thoran, Beetroot Pachadi, Cheru
Naranga Kichadi (lemon and green chillies Kichadi) and Olan.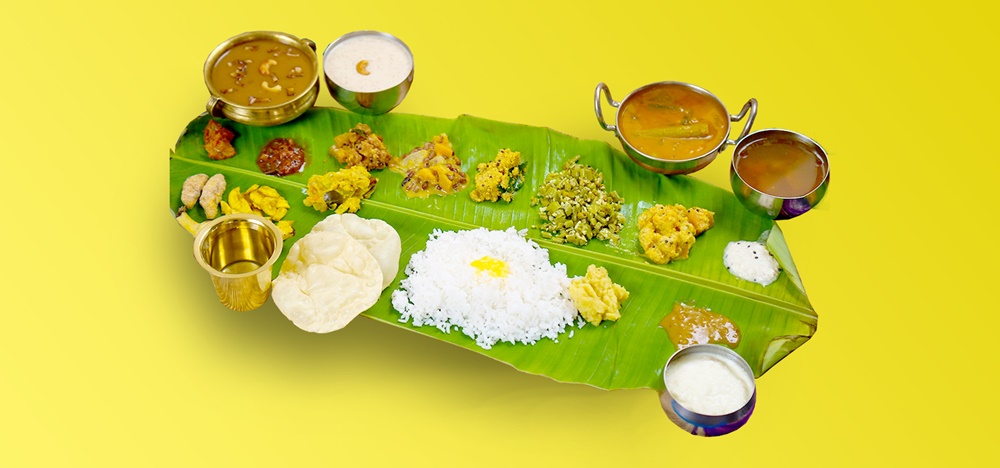 Image Source
Regionally, the Vishu food preparations are also different from one another. Some regions like having Vishu Kanji which has black eye bean, jaggery, rice, and coconut milk while some other regions like having Vishu Katta, a type of rice pudding. In the Vishu Sadhya, Pineapple Payasam and Parippu Kadala Payasam are pretty popular.
During another famous Hindu festival, Thiruvathira, they prepare Thiruvathira Puzhukku. Kachil (Dioscorea), Chembu (Colocasia), Elephant Yam, Chinese Potato, Sweet Potato, Raw Plantain, and Red Cowpeas are cooked along with grated coconut. They do not eat rice on that day.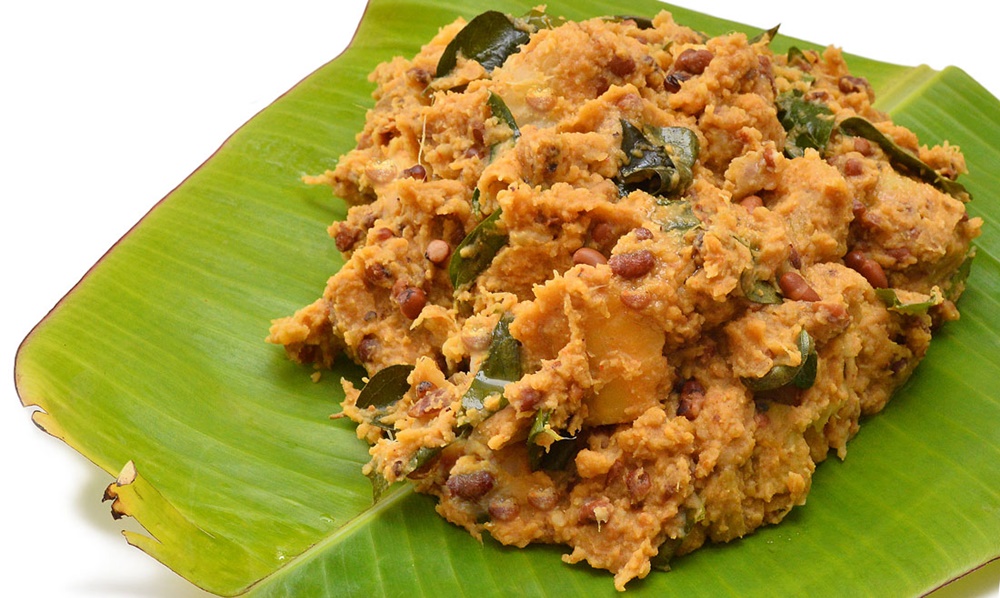 Image Source
As an offering to God or Naivedya, Aval Vilayichathu is made in the Hindu households of Kerala. Aval or Flattened Rice (Chura or Chiwda) is added with jaggery syrup and freshly grated coconut while making this delicious sweet dish. They also eat Aval Vilayichathu as a snack.
Snack Time!
Two commonly eaten rice flour-based snack items feature in the Hindu Cuisine of Kerala, – one is Poovada while the other is Ela Ada. In Poovada, a dough is made with rice flour and then filled with sweetened as well as grated coconut. In Ela Ada, a ladle of rice flour batter is spread upon a banana leaf, a coconut filling is added and then the leaf is folded in half. Poovada is a fried item while Ela Ada uses steam method for cooking them.
Poovada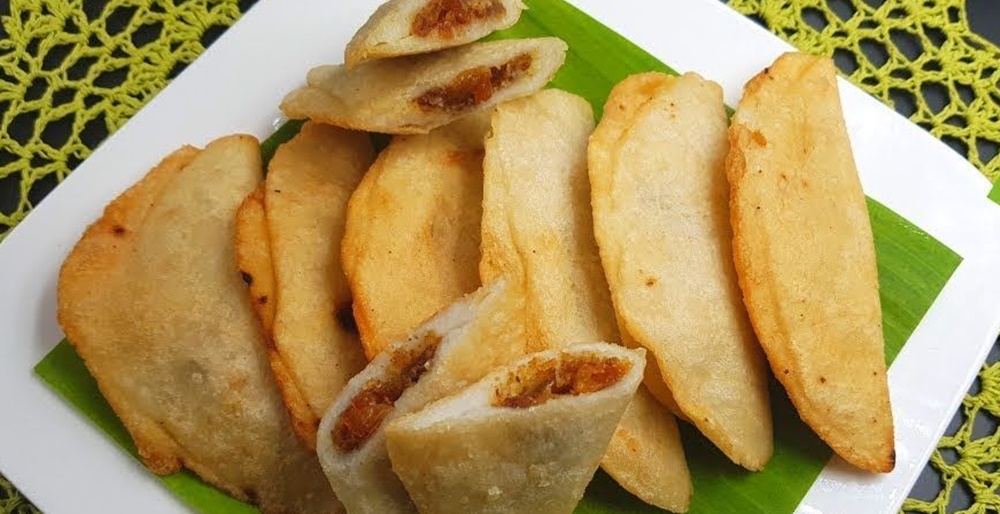 Image Source
Ela ada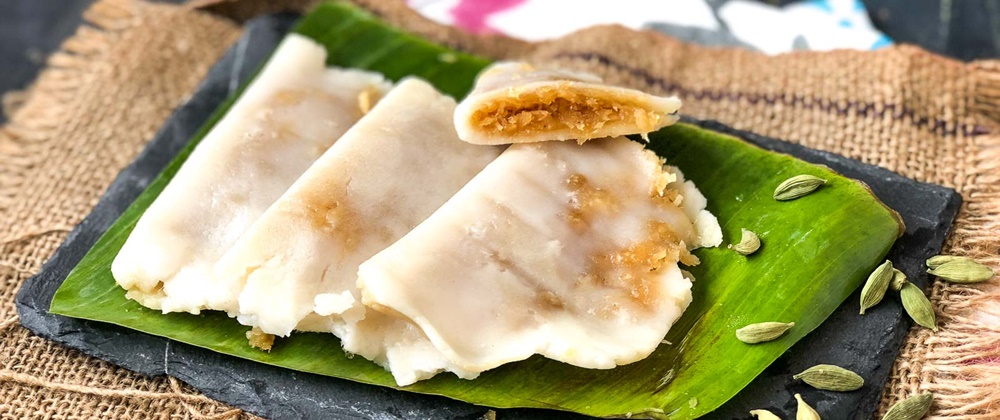 Image Source
Kumbilappam is the traditional dumpling item prepared by the Hindu households here. Kumbilappam is made using rice or wheat flour as envelopes containing banana, grated coconut and commonly jackfruits or chakka. They serve Kumbilappams in quite an exciting way. A cone is made with a bay leaf and the filling is stuffed inside before getting it steamed.
Kumbilappam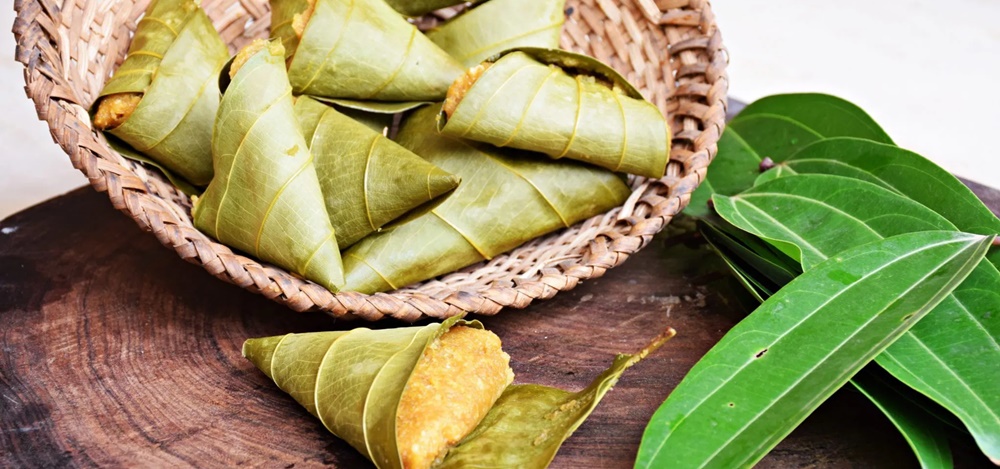 Image Source
Meat and Rice in Kerala Hindu Cuisine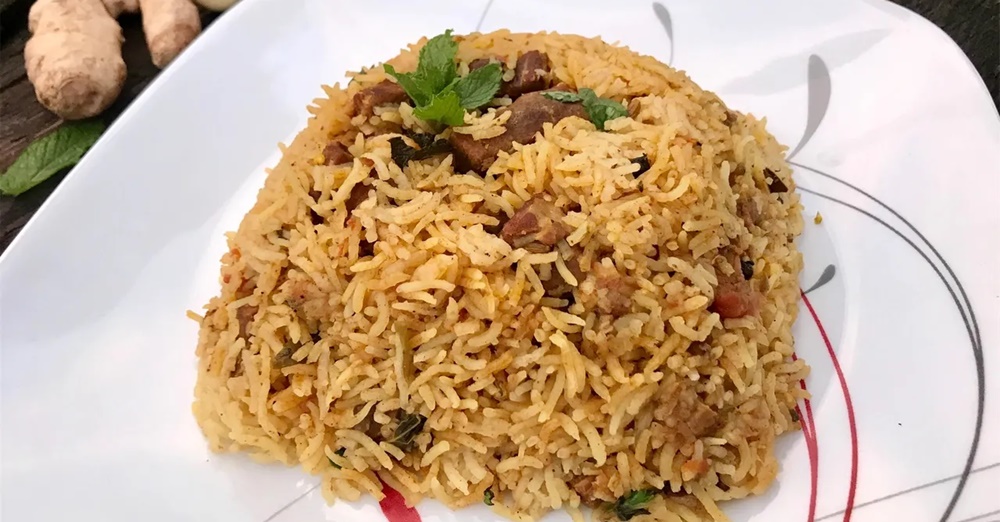 Image Source
Most of the Hindu households of Kerala, that eat meat and fish regularly, a meat and rice preparation known as Erachichor or Erachichoru is relished. The Erachichoru looks similar to Biriyani but the preparation method is totally different from that of a Biriyani. Rice is added to meat after the spice sautéed meat starts getting tender and it is steamed till the rice becomes soft and mixes well with the meat pieces. The lack of the use of vegetables in the Syrian Christian Cuisine as well as Islamic Cuisine appears to have been well backed up by the plethora of vegetables used in the Hindu Cuisine of Kerala. In conclusion, we can say the myth which exists among a few people that vegetables don't taste cool, is effectively broken by the flavourful Vegan cuisine available in Kerala.
Have a look at some other delicacies in the cuisines of Kerala!
(Visited 2,261 times, 1 visits today)