The state of Kerala features picturesque locations, adventurous activities and plenty of budget accommodations. So it has become an ideal getaway destination for backpackers. Whether you're travelling with a group or just by yourself, a trip through the tropical land promises pleasant memories that last for a lifetime.  You just need your backpack and you're all set to go.
While it may be easy for backpackers to get a perfect hotel or to find interesting activities, the real challenge is to find a cheap and convenient way to travel from one place to another. So it's important that they get familiar with the transportation facilities available in the state.  What types of transportation facilities does Kerala have to offer?  Which type is ideal at a particular place? Which one is faster and more convenient? What is more cost effective? Read further to find the answers.
KSRTC Bus Services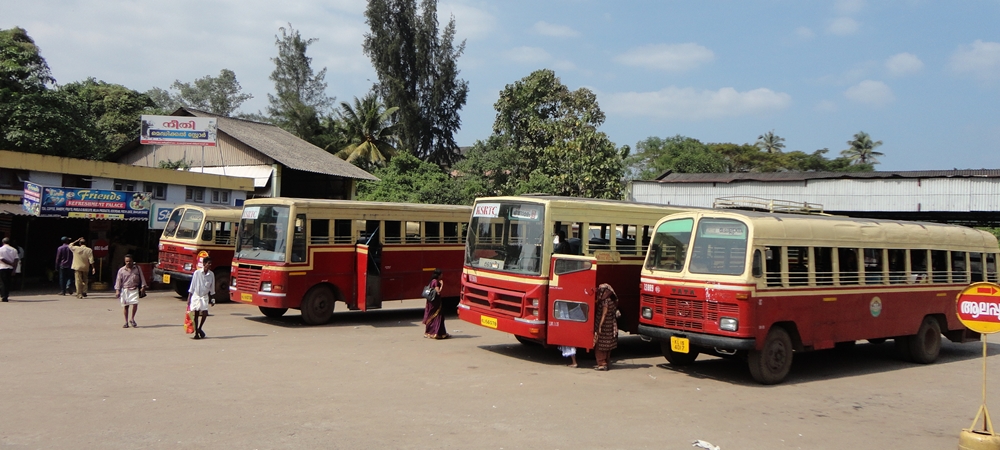 The JNNURM (Jawaharlal Nehru National Urban Renewal Mission) Scheme operates several air-conditioned low floor buses. They connect different cities in Kerala like Cochin, Calicut, Trivandrum, Thrissur and Palakkad. They also offer city rides. Apart from the low floor buses, there are other public transport buses. They belong to different categories depending on the allotted stops and speed.
Ordinary Bus: Connects nearby towns and stops at every single junction.
Limited Stop (LS): Similar to the ordinary bus but has limited stops.
Fast Passenger (FP): Long trip bus running from Kasaragode to Trivandrum.
Super Fast (SF): Long trip bus having fewer stops and faster than FP.
Super Express (S Exp): Long trip bus having fewer stops than SF.
KSRTC Minnal: Night buses with only one stop at a main city or town in a district. They operate in the night and therefore come across less traffic and travel at high speed.
Super Deluxe (SD): Long trip bus with only one or two stops in each district. SD buses are mostly interstate buses.
KSRTC also provides Multi-axle Volvo and Scania buses for interstate and cross state travels.
To book tickets on AC low floor buses, click here
To book tickets for a long trip in KSRTC, click here
NOTE: Bus fare varies depending on the category of bus, even if distance is the same. Time taken to complete the trip also varies depending on the bus type.
Car services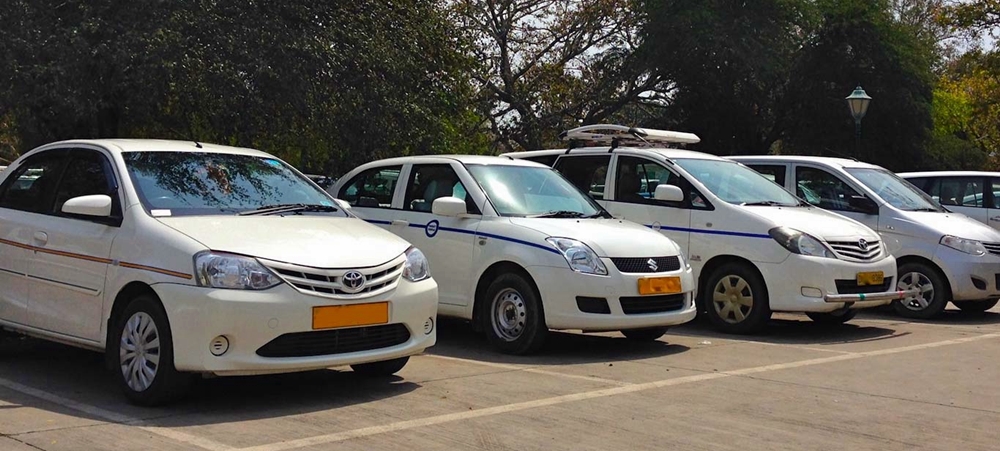 For the most premium experience of a Kerala tour, it is best for backpackers to hire a private cab and a chauffeur from a reputable tour operator. Since the chauffeur is a local and has a lot of experience, he will make sure that you don't miss anything important. He can take you to the best restaurants and recommend the most interesting activities. He will also be your guide and take care of your safety.
Cab services like UBER and OLA are only available in prominent cities like Cochin, Trivandrum, Thrissur and Calicut. You cannot hire them and travel to any part of Kerala. But in most parts of Kerala, you can always hire a local taxi driver.
Click here to see why it is better to hire a chauffeur instead of a local taxi driver
Train services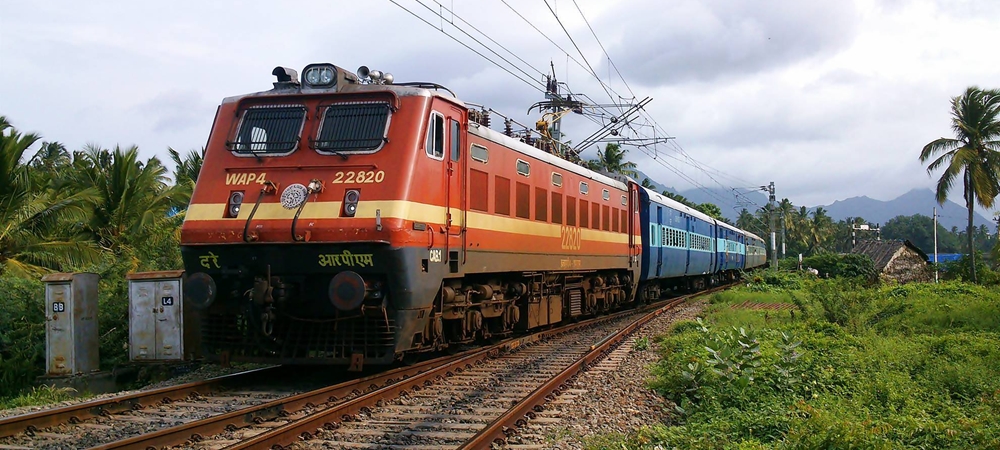 Kerala is well-connected to most parts of the country by rail. There are mainly two train routes to Kerala. One is through Konkan and then Mangalore and the other is through Coimbatore. Both these routes converge at Thrissur and Cochin. They later split, with one of it going via Alleppey and the other via Kottayam. They again converge at Mavelikkara (Near Kollam) and then, Trivandrum.
While most towns and cities of Kerala are accessible via rail, the districts of Wayanad, Idukki and some hill stations are not. But you can easily reach them from their nearest railway stations with the help of public transport or private cab. Bus stations are located at a close distance from the railway stations. Some are at walking distance. For others, you might have to take an auto from the auto-stand at the railway station which is safe and economic. On the other hand, if you hire an auto from anywhere on the road, you might end up paying a lot more.
To know how you can reach the most prominent tourist destinations in Kerala by train, go through the below pointers:
Most people who travel to Kerala by train prefer to reach Cochin first. There are two stations in Cochin namely Ernakulam South/Ernakulam Junction (ERS) and Ernakulam North/Ernakulam Town (ERN). Both are located close to the centre of the city. You can reach other parts of the city by auto or taxi.
If you plan to directly visit Munnar or other hill stations in Idukki instead of going to Cochin first, you have to get down at Alwaye/Aluva Railway Station (AWY). The KSRTC bus station is at walking distance from the railway station. You can walk to it even if you have a lot of luggage with you. From the bus station, you will get a number of buses that will take you to the hill stations.
If you plan to visit Wayanad, you have to get down at Calicut Railway Station (CLT) and take a bus from the Calicut Bus Station. Note that only trains coming via Konkan reach Calicut. If you are on the other train route, you have to get down at Palakkad/Palgat Junction (PGT) or Shoranur Junction (SRR) and then take a train to Calicut from there. But the most convenient way to reach Wayanad directly is to take a bus from Bangalore or Mysore.
Along with Cochin, another main station in Kerala is Trivandrum Central (TVC). It is the last main junction in Kerala. It connects to places like Kanyakumari, Varkala, Poovar, Kovalam etc.
If you plan to visit Thekkady, Vagamon or Kattapana, you have to get down at Kottayam Railway Station (KTYM) and then reach the bus station by an auto. From the bus station, you will get a number of buses that go to Kumily. Thekkady is just 1.5 km from Kumily. So you can take an auto from the Kumily bus station to reach Thekkady.
If you plan to visit Kumarakom, you have to get down at Kottayam Railway Station and the get a bus to Kumarakom.
If you plan to visit Alleppey, you can get down at the Alleppey Railway station (ALLP). But if you are on the other train route, then you have to get down at Ernakulam Junction and take a bus to Alleppey.
KERALA RAILWAY ROUTE MAPÂ Â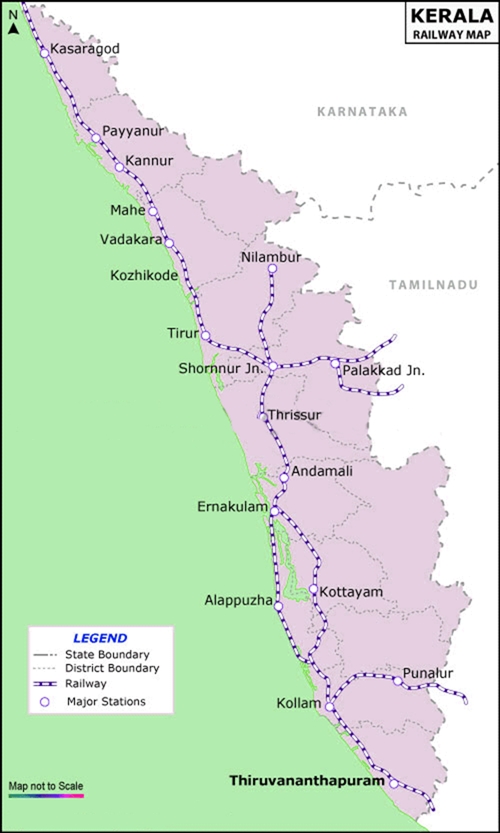 Boat Services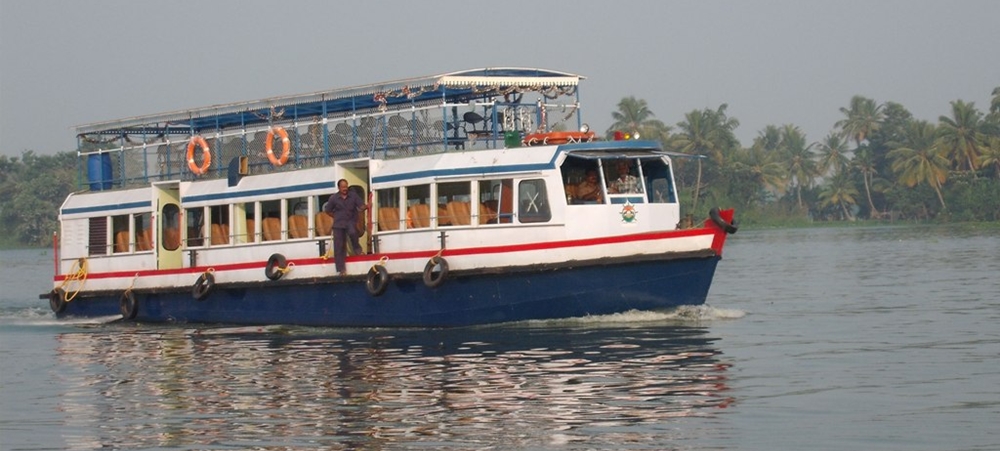 Some parts of Kerala are accessible only by a boat journey. So the State Water Transport Department takes care of arranging boats as transportation both for locals and tourists. With scenic views and a refreshing backwater environment, a boat journey offers a completely unique experience. Many travelers take a boat ride to a particular destination even if other means of transportation are available to that place just for the experience. The most popular boating routes in Kerala are Kollam-Alleppy-Kollam and Alleppey-Kumarakom-Alleppey.
Click here to see a full list of boating routes and schedules to various parts of Kerala 
(Visited 1,927 times, 1 visits today)