Kerala or 'God's own country' is proud of its serene backwaters, beautiful pristine beaches, and mouthwatering delicacies! Yes, Kerala is proud of its bountiful spread of non-vegetarian food. The state proudly boasts of various meats like chicken, mutton, beef, pork and a rich mouth-watering variety of seafood like crabs, mussel, king prawns, lobsters, sardines, mackerel, and tuna. When the spicy delicacies are put on the table, the table is set on fire. Now while on vacation in Kerala you will see that the use of coconut in its various forms is used extensively in the food. The chillies, mustard seeds, tamarind, and curry leaves add a unique taste to the food, making it stand out among all the states.
I would like to begin this sojourn of non-veg delicacies available in Kerala with the zeal to bring out the best for your vacation.
Appam with Stew (Chicken, Mutton or Beef)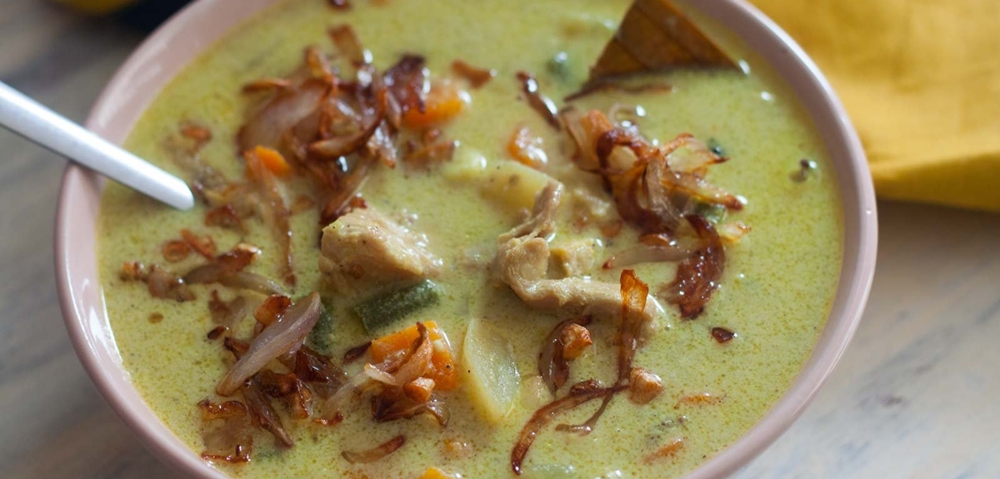 Image Source
It is a food that has taken up a revolution. Now, this is primarily a pancake that is made out of rice, and it is soft and thick in the centre while being paper thin on the outside. It is a rice pancake, and its perfect accompaniment is a stew with chunks of chicken or other meats within it. This is made in infusion with the smooth and supple coconut gravy.
Idiyappam with Egg Curry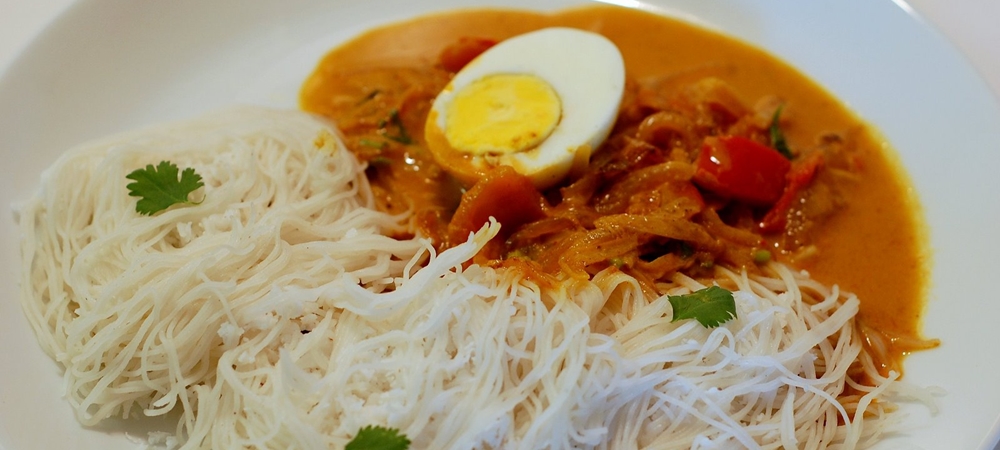 Image Source
The main ingredients are rice flour, salt, and water. What makes this very popular is the fact that an innumerable amount of thin strands which is tangled together to prepare the lovely appam (pancake). What makes it very versatile is the plain texture that can be teamed up with any kind of curries and especially egg curry. It feels like heaven in your mouth.
Spicy Chicken Fry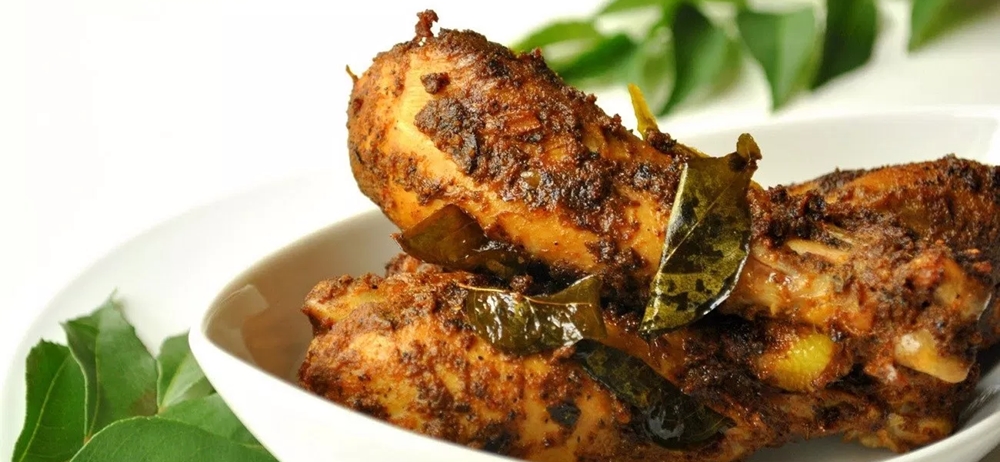 Image Source
Locally famous as Nadan Kozhi Varuthathu, it is an absolute show stopper! Served on the banana leaf the chicken is fried along with lots of chillies, garlic, onion, vinegar, as well as coriander.
Warning ahead! The fiery taste will leave you burning yet wanting to devour more!
Mussel Stir Fry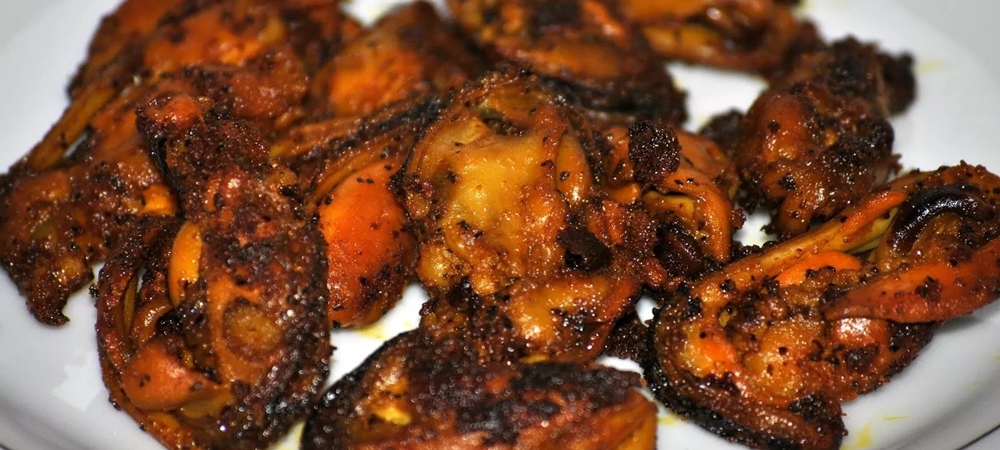 Image Source
The thing about Kerala food is that it will make you believe that anything from the sea is edible. Preparation of this dish requires extra time as the mussels need to be appropriately cleaned. Further, the mussels are cooked in garlic, chillies, turmeric, shallots, garam masala with a large amount of grated coconut on it. Locally this food is called Kallumakkaya Ularthiyathu and will get you licking your fingers.
Parotta & Kerala Style Beef Fry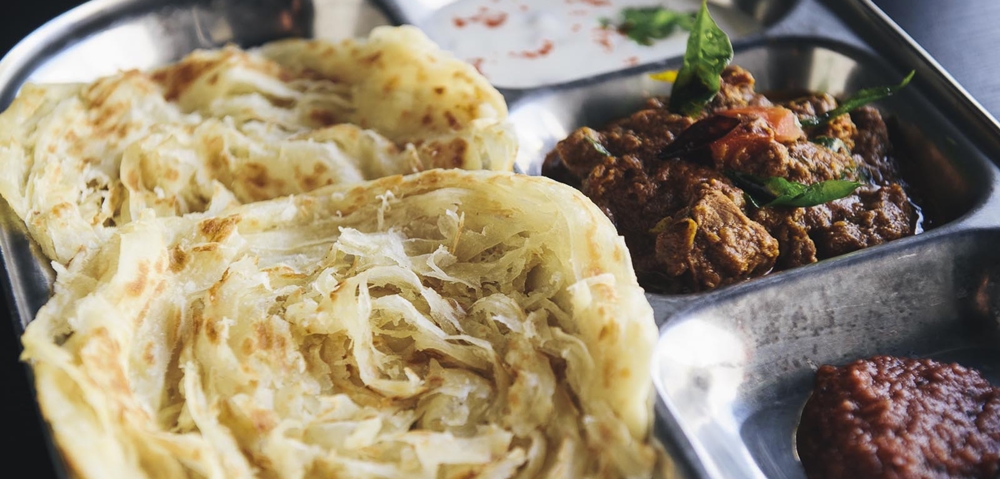 Image Source
Also called Nadan Beef Fry, the dark colour of the beef is rendered due to being cooked nicely in curry leaves, garlic and ginger paste and some amount of mustard seeds. It has a robust flavour that will bring water to your eyes but will keep you wanting for more. The perfect accompaniment of this dish is Malabar Parotta.
Fish Molee Kerala Style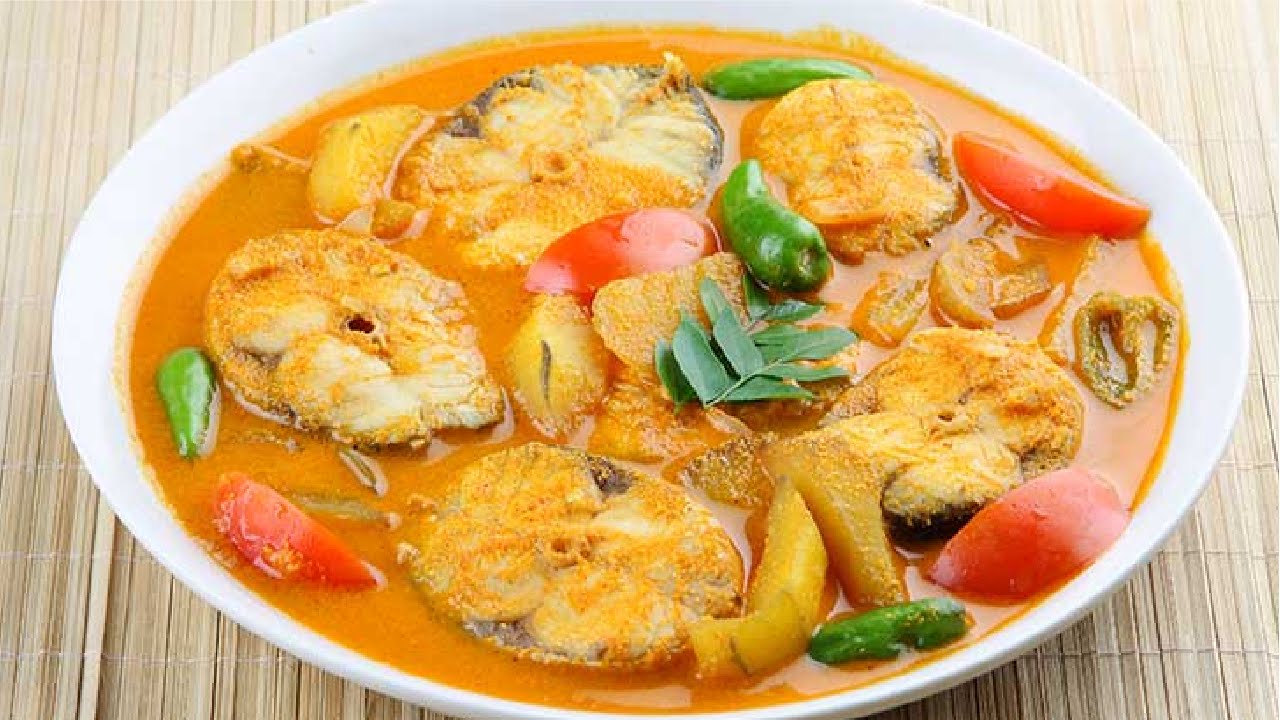 Just like Bengal and Goa, Kerala has a fish curry that it is proud of. It is just not another fish curry that is casual. This is absolutely stunning as the wholesome flavour of coconut and cocoa elevates the dish to some other level that is unmatched.
Prawn Curry of Kerala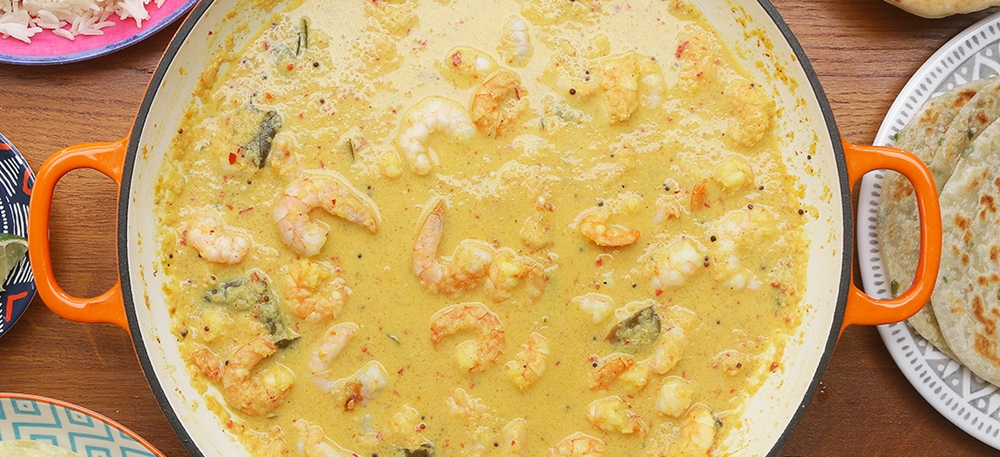 Image Source
Simple ingredients come into a holy union to form the best prawn curry. It is not only delectable in taste but also is quaint and simple. The prawns are cooked amazingly by sprinkling chilli, salt, and pepper and finally dipped in coconut milk and cooked with jaggery while finishing up with curry leaves. So simple yet so ethereal.
Chicken Roast of Kerala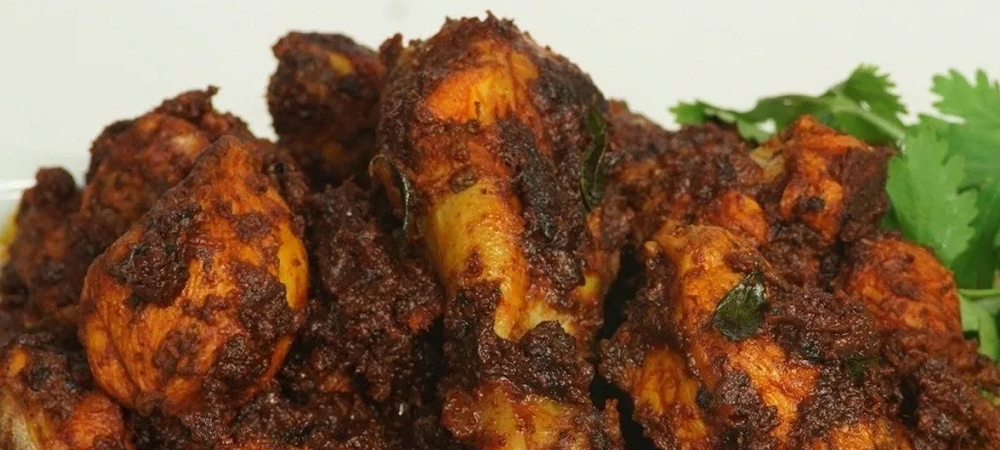 Image Source
The chicken is not cooked simply, but it is marinated well in spices. The marination renders a subtle flavour that you can feel in your mouth while eating. Further, this marinated chicken is fried which gives it a unique brown hue with flavours and aroma that is inviting.
Karimeen Fry of Kerala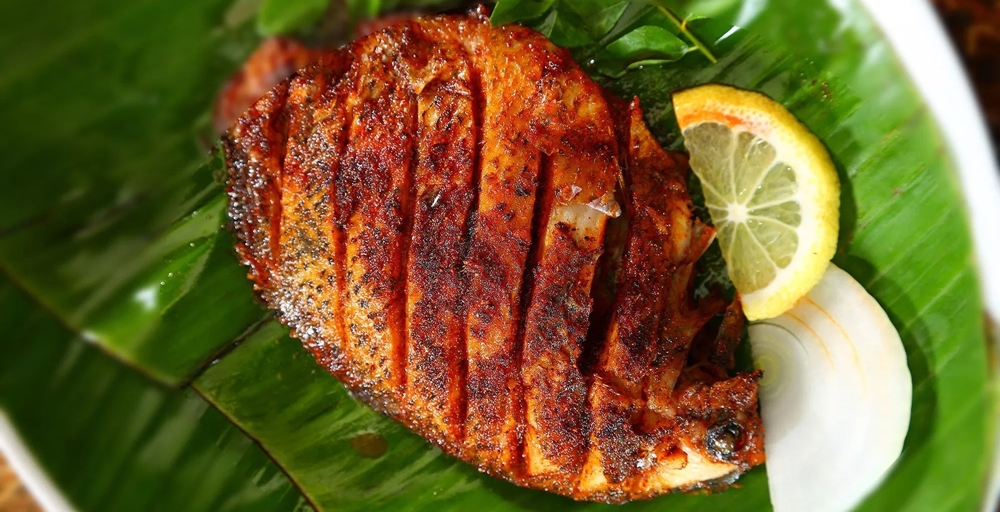 Image Source
When the 'meen' or the fish is marinated in the spices and lemon juice, it gives rise to a perfect mouth-watering dish that you have to try to feel its aesthetic essence. This is a must try item while you are in Kerala!
Ayila Curry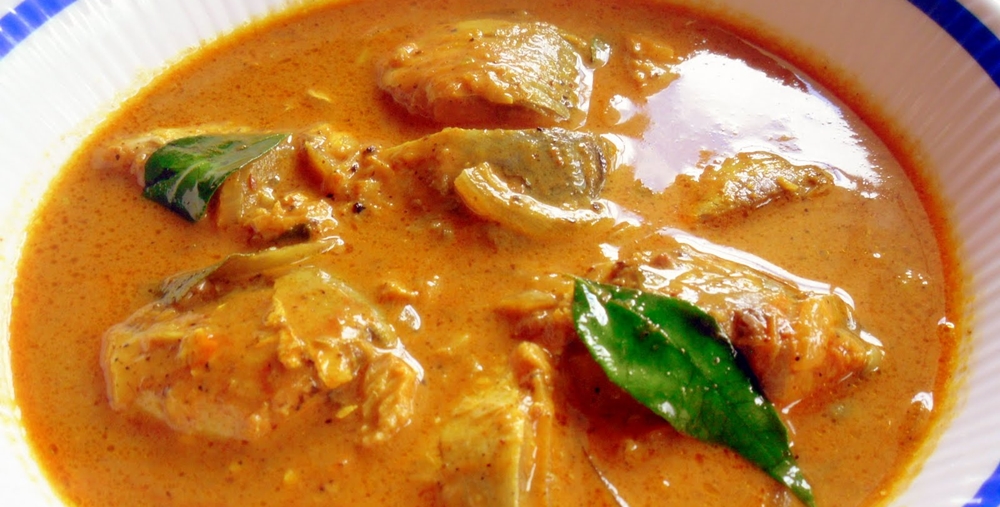 Image Source
It is only made out of mackerel and represents the state of Kerala. The perfect harmony of spice along with sourness transforms this curry into the popular dish of Kerala.
Have a look at the best breakfast dishes in Kerala.
The food of Kerala has nature's blessing on it. The state is rich in seafood, vegetables, meats of all varieties making it a food paradise along with a traveller's paradise. Once you reach Kerala, then you can find out that the state offers more than just vegetarian food and a very opinionated opinion of everyone is kept at bay after trying this non-vegetarian delight. These non-vegetarian dishes of Kerala is undoubtedly a must-have while on vacation out there.
  
(Visited 2,378 times, 1 visits today)