Reasons why a homestay can offer the best accommodation experience!
Homestay is an actual 'home away from home'. Various accommodations around the globe use this phrase way too loosely. Although it is possible that they provide a homely environment, you can't really call them homes. Homestays, on the other hand, are real homes. So, if you choose to stay in a homestay, you actually will be staying in a home away from home.
Click here to find the handpicked list of homestays in different parts of Kerala
Homestay with a local family is one of the popular options, putting an end to your accommodation worries. Homestays can be a worthwhile experience. They also offer an unparalleled opportunity to create cherished memories. Living conditions can vary from a basic room-rental to a complete family immersion. You can choose them, depending on your budget and personal preferences. Â 
Benefits of Homestays in India
There are a number of reasons why staying at a homestay is preferable to staying in a hotel. Below are reasons why homestays will make your time in Kerala delightful.
Experience the incredible diversity and the actual charisma of India by staying at a homestay.
Homestays are of great value for money.
Get to meet local people and live with them also.
Unlike a hotel, homestays usually offer better-personalized services.
Get to see the local neighbourhood with your hosts and get invaluable insights from them that you wouldn't have gotten in any travel book.
By staying at a homestay, you'll be able to devour delectable Indian home-cooked food. You can even prepare local delicacies with your hosts if they allow you to do so.
Explore beyond the tourist trail as the hosts will know about enchanting, hidden areas that you can visit.
Know more about local cultures and customs, often you will get to experience them first-hand.
You will learn local languages quickly by staying in a local's house.
Homestays are perfect for solo travellers as you will get great care and safety feeling.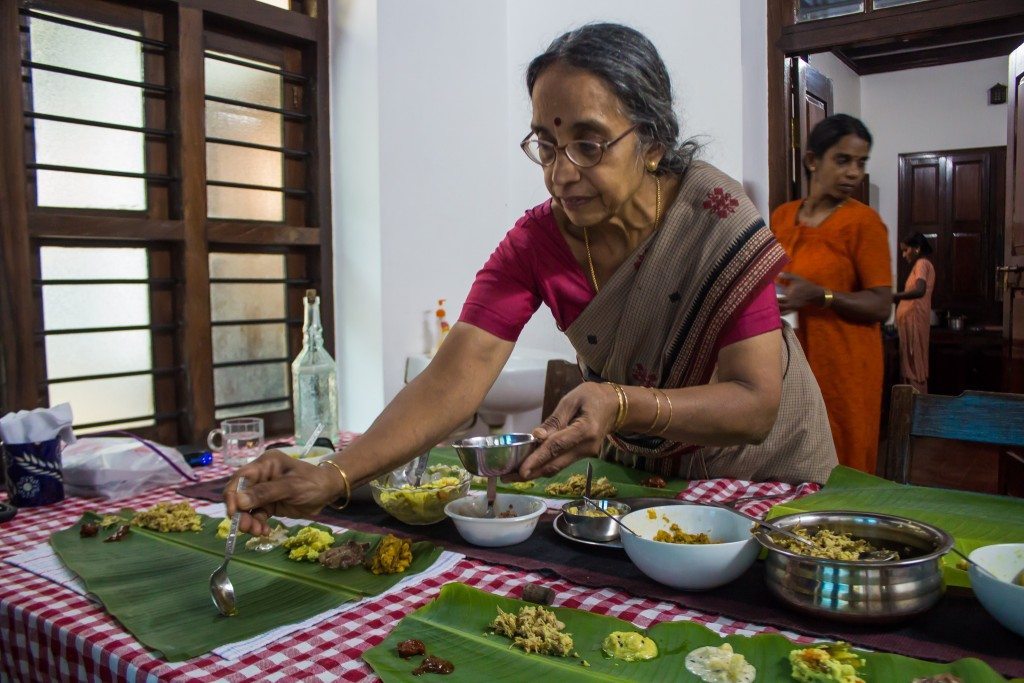 Image Source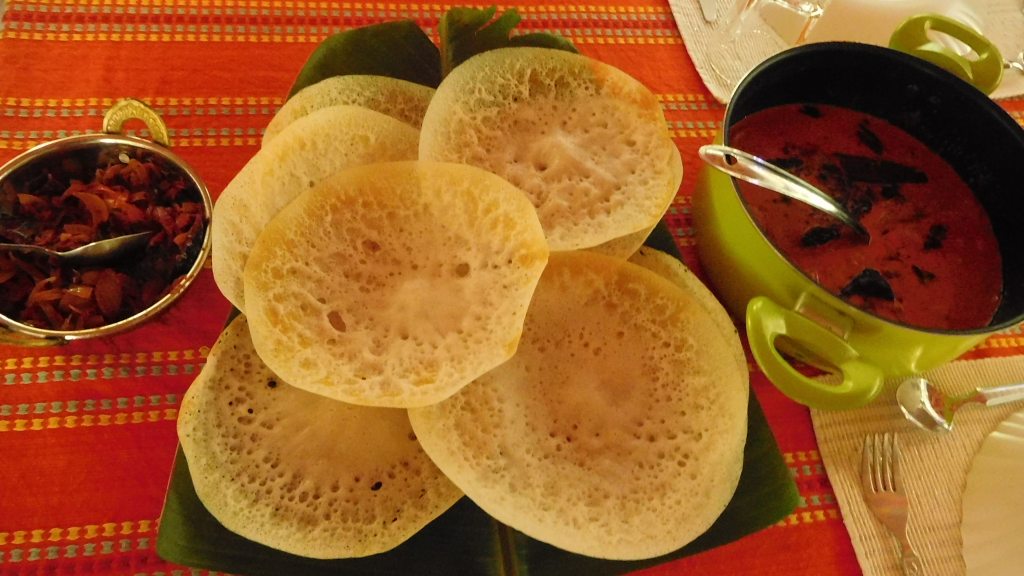 There is an excellent blog post by Ms Anna of Global Gallivanting about 10 benefits of staying in a Homestay in India. A graphical presentation of her blog is given below for easier reference.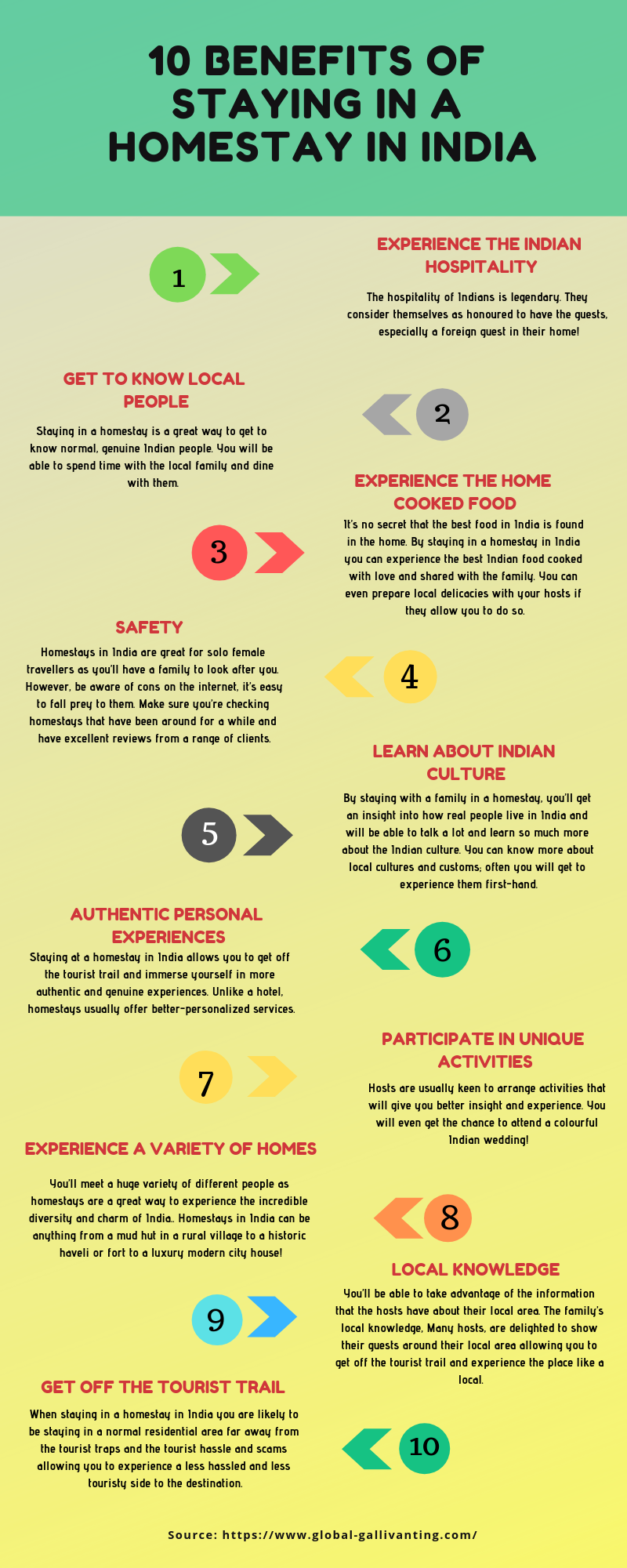 What is the importance of Homestay in Kerala tourism?
Kerala boasts of some quintessential, handpicked homestays in various destinations. When a state offers such luscious experiences, it's only fair to look for accommodations that enhance the overall experience. Choosing a homestay in the midst of lush greeneries amplifies the experience manifold.
Find the list of Best 10 Homestay in Kerala
If there is one place in India that we recommend that you should never miss a chance to visit, it has to be God's own country, Kerala. The nonchalant environment and picturesque landscapes make it an idyllic vacation spot. With more and more tourists starting to visit Kerala, the popularity of homestays is increasing day by day as tourists want to experience the real and diverse culture of the state. It helps them live the lifestyle of Keralites and also enjoy traditional home-cooked local delicacies. The contribution of Homestays in booting Kerala Tourism is immense and it is growing with each passing day.
How safe is homestay?
Homestays are considered safe, secure as well as caring accommodation for the guests. These days, the majority homestays offer just as much comfort as good, reputable hotels. Having said that–while you may find the idea of a homestay appealing, it's vital to select your homestay wisely.
If a homestay is listed on a trustworthy website, rest assured that it has been inspected and approved by that organization to make sure it meets the standards. However, be aware of the cons on the internet, it's easy to fall prey to them. Make sure you're checking homestays that have been around for a while and have excellent reviews from a range of clients.
You can Plan Your Kerala Trip with Experience Kerala Holiday Planners with the best Homestays in Kerala for your accommodation.
(Visited 2,861 times, 1 visits today)