You know the holiday you have been dreaming about, saving up for and getting ready for months. You want the trip to be perfect– have all the food and explore new places! It will be a time to switch off from the hustle bustle, let loose, disconnect.
And who has energy or time to hit the treadmill when there is so much going on? But remaining active during your vacation is genuinely more vital than you may think.
Finding time to work out during the vacations may appear to be a miracle; however, it is all about getting some activity as you eat, drink and have fun. Luckily, with a little planning, you can keep up your fitness level, regardless of where you are. Try not to give the vacation a chance to keep you from working out. One of the best parts about travelling is without a doubt the food – from pizza to waffles, the majority of us want to try the local cuisine when on vacation. And why not?
But then getting back home to discover none of your clothes fit any longer, mainly if you were working hard to stay fit before is not exactly what you would want.
So is there a way to enjoy your vacation and eat all the delectable food without sabotaging your fitness level and health? There are two ways to do it:
A. Workout
For most people, during a holiday, their workout regimen goes for a toss. Here are some simple ways to stay active and squeeze in some exercise during the vacations.
1. Stay as active as possible in Airports
Flight delays and layovers leave you with additional time at airports; do your best to stay active during that time instead of just sitting down all the time. Rather than sitting (you will be doing a lot of that on the plane), keep your luggage in the locker, tune into your favourite music, and walk around the terminal. Of course, it is anything but a rigorous exercise, but walking also helps you a lot. With only 15 minutes of walking, you can burn 100 calories. In addition, all that walking will stop you from snacking unnecessarily.
2. Always take the stairs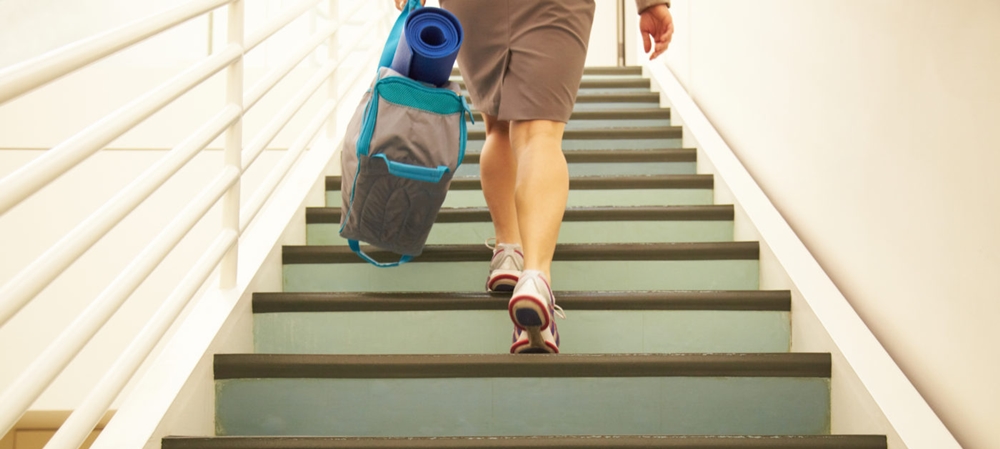 Image Source
No matter wherever you are, say no to elevators or escalators and climb stairs. The best calorie-burner!
3. Walk as much as possible
From the beautiful parks to monuments, there is no better method to take in the scenery, fragrances of a place you are visiting than by walking. Walking will be a significant factor in helping to keep your body fitness levels down. Walk as much as you can. Walking is an incredible way to see new places, stay fit without putting extreme stress on your body, and also saves you a lot of money!
4. Play with the Kids
Unwind and sunbathe a bit, however, ensure you have some fun with the kids, as well. Play in the pool. Go bike riding. Play on the beaches. Odds are you will have a great time with the little ones.
5. Plan your day itinerary to incorporate some sort of movement
Is the morning time brimming with standing and little walking in the churches and museums? Then plan your day such that after lunch you go on more adventures activities. Take a stroll along the beach or the park. Or you can even approach your hotel helpdesk for walking maps of the place. In case you are in a new area, they will be able to tell you about safe pedestrian routes.
6. Plan for Fitness
When booking your stay, pick hotels that have fitness centres, gyms, etc. If you can get out of bed and hit the gym within minutes, you will have given yourself the best chance that you will fit a workout into every day. Also, working out each morning will expand your motivation to eat healthy for the rest of the day.
7. Explore New Adventures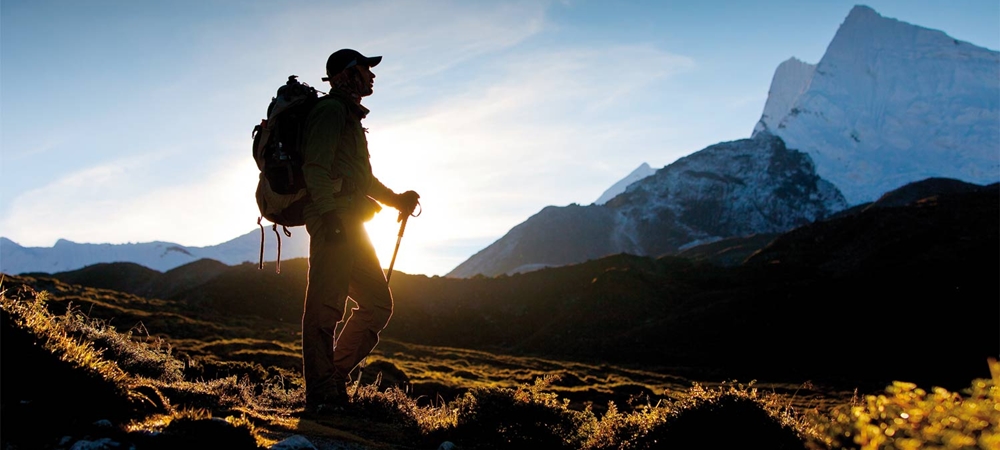 Image Source
Sure, it is incredible to know there is a gym or fitness centre only down the stairs in your hotel, but at the same time getaways are an ideal opportunity to have some good time. Want to climb up a mountain? Get into those walking shoes! There is an opportunity to go for scuba/swimming class? Go for it! Go canoeing in the local lake. Play beach volleyball. Do water sports. Anything that requires movement and enables you to have a ton of fun is a win-win situation.
8. Explore Restaurants by walking
Why hire a taxi when you can go for a relaxed stroll in the cool breeze to and from the restaurant? Find the right place to eat out close to where you are staying. In addition, strolling after a meal is an excellent method to help keep yourself fit.
9. Aim for a minimal workout
While travelling, you might not have as much time as you do at home for your usual exercise that is absolutely alright. Doing your best is always better than doing nothing. Try to achieve the 50% activity level of your typical everyday exercise routine.
10. Enjoy the rewards
Every day as you wake up, looking forward to the superb things you will be doing, the places you will see, remind yourself how extraordinary it feels to have the capacity to move and to walk. Travel bestows new energy to the mind. Since you have taken great care of yourself by being fit, that power is yours!
11. Wake up early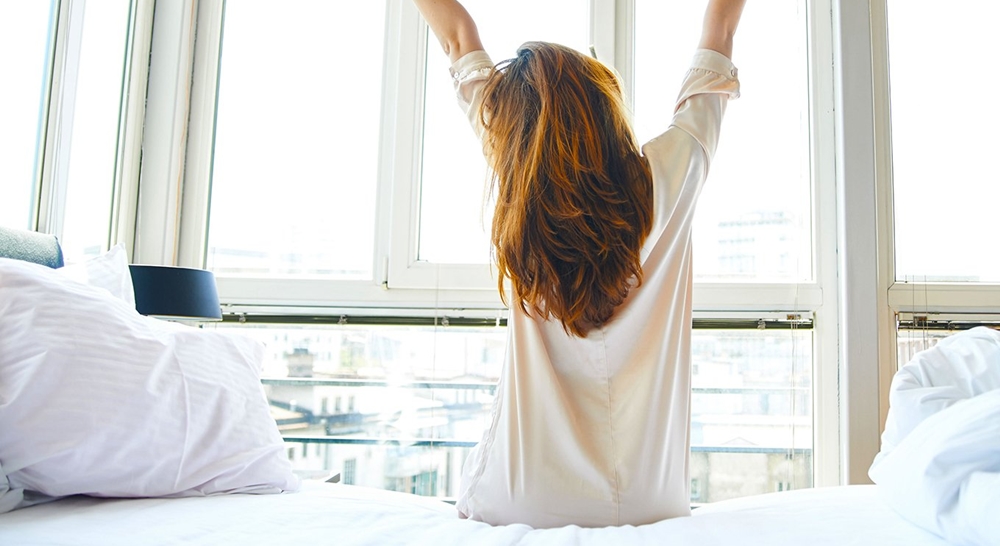 Image Source
Let's be honest– The busier your day gets, the more likely it is that you will avoid going to the gym or do any exercise. Put exercise before anything else, so you have no reasons to find excuses.
12. Plan mini-workouts
Because you probably won't get the chance to exercise each day during the vacations, or the exercises you do get in probably won't be as vigorous of course, try to sneak in mini-movement activities throughout the day consistently.
13. Train little, but efficiently
Work out an exceptionally conservative exercise routine before your vacation. This truly is one time in life where aiming for less is an excellent policy!
Your routine ought to be extremely straightforward. Following a rigorous routine with such a large number of variables, for example, climate, gym resources, time difference, opening times, and so forth, will only add stress to your vacation.
14. Carry a jump rope
Jumping rope is an incredible method to get in some cardio exercise, and it can be done pretty much at anyplace. Get one along with you.
15. Follow an intense but compact workout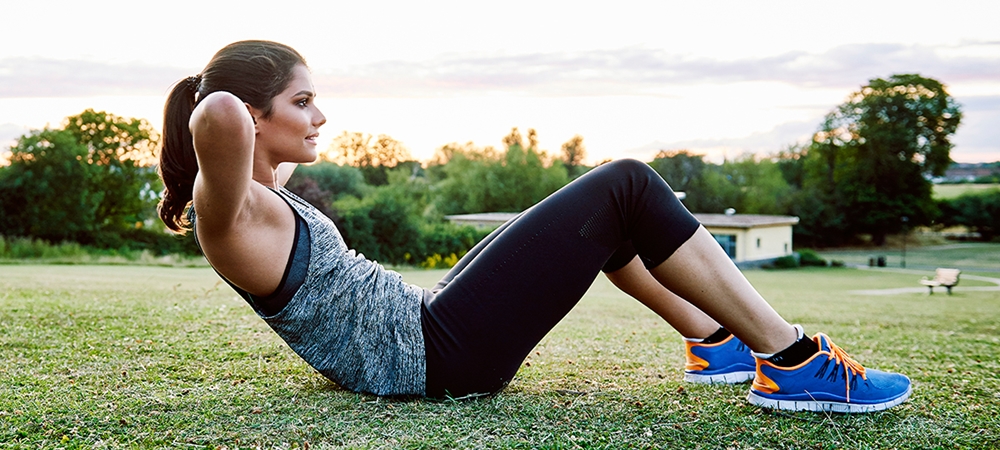 Image Source
Plan your 30-minute exercise consolidating three lower body exercises like lunges or squats and three chest area works out like chair dips or pushups.
Warm up with activities like walking or running at a park, do 10 to 20 rounds of a lower body exercise and 10 to 15 rounds of an upper body work out.
Do these steps two or three times, at least thrice a week during vacation.
16. Prioritise Sleep
Make sleep a priority. Many individuals have poor sleeping habits. This often gets worse during vacations as you try to do a hundred things every day. But do not compromise on sleep. Do not come home from the holiday feeling like you need another vacation!
17. Do not forget to Relax
Do not to try too hard. Remaining fit is critical; however, do not dismiss the real purpose behind the vacations is relaxing. If you need to do both, make sure to keep your excise routine very simple.
B. Diet Control Tips
Diet makes up for 80% of your fitness level! No one wishes to hear this while on vacation, yet how you eat will reflect on how you look like and feel about your body. Truly! It is almost impossible to outrun a terrible eating regimen.
1. Eat carbs only for one meal
While you are on vacation, your exercise level will presumably be just a fraction of what it generally is. Limiting your carbs guarantees you are only eating around 200 gms of carbs/day. The best part of eating along these lines is that you can still have local street food without the stress of gaining too much weight.
2. Minimise gluten intake
The keyword here is 'limit' –not 'completing avoid'. You could order a dish that has some gluten, for example, an exquisite lamb dish with a small quantity of bread on the side. Concentrate on maintaining a strategic distance from large servings of gluten, for example, pasta, cake, bread, and so on.
3. Have a balanced diet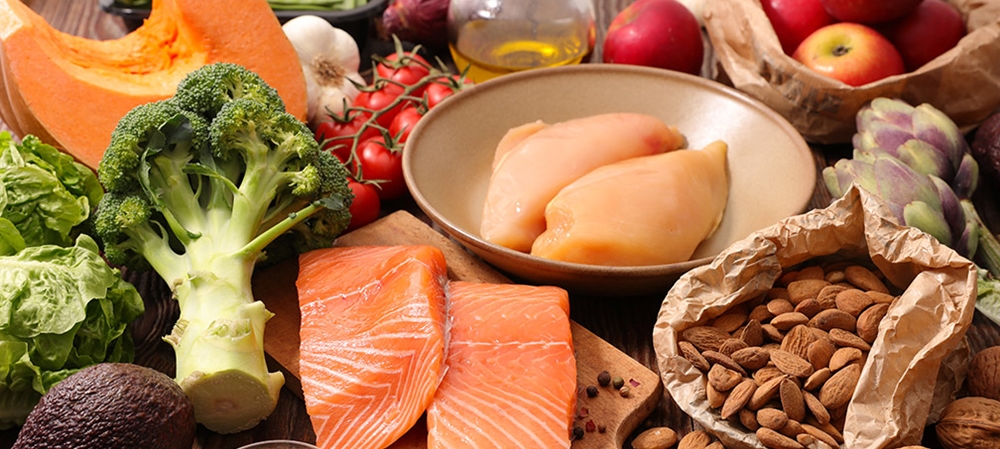 Image Source
Each meal ought to have a protein source and at least one vegetable; you could include a few nuts and fruits too. Try to limit grains and dairy; just eat them in small amounts. You do not have to eat only salad when travelling and not eat anything that tastes good. Instead, make it a point to eat 80% healthy, and afterwards eat anything you desire.
Here's a list of things you should be trying to include in your diet:
Eggs: Chicken eggs, duck eggs, etc
Fowl: Chicken, duck, turkey – creatures with wings
Meat: Lamb, beef – four-legged animals
Fish & Seafood: fish, shrimp, crab, lobster, mussels, clams, and other variants.
Vegetables: Leafy, green vegetables are a must
Fruits: Fruits are essential and they also contain lots of natural sugar and are higher in calories. When you need an instant pick up eat a fruit instead of store bought an energy drink.
Nuts: Contain healthy fats and are high in calories. They are a healthy snacking option but do not overdo it.
Oils: coconut oil, olive oil, avocado oil, etc
Tubers: Sweet potatoes and any kind of yam. High calorie and carbs!
Bacon: Who doesn't love bacon but make sure to eat in little quantity.
4. Opt for the healthier options on the menu
Make better choices even when you are at fast food joints and restaurants as much as possible. It is vital to order healthier dishes only if you like them. Because if you do not, you are going to feel terrible for eating something you do not want to.
5. Keep yourself hydrated
We don't give it enough importance. It is the most important thing to drink more water if you are travelling.
6. Snack wisely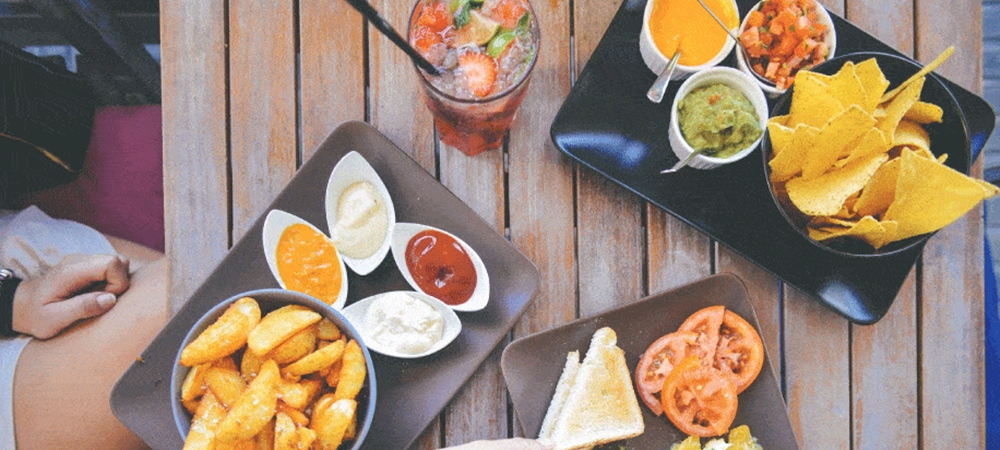 Image Source
Who can say no to a dessert? Very few of us! If you end up nibbling just because there is food in front of you and not because you are hungry, then avoid snacking altogether.
If you are starving, at that point obviously, have a bite. It is essentially an instance of having a healthy snacking option in small quantity. For example, rather than two scoops of ice cream or two pieces of cake, have one with some fruits.
7. Stay prepared for food emergencies
Be ready for emergencies when it is difficult to find food. Carry healthy snacks with you. Here are some options you must consider:
Energy Bars – An excellent choice for when you do not have access to food. Eating that will keep you full for a reasonable amount of time until you finally have options to eat.
Nuts – Readily accessible, high in fat. And they keep you full.
Dark Chocolate – 80% or a higher quantity of dark chocolate as it guarantees low sugar content. There are many options available in the market.
8. Choose your drinks wisely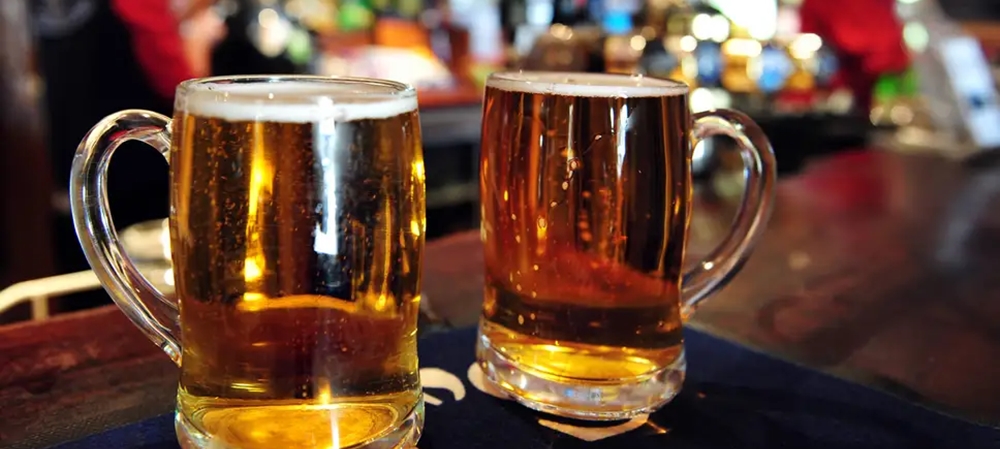 Image Source
You want to spend every night like it is a weekend night when on vacation, right? You will perhaps end up drinking more frequently and more substantial amounts than you would have back home. Keep in mind that this will happen and plan accordingly.
We get it you love alcohol. Is it even a holiday if you didn't have a drink? A large number of us significantly increase our regular calorie consumption on vacation with liquor.
If you enjoy a piña colada on holiday, do not have two a day– just go for one! Be conscious that there are a lot of calories in drinks and choose wisely.
There are healthier and body-friendly drinks too, remember the below pointers before ordering your drinks:
Beer – We know you love drinking beer but avoid it. Beer is exceptionally high in carbs. Hops, utilised in beer, are broadly known to contain potent estrogenic substances too. If you are looking to achieve optimal health, you should try to avoid beer.
Opt for Low carb Alcohol – The perfect beverage of choice would be vodka, white rum or a glass of dry white wine, for example, Chardonnay or Sauvignon blanc. Keep away from any sweetened mixers or low-quality alcohol. If you love shots, stick to Tequila, Whiskey or Vodka.
9. Carry some supplements along with you
Dietary supplements are an incredible way of boosting your diet while on holiday. While they are not the alternation to a natural, healthy diet, they are capable of making sure that you do not have any nutrient deficiencies and stay energetic, compensating for all the holiday indulgences you want to make on your dream holiday.
Such a large number of individuals plan their vacations knowing they will get overweight, and lose their fitness level, yet they do not do anything about it. Keeping in mind the above pointers will help you stay fit. However, don't overstress, go on vacation, accepting the fact that you won't be able to keep up your typical diet and exercise. You can come back to your routine entirely once you are back!
Enjoy your vacation!
(Visited 1,270 times, 1 visits today)