During the month of August, the state of Kerala experiences rain almost continuously. But things get better by mid-August. The rains reduce and there is moderate heat. Due to the rain, the state actually takes on a very pleasant charm with shimmering greenery all around. But because of the rains, many travellers conclude that this may not be a good time to visit the place. But actually, if you plan well and know where to go, the state can offer many unique and unforgettable experiences even during this season.
Look at some specific benefits of visiting Kerala in August:
Cheap tariff at hotels and resorts
Since August is not a peak season for tourism in Kerala, many resorts and hotels offer great accommodation at jaw-dropping prices. So you can expect a great stay at the best prices possible. And as a traveller, wouldn't that make you feel like your trip to Kerala was worth it?
No better time than monsoon for Ayurveda
During the month of August, the environment is ideal for Ayurveda. There is very less dust in the atmosphere and because of the little humidity, the skin pores are wide open. Such factors allow the ayurvedic therapies to have the most impact on your body than during any other season. The month of Karikkadam in the Malayalam Calendar falls in August until the middle of the month. The locals believe that this month is the best period to experience Ayurvedic therapies. Many foreigners come to Kerala for such therapies during this month and they do not return disappointed.
Kerala Waterfalls in their full glory
As you can imagine, the heavy rains do a great deal of good to the waterfalls of Kerala. They offer glorious views and the sound of the gushing waters is nothing less than awe-inspiring. A visit to the Athirapally Falls – the largest waterfalls in Kerala – is an unforgettable experience. But before visiting any waterfall, please make sure to check if they are safe to visit. Check with the local authorities for any flood or other alerts.
Kerala in August – List of Best Places to Visit
Kerala is famous throughout the world for its colourful culture, surprisingly diverse topography as well as its great natural beauty. Whether it is Indians or foreigners, Kerala attracts thousands of visitors each year. No wonder is one among the top 100 holiday destinations in the world. When you visit this beautiful land, you'll know why it deserves the name "God's Own Country".
Have a look at some of the best destinations to visit in Kerala
Cochin and Fort Cochin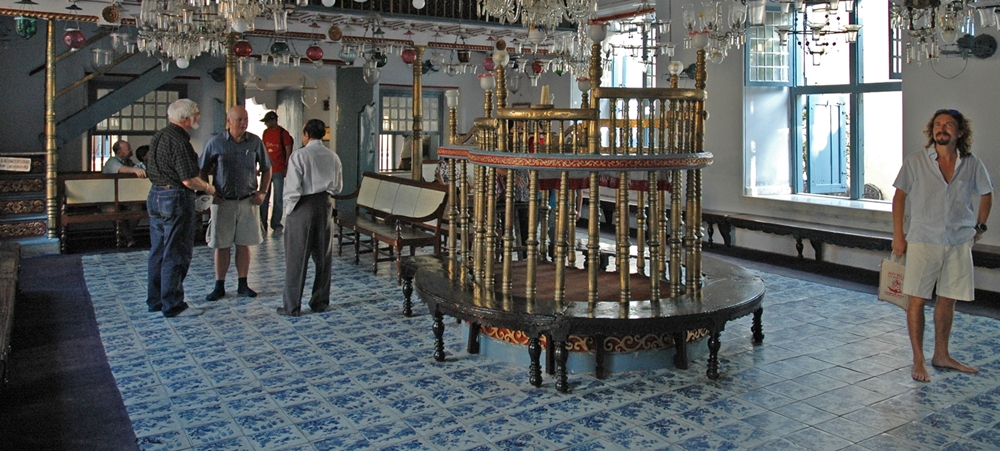 Image Source
Most times, a Kerala tour begins and ends in Cochin. The ever-vibrant city features a wide variety of sightseeing attractions which include historic places as well as sites showing natural beauty. Some of the most famous attractions are Jewish Synagogue and Dutch Palace. Since many of the sightseeing attractions in Cochin are indoor, you can enjoy visiting them even in the rains. But outdoor sightseeing would obviously be difficult.
Do not miss going to Fort Cochin during your visit. It features interesting museums, palaces and buildings. If there is only a slight drizzle, try to take a cycling tour of Fort Cochin.
The most famous attractions you can visit in Cochin are:
Santa Cruz Cathedral Basilica
Jew Town
Indo-Portuguese museum
Paradesi Synagogue
Mattancherry Palace
Tomb of Vasco-da-Gama
Activities to do in August:Â  You can enjoy outdoor sightseeing only when it's not raining. But even if it does rain, you can enjoy visiting museums, palaces and malls. You can also enjoy cultural shows and eat local food at restaurants.
Munnar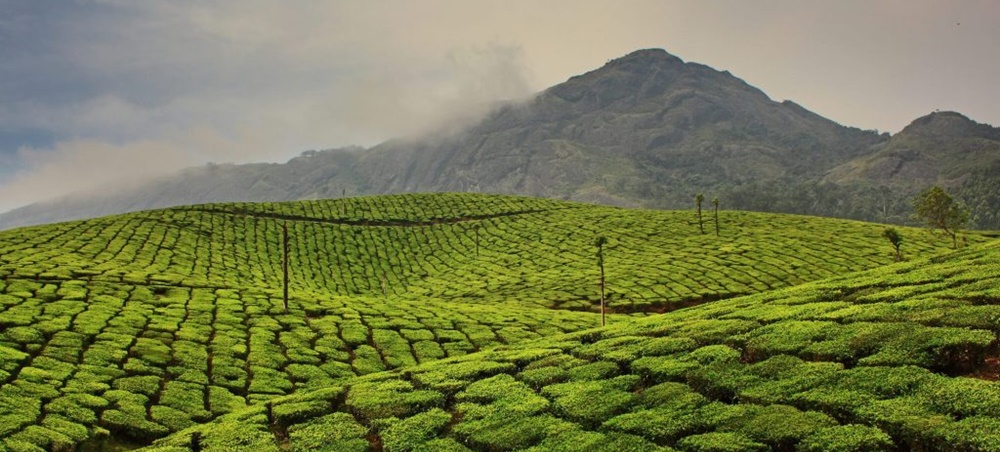 Pic Courtesy: ClearTrip
The hill station of Munnar takes on an unbelievably scenic charm during the monsoon. Because of the showers, tea gardens shimmer with great glory and the serene lakes look magical. You will enjoy a closed-top boat ride in the lake or simply enjoy the view. During monsoon, the climate in Munnar is misty and there are clouds everywhere. So the views are simply magnificent. And there are so many sites in Munnar which offer you an opportunity of standing amidst the clouds.
Note: Sometimes if the rains are very heavy, it can be very difficult to access Munnar or any other hill station in Kerala. There are chances of landslides. And sometimes, a few hilly areas are banned for travelling during August. So check with the local authorities or tour operator for all these things before you include these destinations in your itinerary.
Look at some of the best locations to visit during your Munnar visit,
Top Station
Tea Plantations
Marayoor & Chinnar
Kundala Lake
Mattupetty Dam & Echo Point
Rajamala- Eravikulam National Park
Activities to do in August: August would be a wonderful time to visit the dams and waterfalls in Munnar. Because of the rains, they will be in their full glory. So make sure to visit the Mattupetty Dam, Attukal Waterfalls and Chinnakanal Waterfalls. The lakes will also enjoy a great environment during the monsoon. So visit Kundala Lake and enjoy a closed-top boat ride. The Pothamedu Viewpoint and Photo Point are also known for their exquisite views during the monsoon.
Thekkady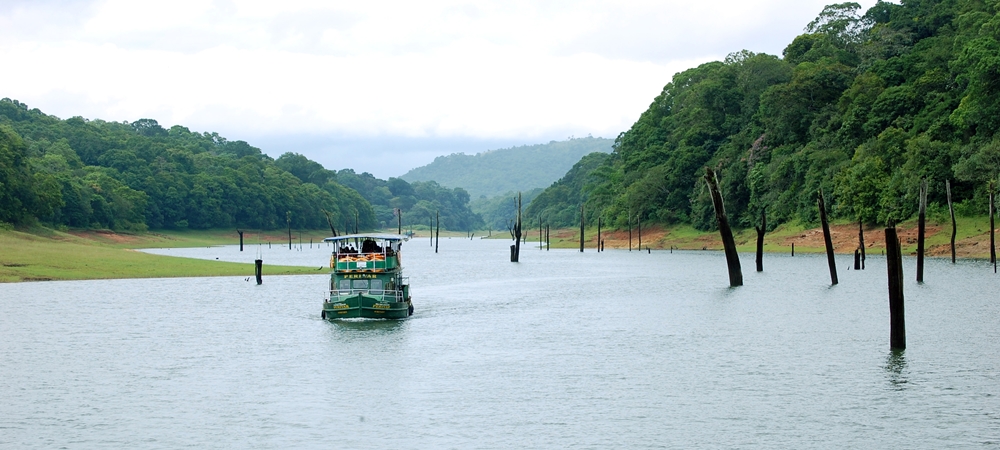 Image Source
The town of Thekkady is known for its aromatic spice gardens, scenic lakes and beautiful wildlife. Periyar Lake, in particular, is a wonderful attraction in the town. The boating experience at the lake is ideal for all age groups. Since the boat has a roof, you don't have to worry about the rain. During the boat ride, you will enjoy views of animals coming from the forest and drinking water from the lake. You can never forget this sight.
Some of the best destinations to visit in Thekkady are:
Periyar National Park and Lake
Anakkara
Chellakovil Viewpoint
Vandiperiyar
Parauthumpara
Ramakkalmedu
Activities to plan in August: Â During the monsoon, you can definitely try boating at Periyar Lake. Since the boat is closed-top; so there is no need to worry about getting wet in the rain. The only problem could be that if the rains are heavy, then you may not be able to spot wild animals out in the open. If rains are not too heavy, you can enjoy nature walks and border hiking. But whether there are rains or no rains, you must be careful about the leeches during the monsoon season. And since there will be leeches, please do not try outdoor camping. Check out the full activity list at Thekkady here.
 Alleppey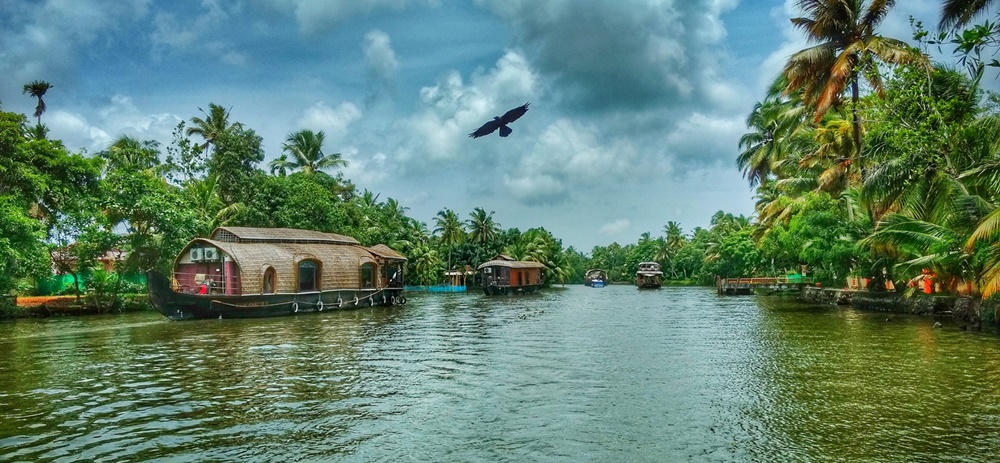 Image Source
Of all the destinations in Kerala, Alleppey welcomes the most number of tourists. The backwaters of Alleppey look best during the monsoon season. It is refreshing to see the wet palm trees on the shoreline and to hear the sound of rainwater hitting the backwaters. A houseboat cruise can give you a rich experience of the backwaters and many travellers would rightly call it "An experience of a lifetime".
Alleppey's best attractions are:
Alleppey Backwaters
Alleppey Beach
Marari Beach
Activities to plan in August: Houseboat cruise is the most popular activity in Alleppey and monsoons are the best time to enjoy it. In a houseboat, there is no need to worry about the rains. You will enjoy the views and the delicious food during your cruise. Foodies will love this cruise since the food will have many authentic flavours of Kerala. You can also enjoy canoeing if there is only a slight drizzle. But if the rains are heavy, canoeing is impossible.
Kumarakom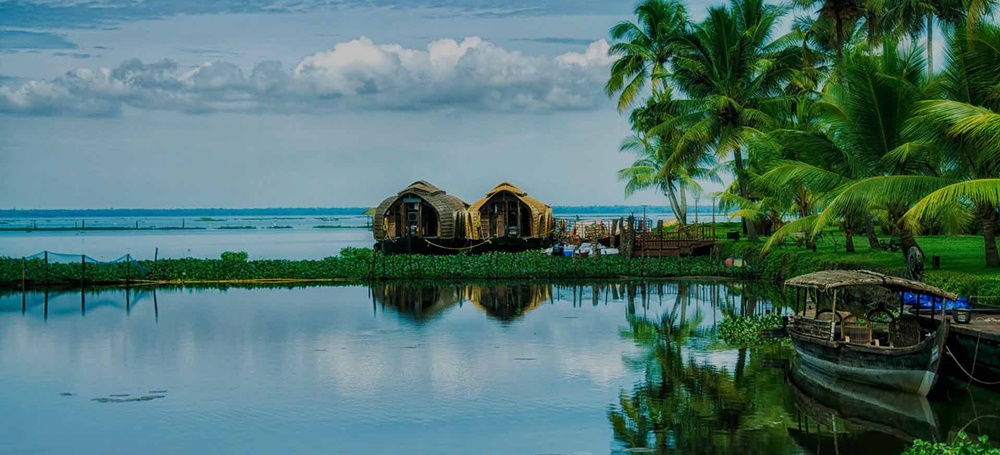 Image Source
The quaint backwater village of Kumarakom is nestled on the banks of the Vembanad Lake.  The cute little houses and the greenery of Kumarakom make it a very pleasant destination. At Kumarakom, you can explore village life, interact with locals and take backwater cruises if the rains are not much. A famous attraction in Kumarakom is the bird sanctuary. It houses rare species of birds like wild ducks, herons, storks, etc.
Some of Kumarakom's best attractions are:
Kumarakom Backwaters
Kumarakom Bird Sanctuary
Vaikom Temple
Village Life
Paathiramanal Island
Activities to plan in August: The rains may not allow you to have a great canoeing experience. But houseboat cruise and other closed-top boat rides are enjoyable if any are available. Bird watching, village walks, canoe rides, and toddy shop visits are other activities which you can try. But do look for those dark clouds before planning any such activity.
Wayanad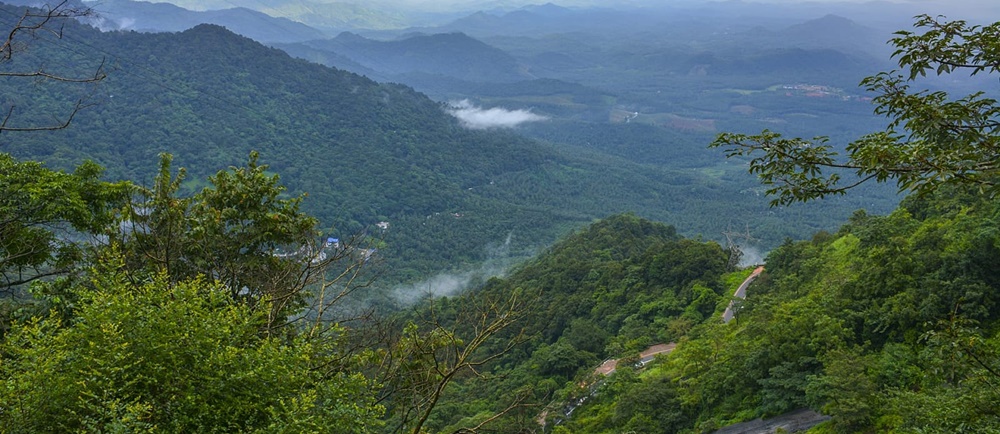 Pic Courtesy: GoIbibo
The raw natural beauty of Wayanad makes it unique among other hill stations in Kerala. The forests, hills and wildlife have a charm that's hard to explain. Wayanad is part of the Western Ghats. It will always be known for its amazing trekking trails. During a trek in Wayanad, you will come across some of nature's best offerings.
Some of Wayanad's most exciting attractions are:
Banasura Sagar Dam
Kuruva Island
Chembra Peak
Edakkal Cave
Pookode lake
Muthanga Wildlife Sanctuary
Thirunelli Temple
Activities to plan in August: The Banasura Dam will be in its full glory during August. So do not miss it. You can also visit the Edakkal Caves. And also, you can try closed-top boat rides in the Pookot Lake. Adventurers would also enjoy trekking in Wayanad. You can enjoy it if the rain is not too much. But always beware of leeches and slippery trails.
Athirapally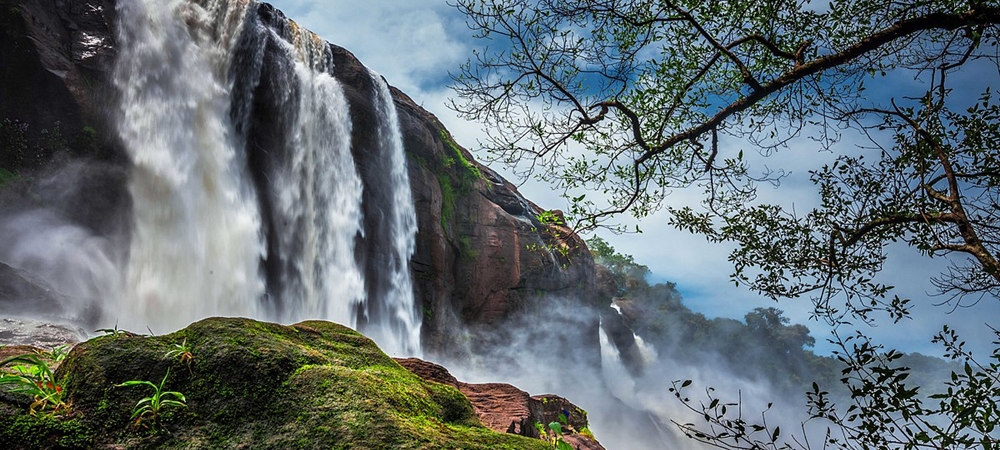 Athirapally, a magnificent destination in Kerala, is all the more spectacular during the monsoon. The Athirapally Fall is rightly called "Niagara Falls of Kerala". Its staggering height of 80 feet and the majestic sound of the gushing waterfalls can make any jaw drop. But before visiting the waterfalls, make sure to check with local authorities about any alerts.
Athirapally's major attractions are:
Vazhachal Falls
Sholayar Dam
Athirapally Falls
Thumboormozhi Dam
Activities to plan in August: Make sure to visit the waterfalls of Athirapally during the monsoon. Actually, the month of August is the best month of the year to visit the Athirapally Waterfalls. The majestic views are just incomparable. And please take a camera with you because every scene is picture-perfect.
Kerala in August- Places NOT to Visit
Since there are frequent rains in Kerala, few areas, especially in the hill stations, are prone to landslides. So you must check with local authorities before planning. The following links will help you get information on any disaster alerts.
The beaches of Kerala are not worth visiting during the monsoon because of the strong currents. Even if you do visit them, you will not be able to enjoy beach activities, water sports, etc. So you cannot have a complete experience. Therefore, Kovalam Beach and Varkala Beach, which are usually visited by many during other seasons, are better to be avoided during the monsoon.
Kerala in August- Top Activities to Do
In Kerala, August is a month of heavy rainfall. But there are a few activities which you will certainly enjoy especially during this month.
Houseboat Cruises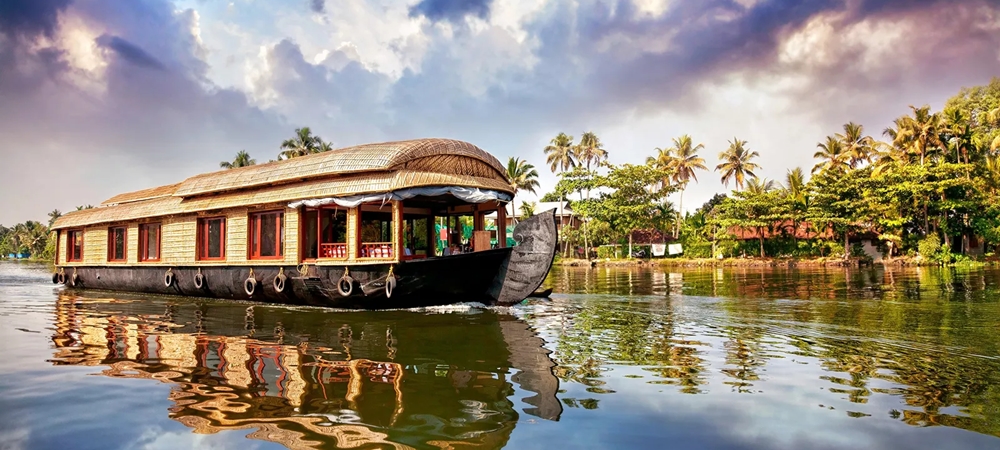 Pic Courtesy: Thrillophilia
Kerala's houseboats promise a great experience throughout the year. But since the monsoon makes the backwaters look magical, a houseboat cruise during August is beyond amazing. As your houseboat cruises at a gentle pace, you will see pleasant views all around you. Since the houseboat has a roof, travellers do not have to worry about the rain at all. You will also enjoy the regular servings of food and snacks from the local Kerala cuisine.
The backwaters of Kerala offer two types of houseboat cruises to choose from. 1) 4-hour day cruise and 2) Overnight stay. They also offer canoeing and other boat rides. But because of heavy rains during August, open-top boat rides are not recommended. However, if there is only a drizzle, canoeing can become a very pleasant experience.
The locations where you can get the best houseboat experiences in Kerala are,
Cultural Shows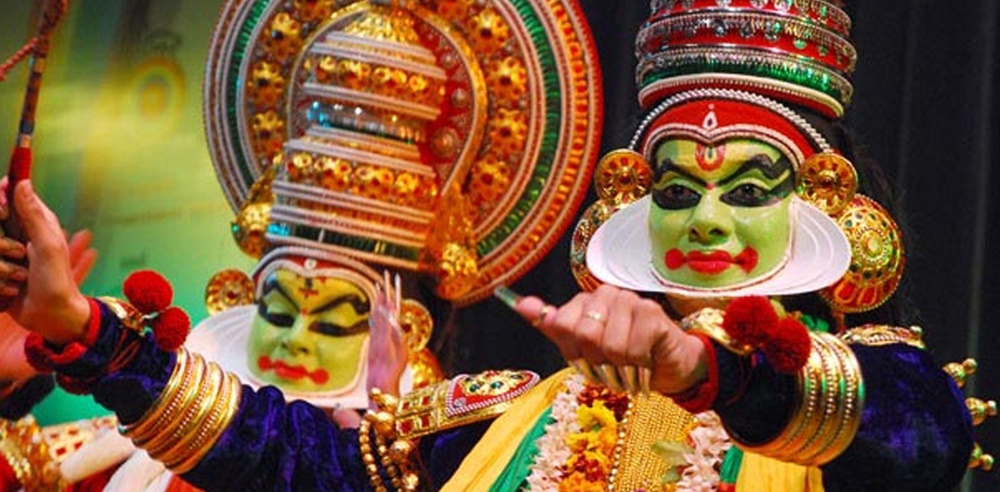 Image Source
The cultural centres in Kerala wonderfully showcase the land's colourful culture and rich tradition. At these cultural centres, you can enjoy dance and music performances along with plays. Kathakali and Mohiniyattom are two of the most famous dance forms in Kerala. Travellers can also enjoy watching Kalaripayattu – an ancient martial art form of Kerala. Apart from giving you a taste of Kerala's culture, these cultural centres also do their best to entertain their guests. A cultural show in Kerala usually lasts for one or two hours. And since it is an indoor activity, you can enjoy it in the rainy season also.
Some famous cultural centres in Kerala are:
Punarjani Traditional Village
Mudra Cultural Center
Cochin Cultural Center
Greenix Village
Ayurveda Experiences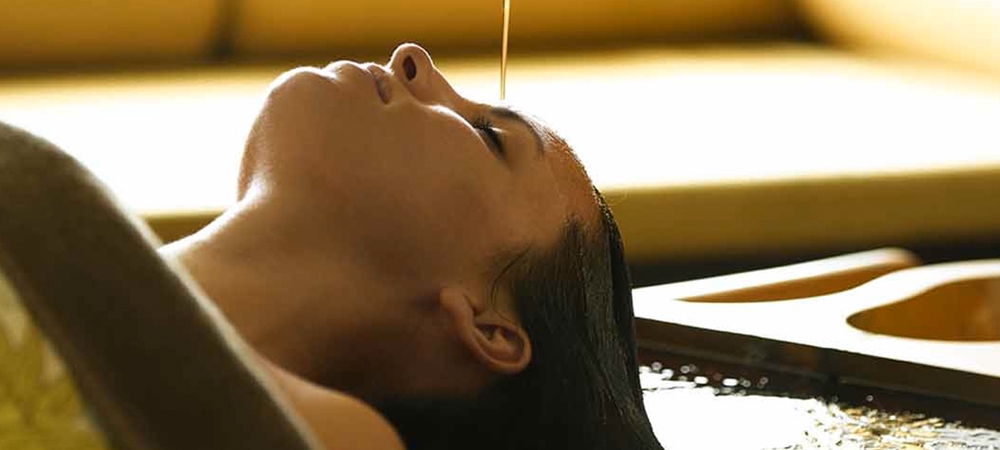 Image Source
As we have discussed earlier, the atmosphere in Kerala during the monsoon season is ideal for Ayurvedic therapies according to experts. The therapies are not only effective but their impact is sped up because of the weather. The fact that during this season, our skin pores are open also helps in the effectiveness of the therapies.  Many travellers come to Kerala from all around the world during the monsoon. They come either to solve a health issue or just to improve general health. Ayurvedic therapies in Kerala also help to rejuvenate and detoxify the body.
Some of the significant Ayurveda wellness centres of Kerala are located at
Kottakkal
Thiruvananthapuram
Palakkad
Alleppey
Cochin 
Cooking Classes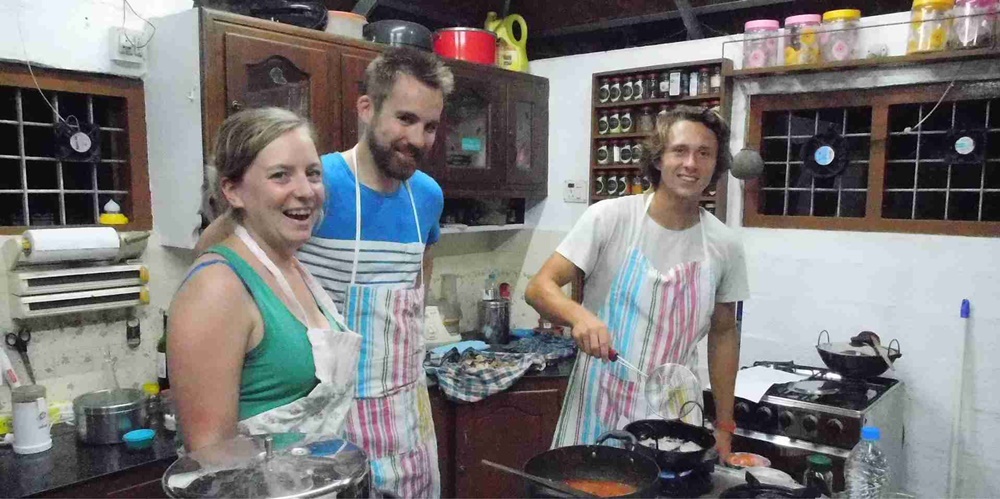 Image Source
Kerala cuisine is rich in spices and flavours. Visitors, when local or foreign, fall in love with the local delicacies. Some love it so much that they'd like to learn and try the recipe back at home. For such travellers, Kerala offers cooking classes. At these classes, they show some easy-to-learn methods to cook some of the best dishes of Kerala cuisine. After the class, you can relish the delicacies that were prepared. The cooking classes are held indoors. So it's a great activity for the monsoon.
Take a look at some of the best cooking classes in Kerala
Waterfall Visits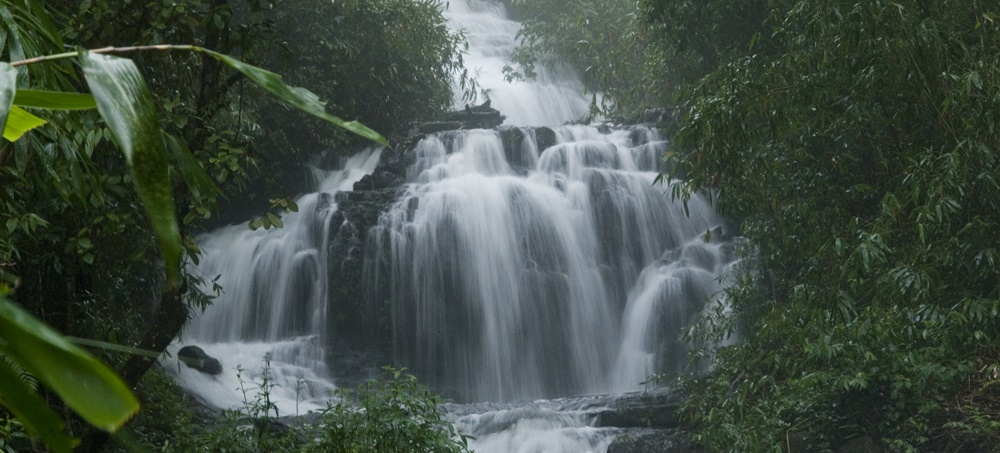 Image Source
During the monsoon season, the waterfalls in Kerala look more glorious than ever. The Athirapally Falls becomes a must-visit attraction. The view is simply magnificent and the cool sprinkle of water in the surrounding area adds to the pleasant environment. Do make sure to be safe when you visit the waterfalls. Do not get too close and also be careful of slippery areas. Most waterfalls in Kerala, however, are very safe to visit.
The most famous waterfalls in Kerala are
Athirapally Waterfalls
Attukal Waterfalls
Soochipara Waterfalls
Vazhachal Falls
Chinnakanal Waterfalls
Cheeyappara Waterfalls
Have a look at the top 9 things you can enjoy in Kerala during the monsoon
Kerala in August- Activities to be avoided
Because of the heavy rains, some activities in Kerala have to be avoided. Outdoor sightseeing is risky because you never know when it will start raining. Trekking is open in August, but you must be very careful with the leeches and slippery trails. But trekking during a light drizzle is quite an experience. During the monsoon, outdoor camping is not advisable at all because of the leeches. Another activity that is better to avoid during the monsoon is a beach visit and beach activities. The currents will be too strong. So you cannot enjoy water sport activities like parasailing, snorkelling, surfing, speed boating etc.
Major Events and Festivals in August
The Nehru Trophy Boat Race is held on the second Saturday of August each year. It is the most famous boat race event in the state of Kerala. The boat race takes place in the beautiful Punnamada Lake near Alleppey. The race is 1.4 km long. It features 120 ft long wooden canoes with around 100 rowers in each of them. In 1952,  Pandit Jawahar Lal Nehru came and watched the snake boat race in Alleppey. He was extremely impressed by the event. So he donated a silver trophy to be awarded to the winner of the event. The trophy is a silver miniature snake boat placed on a wooden abacus. It is given to winners of the boat race even today.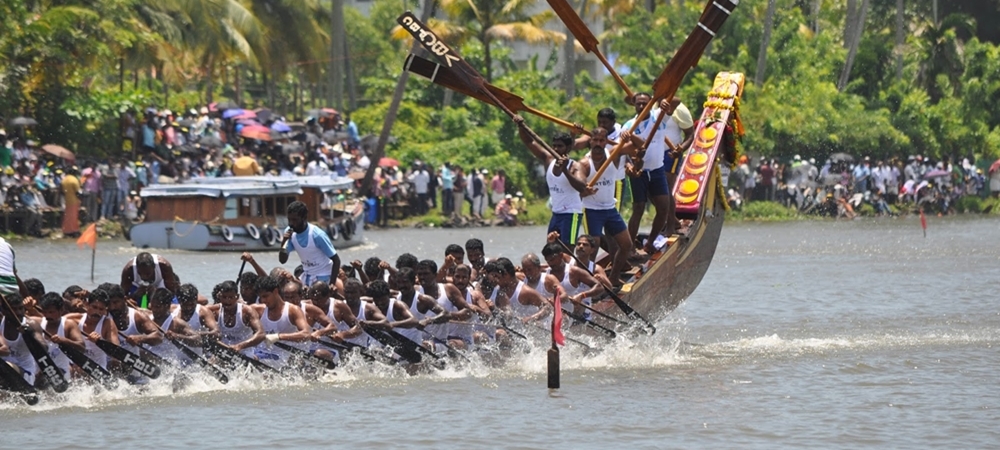 India celebrates its independence day on August 15. In Kerala, independence day celebrations include flag hosting followed by a speech by the Chief Minister of the state. Then there are beautiful parades which are amazing to watch.
What to Wear in August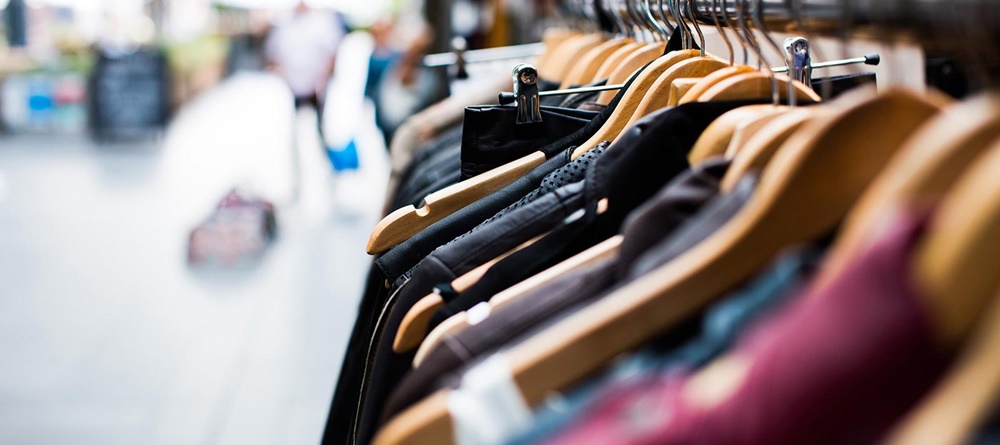 Image Source
If you're visiting Kerala in August, see if you can carry quick-dry clothes since there is a possibility of rains. Leather shoes get spoiled when they get wet. So carry rubber sandals instead. If you want to enjoy a trek, carry footwear with good grip because many times the trails can be slippery. Get an umbrella on your holiday if possible.
Weather conditions in August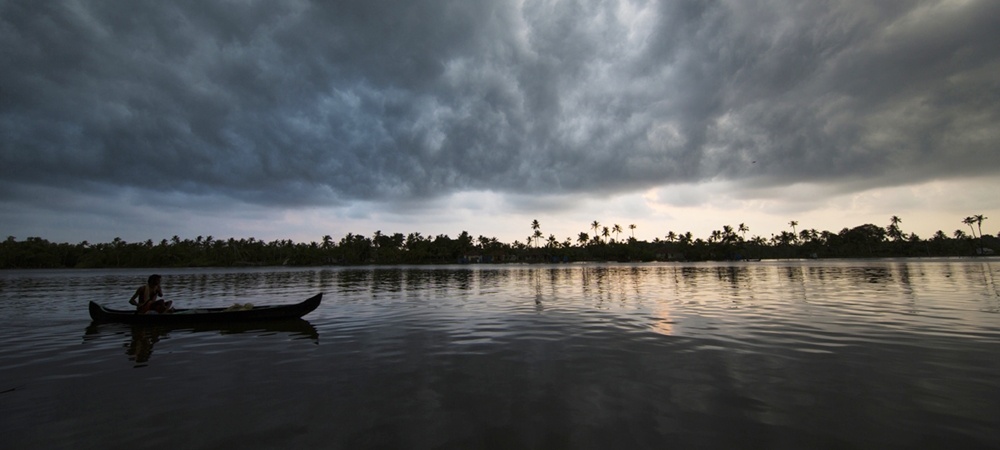 Image Source
During August, there are heavy rains especially during the first half of the month. And then in the second half, rains reduce and the state begins to experience moderate heat. The temperature during August is generally between 24 and 30 degrees Celsius.
Pros in visiting in August
The month of Karidakam which starts in the middle of July goes up to the middle of August. Locals believe that it is the best month for Ayurvedic treatments. So one of the biggest pros of visiting Kerala in August is the ideal environment for experiencing Ayurvedic therapies. The backwaters look magical and waterfalls become more glorious than ever. A visit to these destinations is unforgettable and you cannot get that experience during other times of the year.
Also, the cheap tariff at hotels and resorts is another big advantage. The fact that August is not a peak season for tourism means that you'll get value for money accommodation. So you'll enjoy great luxury and modern facilities at reasonable prices.
Cons in visiting in August
The heavy rains become a reason for a few cons of visiting Kerala in August. Because of the rains, you will not enjoy outdoor sightseeing most of the times. Activities like outdoor camping and beach activities will not be enjoyable at all. And because there may be leeches, you must be very careful while trekking also. Even a visit to the beach would be disappointing, The ocean currents will be very strong because of which, sometimes, they may not let you get close to the waters. Travellers need to be especially careful when visiting landslide-prone areas, especially in the hill stations.
Planning Kerala Tour in August- Suggestions & Tips
Get dark-coloured quick-dry clothes.

Please do not get leather shoes. They will get spoiled. Get sandals instead.

During your trek, be on the lookout for leeches. If, unfortunately, a leech latches onto you, put salt or tobacco to get rid of the leech.

See more Tips to avoid Leeches.
Have an umbrella with you and be prepared for a sudden downpour.

If you plan for treks, have footwear with a firm grip. Some trails are quite slippery.

The child in you might want to get drenched in the rain. But please don't get tempted. You can get sick and the holiday might turn out to be a bad experience.
The heavy rains, at least in the first half of August, make outdoor sightseeing and beaches a bit unpleasant. You must be careful with the landslide-prone areas as well. But if you plan well, having the right places and activities in your itinerary, you can turn your monsoon visit to Kerala into a rich holiday experience. Whatever happens, do not miss the houseboat cruise. Also, make sure to visit as many dams and waterfalls in Kerala as you can. August is not a peak season for holiday in Kerala. So you will get great accommodations at very reasonable rates. That is a complete jackpot for any traveller. Another thing you can try is ayurvedic massage or therapy. I hope this blog helped you to get an overall view of Kerala in August so that you can plan your trip well. Also, please share this blog with friends who are planning to visit Kerala this August! Enjoy travelling!
(Visited 1,240 times, 1 visits today)