Besides its natural beauty, Kerala is also famous for its wide variety of delectable dishes. And a trip to Kerala's culinary world will undoubtedly satisfy your taste buds. Keralites are real culinary experts and love to cook different sorts of tantalizing dishes. People of Kerala love to gorge on seafood. But, there is no dearth of vegetarian dishes in Kerala. Onam is one such festival when they only cook vegetarian dishes.
There is a selection of 26 dishes along with rice that makes up the Onam Sadhya. In Malayalam language, Sadhya implies a feast. It is essentially a vegetarian feast popular during religious events, festivals, and weddings.
Making all the dishes for any Sadhya takes a great deal of time. So, you can begin the day early and cut the veggies required for the different dishes and keep them in the fridge. And also keep coconut grated as you will need it in the most recipes. A paste of coconut, cumin seeds, and green chillies is a main ingredent in many dishes too, so you can make this paste beforehand.
Take help from others when making a Sadhya as making it requires a lot of time. So in case you are in the Onam spirit as it is just around the corner or just want to eat the scrumptious dishes served during Onam Sadhya, here's a list of the food prepared in Sadhya:
1. Banana Chips / Upperi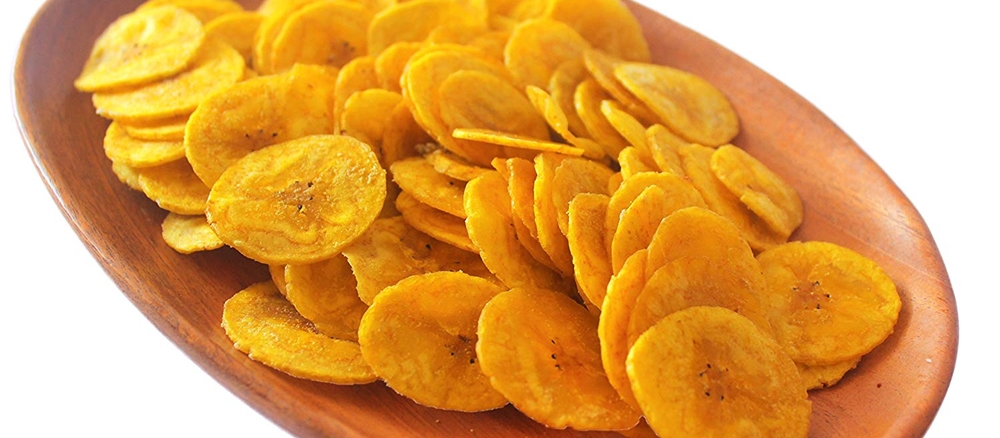 Image Source
Who doesn't love banana chips? Kerala banana chips are scrumptious and tasty. They are made using raw 'nendran' bananas & fried in coconut oil. The texture of these nendran bananas and coconut oil give them that unique flavour which is different from regular banana chips. Upperi is the one thing everybody loves eating. It is served in Sadhya at the start followed by other dishes. Clearly, when everything else gets served, you'll want some more.
2. Sharkara Varatti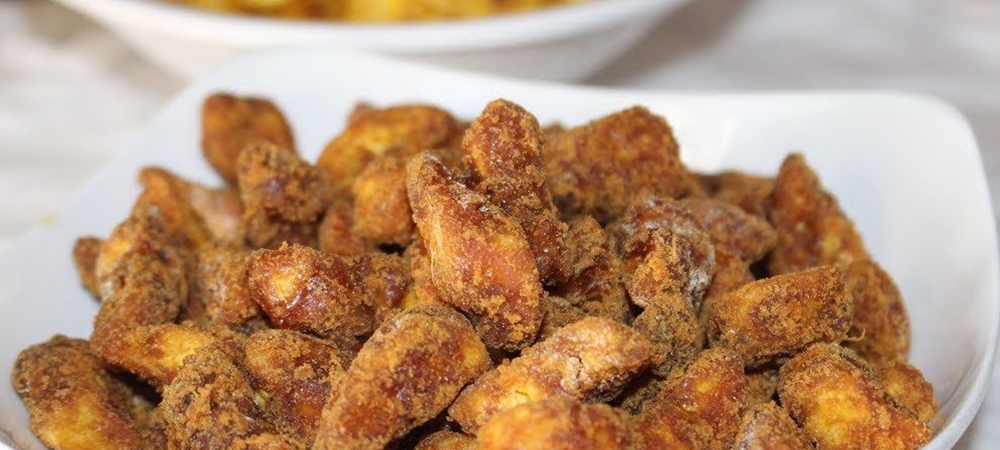 Pic Courtesy: Pinterest
This is banana chips but the sweet version. If you have a sweet tooth, you will love this. Made using jaggery, this delicacy is just the perfect amount of sweet and goes really well with the spread.
3.Poovan Pazham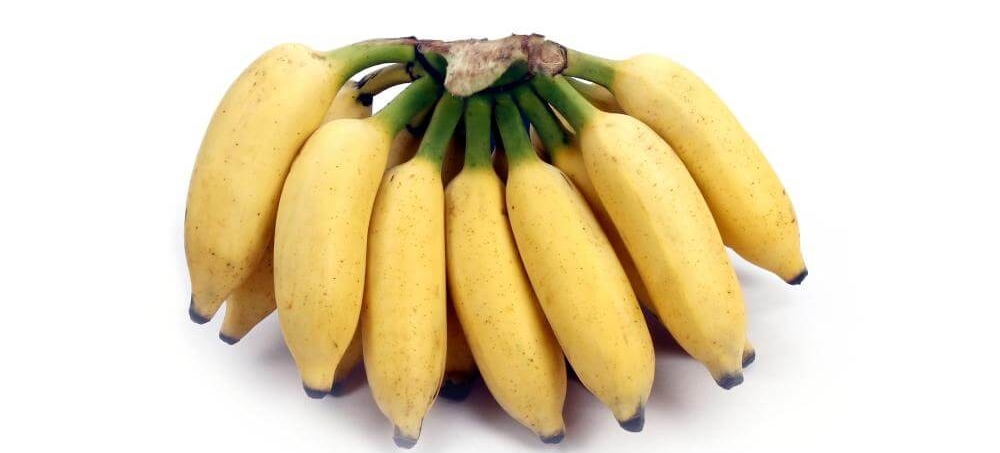 Image Source
Keralites love bananas. The smaller type of bananas is served in the Sadhya. It adds flavour to the payasam if you mash it and combine well. Remember to include a pappadam for that additional crunch.
4.Pappadam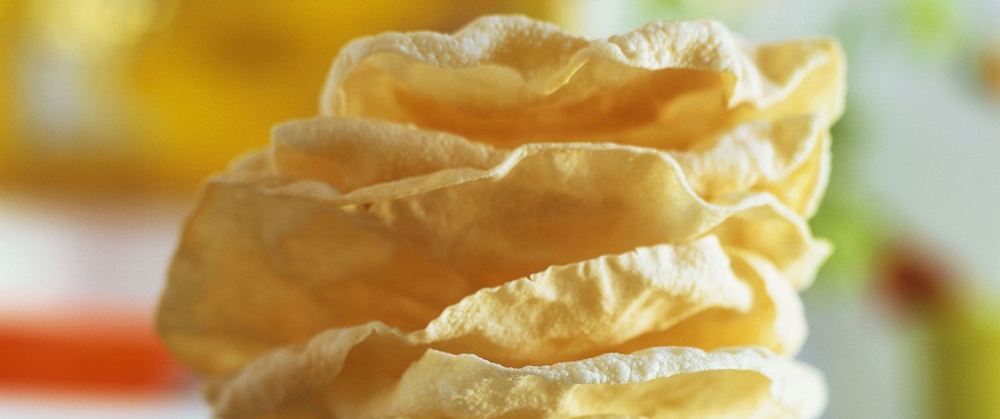 Image source
This is my favourite– Papad made with rice flour. We all love papads, right? It is impossible to say no to them– no matter how old you are. You will have many of these during your meal. They are a must-have in Sadhya.
5.Salt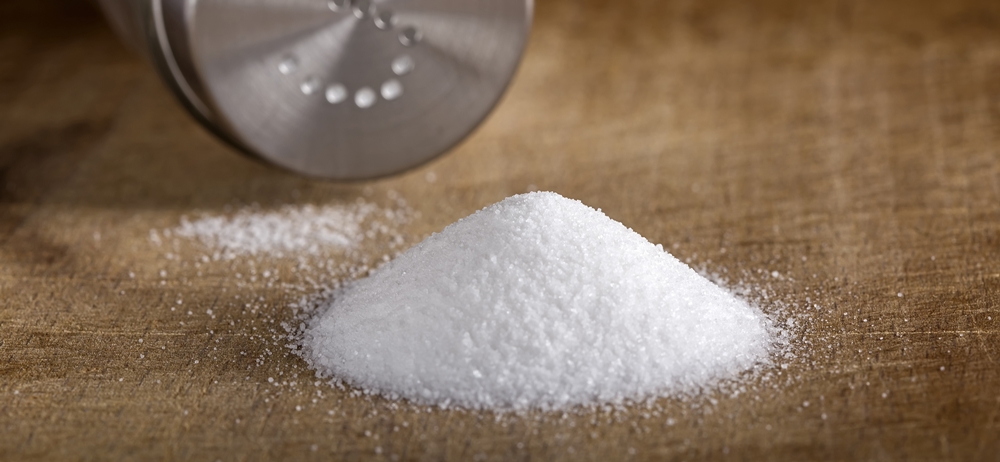 Image Source
Nowadays, salt is served in Sadhya. But in olden days, it was not there as a side dish.
6.Inji Curry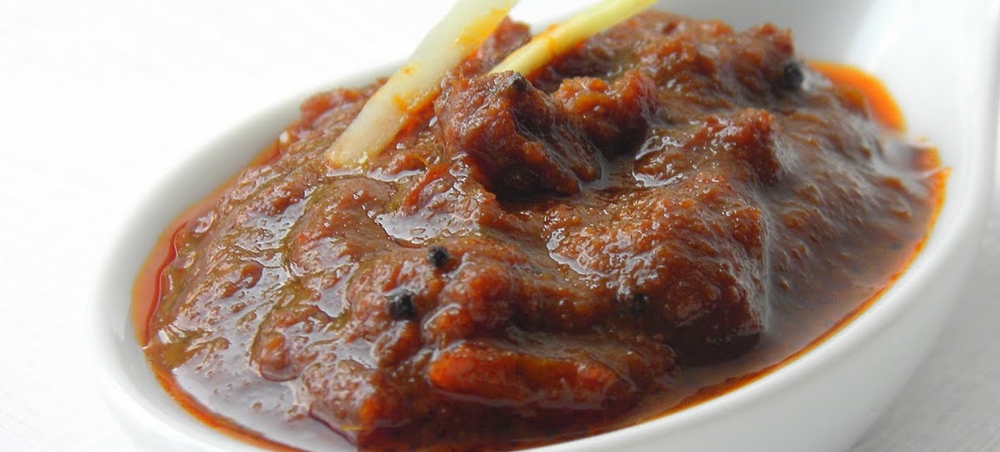 An unquestionable must-have for Sadhya, Inji curry is prepared with tamarind, jaggery, and ginger. In the majority Malayali family, this is one of the first things that are made during Onam. This one is completely mouthwatering!
7.Naranga/ Lemon Pickle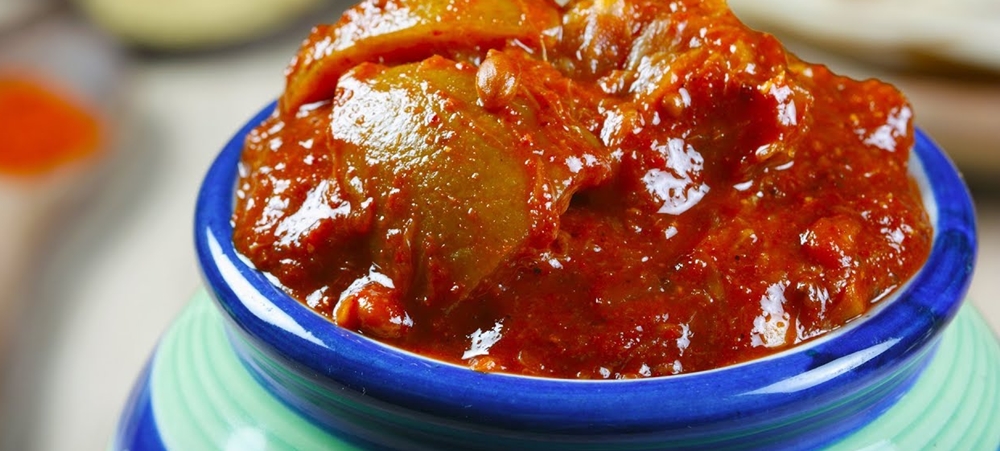 Pic Courtesy: YouTube
A spicy and tangy pickle made using lemons. This pickle is also an instant pickle like the mango one and it is very quick to prepare as well, yet to be ready to serve, you have let it sit for a couple of days. You do not require sunlight to prepare this lemon.
8.Mango Pickle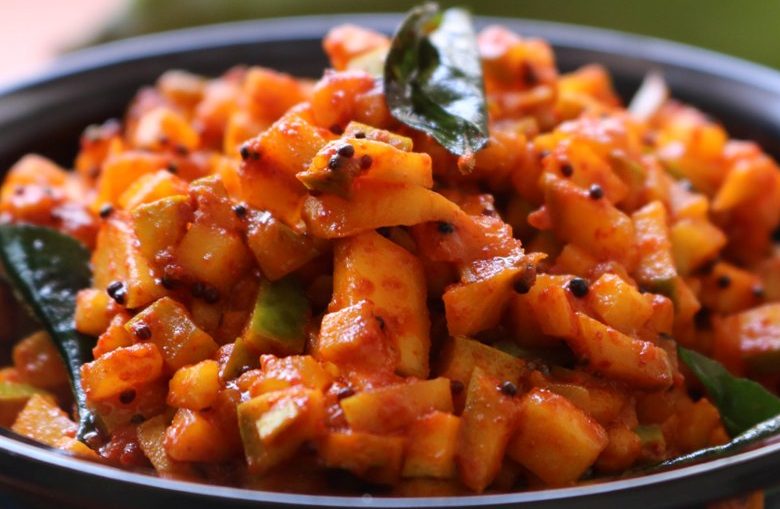 Pickles are a must in Onam Sadhya. They complete the feast. There are often 2 to 3 types of pickles served in the Sadhya. The mango pickle is very easy and quick to make. This pickle is made with raw mangoes, curry leaves, mustard seeds, and some spices. The best thing about this pickle is that the instant version of the pickle gets ready within 10 minutes.
9.Thairu Pachadi (White Pachadi)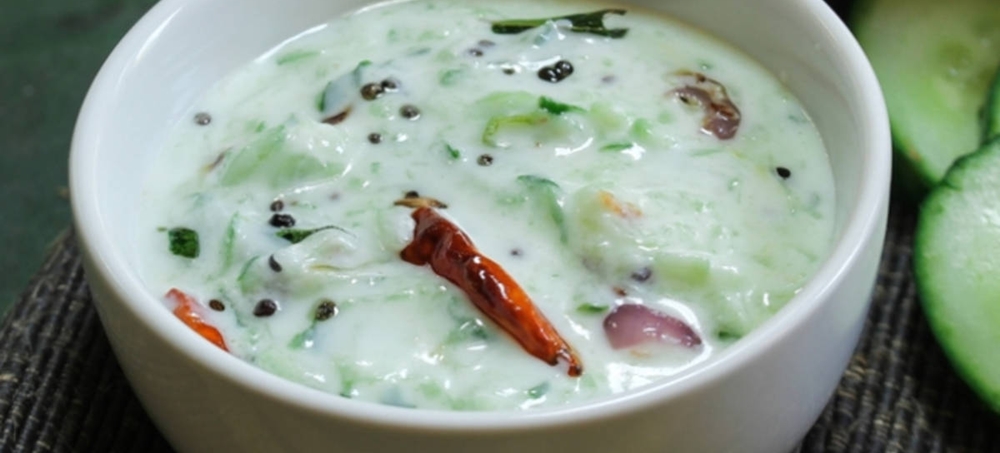 Image Source
Thairu pachadi is a delicious side dish in sadhya. They make a paste with coconut, green chill, cumin seeds and mix it with curd. For flavour, they add mustard seed and curry leaves. Sometimes they put vada in this side dish.
10.Olan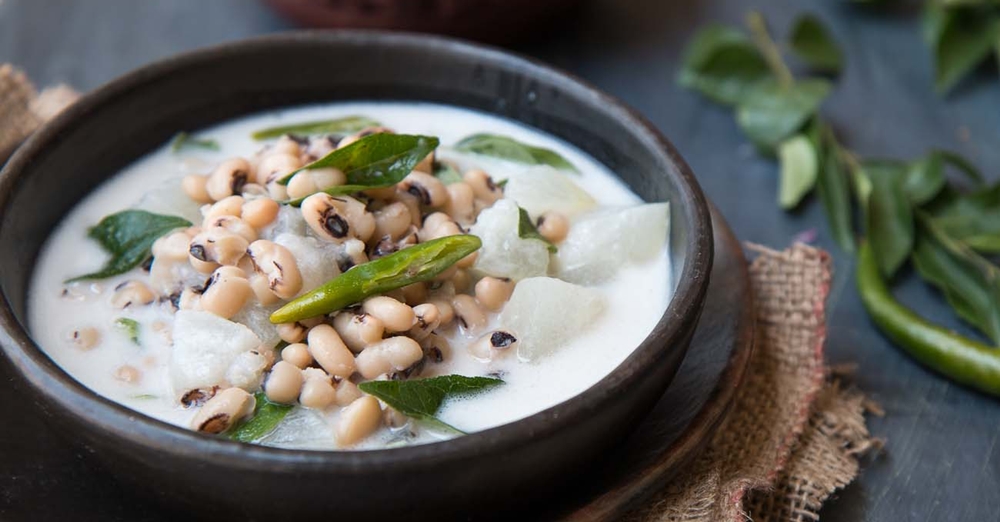 Image Source
Olan is a delectable curry made using kumbalanga or ash gourd, cowpeas or red lobia and coconut milk. Since it is a coconut-milk based thick curry, it tastes really well. 
11Beetroot Kichadi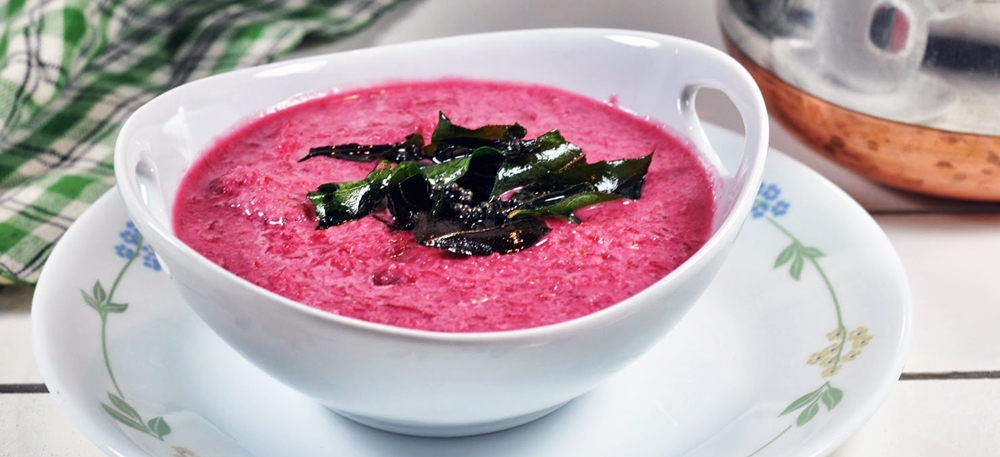 Image Source
This is a simple dish where they grate cooked beetroot and add to coconut past and curd. For seasoning, they use mustard seeds, red chillies and curry leaves.
12.Pineapple/ Grape Madurakkari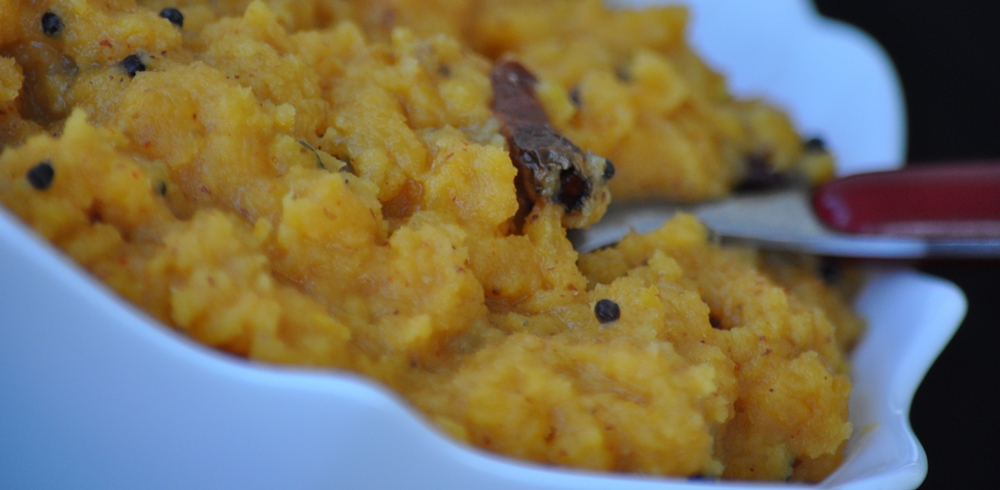 Image Source
A signature dish of the Kerala Sadhya, Madurakkari is a sweet dish which they make with fruits, usually pineapple and grapes. It has jaggery and chilli. You can adjust their proportions depending on how you need the dish to taste like.
13.Ulli Theeyal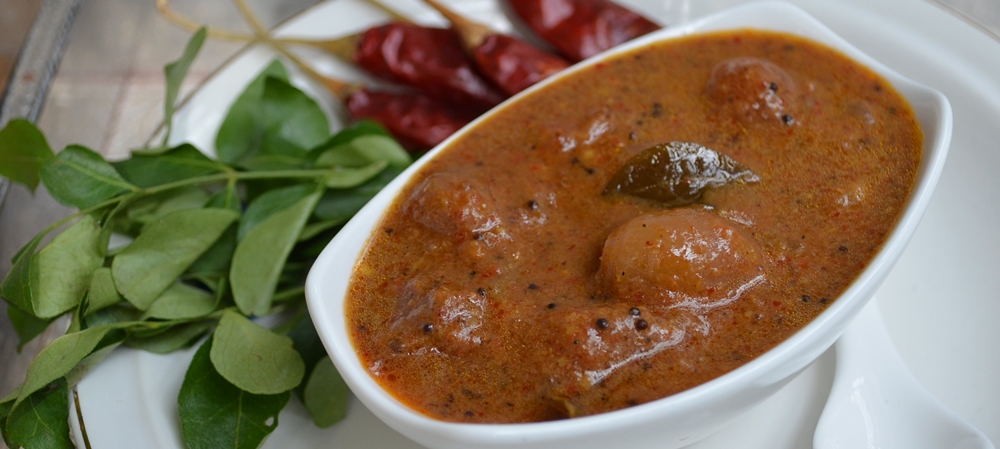 Image Source
It is one of the most flavorful curry-based dishes that is made for Onam Sadhya. This has a unique sour and spicy taste with amazing flavours. This curry is cooked using coconut and some aromatic spices. Pearl onions or Ulli additionally bring a lot of aroma in this dish along with the sourness of tamarind.
14.Kalan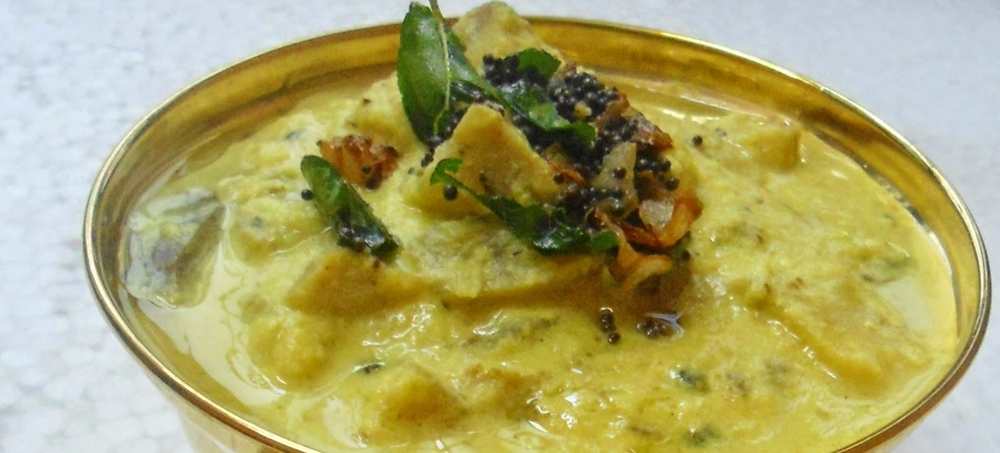 Image Source
Kalan is a sour curry made with buttermilk or curd and vegetables like plantain and yam. Grated coconut is likewise included which adjusts the sourness of the buttermilk or curd. The taste of it is just perfect.
15.Mezhkkupuratti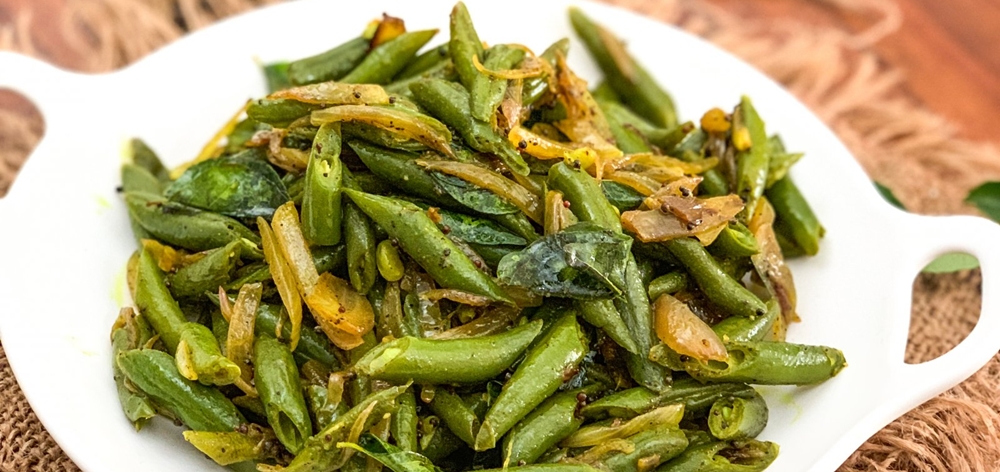 Image Source
This one is another popular choice! This can be made using thin slices of Yam or Koorka are boiled with spices and then finally fried in coconut oil. You will get addicted to this.
16.Thoran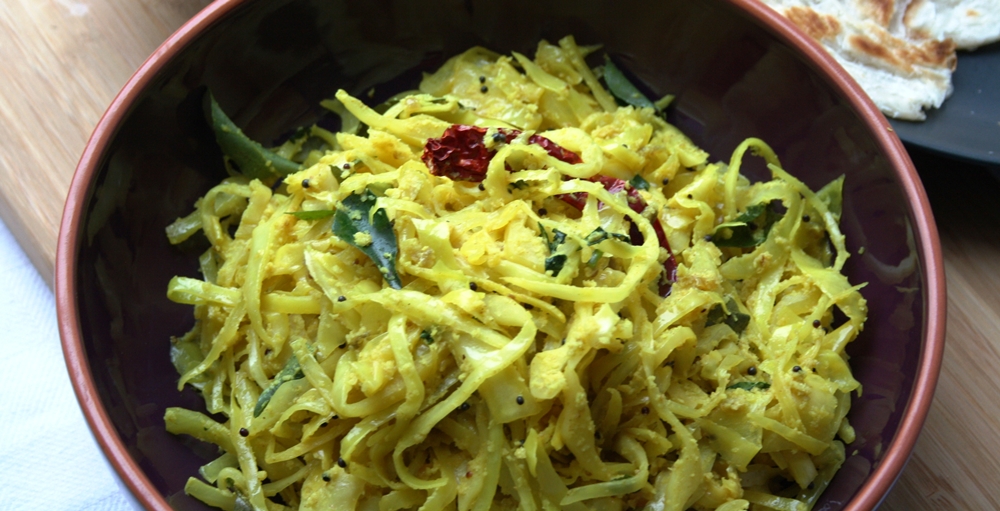 Image Source
Thoran is a famous as well as fundamental dish of Kerala. It is a dry dish that goes well with rice. It also tastes really well alongside all the different dishes in Sadhya. Thoran is made of finely cut vegetables, for example, beans, beetroots, raw jackfruit, bitter gourd, and so on and cooked with shallots, chillies, freshly grated coconut, and flavorful spices.
17. Avial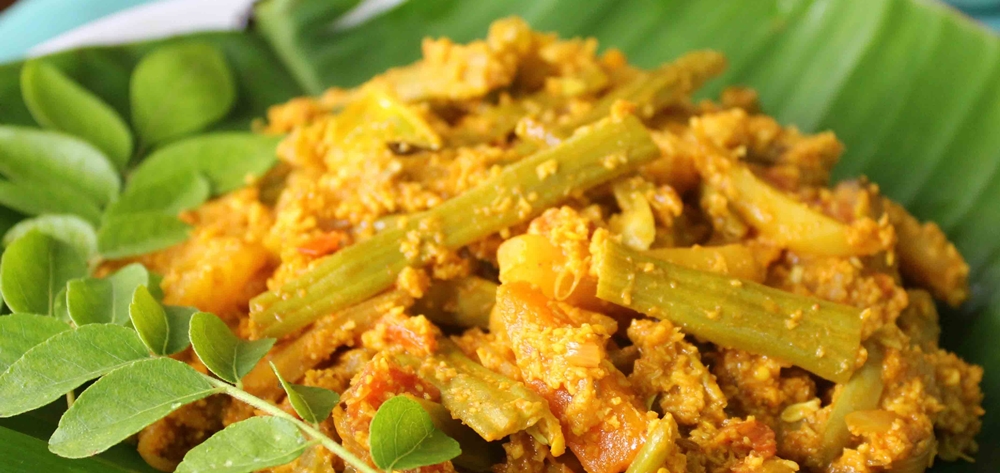 Image Source
It is one of the most popular dishes of Kerala. Avial is a traditional Kerala dish and an important part of Sadhya. It can be made both in semi-dry form and in a curry variant.
 18.Pumpkin Erissery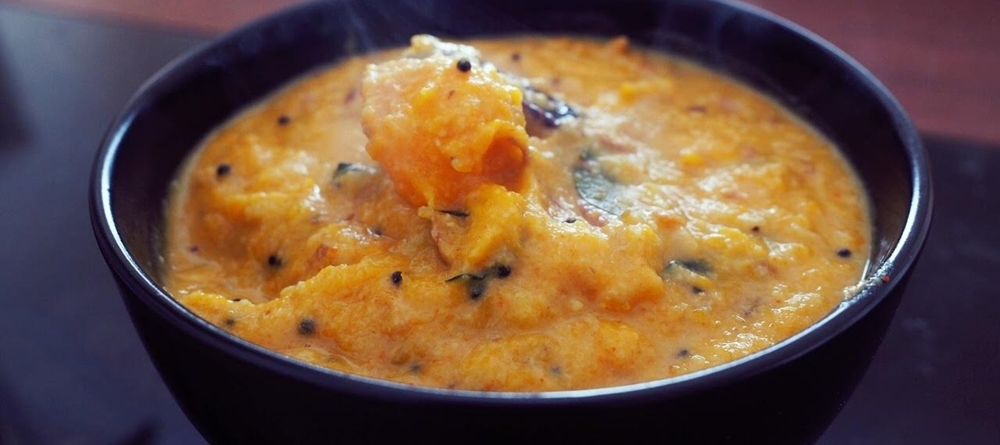 Pic Courtesy: YouTube
Mathanga erissery or Pumpkin erissery is a key dish that is served for Onam Sadhya. This delicacy is also called elisseri in certain areas of Kerala. It is a tempered curry with mild sweet taste made using pumpkin, coconut, and cowpeas.
19.Kootu Curry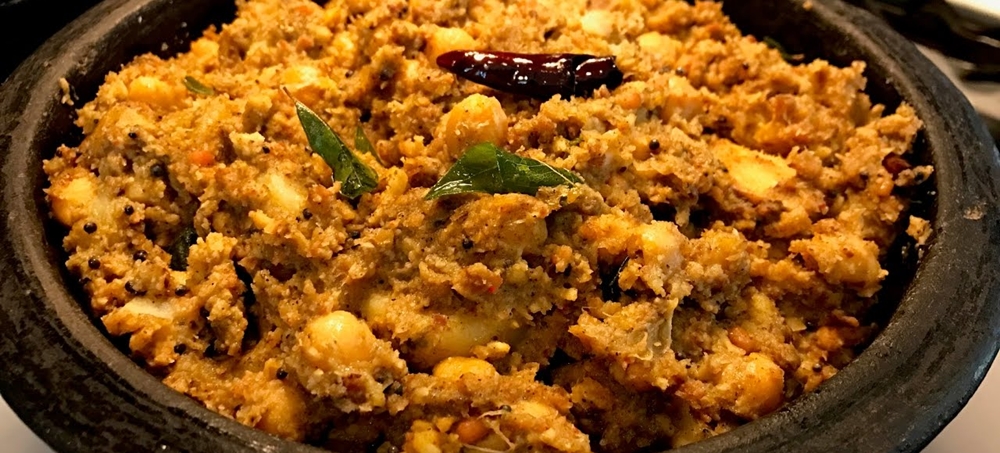 Pic Courtesy: YouTube
Kootu curry is a dish made using a couple of legumes and vegetables. The vegetables that are used are ash gourd, yam, carrots, pumpkin, snake gourd, raw banana, etc. The legumes included are black chickpeas or Bengal gram. It is one of the significant dishes made for Onam Sadhya.
20.Chor – Rice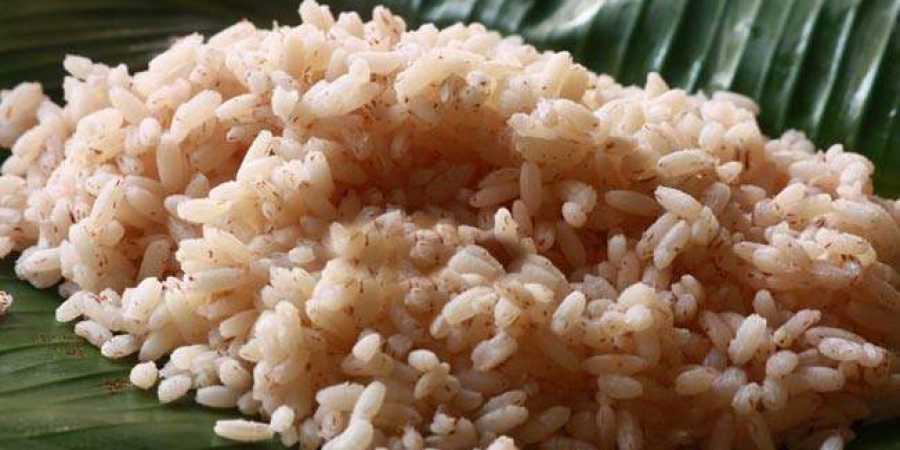 Well, this one is only plain rice. Yet, on Onam, red rice is made. If you have not tasted this variety of rice, you are clearly missing out. Sadhya is incomplete without this rice.
21.Parripu Curry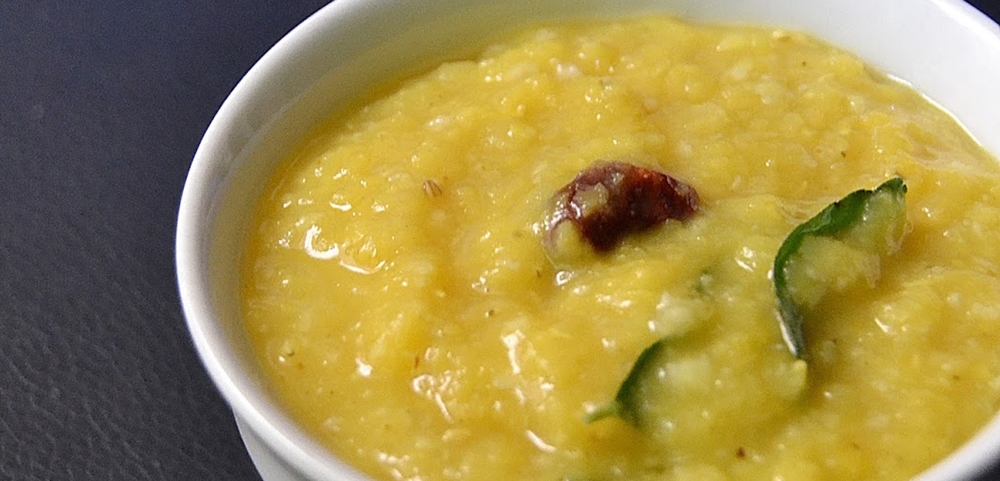 Image Source
One of the main dishes of Onam Sadhya is parippu curry. Plain moong dal, red chillies and sesame seeds are the main ingredients. It is topped with ghee, offering a gastronomical ecstasy. You can either utilize moong dal or arhar dal to make it.
22.Neyyu
Image Source
Popularlu known as Ghee in Hindi, it serves a very important purpose, turning something normal into extraordinary. Even if you put a spoonful of Neyyu on top of the rice or parippu, you will just keep licking your fingers.
23.Varutharacha Sambar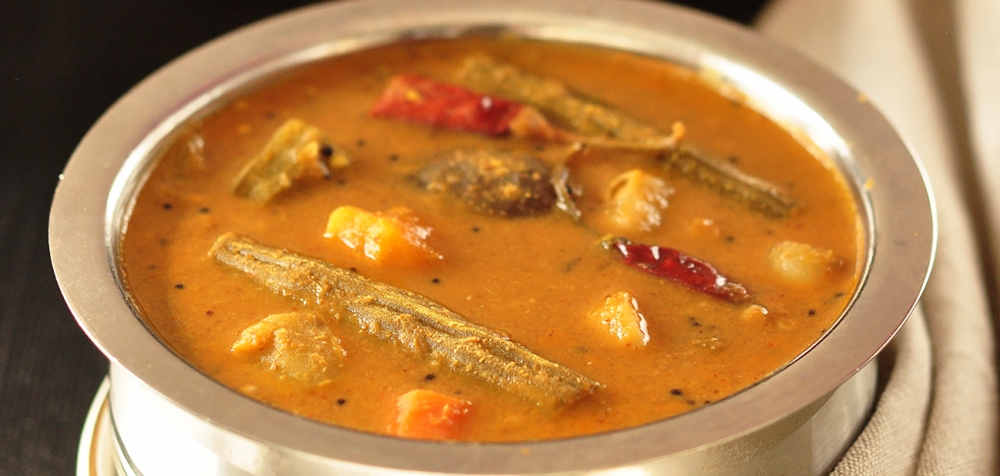 Image Source
Sambar is a very famous south-Indian dish. It is a type of vegetable stew. Varutharacha Sambar is slightly different. They use vegetables, lentils, roasted coconut and aromatic spices to make it. Roasted coconut is the highlight of this sambar recipe. Thus this sambar tastes quite different than the regular sambar which they usually make with sambar powder.
24.Ada Payasam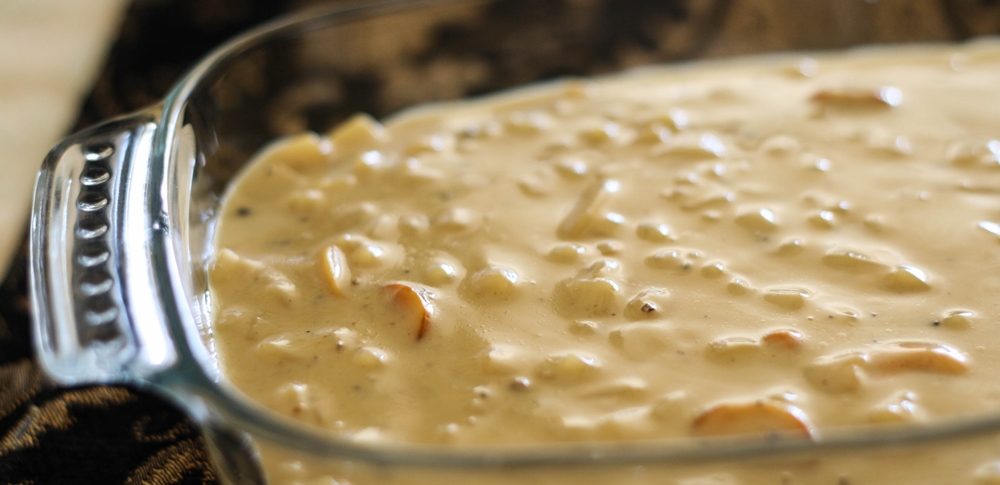 Image Source
It is a sweet dessert with milk, coconut, sugar, raisins, cashews being the main ingredients. Rice and Ada (flat rice) are the base constituents for payasam. There are various types of payasam, for example, Jackfruit payasam, Lentil payasam, Palpayasam and Bengal gram payasam.
25.Paal Payasam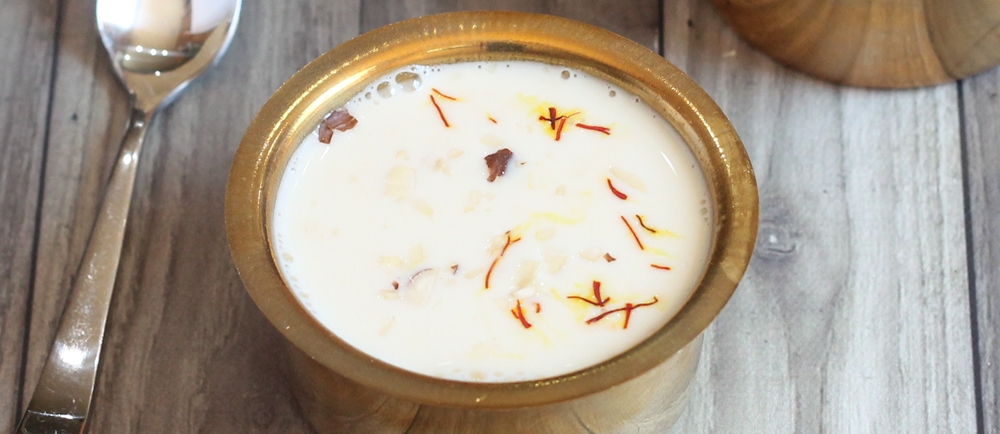 Image Source
Paal Payasam is a must-have sweet dish in Sadhya. It is basically a pudding having rice, milk and sugar as the main ingredients. Paal Payasam is a very simple dish and it takes only a few steps to prepare it.
26.Pulissery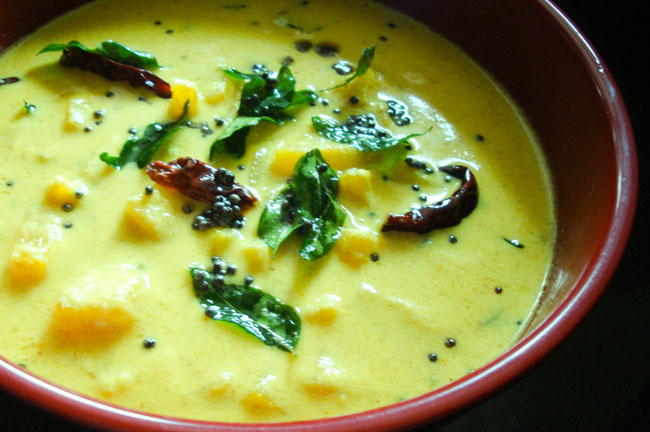 To prepare Pulissery, you need curd and any vegetable of your choice from cucumber to a pumpkin. They serve it with grated coconut.
27.Rasam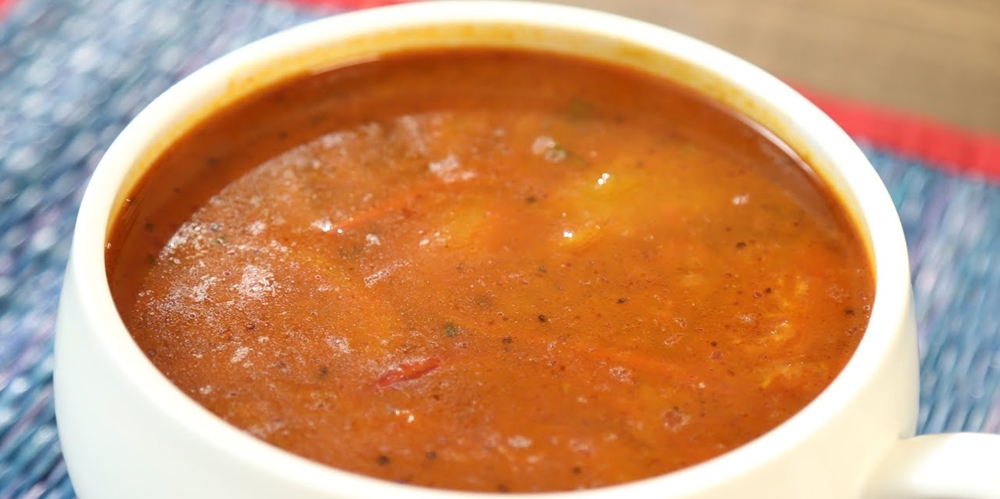 Pic Courtesy: YouTube
It is one of the most famous curries in South India. It is simply a must-have for every meal. Spicy soup, flavoured with tamarind, lots of curry leaves, tomatoes and mustard. You can drink it for better digestion or simply mix it with your rice and eat.
28.Pacha Morru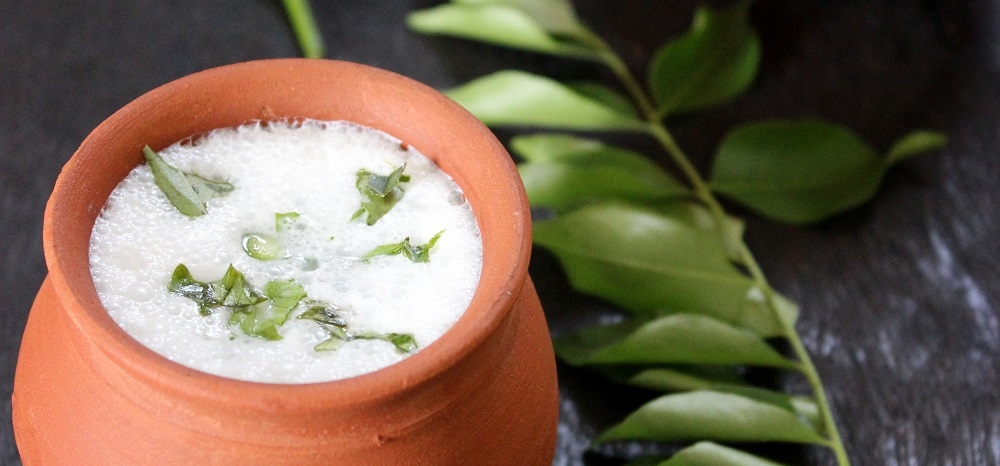 Image Source
This is a curd based recipe made to perfection using shallots, ginger, sesame seeds, and garlic. If you are a Malayali, it is probably one of those comfort food for you and the best part is, it is healthy.
A typical Onam Sadhya would have a spread of most the above dishes. But sometimes, the spread may change from one region to another. Something noteworthy is that all they put the dishes on a banana leaf in one particular order. The edge of the banana leaf would always be at the left side of the person eating Sadhya. They put a water tumbler on the left side above the leaf.
Dishes 1 to 19 is first served in the order in which I have written them. Then they serve rice with parippu and neyyu. After that, a second serving of rice comes with sambar. Then, be ready for sweet dishes like Ada Payasam and Paal Payasam. After the sweet, there is one last serving of rice with Pullissery, Rasam and Pacha Morru in order.
Please keep in mind the order of dishes, the placement of the banana leaf and where the water tumbler must be put. All these are very crucial if you want your Sadhya Meal to look authentic.
I really hope you will enjoying preparing a Sadhya Meal. Do you know what the festival of Onam is all about? Fin out by reading my blog describing everything you need to know about Onam.
(Visited 6,006 times, 1 visits today)