Toddy, also known as Palm Wine, is probably the most popular drink in the state of Kerala. Foreigners like to call it coconut vodka. The mildly alcoholic beverage is made from the fermented sap of coconut palm tree. It tastes best when stored in a mud vessel. Kerala's hot and spicy food becomes a perfect complement to a glass or two of toddy.
The process of tapping toddy is a treat to watch. Toddy tappers in Kerala are strong, healthy men. Just watching them climb a 70 feet palm tree with simple equipment tied around the waist is quite exciting. They have their own secret devices in order to extract sap from the cut flowers of the tree. If you want to really understand the extraction process, you need to personally visit at least one of the many places in Kerala where toddy tapping is done. We're sure you'll enjoy the experience. And while you're there, try and get your hands on the freshly extracted white drink. It is called 'Neera'. Before fermentation, Neera tastes sweet and lukewarm.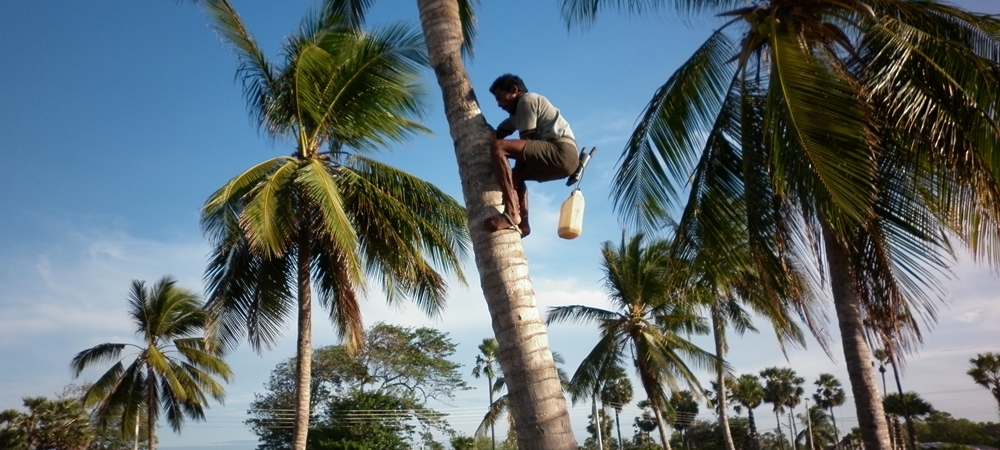 The sap starts fermenting almost immediately because of the yeasts in the air. And within just two hours, it turns into aromatic wine popularly called 'Kallu'. This drink is somewhat sweet and slightly intoxicating. Some like the drink strong. So they drink it once it's fermented for up to a day. If toddy is left to ferment for more number of days, it then becomes sour and acidic like vinegar. Don't even try to see how that would taste in your mouth. Its life, however, can be increased if refrigerated.
Throughout the state of Kerala, there are plenty of toddy shops that serve authentic toddy along with spicy Kerala food. The friendly atmosphere you enjoy at these shops makes sure you have a good memory to remember when you return home. Have a look at some of the best toddy shops in Kerala. Try and visit at least one of them during your trip.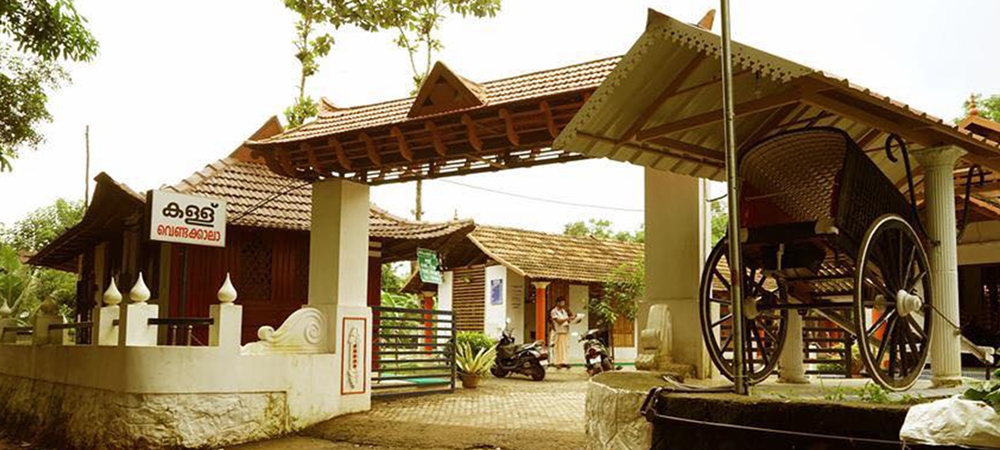 1. Kadamakkudy Thekku Shappu
The Kadamakuddy Toddy Shop is located on the banks of a lake in a paddy field close to Ernakulam. Its exact location is near the Kadamakudi Junction on the Kadamakudi to Thekke Attam Road. This toddy shop is famous for its scenic environment as well as its mouth-watering delicacies. Crab roast, rabbit, beef, pork and fish curry are few of the shop's best offerings. The shop is open throughout the week from 8:00 AM to 8:00 PM. You have to walk on a narrow lane through the paddy fields in order to reach the toddy shop.
2. Mullapandhal Toddy Shop
Mullapandhal Toddy Shop is a century-old toddy shop. It is located at Udayamperoor on the MLA road in Ernakulam. The shop serves authentic Kerala food at a very reasonable price. Meen Thalakkari (Fish Head), Karimeen Pollichathu (Fish) and Njandu Curry (Crab) are few of the must-try delicacies here. The shop also offers Turtle roast, an offbeat dish. The shop is open throughout the week from 9:00 AM to 9:00 PM. But it is closed on special holidays. The shop has a lot of crowd on weekends. So if you want a peaceful ambience, make sure to visit during the week days.
3. Nettoor Shappu
Nettoor Toddy Shop is located on the banks of Kochi Lake. Breezy coconut palms surround this typical looking toddy shop. Its ambience is ideal for a family hangout. Meen Thalakarri (Fish Head) is a popular delicacy at this toddy shop. The spicy curry tastes best with tapioca. The shop also serves Rabbit roast which is another guest-favourite dish. During afternoons and evenings, the shop looks more like a restaurant than a bar.
4. Karimpumkala Restaurant
Karimpumkala Restaurant is located at Pallom on M.C. Road near the Post Office Junction in Kottayam. The restaurant started off as a humble toddy shop in 1958.  The most sought after delicacies at the restaurant are Karimeen Pollichathu, Konchu Roast, Chemmeen Roast and Neymeen Mappassu. The restaurant is open every day of the week from 7:30 AM to 9:30 PM. It has three floors. The top floor has air-conditioners. Although it looks quite ordinary, the restaurant attracts many customers because of its special delicacies.
5. Kumarakom Toddy Parlour
Kumarakom Toddy Parlour is located at Chankarampadi near Taj Hotel in Kottayam. You will find this shop on the way to Kumarakom Bird Sanctuary. The shop serves authentic Kerala dishes that are suitable for all kinds of travelers. Some of the best delicacies here are Karimeen Pollichathu, Crab Roast, Prawn Roast and Duck Roast. Apart from great cuisine, the shop also offers a family-friendly atmosphere in a natural environment.
6. Mapranam Shappu
Mapranam Shappu is an extremely popularly toddy shop in the colourful district of Thrissur. It is located on the Kodungaloor to Thrissur Highway near Rose bar at Mapranam. The shop offers around 26 varieties of authentic Kerala delicacies on weekends. But only about a half of them are available on weekdays. Crab, Duck, Rabbit, Kada Fry and Kallummakarya are regularly available dishes while Chemeen, Koonthal, Turkey and Meen Thalakkari are weekend specialities. The dishes are kept on the table in the one-hall shop. You can taste and then order what you like.
7. Padippura Shap
Padippura Shap is a well-known toddy shop located near Tripunithra in Kerala. It is ideal not only for toddy lovers but also for food lovers. You get delicious fish curry, fish fry, pork fry as well as the beef roast. They all go really well with the soft appams served at the shop. The shop is open between 8:00 AM and 8:00 PM every day. Its exact location is at Patham Mile in Udhayamperoor. It is best to visit the shop in the afternoon. The takeaway option is available at the shop.
8. Punchakkari Shap
Punchakkari Shap is located next to the canal in Punchakkari, a quaint village in Trivandrum. It is famous for the variety of local delicacies it serves.  Pothu Roast, Beef Perattu, Tharavu Roast, Kanava Roast and Meen Thala are only some of the mouth-watering dishes you get at the shop. The speciality dish at the shop is fish head cooked in spicy gravy. Although the shop does not enjoy an exotic ambience, it is a much sought-after hangout spot, especially for youngsters. Many bikers visit the shop during their weekend bike rides. The shop is open between 8:00 AM and 8:00 PM.
9. Tharavadu Restaurant
Tharavadu Restaurant is a famous restaurant in Kumarakom which serves amazing toddy drinks. You will find it right after you cross the Kavanattinkara bridge. The family-friendly restaurant serves spicy local food. It is open for guests from 9:00 AM to 10:00 PM. Varal Meen Curry, Crab Roast, Podimeen Fry, and Tharavu Curry are some of the most sought-after delicacies in the restaurant. The restaurant has an air-conditioned dining area, a roof top dining area as well as huts. So it is suitable for different kinds of travelers. It has a large compound with ample space for parking.
10. Velliyazhchakavu Toddy Bar
Vellizhchakavu Toddy Bar is located near the Velliyazhchakavu Temple in Cherunniyur of Trivandrum. The toddy shop is famous not only for its delicious food but also for its pleasant natural surroundings. Nadan Kozhi Curry, Tharavu Roast, Kanava Roast, Crab Roast and Chemeen Roast are few of the best delicacies at the shop. The shop has a large compound with a pond in the middle where fresh water fish are bred. Sometimes, they catch a fish right in front of you from the pond and cook the same as the meal for you. The shop is open between 9:00 AM to 9:00 PM. You can enjoy meals in privacy with family and friends.
(Visited 1,333 times, 12 visits today)