The Word Yoga?
In Sanskrit, the word "Yoga" means "Union"- a union with God or a union of the ego-self with the divine Self, the infinite Spirit. It basically is a Hindu spiritual and ascetic discipline, including meditation, breath control, and some specific bodily postures.  
What is a Yoga Retreat?
According to the traditional Indian concept, a place for yoga is more humble in nature like ashrams and Gurukulas. But nowadays a yoga retreat practically is a place where one can get away from his busy working schedule and spend some quality time exploring his own mind and body. The yoga instructor usually addressed as 'Guru' helps you to learn to let go of the daily distractions with meditation as well as pranayama practices. Most of the yoga retreats serve a vegan diet and practice Ayurveda to improve overall physical and mental health.
Here we are presenting a handpicked list of Yoga Retreats in Kerala which we recommend based on client reviews and recommendations.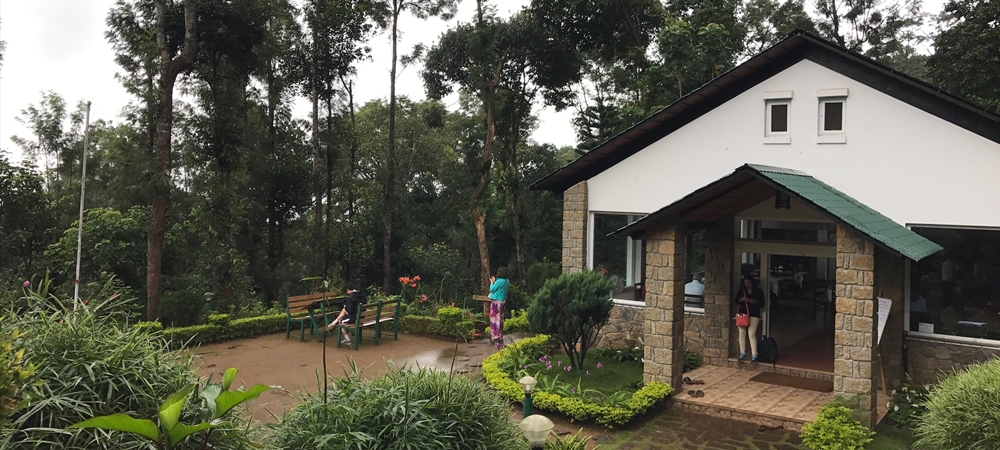 Pic Courtesy: Booking.com
Kaivalyam Retreat is known to be a delightful place suitable for guests to practice the traditional form of Yoga. With peaceful and serene surroundings, the retreat offers an experience of a holistic lifestyle whilst providing luxurious accommodation and modern facilities. It is also one of the rare retreats which offer a splendid connection with nature and yoga.  They have a weekly yoga program for beginners as well as for the advanced. The Retreat owner, Mr Harish is the yoga master of the centre and because of his efforts to keep the retreat outstandingly well, Kaivalyam Retreat displays charm and elegance.
Location: Munnar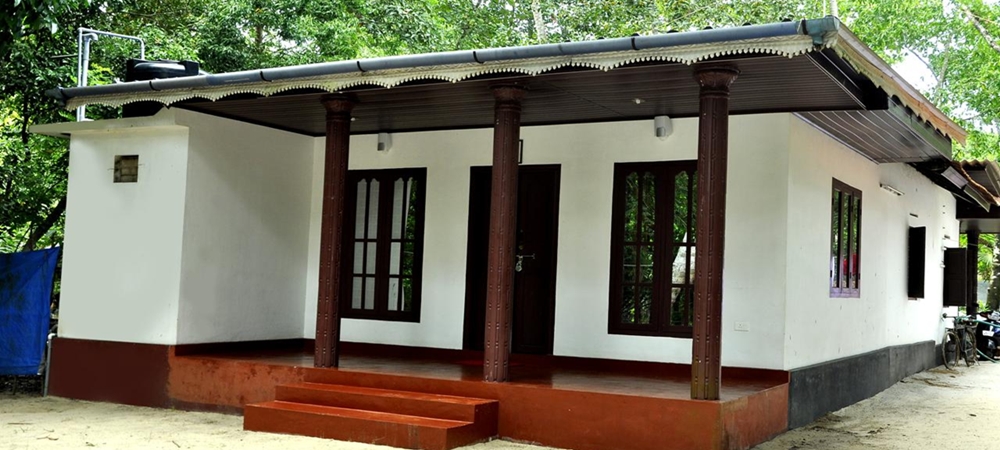 Pic Courtesy: Booking.com
Marari Secret Beach Yoga Homestay is a beautiful Homestay property in the Mararikulam Village of Alleppey. It takes just two minutes to walk to the Marari beach from the Homestay. The Homestay features two rooms that offer a view of the lake or the sea. It offers activities like canoeing, biking as well as yoga. With a small garden and an outdoor dining area which serves homely food, the Homestay creates an ideal environment for yoga classes as well as Ayurvedic treatments.
Location: Marari Beach- Alleppey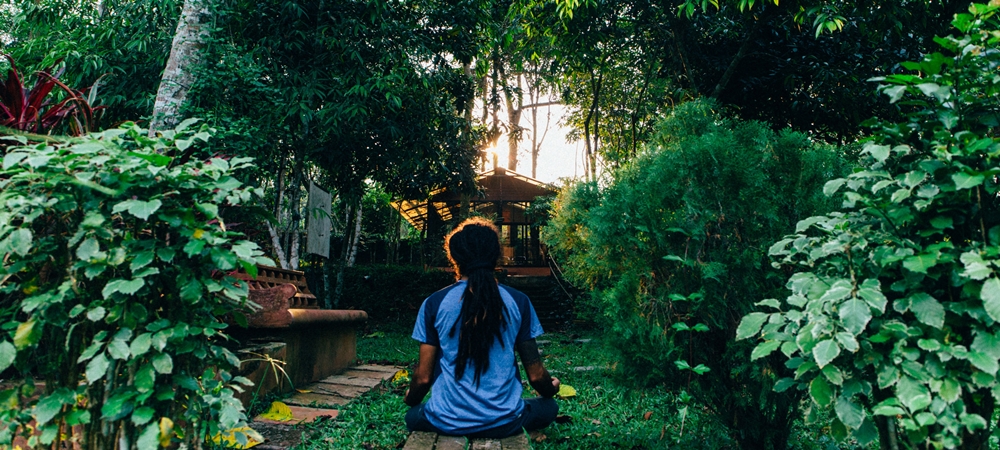 Image Source
The Hinterland Village Resort is one of the most spectacular getaway destinations in Kerala. It enjoys a delightful environment with abundant flora and fauna as well as plenty of greenery. The chirping of colourful birds, homely atmosphere, bamboo groves and banana trees form a beautiful backdrop for the yoga classes. The Homestay at the resort features an old world charm with antique furnishings and rustic architecture. Along with comfortable accommodation, the resort also has a restaurant with flexible menus and a swimming pool.
Location: Cochin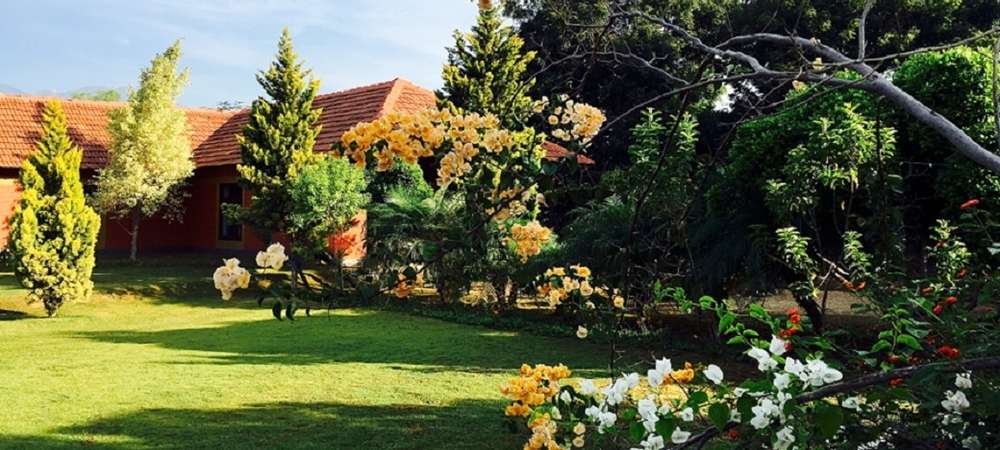 Pic Courtesy: Booking.com
Tranquilandia is an eco-friendly Homestay hosted by Mr Shahul, a philosopher and nature lover and his wife Sandrine, an artist and Yoga teacher. The property is nothing but a peaceful haven for yoga lovers. It enjoys a rural atmosphere with villages and forests all around. There are four eco-cottages having independent bathrooms. You will also find a swimming pool, a yoga hall, a large garden, medicinal plantation, an organic farm, an education centre and thrilling glimpses of exotic flora and fauna.
Location: Palakkad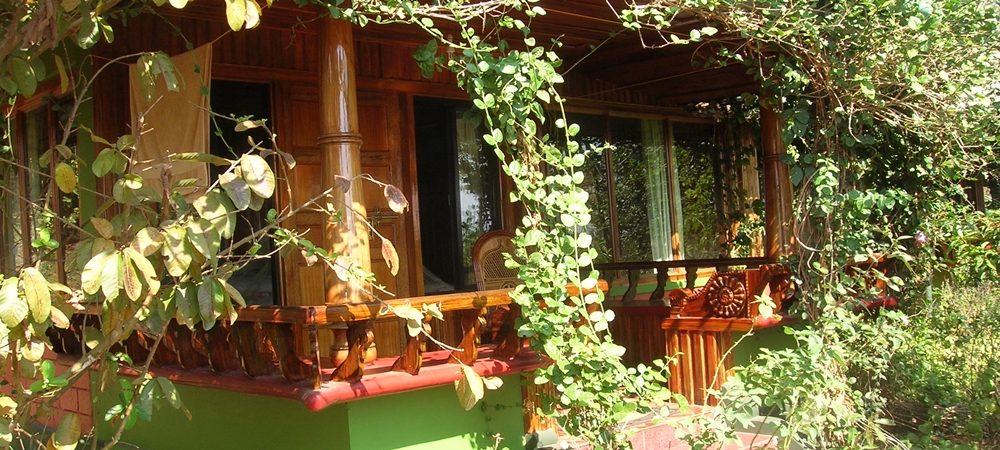 Image Source
Udayagiri Retreat Centre is an Ayurveda resort in Wayanad that offers an authentic holistic experience. It provides a rich experience of ancient Indian traditions that include Ayurveda, Yoga as well as meditation sessions. To complement such relaxing activities, the retreat's scenic environment has colourful birds, butterflies and wildflowers. The retreat also features large eco-friendly cottages with comfortable living spaces and spacious bedrooms along with private verandas. Apart from comfortable accommodation, guests can also relish delicious vegetarian food from a special Ayurvedic diet.
Location: Wayanad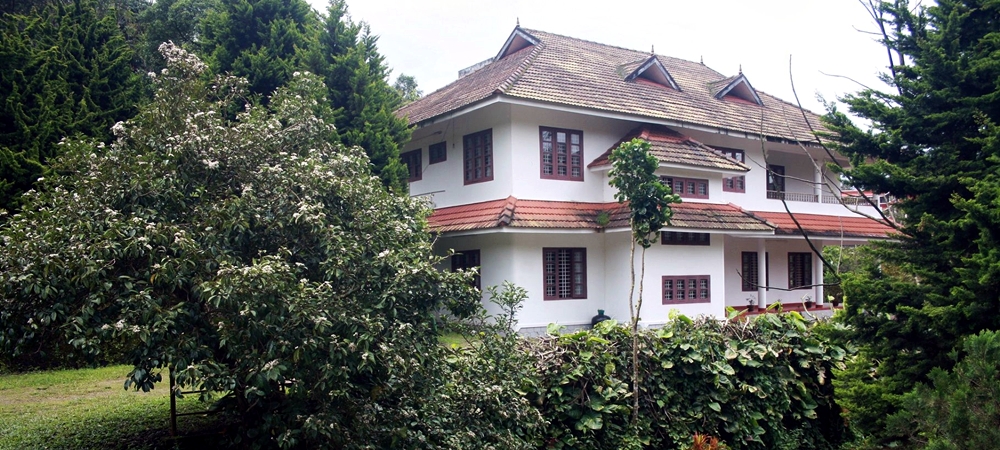 Pic Courtesy: Travel Guru
Mundax Homestay is managed by a lovely couple, Aginieska and Matthew. They share a passion for teaching as well as practising yoga and meditation. At the Homestay, guests receive specially designed yoga packages that suit their needs. Only a few students are allowed per class so that personal attention can be given. The mountains and water bodies around the Homestay create a picturesque background for yoga classes. Set in a large organic farm which grows spices and fruits, the Homestay also enjoys a breezy and tranquil environment.
Location: Thekkady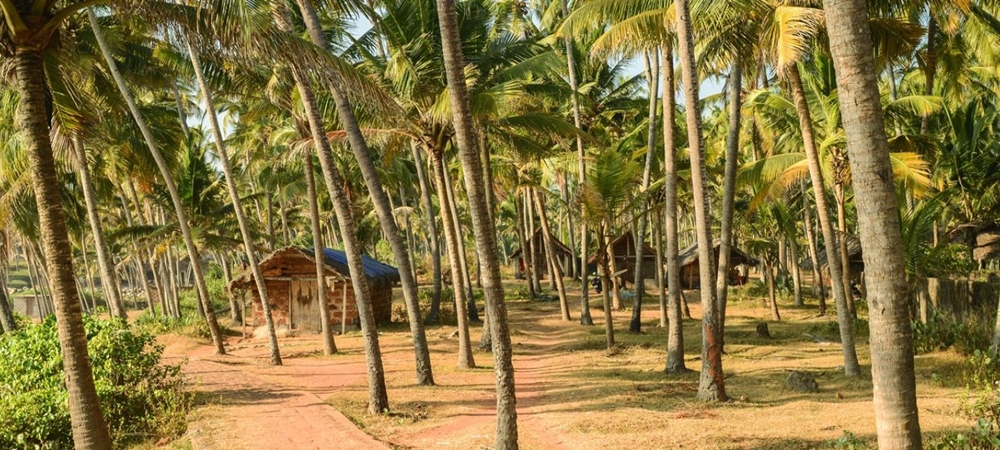 Image Source
Sharangati Yogahaus is an ideal yoga retreat located in a quiet part of the Varkala Beach. It allows a maximum of 15 guests at once and the classes are available only for guests who live in the retreat. They do not use mobile phones or computers so that the environment in the retreat remains yoga-friendly. The retreat features clean and cosy rooms with charming Kerala-style interiors. It also has gardens with beautiful fruit trees, hammocks, birds and butterflies. During the morning walks along the beach, you will pass by fishing villages and enjoy stunning views.
Location: Varkala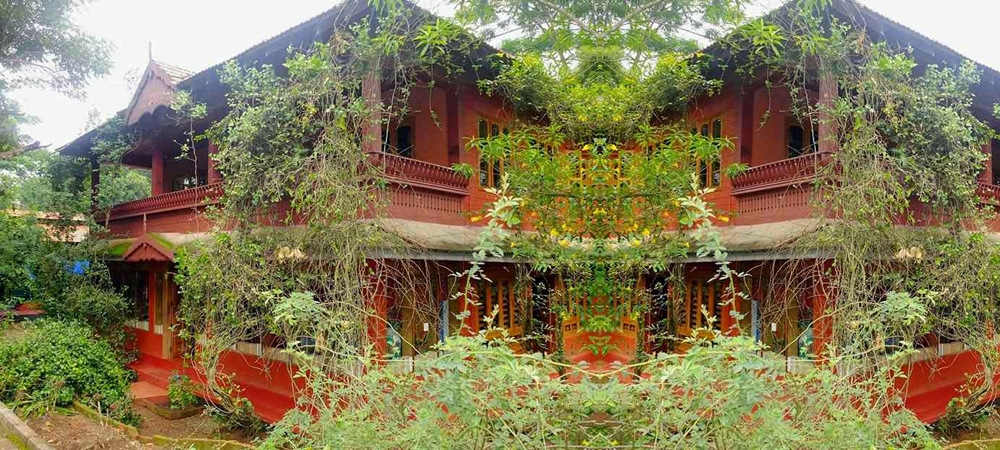 Image Source
Located on the banks of River Kabini, the Ayurveda Yoga Villa is a centre for yoga as well as Ayurveda set amidst thousands of acres of forest area. All wellness programmes at the centre like Pranayama, Marma as well as Nature walks are a blend of Ayurveda and yoga. Guests at the centre can relax by the riverside and also walk through the forest trying to explore wildlife, birds and herbal plants. The retreat is very particular about promoting a healthy lifestyle that harmonizes with environmental and spiritual values. So it serves only vegetarian food. It does not tolerate alcohol, drugs or plastic at the centre.
Location: Wayanad
Yogalife Homestay is a one-acre property in the pleasant village of Mudakuzha in Ernakulam. The courtyard of the house has a beautiful lawn along with colourful flowering plants. And all around the house, there are coconut trees, nutmeg, rubber and banana plants along with papaya as well as pineapple bushes. The rural feel of the place complements the special yoga regimen that is prescribed for all the guests. The host is an experienced instructor who offers yoga sessions for both beginners and professionals.
Location: Ernakulam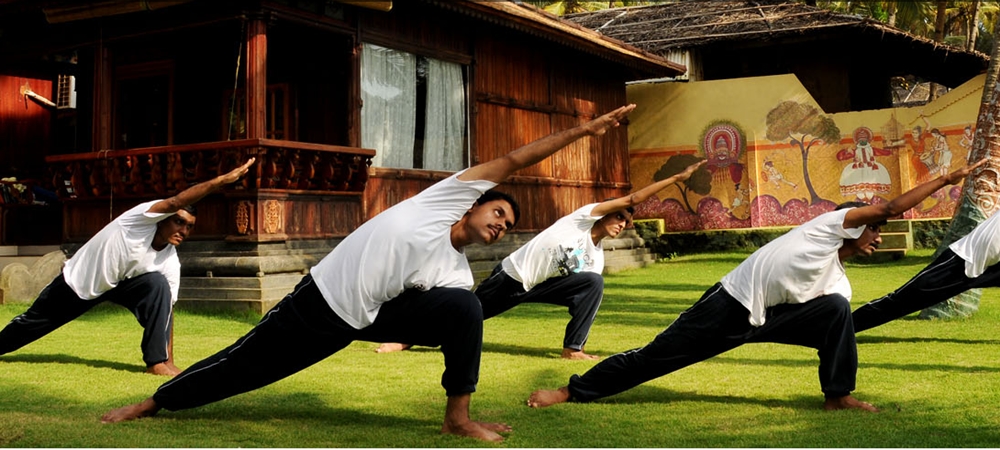 Institute of Nirvana Yoga is at a 5-minute walking distance from the Varkala Beach. It has lush greenery all around and offers spectacular sunrise as well as sunset views. The place enjoys a calm environment which is perfectly suitable for yoga classes. The retreat features comfortable AC and Non AC rooms, a multi-cuisine restaurant as well as a swimming pool. Guests will enjoy courses and programs in yoga, therapy and meditation. The place also offers courses for stress management and prevention of lifestyle diseases. Mr Anish, the Executive Director of the Institute of Nirvana Yoga is one of the recognised students of Guru Madhavacharyan. Anish, working as Assistant Professor and visiting faculty for various universities, is practising his yogic lifestyle for more than 15 years under Guruji's guidance.
Location: Varkala
There is one excellent blog post about Three Reasons to Take a Yoga Retreat by The The Art of Living Retreat Centre. Check out the infographic here.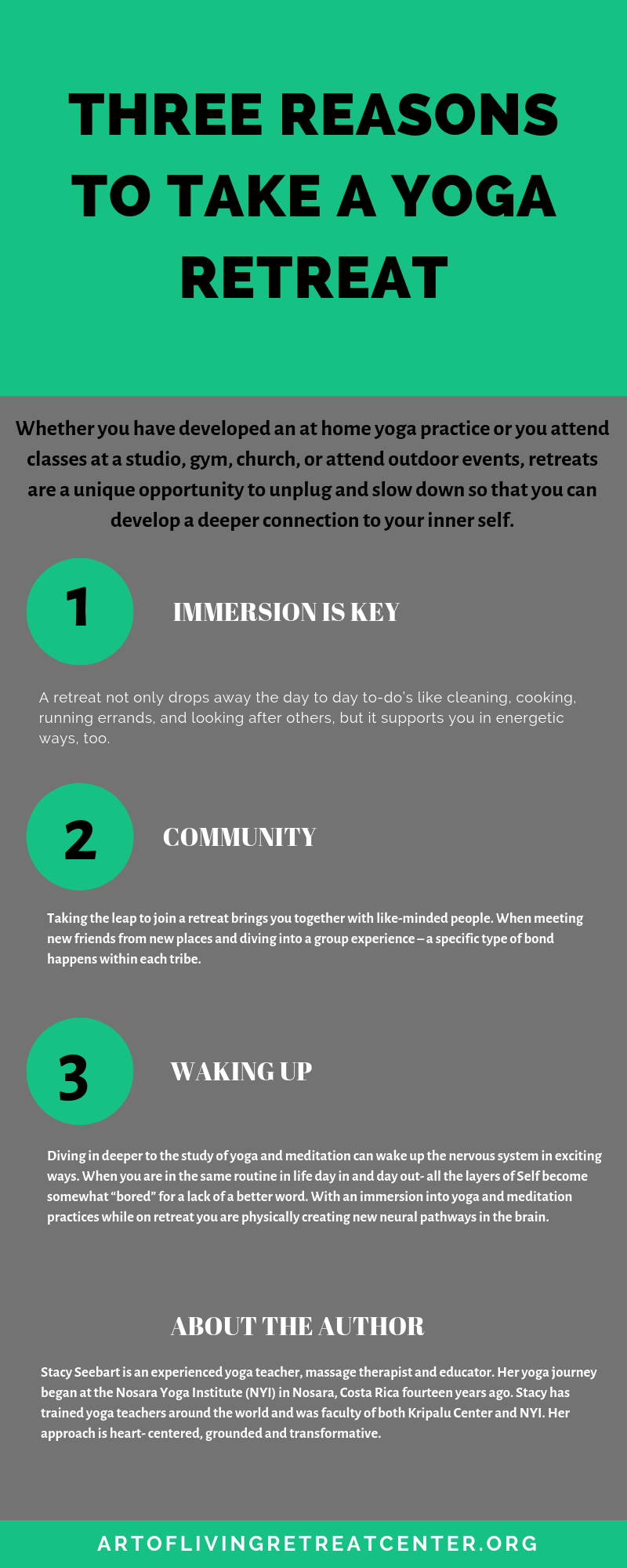 (Visited 2,869 times, 1 visits today)