The beautiful state of Kerala is in the southernmost peninsula of India. Among the several states in the nation, it is one of the most sought-after tourist destinations for people in India as well as over the globe. With the charming backwaters, numerous beaches, wildlife sanctuaries, waterfalls, national parks, airports, shopping markets, hills, and mountains, the state has loads to offer the nomadic eye.
Considering Kerala is a tropical region, the atmosphere is delightful for most parts of the year. The backwaters across the state are known to be a significant mode of inland transport, and besides offering an entirely pleasant trip, they are likewise convenient.
Now that you have some idea of what to expect in Kerala, it is time to book the flight tickets. If you are wondering where should you fly down to, Kerala has three international air terminals, namely Kochi International Airport, Thiruvananthapuram International Airport, Kannur International Airport, and Kozhikode International Airport.
Today, Kerala boasts of a well- developed air network. In a vast country like India, air travel is the quickest method of transportation to reach from one end to another. Kerala is a well-connection to about all corners of India, regularised by necessary air services with several airlines. This has made air travel increasingly convenient and has massively benefited travellers. Let's look at the airports you might want to consider while planning your Kerala vacation:
Airports to consider within Kerala
Kochi (Cochin) International Airport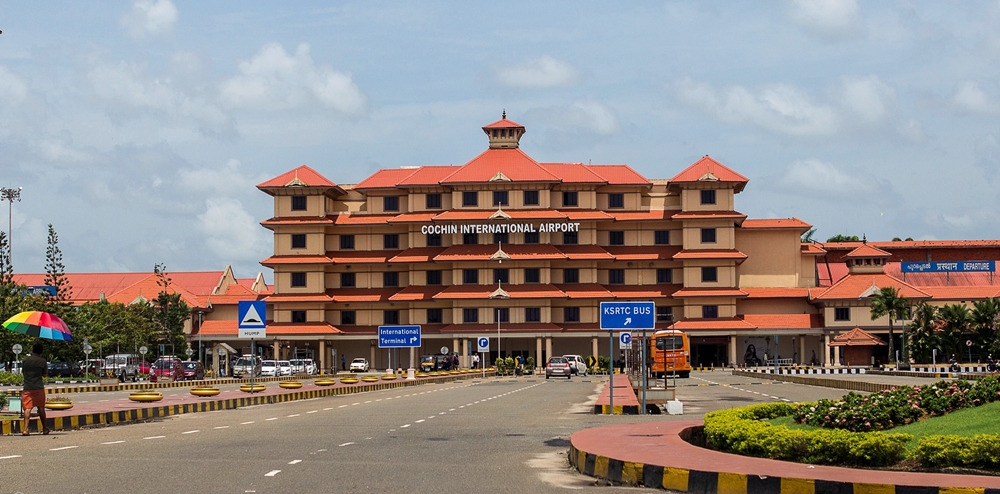 Image Source
Kochi/Cochin Airport was built in the year 1936 by the British Residency of Kochi Kingdom. With increasing popularity, the air-terminal offers modern-day facilities and comforts to the travellers. It is also one of the biggest international airports in India.
Connectivity with the City from Kochi Airport:
By Bus: There are two major bus stands, Aluva Rajiv Gandhi Municipal Bus Station and Angamaly Bus Depot from where you can get buses. You can hire either taxis or other public transport to get to the bus stations. It is connected well to other major cities which help you to complete your trip extremely comfortable.
By Rail: Ernakulam Junction is the biggest railway station in Kochi. This is just 20 km from the airport. Trains are frequent, which gives you regular rail services to other cities in Kerala. This station is equipped with modern facilities to help travellers.
Places to visit near Kochi Airport:
It is about 43 km from Kochi airport and is entirely a different universe all alone. Dotted with historical attractions, it has different spots for sightseeing, for example, Vasco Sa Gama Square, Dutch Cemetry, Parade Ground, Bastion Bungalow, and so on.
At 26 km distance from the Kochi International Airport, the Cherai Beach is highly popular among the vacationers for unwinding and swimming. This seashore is a wonderful mix of ocean and backwaters are located on the Northern end of the Vypin island.
The location of various dreamy sequences from Indian movies as well as International movies, Athirapally Falls are regularly named as 'The Niagara of India'. It is something you must not miss if you are in Kerala.
In case you are visiting Kerala, you just cannot miss the backwaters. Furthermore, Kochi backwaters can offer you a treasured experience that you will remember a lifetime with a blend of the traditional and present-day party on the beautiful houseboats. At 45 km from the air terminal, these immaculate backwaters are a top-rated vacation destination among the tourists.
Rolling hills, unlimited fields of tea estates, flawless views, hazy valleys, and green to the extent that the eyes can see– Munnar is one of Kerala's must-visit destinations and is pure bliss for every travel lover.
Have a closer look at the city of Cochin
Thiruvananthapuram International airport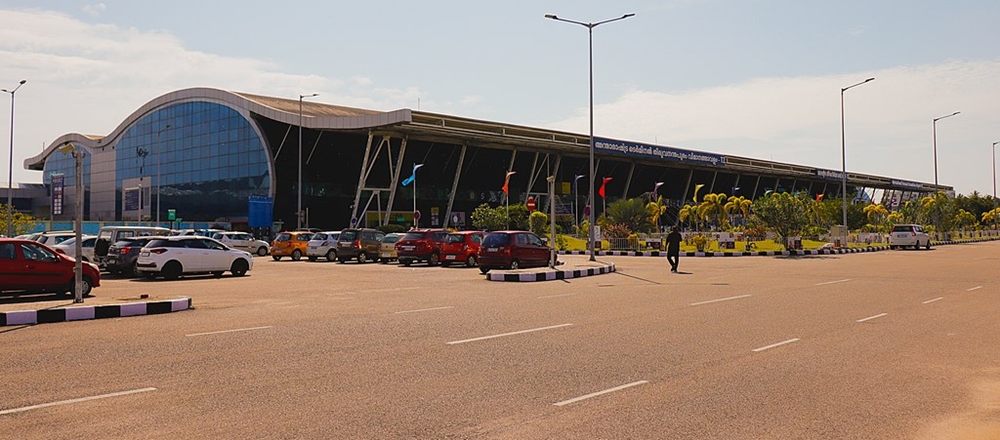 Image Source
Believed to have been built on seven hills, Thiruvananthapuram is captivating and with flights to and from all major cities in India and also aboard, one can enjoy the city at their convenience.
This International airport is the southernmost airport in India and various airlines run regular flights to and from Thiruvananthapuram to numerous nations. This busy city has a ton to offer and hence, can be visited around the year with discounts on flights to and from Thiruvananthapuram.
Thiruvananthapuram International Airport is 6 km away from the heart of the city. Regular flights are available to major cities.
Connectivity with the City from Thiruvananthapuram International Airport:
By Bus: Buses connect Thiruvananthapuram air terminal to various parts of the city. They are mainly run by the KSRTC or Kerala State Road Transport Corporation which connects the air terminal to Kochi, Kollam, East Fort, and so on. The distance between the Thampanoor Bus Stand and Thiruvananthapuram airport is around 7 km. Individuals can take taxis and cabs from outside the air terminal to arrive at the bus stand with no trouble as it is at a close distance. Frequent buses are available so you can reach your destination comfortably.
By Rail: The closest railway station is Kochuveli railway station which is around 5 km away, and Thiruvananthapuram Central railway station is about 5.5 km. These railway stations connect well with various regions of the state.
Places to visit near Thiruvananthapuram airport:
Varkala beach also has the name Papanasam Beach. This cliff-side shore immediately mesmerises each individual.  At a distance of 45 km from the Thiruvananthapuram International Airport, you can easily reach this place either by utilising the local transport or by hiring a taxi.
This seashore is close to the Thiruvananthapuram Airport in this way giving an ideal destination to visit before or after a flight. Around 13 km from the Thiruvananthapuram International airport, this spot comprises a shallow seashore with two-three other crescent beaches dotted with palm as well as coconut trees.
In the event that you need to spend some great time at a tranquil spot before getting a flight, this seashore is impeccable. Just 10 minutes away, simply behind the air terminal, this excellent seashore has a 35 feet mermaid statue and also a kids' park adjacent to it.
A perfect hill station around 57 km from the Thiruvananthapuram International Airport, Ponmudi is an exquisite fog-covered destination that totally justifies the drive from the city.
Around 95 km from Thiruvananthapuram International Airport, Kanyakumari certainly merits a visit if you have enough time on your hand. It rests calmly at the southernmost tip of peninsular India.
Have a closer look at the city of Thiruvananthapuram.
Kozhikode International Airport
Image Source
Calicut International Airport or Kozhikode Airport also has the name Karipur Airport, which is an important international airport that serves the city of Kozhikode. This international air terminal is in the Malappuram area. They say it is the third busiest air terminal in Kerala. The airport houses two terminals – international and domestic. It connects well to a huge number of domestic as well as international destinations.
Connectivity with the City from Kozhikode International Airport:
By Bus: Kozhikode Airport is 30 km from the closest bus stand but it can be easily covered in just half an hour by road. This air terminal connects well with cabs and local buses, so one can hire a taxi to get to their destination.
By Rail: The airport is around 29 km from the Kozhikode Railway Station. It is around 24 km from Malappuram city. So, to arrive at the airport, railways are considered as the best choice to arrive at the destination.
Places to visit near Kozhikode Airport:
Beypore is a little port in the Kozhikode region around 20 km from the air terminal. It is an old port town that has been mentioned in many history books. This place is popular for its beautiful fishing harbour as well as shipyards.
It is an exceptionally famous seashore since it is believed that Vasco da Gama arrived on this seashore in 1498 with his men and boats. From then on, it has been a famous attraction of Kerala.
A coastal village of Arabian Sea about 21 km away from Kozhikode International Airport. This place is well-known for the bird sanctuary that is spread across many islands.
Unquestionably, one of the most delightful destinations, Wayanad is the best place to visit close to Kozhikode International Airport. In spite of the fact that the drive is over 100 km, it is totally justified, despite the travel as you get to see the dazzling destinations of the hill station.
Have a closer look at the city of Kozhikode.
Kannur International Airport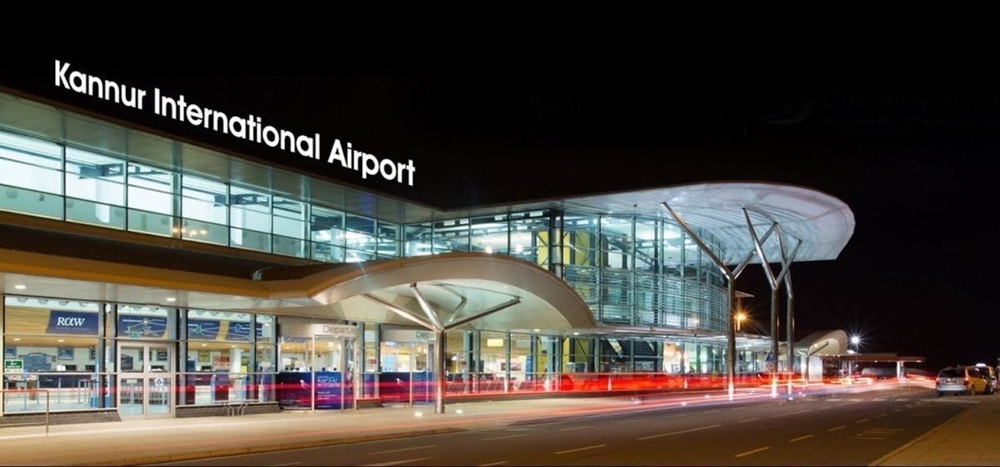 Image Source
Kannur International Airport is around 24 km from Kannur town in Kerala. This Airport is connected well to all the significant Indian cities and also a few parts of the Middle East through direct and connecting flight services.
Connectivity with the City from Kannur International Airport:
By Bus: The transportation services at Kannur International Airport are offered by KSRTC. Private services will also be accessible soon. You will get regular buses from Mattanur, Thalassery, as well as other closest towns.
By Rail: The nearest railway stations are Thalassery Railway Station (around 25 km from the air terminal) and Kannur railway station which connects to every major city in India. Thalassery Railway Station serves best for the people visiting the Airport.
Places to visit near Kannur International Airport:
Thalasery is on the Coast of Malabar off Kannur. Because of the numerous colonisation that it witnessed, for example, the British and the Portuguese, it is a blend of cultures.
Famous for the keyhole-shaped fort, Bekal Fort, Kasargod is a beautiful place right in the lap of Kerala's pristine nature. It is an absolute sight to behold.
Have a closer look at Kannur.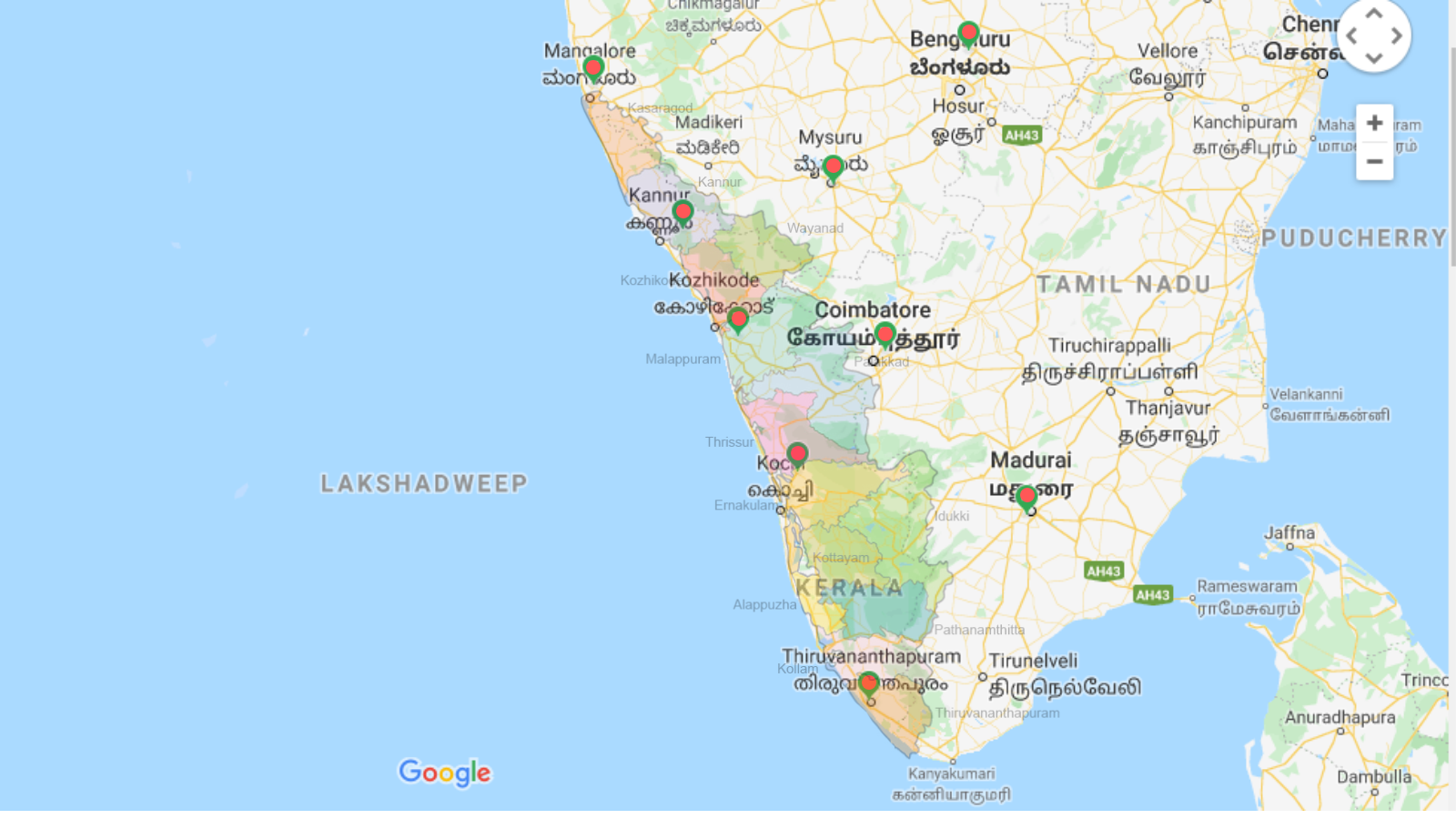 Airport to consider that are outside of Kerala
Coimbatore International Airport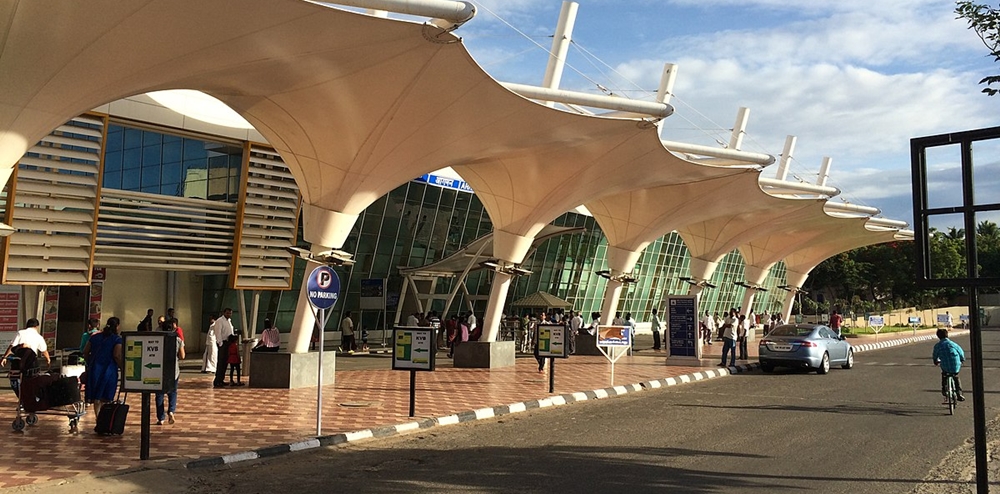 Image Source
Coimbatore International Airport is the primary gateway to the delightful city of Coimbatore. Situated at Avinashi Road, this airport is the fifteenth biggest in the nation in terms of aircraft movement. It is 10 km from the Coimbatore railway station.
Coimbatore is one of the significant business hubs in South India since it connects well with all the metropolitan cities of the nation with regular flights. You can easily reach Kerala either by Rail or by Bus from here.
Mangalore Airport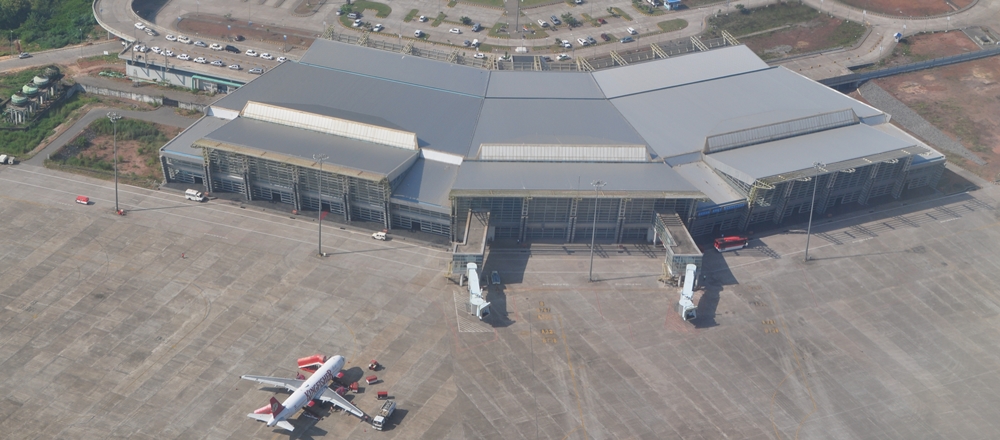 Image Source
Previously known as the Bajpe Airport, Mangalore Airport is situated 7 km from the main city centre. The Mangalore Airport is on the hill and is the principal air terminal to have two tabletop runways.
Initially, Mangalore was just connected to two Indian cities, Mumbai and Bangalore. But after major renovations, many flights and flying destinations have been added. You can easily reach Kerala from this airport as well.
Madurai Airport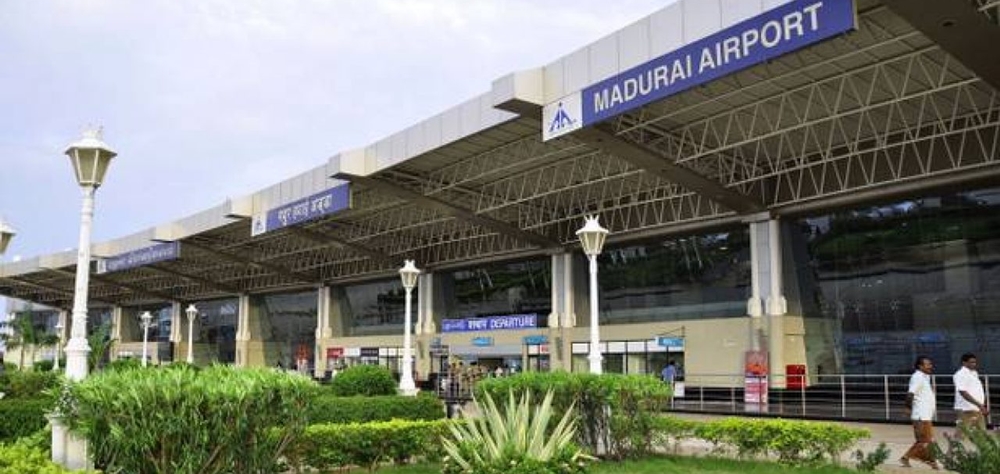 Image Source
Madurai Airport connects to different destinations in the nation. It is roughly 12 kilometres from the railway station. Madurai connects to 8 major cities in India via regular flights. So, you can fly down to Kerala from here or get on a train to reach your destination comfortably.
Mysore Airport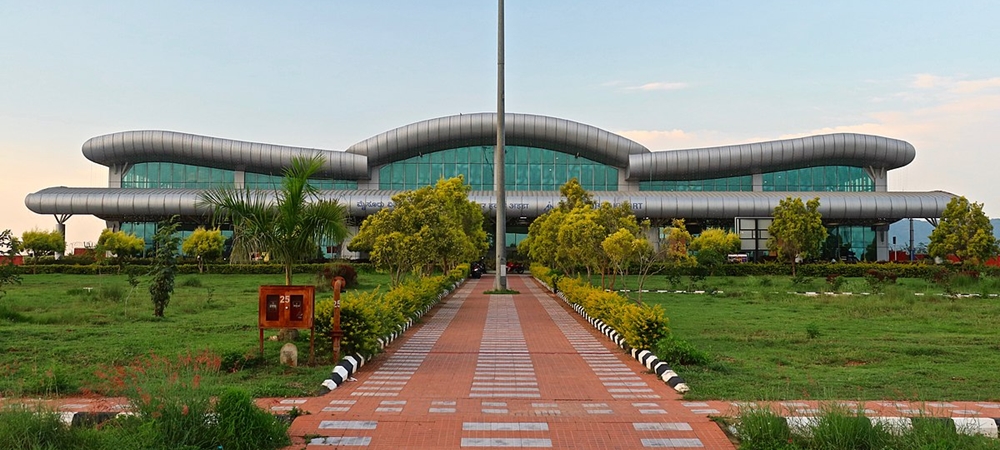 Image Source
Mysore Airport also has the name Mandakalli Airport. Mysore connects this city to other major cities of the country. It is around 11 km away from the main city. This airport has frequent flights. Mysore, at present, has just a single terminal that takes into account the domestic needs and also connects all the main cities of India through different flights. This airport is also a great option if you can't find an affordable direct flight to Kerala.
Bangalore International Airport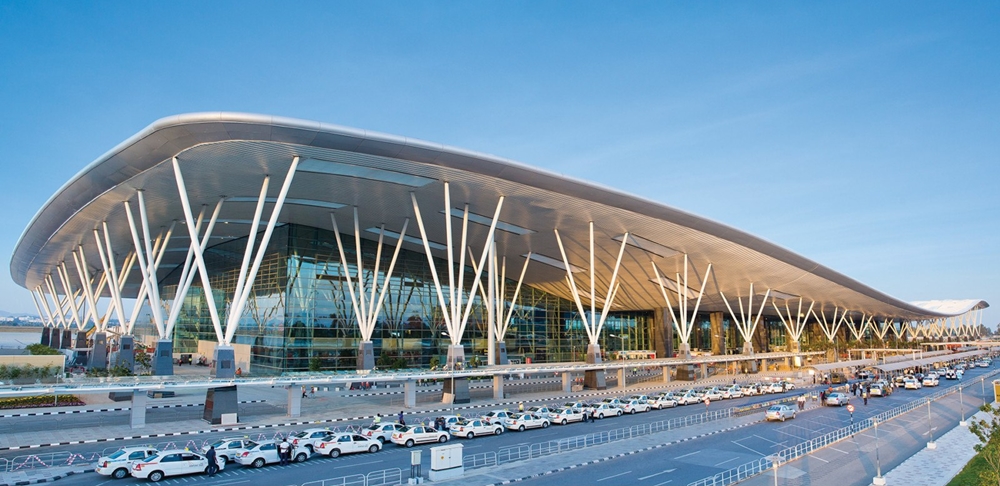 Image Source
Kempegowda International Airport is an international airport that serves Bengaluru. Spread across 4,000 acres of land, it is situated around 40 km north of the city close to the town of Devanahalli. This International Airport is operational since 2005. There are several domestic as well as international airlines that run from the Bengaluru air terminal. It is the third-busiest air terminal by traffic in the nation, after the air terminals in Delhi and Mumbai, and is the also 29th busiest air terminal in Asia. So, you might get some great deals for the flights flying to this airport.
(Visited 722 times, 1 visits today)