It can surely be said that Kerala's Backwaters have quickly become the crowning glory of tourism in India. A ride through the famed backwaters of Kerala is sure to victimise your heart and will leave you wanting for more. Alleppey, Kumarakom, Ashtamudi and Nileswaram are the places in Kerala where you can enjoy some of the most beautiful backwater rides. Alleppey and Kumarakom have emerged as the top contenders in this niche segment. While Alleppey and Kumarakom are at different ends of the majestic Vembanad Lake, the largest in Kerala and the longest in India, but interestingly both the tourist hotspots offer a different experience for a tourist thanks to their geographical variation.
General Experience- Alleppey or Kumarakom
Alleppey is more popular than Kumarakom. It is known as the 'Venice of the East' globally. Alleppey offers you a splendid view of paddy fields and tiny hamlets in the lap of nature. Its narrow house-facing canals provide you with a unique opportunity to sneak into the life of the locals. You can see the locals washing their clothes, doing their routine work, travelling in their boat and much more. Most of the houseboats can pass the canals in Alleppey, and the best thing about this place is that, as it is a major city in Kerala, has all the facilities you may need as a tourist.
Kumarakom, on the other hand, is little away from the hustle and bustle of city life. The houseboats take you along the more extensive canals before merging into the Vembanad Lake. However, if you want to explore Kumarakom's narrow canals, you need to choose country boats or a small Shikara as houseboats can't pass through them because of bridge structures across the waterways. You'll be amazed to see the group of ducklings swimming together or the chirping aquatic birds that dive down to catch live fish from the water. Kumarakom is also the first tourist destination in India to adopt Responsible Tourism practises.
Types of Boats – Alleppey or Kumarakom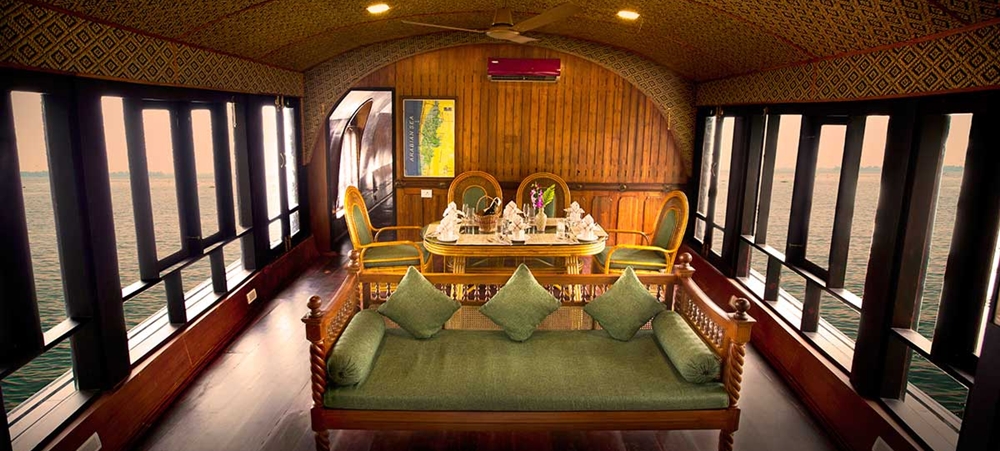 Image Source
A wide range of houseboats is available for backwater tours. They are Deluxe Houseboat, Premium Houseboat, Luxury Houseboat and Super Luxury Houseboat. Apart from these, you can also choose to explore backwaters on Shikaras, Canoes and Motorboats. Alleppey is a place where the houseboats are way more than the backwater can handle. The lake will be crowded with the houseboats on a peak day! Even though the number of houseboats is less at Kumarakom, the quality, upkeep and cleanliness of the boats, in general, are much better.
Check out the different way to explore the backwaters of Kerala.
Cost – Alleppey or Kumarakom
You can opt for a day cruise package or a houseboat overnight stay as per your schedule. There are a wide variety of houseboats available which include the budget class, deluxe class, premium class and the luxury class. Alleppey is a bigger city compared to Kumarakom, so there is a fair number of country boats and houseboats available. That also means that you can negotiate a deal better here. Also, boat availability wouldn't be a problem here, just in case you land up unplanned. There are also a variety of hotels and accommodations ranging from budget to luxury ones available.
Kumarakom has fewer houseboats than Alleppey, and the majority of them are good quality premium or luxury houseboats which can be rented at a premium price, making it slightly expensive than Alleppey. Kumarakom also has many luxury resorts lined up on the shores of the lakes. The houseboat stay includes onboard preparation of food by your personal cook. You can customize the meals according to your taste and needs.
Scenic Beauty- Alleppey or Kumarakom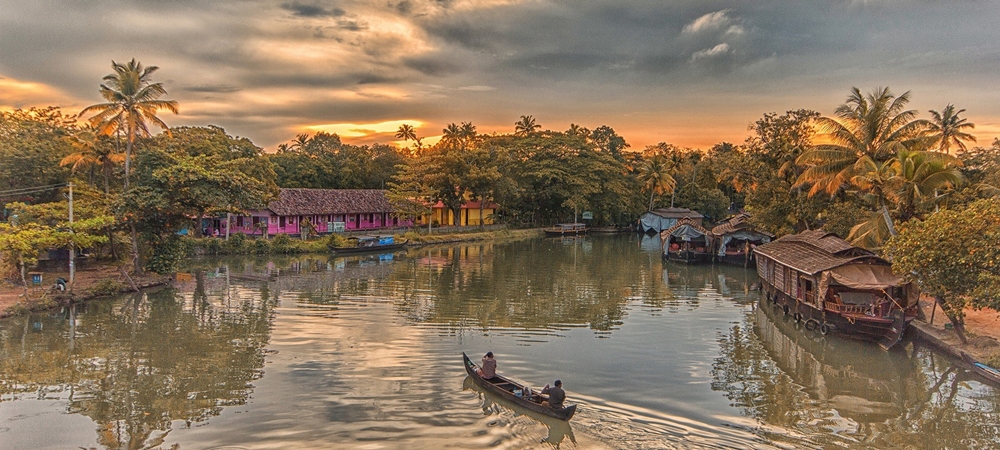 Both Alleppey and Kumarakom offer spectacular panoramic views through their vast interconnected waterways and channels. Alleppey has a larger number of canals connecting to the backwaters, which means more glimpses of people and their daily life. It is fun to observe what people do from the quiet tranquillity of your country boat. Very few people know that Alleppey is the only place in the world, apart from Holland where rice is cultivated well under the sea level. Hence the view along the Arabian coastline is truly enchanting. Large paddy fields, coconut palm and Chinese fishing nets dominate the landscape.
Consider yourself lucky if you are here during the time of the famous Nehru Trophy Boat Race which draws scores of visitors to witness snake boat races. That said; don't take Kumarakom for granted either. Kumarakom has given Alleppey a run for its money. With fewer canals and waterways than Alleppey, it makes for a fascinating expedition, placing you in close harmony with nature away from the hustle bustle of the city.
Connectivity- Alleppey or Kumarakom
Both places enjoy good Air and Rail connectivity. The Cochin International Airport, located in central Kerala is at a distance of 85 km from Alleppey and 80 km from Kumarakom. While Alleppey has its dedicated railway station, Kumarakom is well served by the nearest railway station of Cherthala (14 km) and Kottayam (16 km).
Other Places of Tourist Interests – Alleppey or Kumarakom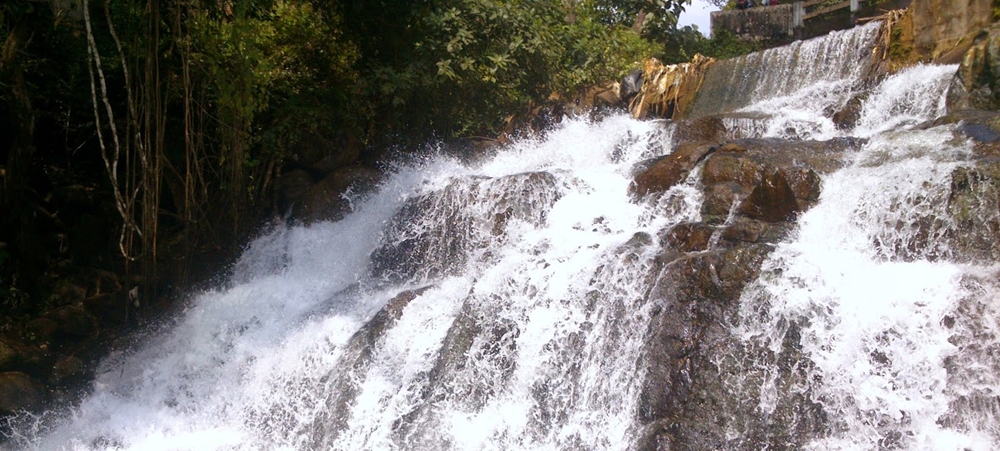 Image Source
Like most other parts of Kerala, Alleppey is also a tourist-friendly city. It ranked among the top 3 cleanest cities of India. You can visit Kuttanad, the 'rice bowl of Kerala' and see the paddy fields which lie 0.6 to 2 m below mean sea level. Apart from the breath-taking view of the Laccadive Sea, you can also visit Krishnapuram Palace, St. Andrew's Basilica, and Haripad Sri Subrahmanya Swamy Temple. You can also have a good time at the beach and don't' forget to taste the seafood delicacies here.
Kumarakom has a Bird Sanctuary, making it an excellent place to see some beautiful marine and migratory birds. It also has a few other interesting places. Aruvikkuzhi Waterfalls and the rubber plantation area around it is a photographer's delight. History lovers can visit the Bay Island Driftwood Museum. You can also do yachting and fishing here. There are also traditional centres of Ayurveda treatments, offering a relaxing and rejuvenating experience.
Final Verdict – Alleppey or Kumarakom
If you are short on time, then a day cruise of 3-5Â hours would better solve your purpose. It gives you a quick glimpse of the backwaters. Alleppey is a better option for this activity as boats are readily available. Even if you are running on a tight budget, Alleppey would be the right option for you. It has more service providers who keep the prices under check. But if you prefer to soak in the beauty of nature and wish to leave back with lots of sweet memories, then an overnight stay in the houseboat is a must.
To enjoy the serenity and feel the vibe, you can choose to spend a full day on a houseboat. While Alleppey makes a good option for those who love to explore and want to interact with the locals, Kumarakom gives you a beautiful opportunity to spend quality time with your loved ones and interact with locals not in a touristy way.
Kumarakom is less inhabited than Alleppey, so you'll encounter fewer humans and get more silence. There is more concentration of premium houseboats and resorts in Kumarakom, making it a more exotic experience. It's a bit difficult to choose any one among these. But if you want to make most of your Kerala tour, try making a plan in which you can get best of Alleppey and Kumarakom.
(Visited 6,969 times, 4 visits today)