Kalaripayattu is arguably one of the oldest forms of martial arts still existing. The system had its origin in Kerala. It is practised by warriors of Kerala belonging to all castes and religions. This martial art form uses medieval age weapons like – Urumi, Swords, Katar, Spears, Machete, Shield, Quarterstaff, Gada, Trishula and Madu. It is taught in isolated places, away from social gatherings, by the masters. In order to learn it, you need immense strength and courage. Because of a touch of modernisation, Kalaripayattu is emerging again as a weapon of self-defence. It has become famous in movies, theatres and in fitness also. Students of all ages take part in Kalaripayattu. It is also known as Kalari Gurukulam.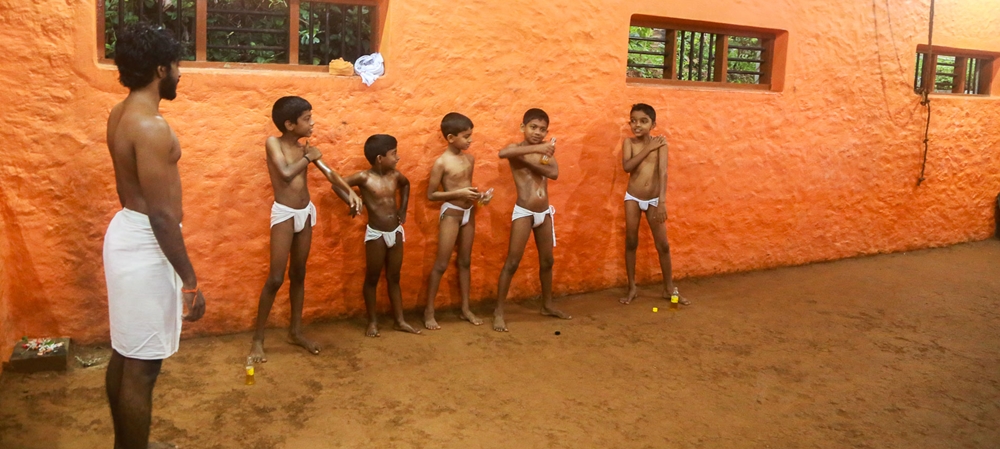 Image Source
There are three levels of training courses – beginners, advanced and expert levels. This form of martial art not only trains an increase in concentration power but also helps to subdue the stress of the day-to-day activities. A dedicated Kalari Student generates – Sadhana (Practice); Anubhava (Experience) as well as Pradarshan (Performance), in this art form.
The Kalaripayattu enhances
Flexibility
Mobility
Strength
Agility
Concentration power
Mental strength
Alertness
It also removes the stress and fatigue of the body. Kalari training improves the overall lifestyle of the participants.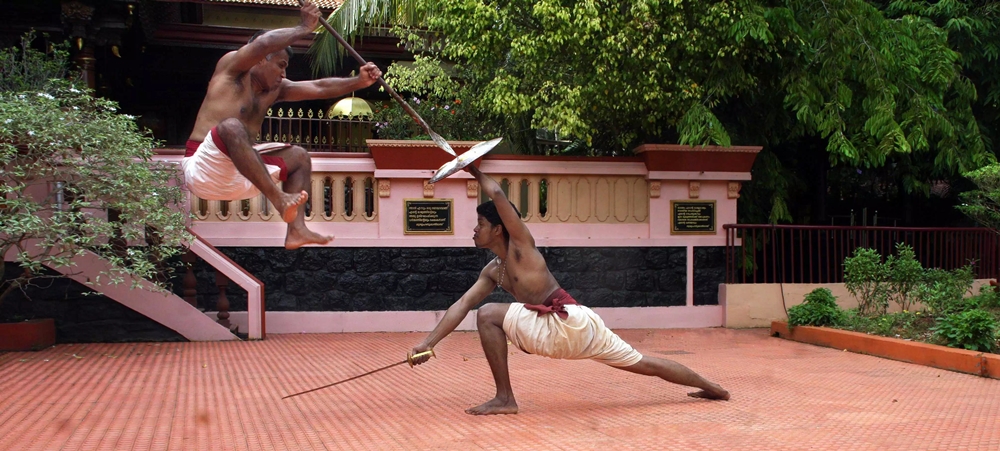 Image Source
It includes strikes, kicks, grappling, weaponry, preset forms and healing techniques. The weapons can be bought either online or from the institutions from where one is taking the training.
Some of the best Kalaripayattu training centres in Kerala are –
The Buddha Kalari is a Martial Art School – Thiruvananthapuram
The Buddha Kalari is a Martial Art School in Thiruvananthapuram. The instructor Dr.Suchith not only teaches the art excellently but also helps young students to master the art and follow his footsteps. Very slow learners can also easily grasp the lessons. The greenery all around soothes the learners. Buddha Kalari was the first school in Kerala in traditional style to offer training Kalaripayattu in the Southern form. The centre has organized many International as well as National level performances and workshops on Kalaripayattu. They run a year-round training programme for domestic and international students.
CVN Kalari Sangham- Thiruvananthapuram
CVN Kalari Sangham is a well-known institution in Trivandrum. More than 62 years of coaching has made it a top ranking training centre. It organises many international as well as national level performances and workshops. Many international students also take part in year-round training programmes. CVN Kalari was the first traditional school to offer training in Northern style Kalarippayat in the southern part of Kerala.
Aikya Kerala Kalari Sangham- Calicut
Aikya Kerala Kalari Sangham provides training in Meithari, Kolthari, Ankhathari as well as Verumkai, which are the various forms of Kalari. The main aim of the institution is to make one attain divine power. The Aikya Kerala Kalari established in 1972 by Sri.T.K Madhavan Gurukkal. This institute has been a motivation for many institutes in different places of Malabar for popularisation of Kalari and Kalari Chikilsa (treatment system).
The instructor (Guru) has offered training sessions to the Indian military, Calicut Medical College and many other government institutions also.
ENS Kalari- Ernakulam
ENS Kalari is one of the most popular Kalaripayattu centres in the state. It is a part of Kerala Kalaripayattu Association. There is a group of well-experienced group of trainers. They have a vast knowledge of Ayurveda, Mathematics as well as Physical education. It is in Kochi, Ernakulam. E.N. Sreepathy Embranthiri Gurukkal established the ENS Kalari in 1954 at Nettoor- Ernakulam. In ENS Kalari offer training in both Northen and Southern Style of Kalari. This institute has got approval from Kalaripayattu Federation of India. It is also affiliated to Kalaripayattu Association, Kerala. Ernakulam District Tourism Promotion Council has also authorised the ENS Kalari.
Lubaina Kalari – Ernakulam, Kakkanad
Lubaina Kalari is in Chembumukku, Kakkanad, Kochi. Besides teaching Kalarippayattu, it also provides Kalari Treatments, Steam bath, and Uzhichil. It also has individual Self Defense courses for women. The practice happens in Rajiv Gandhi Stadium. The Lubaina Kalari has a long tradition and history, and the late Abdullakutty Gurukkal established the current Kalari in 1959.
The Kalariyil Dharmikam- Thiruvananthapuram
The Kalariyil Dharmikam is in Parasuviakkam, Trivandrum. It is a centre of learning, healing and spirituality. Guru Balachandran Nair popularly known as Satguru Hanuman Das teaches the art as well as Kalari Chikilsa to the resident disciples in the sincerest manner. Since it away from the hustle and bustle of the city, the environment is great for student to meditate and receive training. The greenery, the delicious food and the comfortable rooms make the experience even more beautiful. Through Kalaripayattu Training, Kalari Treatments and daily celebrations in the Hindu temple, there are plenty of opportunities to develop mentally and physically.
Arjuna Kalari and Marma Chikitsalayam- Ernakulam
Arjuna Kalari and Marma Chikitsalayam Centre is another very well known Kalaripayattu learning centre as well as a medical unit. Its trainers know this gravity-defying martial art very well. The training helps students to have a well-developed mind and body.
Kadathanadan Kalari Sangam -Vadakara
Kadathanadan Kalari Sangam is at Vadakara. They provide Kalaripayattu training, Kalaripayattu Exhibition as well as Kalari Massage. For international visitors, they offer a special 5-day package that includes One day Kalari oil massage and 4-days Kalaripayattu self-defence techniques. There is also a particular self-defence course for women.
Sri V. Sreenivasan Gurukkal, Sri Raghavan Gurukkal, Sri Dhamu Gurukkal and Sri Valappil Karunan Gurukkal established this Kalari  in 1949 at Vadakara.
Hindustan Kalari Sangam- Calicut
Hindustan Kalari Sangam Calicut: Shri. Veerasree Sami Gurukkal established as well as patronised Hindustan Kalari Sangam, a traditional Kalarippayattu school, in 1050. This school offers training in Kalarippayattu as well as Ayurveda healing.
Hindustan Kalari Sangam specialises in –
Kalaripayattu
Ayurveda
Panchakarma
Kalari Massage
Marma Healing
Speciality Ayurveda cure and
Dhanurveda
It is situated at Puthiyara, Calicut, Kerala.
The Choorakkody Kalari Sangam- Calicut
The Choorakkody Kalari Sangam teaches Vadakkan Sampradayam(Northern style) as well as Thekkan Sampradayam(Southern style). They also have short term courses of one, two and three months. Special offers for foreigners is that they can customise their timings. This institution also develops new methods which are suitable for stage shows. Sri Kunhi Moosa Gurukkal established this Kalari in 1976 at Villiappaly near Vadakara in Kozhikode. C K S has played a vital role in promoting the martial arts form.
The Vallabhatta Kalari – Thrisoor
The Vallabhatta Kalari Chavakkad carries out workshops, demonstrations and choreography work. There is a homestay facility providing healthy and hygienic food. They also offer Kalari Marma Chikiltsa and have branches in European countries, USA, China, London and even Belgium and France. Sri Veerasree Gurukal Sankunni Panicker established the current training centre at Chavakkad, Trichur in 1957. However, it got affiliated to the sports council in 1959.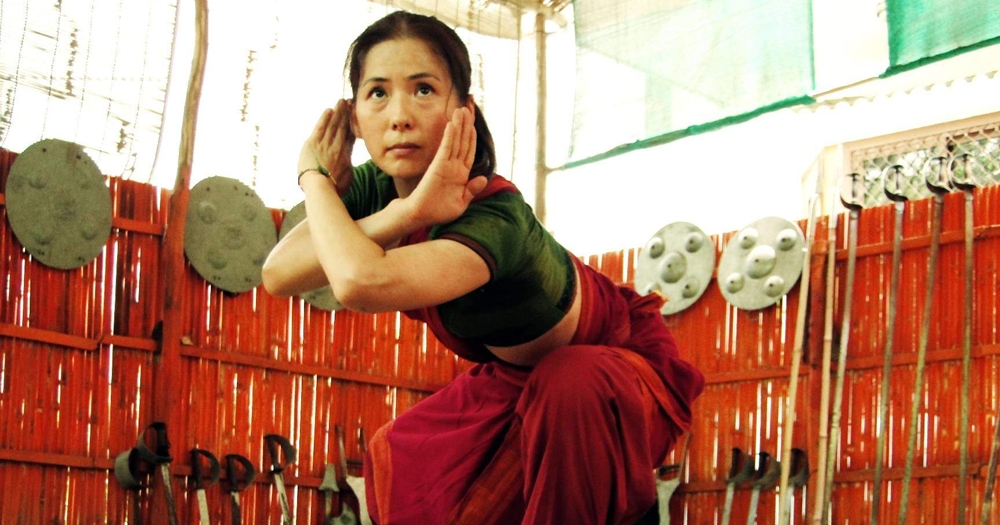 Image Source
In this tough world which is becoming tougher day by day, one needs to compete with a large number of people at every step of one's life, and Kalaripayattu is its gateway. It is gradually becoming recognised, and it might soon become included in the national games.
With rigorous practice, basic level training can be completed in three months. The intermediate level takes about six months. But the advanced level takes a long time of about one to two years.
Are you interested in watching the Kalarippayattu Show while you on your Kerala Holiday? Check out the list of  Best Cultural Show Centres in Kerala.
(Visited 16,421 times, 5 visits today)