The state of Kerala is known worldwide for its natural beauty. But the most prominent characteristic of the state is its rich culture and tradition. It is colorful, elaborate as well as fascinating. Sadly, only a few travelers visiting Kerala take time to explore its beautiful culture. But without an up close and personal experience of the Kerala culture, your holiday will remain incomplete. You can say you've visited Kerala, but you can never say that you've experienced it. So make sure you set aside one evening of your holiday trip to absorb the beauty of the culture and tradition of Kerala. But, how?
Many of the holiday destinations in Kerala feature amazing cultural centers. They have cultural shows displaying the roots of Kerala culture. They do this through various art forms including music, dance, and drama. Kathakali and Mohiniyattom performances are among the most famous. At some cultural centers, they also show Kalaripayattu, the traditional martial art form of Kerala. Although the show may last for just one or two hours, it successfully showcases the best of Kerala's culture. The shows are not only informative, but also exciting and enjoyable.
Here is a list of the best cultural centers in Kerala.
1. Punarjani Traditional Village- Munnar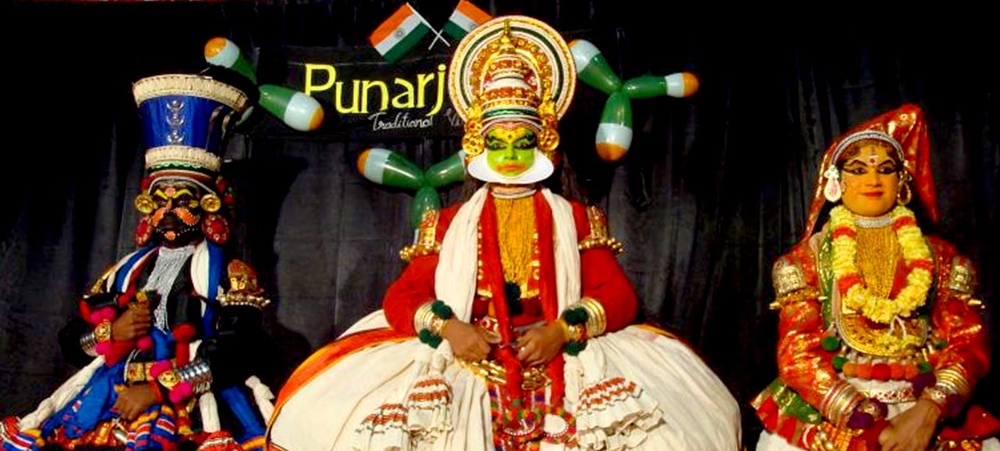 Image Source
The Punarjani Traditional Village is located at Pallivaisal. It is about 8 km away from the Munnar Town. The cultural center has a team of youngsters who specialize in two beautiful art forms – Kathakali and Kalaripayattu. The Kathakali show begins at 5:00 PM while the Kalaripayattu show begins at 6:00 PM. The cost of the ticket ranges from INR 200 to INR 300 depending on the seats. While the Kathakali show is a visual delight, the Kalaripayattu show will take your breath away. The performances are very well choreographed. The artists are also top-notch. At the end of the show, you can take snaps with the performing artists.
Read More about Punarjani Traditional Village
2. Cochin Cultural Centre- Cochin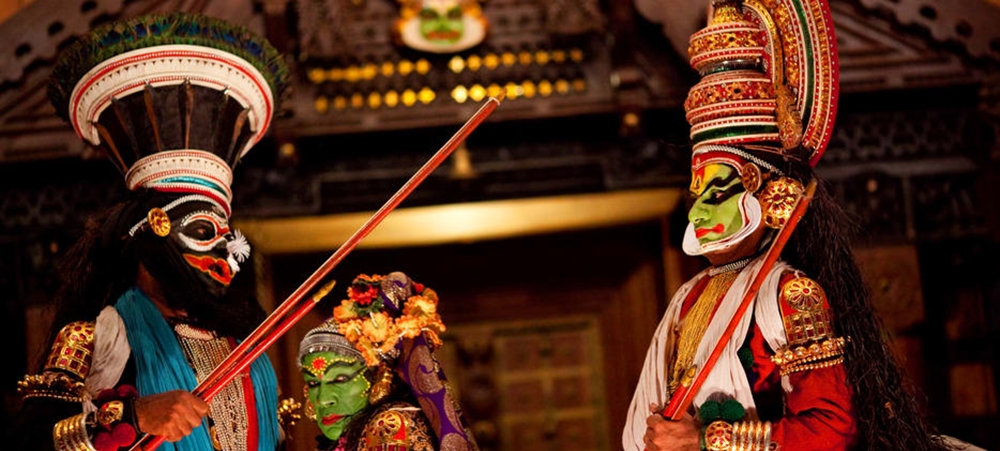 Pic Courtesy: Yatra
Established in 1978, the Cochin Cultural Centre operates with one intention. It is to propagate and preserve Kerala's ethnic culture and art forms. The cultural center opens at 5:00 PM with a make-up demonstration of the Kathakali artists. Then at 6:00 PM, the actual stage performance begins. It lasts for about an hour. The entire show is divided into three parts. First, there is a prayer. Then, you have the introduction to the show in English. And then, the final part is the play itself. The performing artists are well-trained, professional actors. They are sure to impress every art enthusiast in the audience.
Read More about the Cochin Cultural Center
3. Greenix Village-Fort Cochin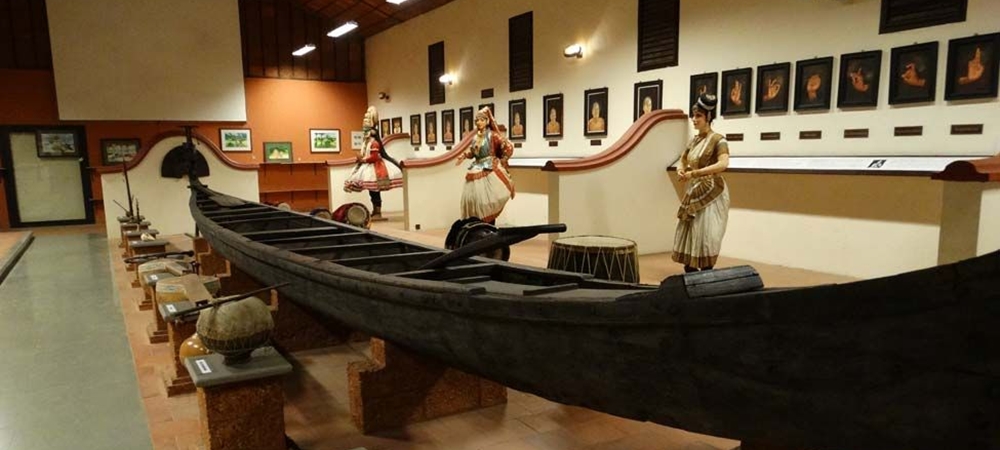 Image Source
Greenix Village is a spectacular 28000 sq ft cultural centre. It is located in the historic town of Fort Cochin. It has two huge air-conditioned theatres. They showcase a number of Kerala dance forms, including Kathakali, Mohiniyattom as well as Koodiyattam. Greenix Village also features a Kalaripayattu Training Centre, a curio shop, bookshop, spice shop, a cultural museum, and an art gallery. The cultural museum has well-sculpted models of Kerala dancers with items of make-up. It also showcases old artefacts and articles of daily use from the villages of Kerala. The curio shop sells miniaturized versions of Chinese fishing nets, sandalwood figurines of Elephants dressed in colorful headgear, jewel boxes, and many more amazing souvenirs.
Read More about Greenix Village
4. Kadathanadan Kalari & Navarasa Kalari Centre- Thekkady
Image Source
Kadathanadan Kalari & Navarasa Kalari Center is a popular cultural center in Kumily. It is especially known for the amazing display of Kalaripayattu. Kalaripayattu is apparently a 3000-year old martial art form. The cultural center has two shows, each of which is an hour long. The first show is from 6:00 PM to 7:00 PM. The second show is from 8:00 PM to 9:00 PM. The performances are not only for the purpose of entertainment but also to teach self-defence techniques to the audience. It takes place in a spacious as well as a beautifully designed gallery. Every member of the audience gets a clear view of the show.
Read More about Kadathanadan Kalari & Navarasa Kalari Center
5. Mudra Cultural Centre- Thekkady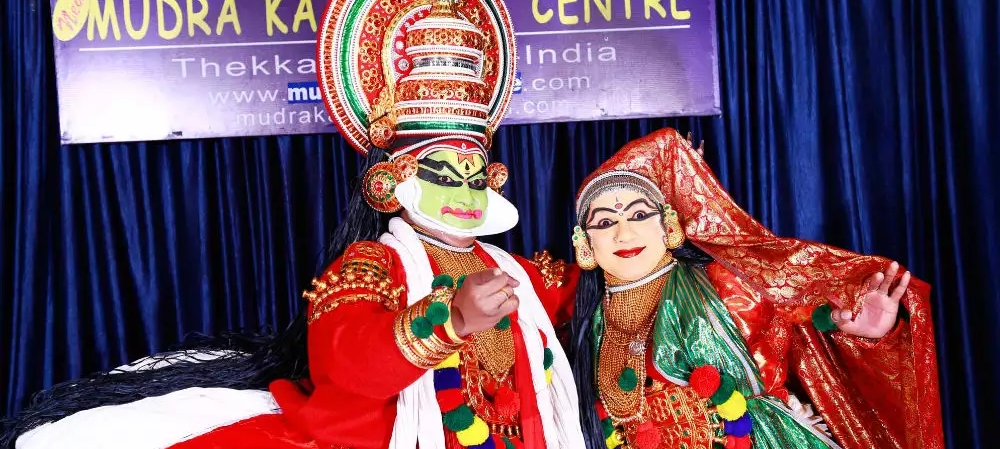 Image Source
Mudra Cultural Centre displays two beautiful art forms of Kerala – Kathakali, and Kalaripayattu. At this cultural center, there is a lot of audience interaction. The shows are very high on the entertainment quotient. Most of the credit for this goes to the performers. They are professional artists from Kalamandalam which is a world-famous art school in Kerala. The performances will leave you spellbound. Before the actual show starts, there is a make-up demonstration which is quite enjoyable to watch. The cultural center has an enchanting design which adds to the experience.
Read More about the Mudra Cultural Center
6. Yodha Cultural Village- Thekkady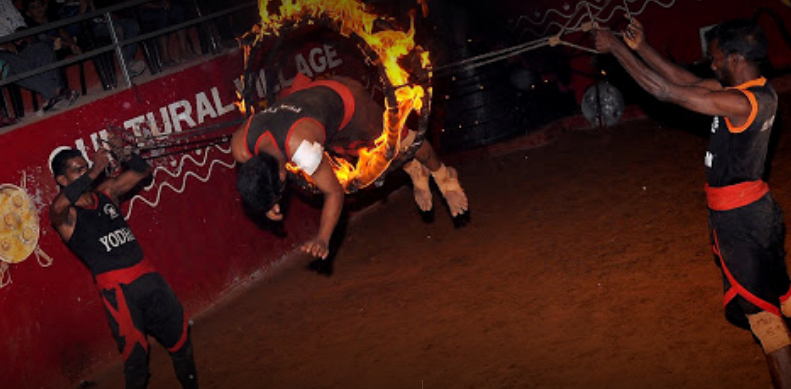 Image Source
Yodha Cultural Village is located in Thekkady – Vyaparabhavan Road. Yodha offers a unique range of cultural shows and events focusing on art and martial arts, like Kathakali, Kalarippayattu and Magic Shows. They conduct two shows every evening.
The shows at Yodha will help you to understand the tradition of Kerala and its art forms.
Kathakali: 5 PM to 6 PM and 7 PM to PM
Kalaripayattu: 6 PMto 7 PM and 7:15 PM to 8:15 PM
Magic Show: 4 PM to 5 PM and 8 PM to 9 PM
Read More about the Youdha Cultural Village
Make sure to visit at least one of these cultural centres to have a complete holiday experience in Kerala. Also, share this article with your friends who are interested in culture or planning a visit to Kerala soon:)
Apart from this Cultural Show Centers, check this link if you are interested in knowing about Best Cooking Class Options in Kerala
Check out interesting Kerala Tour Package Itineraries here.
(Visited 2,103 times, 1 visits today)