In Kerala, the month of June kicks off the monsoon season. It is noteworthy that Kerala is the first state in India to welcome the monsoon. The rains add a scenic charm to the already beautiful tropical land. Romance fills the air. The backwaters especially take on unparalleled beauty. Many assume that the rainy season might not be a good time for a holiday in Kerala. But they are so wrong about it. In fact, the monsoon season offers unique holiday experiences in Kerala, things you cannot fully enjoy during other seasons.
Let me explain what I really mean when I say that:
There are some specific advantages in visiting Kerala in June:
The room tariff at hotels and resorts are very reasonable
Since the month of June does not come under the peak holiday season in Kerala, the room tariff at hotels is quite cheap. This includes luxury accommodations as well. So what would that mean for you? It means that you can enjoy the best of facilities at the most affordable of rates. So your pockets remain heavy while you have all the fun and luxury. Could you ask for more? Maybe not. But there's more.
The monsoon season is an ideal time to experience Ayurveda in Kerala
Experts say that you can experience the best results for Ayurvedic treatments during the monsoon season. Since there is little or no dust in the atmosphere and the pores of the skin open wide, ayurvedic therapies have a more significant impact on the body. The state of Kerala offers various treatments that help to boost immunity, detoxify, treat specific health issues, shed weight or to rejuvenate the body simply.
The unparalleled beauty of the backwaters
The backwaters of Kerala are picturesque and serene throughout the year. But during the monsoon, the environment becomes exquisitely magical. Although you may not be able to enjoy a canoe ride or other open-top boat rides because of the rains, what a time it is to experience the houseboat cruise! The cool breeze, the chilly sprinkles, the sound of rain hitting the backwaters and the trees on the shores, and the lovely views make the backwaters extraordinarily beautiful during the monsoon.
Kerala in June – List of Best Places to Visit
The state of Kerala is known for its diverse topography, rich culture, and picturesque natural beauty. Because of such attributes, it finds a place among the 100 most beautiful destinations in the world. When you come and experience a holiday in Kerala, you come to know why it got the name "God's own country".
Have a look at some of the best destinations to visit in Kerala
Cochin and Fort Cochin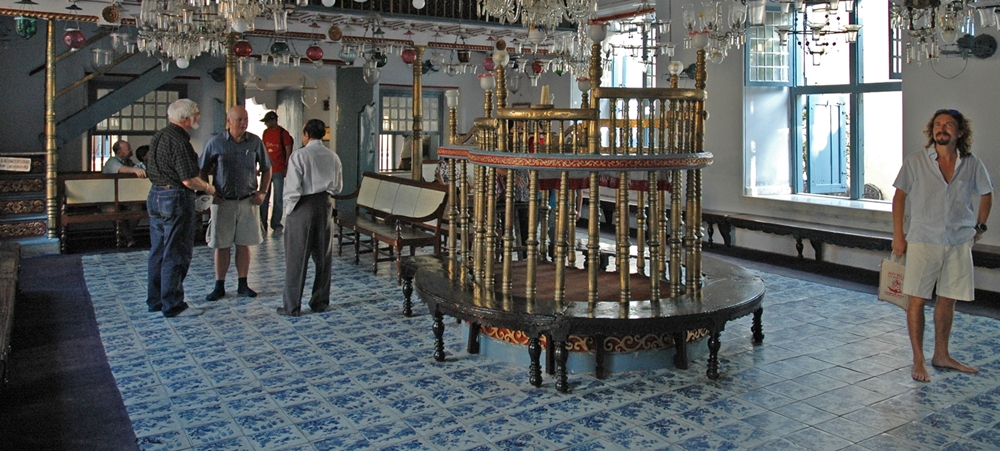 Pic Courtesy: Holidify
Because of its various sightseeing attractions, many tourists visit Cochin to begin their journey in Kerala. Generally, a holiday in Kerala starts and ends at Cochin. Sometimes, when it's raining, you cannot enjoy outdoor sightseeing. But Cochin has many indoor sightseeing attractions like Jewish Synagogue, Dutch Palace and others. You can enjoy visiting such places even when it rains. The city has an international airport.
Don't forget to visit the town of Fort Cochin during your trip. It is home to palaces, monuments, museums, and beaches. Cycling through Fort Cochin during a slight drizzle is an enjoyable experience.
The most famous attractions you can visit in Cochin are:
Santa Cruz Cathedral Basilica
Jew Town
Indo-Portuguese museum
Paradesi Synagogue
Mattancherry Palace
Tomb of Vasco-da-Gama
Activities to do in June: Outdoor sightseeing can be delightful if it's not raining. But if it does rain, you can try many of the indoor sightseeing spots like museums, palaces, etc. Also, make sure to visit the malls, watch cultural shows and enjoy the authentic local cuisine at the restaurants.
Munnar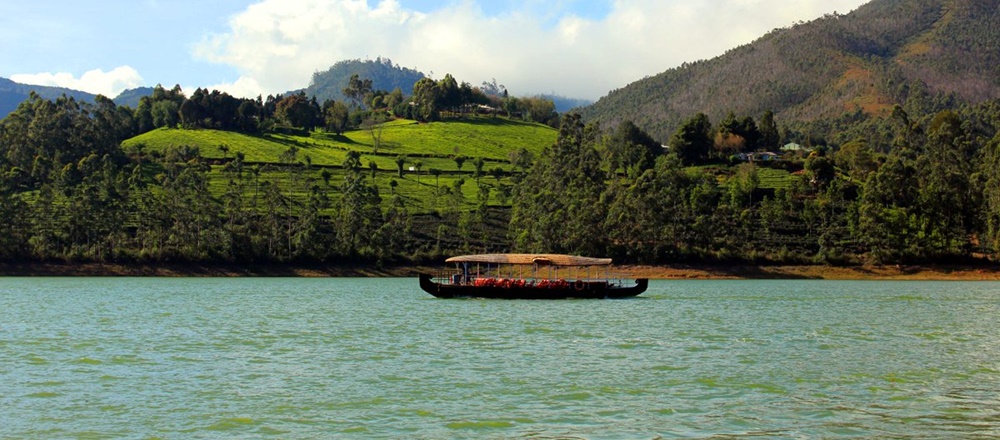 Image Source
The hill station of Munnar takes on a wet and misty charm during the monsoon season. The tea gardens shimmer more than ever because of the frequent showers. The serene lakes also take on added beauty. Open-top boat rides are not advisable, but you will undoubtedly enjoy rides in boats with a roof. During the monsoon, Munnar has clouds everywhere. So you can expect amazing views. But something else which is interesting is that you get to stand amidst the clouds. There are so many spots in Munnar where you can experience this.
Look at some of the best locations to visit during your Munnar visit,
Top Station
Tea Plantations
Marayoor & Chinnar
Kundala Lake
Mattupetty Dam & Echo Point
Rajamala- Eravikulam National Park
Activities to do in June: Since June is the wettest month in Kerala, it would be a great time to visit dams and waterfalls. So in your visit to Munnar in June, you must definitely visit the Mattupetty Dam, Attukal Waterfalls and Chinnakanal Waterfalls. The lakes will also have great charm during the monsoon. So try visiting Kundala Lake and enjoy a closed-top boat ride. The Pothamedu Viewpoint and Photo Point are also known for their exquisite views during the monsoon.
Thekkady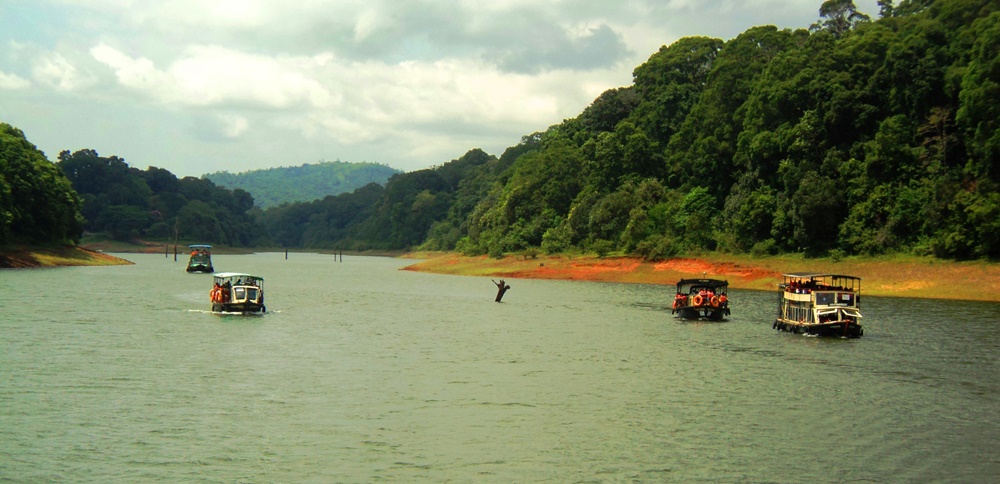 Image Source
The aromatic spice gardens, scenic lakes and exotic wildlife of Thekkady make it a must-visit destination in Kerala. The most significant attraction in Thekkady is the Periyar Lake. It offers an unforgettable boating experience, ideal for families. An exciting aspect of this experience is the opportunity to spot various animals and birds on the shores of the lake. You get to see them sipping water from the lake, and it is such a joy to watch.
Some of the best destinations to visit in Thekkady are:
Periyar National Park and Lake
Anakkara
Chellakovil Viewpoint
Vandiperiyar
Parauthumpara
Ramakkalmedu
Activities to plan in June: A must-try activity in Thekkady during the monsoon is the boating at Periyar Lake. Since the boats are not open-top, you do not have to worry about the rains at all. But if the rain is too much, the opportunity to spot wildlife becomes very rare. You can also enjoy nature walks and border hiking in Thekkady. But you must be careful about the leeches. And because of the leeches, outdoor camping is not advisable. Check out the full activity list at Thekkady here.
 Alleppey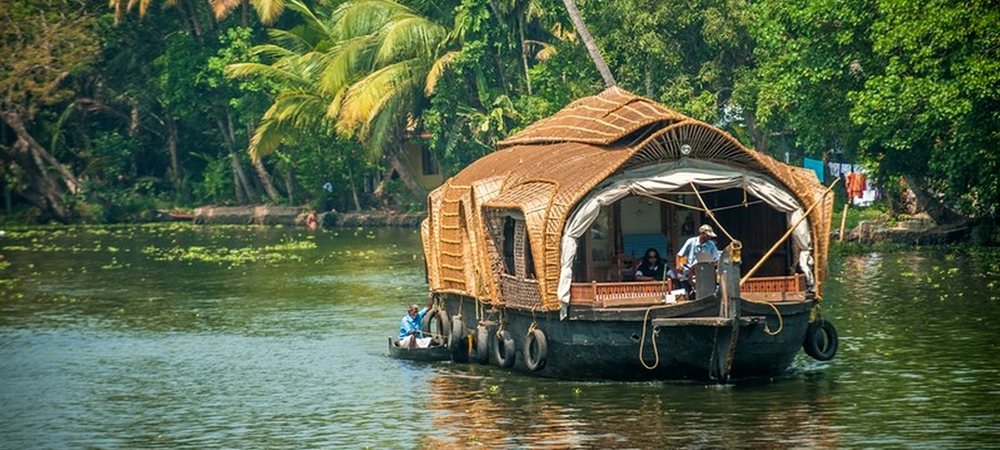 Pic Courtesy: Iris Holidays
The backwaters of Alleppey welcomes more tourists than any other destination in Kerala. And during the monsoon, the place looks its best. The rains make the environment magical. Everywhere you look, you see pleasantness at its peak, whether it the backwaters, the palm-fringed shores or the scenic villages beyond. The best way to absorb the natural beauty around you is to take the houseboat cruise. It is an experience you won't forget for life.
Alleppey's best attractions are:
Alleppey Backwaters
Alleppey Beach
Marari Beach
Activities to plan in June: Houseboat cruise is the most popular activity in Alleppey. And there is no better time than the monsoon to enjoy the houseboat cruise. You can enjoy the incredible beauty around you without having to worry about the rains. The houseboat cruise in Alleppey is famous not only because of the delightful views but also for the food served during the cruise. Foodies cannot miss this experience of tasting the authentic flavours of Kerala. You will not be able to enjoy canoe rides if there are heavy rains, but if there is only a slight drizzle, canoeing will be a fantastic experience.
Kumarakom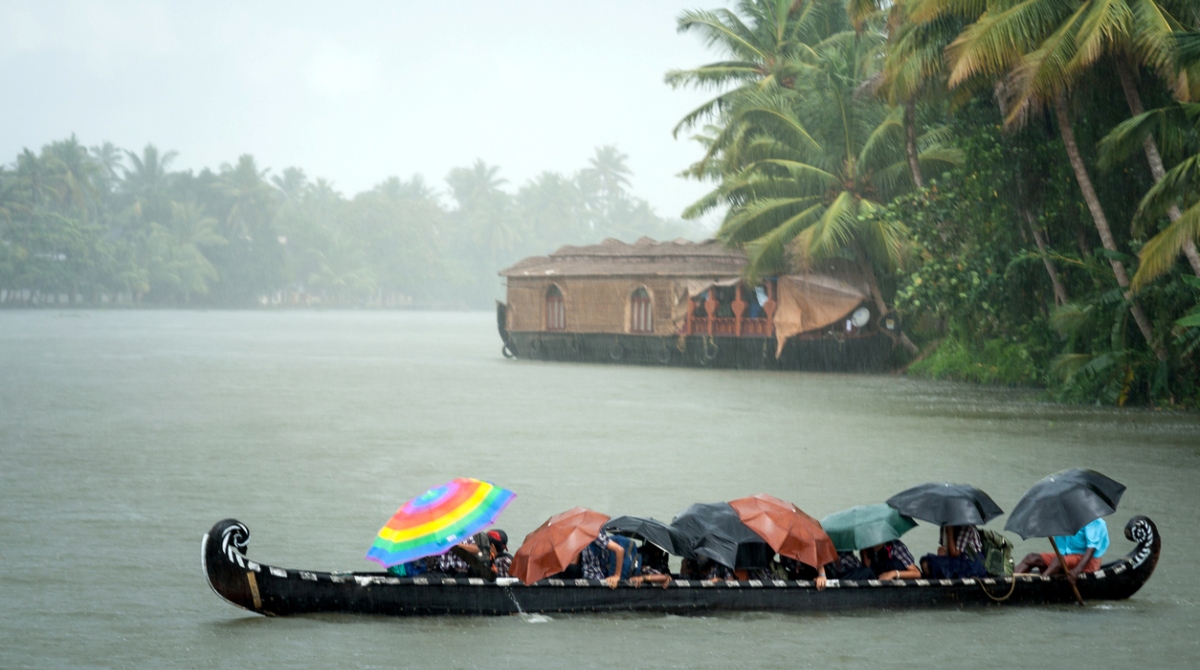 The beautiful backwater village of Kumarakom is located on the banks of the Vembanad Lake. It is known for its lush greenery and colourful houses. At Kumarakom, tourists love to interact with local villagers as they go about doing their daily chores. Kumarakom also offers a variety of backwater cruises, each suitable for a different section of the backwaters. Kumarakom Bird Sanctuary is also a famous attraction here. It features rare bird species like wild ducks, herons, storks, etc.
Some of Kumarakom's best attractions are:
Kumarakom Backwaters
Kumarakom Bird Sanctuary
Vaikom Temple
Village Life
Paathiramanal Island
Activities to plan in June: Because of the rains, you cannot enjoy open-top boat rides like canoe rides. But you can definitely try other types of backwater cruises. A houseboat cruise is a must-try activity. It allows you to enjoy the beauty of Kumarakom properly. You can also try other activities like bird watching, village walks, canoe rides, and toddy shop visits. But do look for those dark clouds before planning any such activity.
Wayanad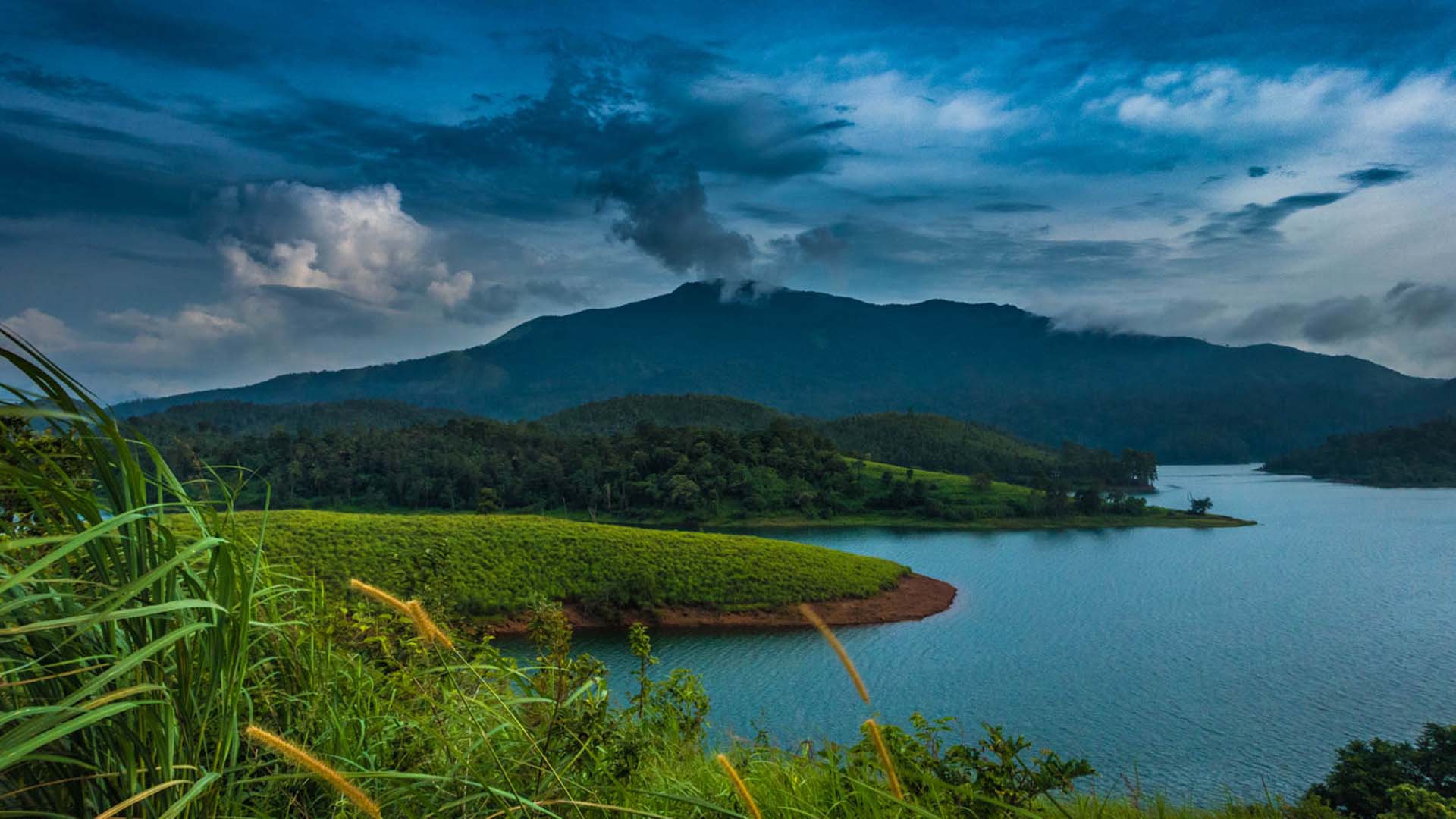 Image Source: Banasura Hill Resort
The hill station of Wayanad has become popular because of its raw natural beauty. There is some mysterious tone to it, which is very alluring. Wayanad is part of the Western Ghats. It is known for offering excellent trekking opportunities. Trekking in Wayanad will make you come across forests, plantations, waterfalls, and mountains.
Some of Wayanad's most exciting attractions are:
Banasura Sagar Dam
Kuruva Island
Chembra Peak
Edakkal Cave
Pookode lake
Muthanga Wildlife Sanctuary
Thirunelli Temple
Activities to plan in June: The Banasura Dam will be in its full glory during the monsoon, making it a must-visit attraction in June.  The monsoon is a pleasant time to enjoy trekking if it is not raining too much. But be on the lookout for leeches and careful with those slippery trails. You can also visit the Edakkal Caves. Another good option is closed-top boat rides in the Pookot Lake.
Athirapally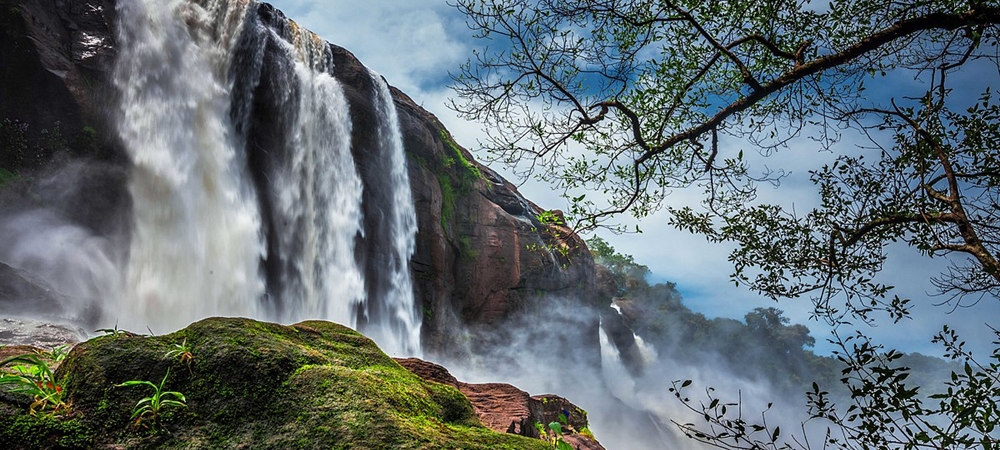 Athirapally is an enchanting destination in Kerala. It is home to the most majestic Athirapally Falls, also known as the Niagara Falls of Kerala. The waterfall has a staggering height of 80 feet, and as you can imagine, it is in its full might during the monsoon. So one cannot afford to miss visiting the Athirapally Falls in the rainy season.
The top attractions to visit near Athirapply include
Vazhachal Falls
Sholayar Dam
Athiraplly Falls
Thumboormozhi Dam
Activities to plan in June: DO NOT MISS visiting the waterfalls of Athirapally during the monsoon. You will never get such magnificent views during any other season.  The waterfalls offer wonderful opportunities for photography. So take a camera with you.
Kerala in June- Places NOT to Visit
The month of June kicks off the monsoon season in Kerala. Although it is only the beginning of the monsoon season, they say that June is the wettest month in Kerala. So because of the rains, some places in Kerala will not offer the same experience as they do during other seasons. The beaches of Kerala are not worth visiting during the monsoon because of the strong currents. Even if you do visit them, you will not be able to enjoy beach activities, water sports, etc. So you cannot have a complete experience. Therefore, Kovalam Beach and Varkala Beach, which are usually visited by many during other seasons, are better to be avoided during the monsoon.
Kerala in June- Top Activities to Do
Although there are plenty of rains during June,  there are many activities you cannot still enjoy during your visit to Kerala at this time of the year.
Houseboat Cruises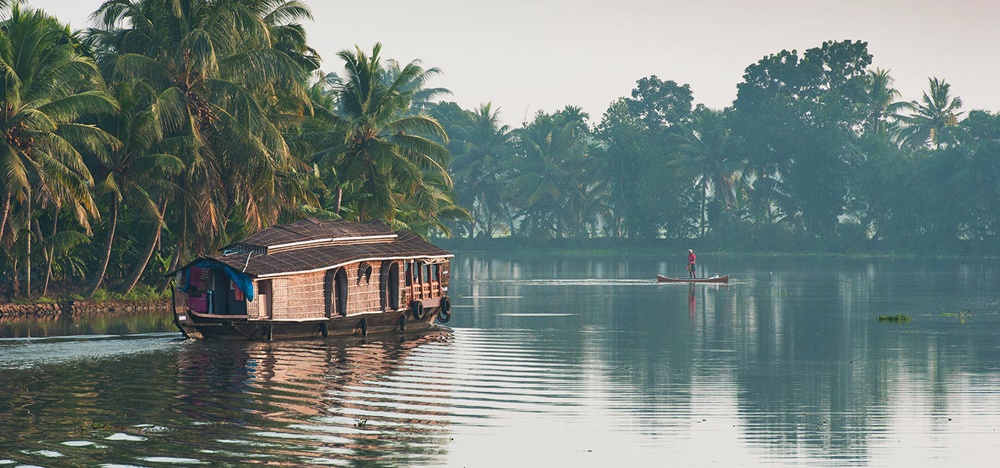 Image Source
The houseboat experience in Kerala is truly unforgettable. But during the monsoon, the experience is of a whole new level. Because of the rains, the backwatersand the villages become as charming as they can possibly be. And from the houseboat, you can enjoy exquisite views along with the pleasant sound of rain, all of this without having to worry about getting wet in the rain. Apart from the pleasant environment, the houseboat cruise also offers a fantastic opportunity to taste the authentic Kerala cuisine.
There are two types of houseboat cruises to choose from – one is a 4-hour day cruise, and the other is an overnight stay. Kerala backwaters also offer canoe tours and other boat rides. But in June, any of the open-top boat rides are not advisable. However, a canoe ride is a wonderful experience when there is a slight drizzle.
The locations where you can get the best houseboat experiences in Kerala are,
Cultural Shows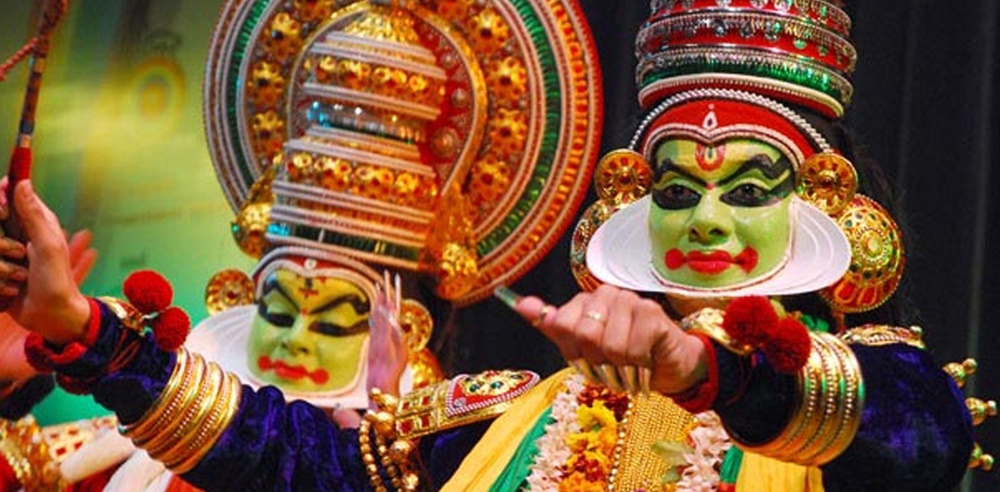 Image Source
That Kerala is rich in culture and tradition is not news to anyone. Tourists can enjoy a beautiful glimpse of Kerala culture by attending one of the cultural shows. The various cultural centres in Kerala offer a fantastic portrayal of Kerala's culture through dance, music and drama. Among the several dance forms, Kathakali and Mohiniyattom are the most famous. You can also enjoy a display of Kalaripayattu at some of the cultural centres. It is an ancient martial form which had its origin in Kerala. The cultural shows of Kerala aim to provide entertainment along with showing the tradition which they are so proud of. A cultural show in Kerala usually lasts for one or two hours. And since it is an indoor activity, you can enjoy it in the rainy season also.
Some famous cultural centres in Kerala are:
Punarjani Traditional Village
Mudra Cultural Center
Cochin Cultural Center
Greenix Village
Ayurveda Experiences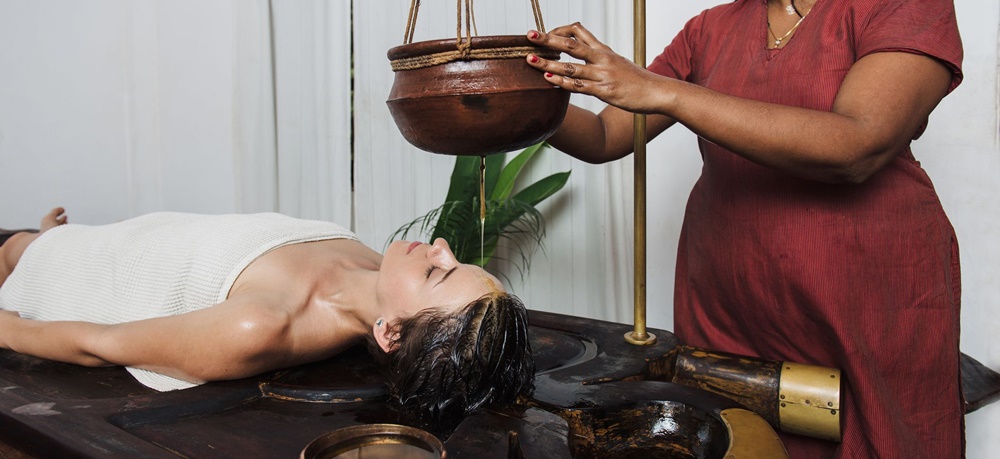 Pic Courtesy: TripSavvy
The monsoon season is an ideal time for Ayurvedic therapies in Kerala. The weather is just perfect for Ayurveda, speeding up the impact of the treatment. And also, during this season, the pores of your skin are wide open and therefore, the therapies become more effective. Kerala offers ayurvedic therapies to rectify health issues, to enhance general health as well as to rejuvenate the body and mind.
Some of the significant Ayurveda wellness centres of Kerala are located at
Kottakkal
Thiruvananthapuram
Palakkad
Alleppey
Cochin 
Cooking Classes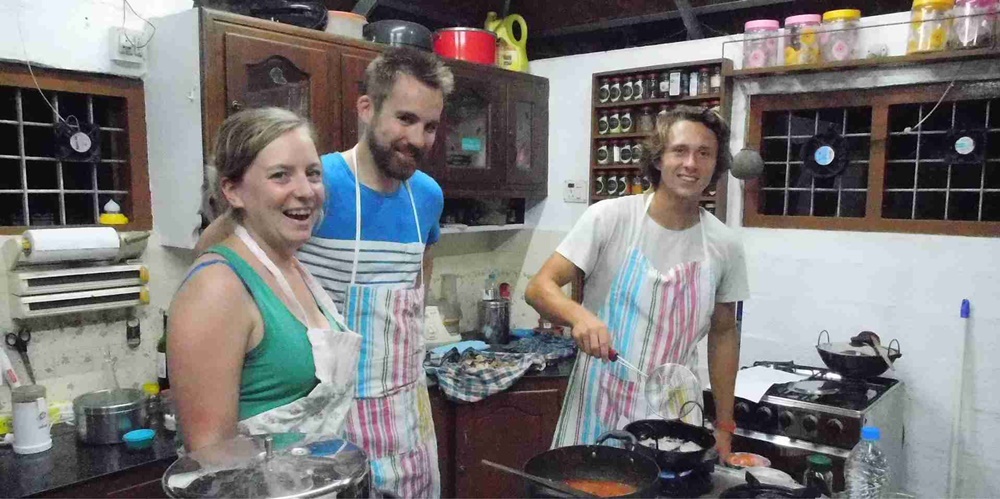 Image Source
The delicacies of the Kerala cuisine are rich in spices and flavours. Some visitors love the food so much that they want to learn how to make it at home. To help them out, Kerala has many cooking classes where guests can learn easy methods to cook the best of dishes from the Kerala cuisine. After the course, you get to taste the food which was made right in front of your eyes. Since the cooking classes are held indoors, it is an excellent activity that you can enjoy during the monsoon in June.
Take a look at some of the best cooking classes in Kerala
Waterfall Visits

All the waterfalls of Kerala are at the peak of their glory during the rainy season in June. Some may be unsafe to visit, but most of them are safe and are must-visit attractions. One waterfall which is worth a special mention is the Athirapally Waterfalls. Do not miss it during your visit to Kerala in June. And apart from that, there are several other beautiful waterfalls throughout the land of Kerala. The sound and view of the roaring waterfalls are nothing less than awe-inspiring. And the cool spray of water in the area around the waterfalls makes the whole environment magical.
The most famous waterfalls in Kerala are
Athirapally Waterfalls
Attukal Waterfalls
Soochipara Waterfalls
Vazhachal Falls
Chinnakanal Waterfalls
Cheeyappara Waterfalls
Have a look at the top 9 things you can enjoy in Kerala during the monsoon
Kerala in June- Activities to be avoided
Because of the frequent showers in June, it is better to avoid a few activities in Kerala. For example, outdoor sightseeing may not be a good idea since you have to keep looking up to check for those villainous dark clouds. Trekking is open in June. It is quite an experience to enjoy a chilly trek when there is a drizzle or a light shower. But while trekking you need to be very careful with the slippery trails and the leeches. And because of the leeches in the forest areas, outdoor camping is not advisable at all. The beaches of Kerala are not worth visiting during the monsoons. Since the sea will be rough and the current will be very strong, you cannot enjoy water sport activities like parasailing, snorkelling, surfing, speedboating etc.
Major Events and Festivals in June
There are No significant events are festivals happening in June other than the Praveshanolsavam ( School repoing after two months of summer vacation)
Praveshanolsavam
It is a ceremony to mark initiation into formal schooling for those joining in the first standard. It also marks the school repoing after two months of summer vacation.
Dates: Typically happens in the first week of June across all Govt and Govt aided schools in Kerala.
Venue: All Govt and aided Schools in Kerala.
Location: All over Kerala
What to Wear in June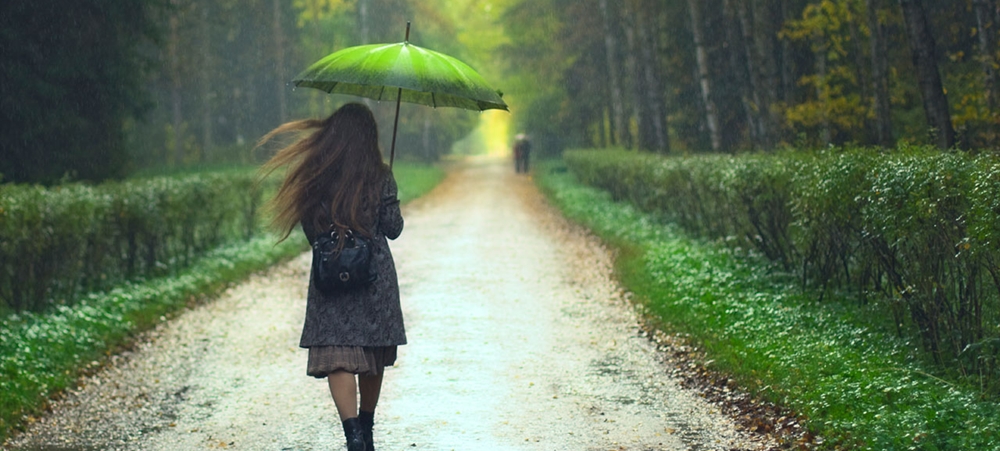 During your visit to Kerala in June, carry quick-dry clothes since there are chances of getting wet in the rain. Avoid leather shoes. Instead, take sandals along. If you plan for treks, make sure your footwear has a firm grip since some trails can be slippery.  Also, try to take an umbrella along.
Weather conditions in June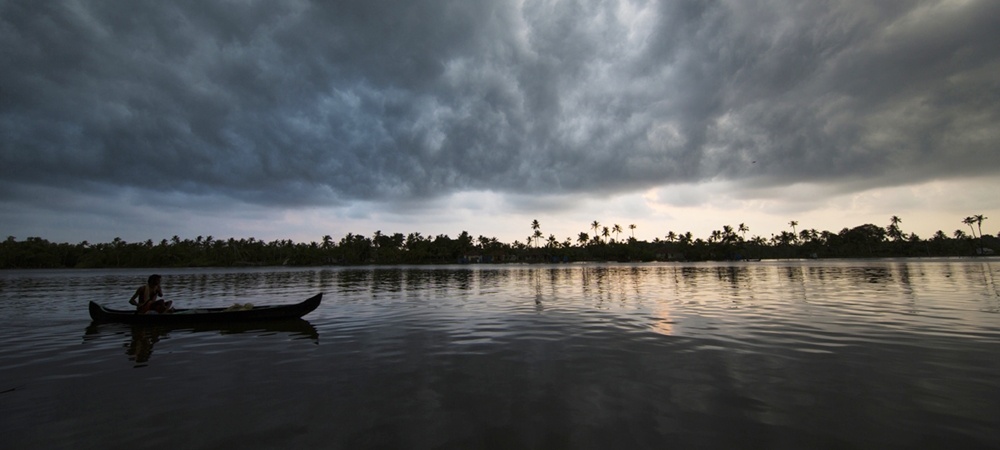 Image Source
During June, the rains begin to wet the tropical land of Kerala. June is the wettest month in Kerala, with the average rainfall being more than 350 mm. But something unique about Kerala monsoon is that it does not rain continuously. Brief showers or drizzles are usually followed by bright sunshine. Rarely, however, it rains for a few days continuously, but sunshine is always around the corner. On a typical monsoon day in Kerala, you will see some 5 hours of sun. The temperature during June is generally between 24 and 30 degrees Celsius.
Pros in visiting in June
The most significant benefit of visiting Kerala in June is that you get an unforgettable experience of the backwaters. The houseboat cruise, especially is an absolutely wonderful experience. The lovely views of the magical environment, the sound of rain hitting the backwaters and trees on the shores and the chilly breeze all around make the backwaters truly worth visiting during the monsoon. Another advantage of visiting Kerala in June is the low tariff rates at hotels and resorts. You can expect full value for money no matter what hotel or resort you choose. So that means you get great luxury and top-notch facilities at reasonable rates.
The monsoon is an excellent time for ayurvedic therapies in Kerala. The weather conditions during this period are perfectly suitable for Ayurveda. So the treatments have more impact than they do during any other season. And also note that the dams and waterfalls in Kerala are in their full glory during the monsoon. So there is no better time to visit the waterfalls in Kerala than during the monsoon season.
Cons in visiting in June
The frequent showers during June can make a few activities unpleasant. For example, you cannot wholly enjoy outdoor sightseeing because there is always a danger of a sudden downpour. Although trekking is open, you need to be on the lookout for leeches. There are many leeches you will find in the forest areas during the monsoon. And because of the leeches, Outdoor Camping is a big NO. Also, you will not be able to enjoy a good beach experience. Since the currents will be very strong, most beaches do not offer water sports and other beach activities.
Planning Kerala Tour in June- Suggestions & Tips
Pack dark-coloured quick-dry clothes.

Do not carry leather shoes for your trip. Carry sandals instead.

If you have plans to go for trekking, carry footwear that has a firm grip. Some trails will be slippery.

During your trek, be on the lookout for leeches. If, by any chance, a leech latches onto you, put salt or tobacco to get rid of the leech.

See more Tips to avoid Leeches.
Carry umbrellas to save yourself from a sudden downpour.
It can be tempting to get drenched in the rain. But that can cause sickness and ruin your holiday.
Please note that since there are frequent rains in June, you cannot enjoy outdoor sightseeing to the full. You will not have a good time at the beach as well. But if you select the right activities which are ideal for the monsoon season, you will have a great holiday experience in Kerala. Make sure to include a houseboat cruise and dam and waterfall visits in your itinerary. Since it is not the peak season, hotels and resorts will offer accommodation at affordable prices. So you will certainly enjoy a great stay. I hope this blog helped you to get an overall view of Kerala in June so that you can plan your trip well. Also, please share this blog with friends who are planning to visit Kerala this June! Enjoy travelling!
(Visited 1,515 times, 1 visits today)