With the Arabian Sea in the west, the Western Ghats in the east and also networked by 44 rivers, Kerala is blessed with unique geographical features that have made it one of the most sought-after tourist destinations in Asia. Neutral weather, peaceful beaches, tranquil stretches of backwaters, breathtaking hill stations, extraordinary wildlife, waterfalls, as well as the Ayurvedic centres are the perfect blend that draws in visitors to Kerala. The very old 'science of life', forms one of the foundations of everyday life in Kerala. It causes us to have a holistic approach with keeping our soul, body, as well as mind together in flawless harmony. Ayurveda goes well past giving symptomatic relief even to serious diseases. Listed below are some top Ayurvedic centres in Kerala:
Kottakal Arya Vaidaya Sala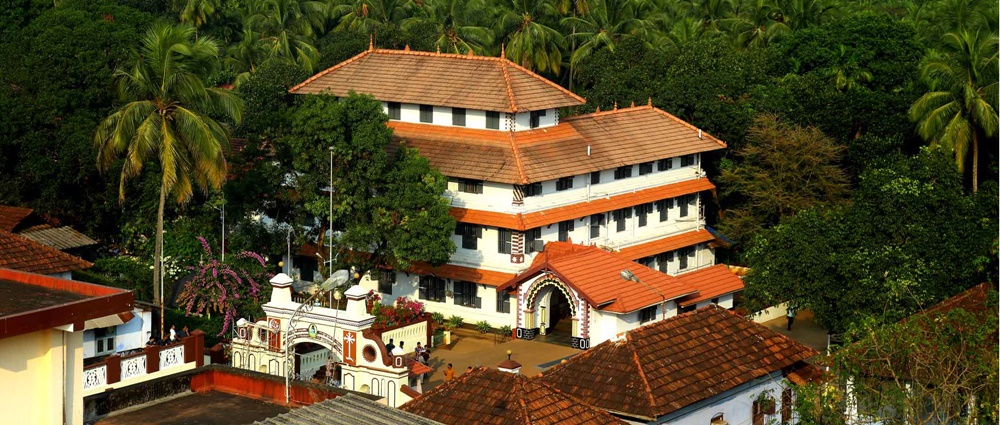 Image Source
Kottakkal Arya Vaidyasala is a top player in the category of Ayurvedic Centres in Kerala. This outstanding centre serves as a one-stop destination welcoming local as well as international clients. Kottakkal today is famous around the globe for its Ayurveda centres. This fascinating town also houses Kottakkal Arya Vaidyasala, one of the pioneers in Ayurvedic treatments that give comfort to a large number of individuals consistently. Established by Vaidyaratnam P. S. Warrier in 1902, it currently has several branches across India and its treatments are sought after by individuals not only from India but also from around the globe. It has its own Ayurvedic Research Centre, a hospital as well as a nursing home. Patients need to make a prior booking to obtain the treatments which they require.
Address: Kottakkal (P.O.), Malappuram, Kerala – 676 503
Contact no: +91 483 2808000, +91 483 2742216
Email: [email protected]
Kandamkulathy Ayursoukhyam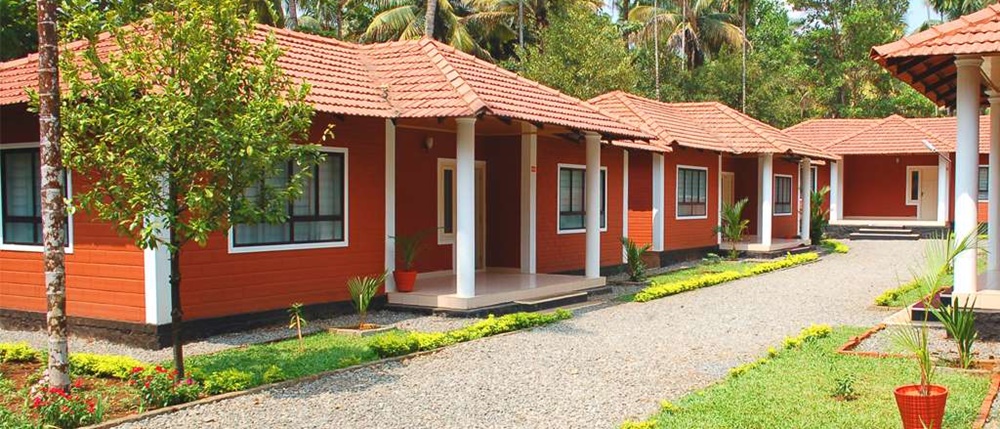 Image Source
Kandamkulathy Ayursoukhyam centre sits amidst herbal gardens on the Chalakkudy river banks, near the beautiful Athirappilly Waterfalls. It is an enterprise of the Kandamkulathy Vaidyasala, a family-run centre practicing Ayurveda for more than 150 years.
A group of Ayurvedic doctors as well as masseurs guarantee the highest amount of care in the medications and general well-being of the visitors. Other than the traditional treatments, Ayursoukhyam offers special medications which use age old traditions and exclusive formulations of treatments and medicines. These treatments are based on Panchamahabhootha (Pruthuvi – earth, Vayu – air, Thejo – fire, App – water, Akasha – space). The treatments include Soothika – postnatal care for mother and infant and old age care or Vayodhika. There also are packages for the general health of the entire family. Fitness and sports programs as well as Kaumarbhrytam or child care treatments take place here.
Ayursoukhyam has 14 cottages for visitors looking for Ayurvedic and Panchakarma medications. An in-house herbal garden, pure Kerala food, and extraordinary activities are some of the facilities at the retreat.
Address:Â Kandamkulathy Athirappilly | Konnakuzhy, Chalakudy 678581, India
Contact no: +91 480­ 2746580, +91 9846­ 347700
Email: [email protected]; [email protected]
Ayurvedic Medical College and Hospital in Tripunithura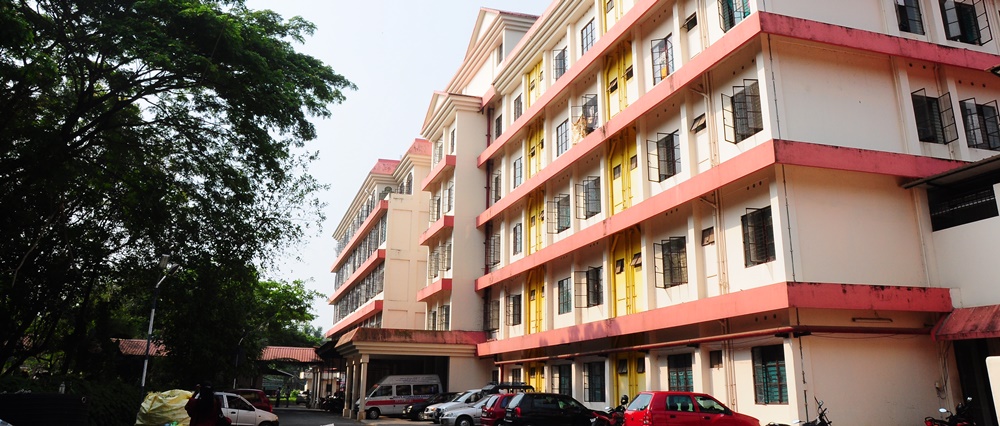 Image Source
Government Ayurveda College, Tripunithura is the second oldest Ayurveda public college in Kerala. It is the only ayurvedic establishment of its kind in Central Kerala. Its hospital serves the well-being needs of Kerala as well as the other parts of India.
Government Ayurvedic medical college and hospital started in the year 1960 when the East Fort Gate(Tripunithura) indigenous medicine branch was handed over to the medical college for the better training of their students. By giving suitable treatments to people that are suffering from various diseases, this hospital is taking care of the well-being needs of the people of Central Kerala.
It has several specialty facilities like: Diabetic center – This center is working under the Department of Kayachikitsa Treatment, Infertility Clinic – Treatment for sub-fertility and fertility, Anorectal facility – Anorectal region disease treatments, Cancer Clinic – palliative as well as Curative care for the Cancer patients, Cerebral Palsy Clinic – Medical care and treatment to the spatic kids, Eye center – Under the branch of Salakyatanthra – A specialty facility for eye problems and Panchakarma – Old style sodhana treatment. Being an educational foundation, this Ayurveda Hospital adheres to the standards of Ayurveda while administering Panchakarma.
Address: Dhanwanthari Nagar, Tripunithura, Ernakulam District Kerala – 682 301
Contact no: Office – +91 484 2777374
Hospital – +91 484 2776043
Hindusthan Ayurvedic Healthcare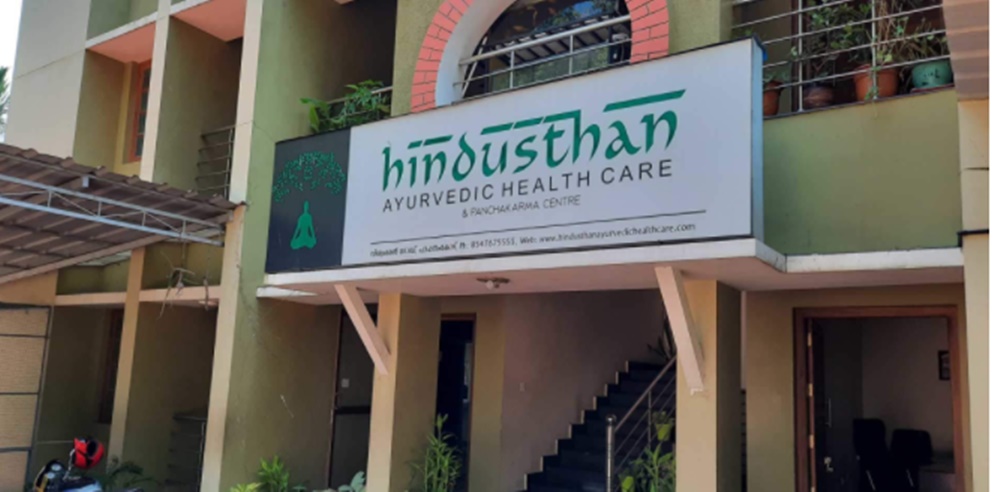 Pic Courtesy: Justdial
In case you are visiting Trivandrum region, there is a good ayurvedic hospital – Hindusthan Ayurvedic Healthcare. It is one among the best and leading Ayurvedic centres in Trivandrum, Kerala. It is located in the core of the city with all facilities as well as a clean and quiet environment.
Hindusthan Ayurvedic Health Care gives traditional Ayurvedic Panchakarma treatment in all health related aspects. They have an accomplished board of specialists for consultation and also Panchakarma training classes with well qualified trained staff for treatments and furthermore, they use the best quality medicines for treatments.
They offer the best ayurvedic medications for Arthritis, slip disc, Joint pains, back and neck problems, Diabetes, Migraine, Weightloss treatment, stress management, infertility, Psoriasis, Post pregnancy ayurvedic treatments, hair care, skin care, corporate ayurvedic programs, Full body massages etc.
There are special ayurvedic packages also – Relaxation packages, Rejuvenation package, bride and groom packages, etc.
Address: RajSree Dream Apartments, Viswambharan Road, Pappanamcode, Thiruvananthapuram, Kerala 695018
Contact no:Â  +91 471-2494505
E-mail: [email protected], [email protected]
Vinayaka Ayurvedic Nursing Home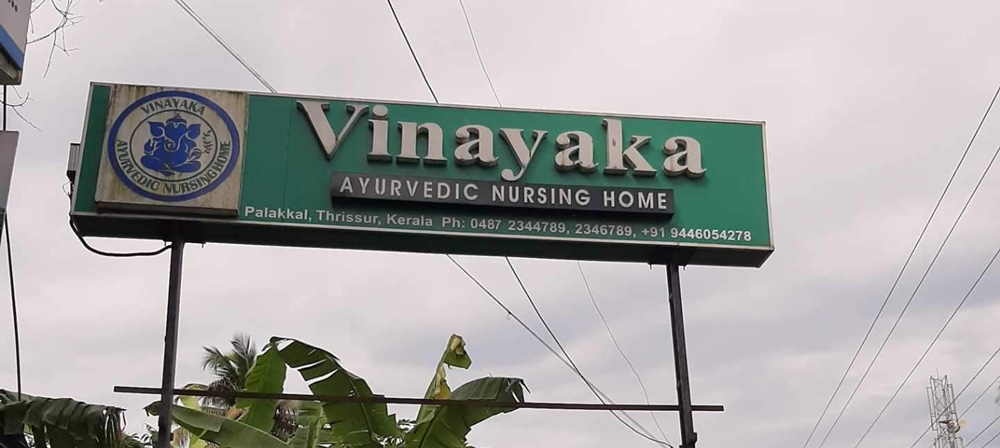 Pic Courtesy: Justdial
It is the first fully-equipped, Ayurvedic health centre that specializes in back treatment. Vinayaka began in the year 1994 by veteran doctor Prof. Dr. P.V. Mohan Kumar. A group of Ayurveda experts with experience of decades were managing it together. Dr. Kumar's family of 5 specialists (himself, wife, daughter, son, and daughter-in-law) is committed to serving the patients. They have the endorsement of "olive leaf" of the Kerala Tourism Development Corporation. With their valuable and long relationship with Oushadhi, Aryavaidyasala Kottakkal, as well as Viadyarathnam Oushadhasala, they offer high quality treatment to areas in Thrissur.
Vinayaka Ayurvedic Nursing Home attempts to lead and discover nature's solution to develop an ideal harmony between the body and the brain through different Ayurvedic medicines and restoration treatments, organizing from the spiritualist land Kerala.
At Vinayaka Ayurvedic Nursing Home, the physicians dig deep into the human body and treat ailments at the root level, eradicating it fully as well as efficiently. The use of natural cures, absolutely well-suited to the body, guarantees the nonexistence of harmful reactions and a viable method to fight diseases and be healthy.
Vinayaka Ayurvedic Nursing Home is a multi-storied structure with 34 rooms and 4 Cottages. They have 26 staff members other than specialists, which incorporates well-trained and qualified panchakarma professionals both male and females alongside other office and management staffs. They enlighten and elevate individuals to the idea of lasting health and also give a high standard of treatment, with top-notch facilities to an old system of Indian medication, without losing its authenticity.
Address:Â Vinayaka Ayurvedic Nursing Home, Palakkal, Thrissur, Kerala 680 027
Contact no: +91 98959 84387
Email: [email protected]
Pankajakasthuri Ayurveda Medical College & Hospital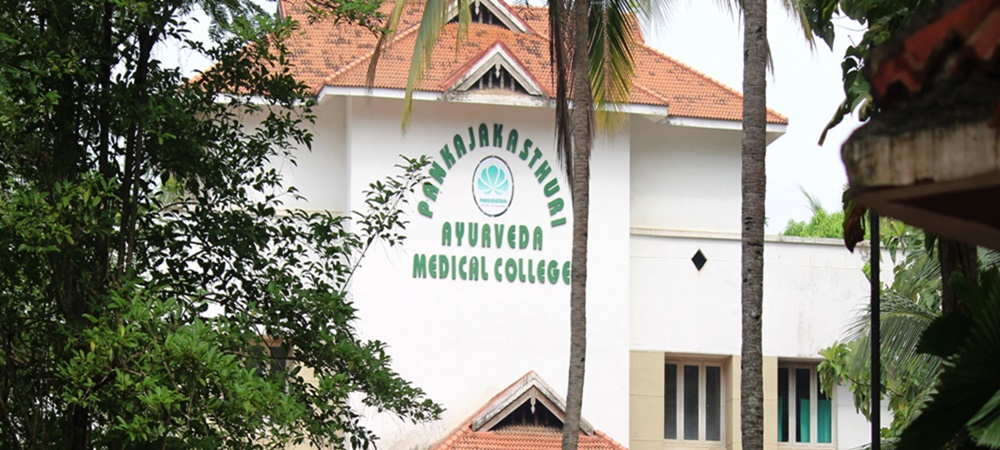 Image Source
Pankajakasthuri Herbals India Limited is pledged to explore the vast flora of India and to fetch its life saving herbal qualities, with zero side effects but 100% efficiency.
Through devotion, energy, and eagerness, Dr. J. Hareendran Nair and his group of Ayurvedic researchers have succeeded in curing diseases that other types of medications deemed not curable. With extreme purity, superior standards, authentic research as well as strict quality control measures, the hospital allows the general population to have the advantages of traditional Ayurveda Medicines.
In order to promote the olden system of Panchakarma treatment, there are centres all around the world.
Different departments under efficient doctors conduct Out-Patient consultancy every day from 8:30 am to 1:00 pm. Main departments include Kayachikitsa (General Medicine), Agada Tantra (toxicology), Shalakya Tantra (ENT), Shalya Tantra (orthopedics), Kaumarabhrithya (pediatrics), Prasuti Tantra & Striroga (Gynecology & Obstetrics), Swasthavritta, surgery (by allopathic doctors) and yoga also.
Address:Â Thiruvananthapuram – Kattakada Road, Killy, Kattakkada, Kerala 695572
Contact no: +91 471 3104404
Email: [email protected]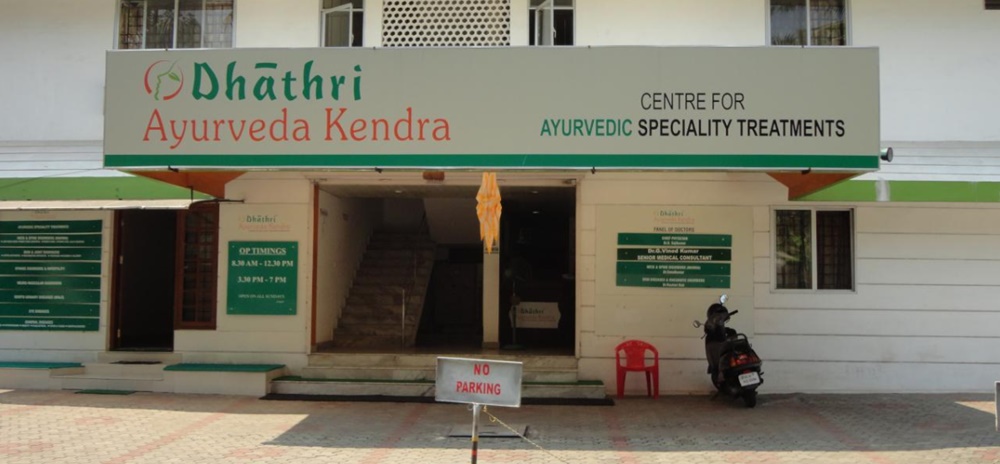 Image Source
Dhathri is a highly acclaimed name for Ayurvedic treatment. Dhathri Group was established by Parameswara Vaidyar, in Kayamkulam town. Some say that he had intense power for healing any disease.
Dhathri's Ayurvedic medicines stringently follow the old style of medicines as well as the genuine spirit of Ayurveda. You can see this meticulousness from Dhathri's choice of herbs and also the different ingredients that they use to make medicines for the post-care treatments.
Treatments here are a delightful blend of Ayurveda as well as modern therapeutics. Their Ayurveda physicians use treatments depending on Prakriti analysis. They design their treatments with appropriate vihara, ahara, kriya, and oushadha to guarantee the best possible outcome for the patients. The treatments may include yoga, meditation as well as physiotherapy sessions.
The extensive range of ayurvedic therapies at this place attempt to harmonize mind, body, and also the soul. They have a team of proficient doctors as well as experienced para medical staff. They use their own special medicines, classical medicines, and patent medications. The treatments use the Soukhyaveda method.
Hospital Address: P.O Puthiyavila, Velanchira, Kayamkulam, Kerala, 690531
Contact no: + 91 81292 25555, +91 479 243 1535
Email: [email protected]
Clinic Address: Dhathri ABS Wellness Clinic, 33/1882 A, Adappilly Road Vennala P.O,Near Ernakulam Medical Center, Ernakulam, Kerala, 682028,
Contact no: Â 0484-401 66 55, 9446323072
Email: [email protected]
Nagarjuna Ayurvedic Centre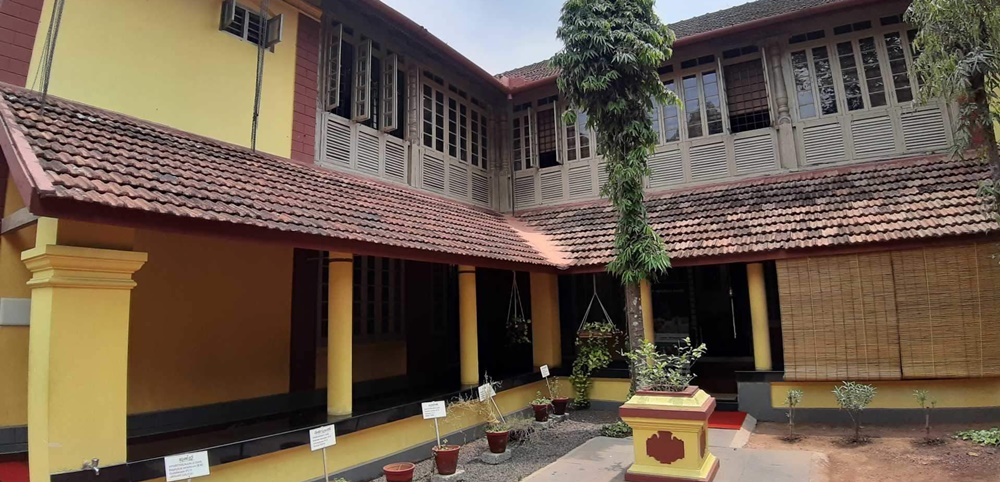 Pic Courtesy: Justdial
Nagarjuna's Ayurvedic Centre is near the Periyar river banks at Kalady in Kerala, giving a full scope of Ayurvedic Treatments carefully fitting in with the traditional practices. Kalady is thought to be the birthplace of the incomparable Indian Philosopher Sankaracharya and you can still feel the atmosphere of the past. The spot gives the right mood for a reasonable stay in cordiality with nature and is a civilization set apart from modern life. Set in the lap of picturesque nature, the centre offers peacefulness as well as holiness, imparting heavenly feelings in one's brain.
The encompassing panorama and the rooms with tasteful design and amenities encourage guests to rediscover life completely. Understanding the ethereal curative forces of Ayurveda, the centre is today a much sought after destination for individuals from the world over who look for a better lifestyle. Nagarjuna Ayurvedic Centre mixes profound ayurvedic bits of knowledge with traditional aptitudes to give a scope of cures based on preventive, therapeutic, restorative as well as immunization treatments.
Address:Â Nagarjuna Ayurveda Centre, Kalady Cochin, Kerala – 683 550
Contact no: +91 97475 53254, +91 484 2463350
Email: [email protected]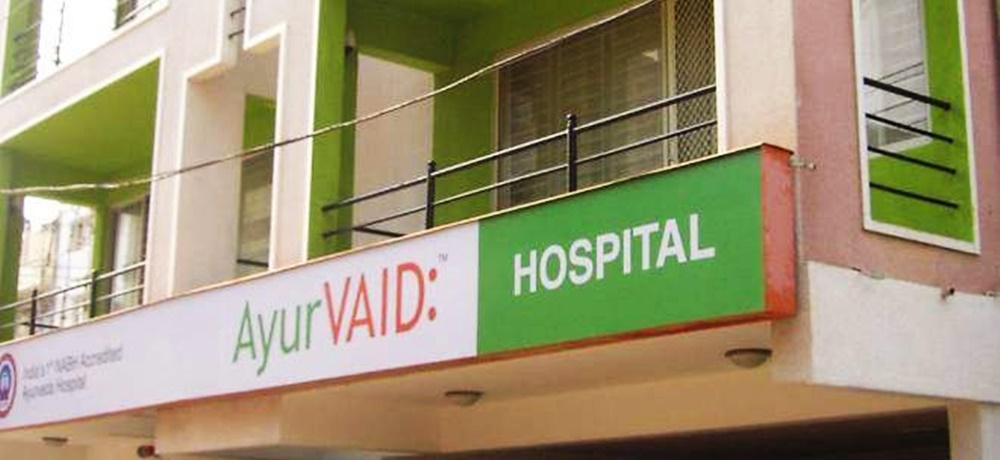 Pic Courtesy: Justdial
AyurVAID Hospitals is a new age hospital chain spearheading systematic, procedure as well as documentation driven old style Kerala Ayurveda restorative treatments that are properly and viably coordinated with modern medication.
The full scope of Ayurveda in-patient as well as out-patient therapeutic services is accessible at AyurVAID Hospitals. They aim to offer quality Kerala-Ayurveda medical care, especially for chronic illnesses.
Address:Â AyurVAID Hospitals, Kaveri, K.P.Vallon Road, Opp. Reliance Fresh Kadavanthara, Ernakulam – 682020, Kerala
Contact no: +91 484 2311399
Sreedhareeyam Ayurvedic Eye Hospital & Research Centre (P)Ltd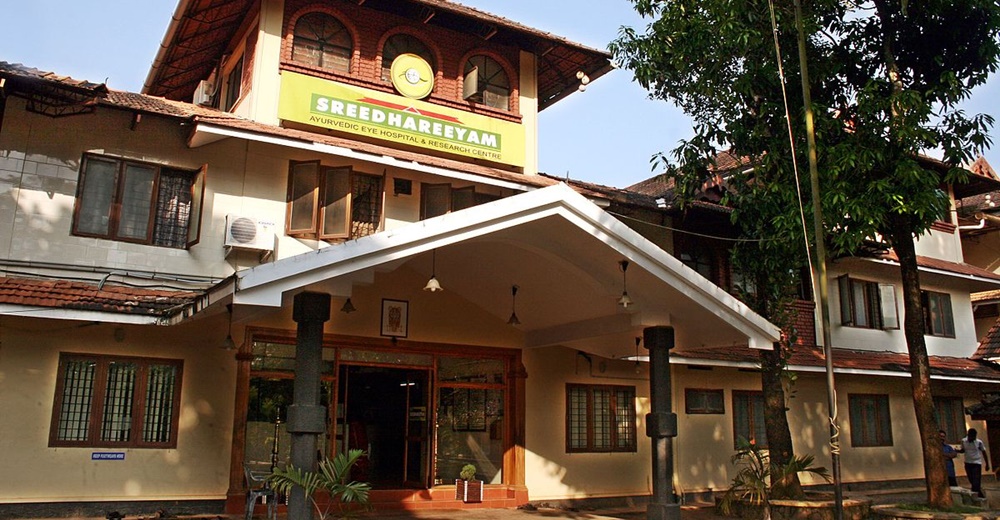 Image Source
It is the largest NABH certified Ayurveda hospital in India. Equipped with a traditional understanding of medicines, the hospital has a team of well qualified as well as knowledgeable physicians operating with a support of a team of research scholars and scientists. They aim to offer outstanding treatment as well as exceptional medical care.
They also want to make people healthy through authentic ayurvedic treatments for all kinds of eye diseases, most of which do not have any effective or sustainable treatment in modern medicine.
Address: Head Office: Nelliakkattu Mana Kizhakombu P O, Koothattukulam Ernakulam Dist, Kerala, 686 662
Contact no: +91 485 2253007 / +91 485 2276000
We hope this list of ayurvedic centres in Kerala will be helpful to you in case you, a family member or a friend needs good quality ayurvedic treatment. You can read another one of our blogs about why ayurvedic centres in Kerala are a great option and when is the best time to take the treatment.
(Visited 2,443 times, 2 visits today)