Many dread the summer as a season of scorching heat and awkward sweatiness. But for the cheerful, summer is a season of joy – the world looks brighter, colours are more vibrant and nature comes to life. It's that time of the year when the adventurous look at the sun, figuratively of course, and say "Come, get me!" And with summer arrives what every human, apart from a few specimens, is crazy about – Mangoes. Those juicy yellow balls of happiness make us the child we always wish we'd remain as. God knew so very well how to compensate for the heat and sweat, didn't he?
Apart from mangoes, what's special about summer is that it is vacation time. We grew up waiting for summers knowing it's going to relieve us from devilish books, knowing we could sleep late and get up later, knowing that Mama and Papa will take us somewhere beautiful. So summer will always have a special place in our hearts even if we're 80. Because c'mon, did any of us really grow up? Summer was, is and will always be vacation time. No wonder the urge to take a break from work intensifies by a thousand times during summer. But where will you go for a vacation?
Although India is one of the hotter places in the world, some of its regions take on exceptional beauty during the summer. A few of those regions belong to the charming state of Kerala. Many visit Kerala for a summer holiday and return with nothing but joyful memories. The misty weather of the hill stations, the water sport activities at the beaches and exotic summer resorts guarantee a memorable holiday experience. But you certainly must know what you can do in Kerala to make your summer holiday a success. Here is a list of top 5 things to do during your summer vacation in Kerala.
Stay at a summer resort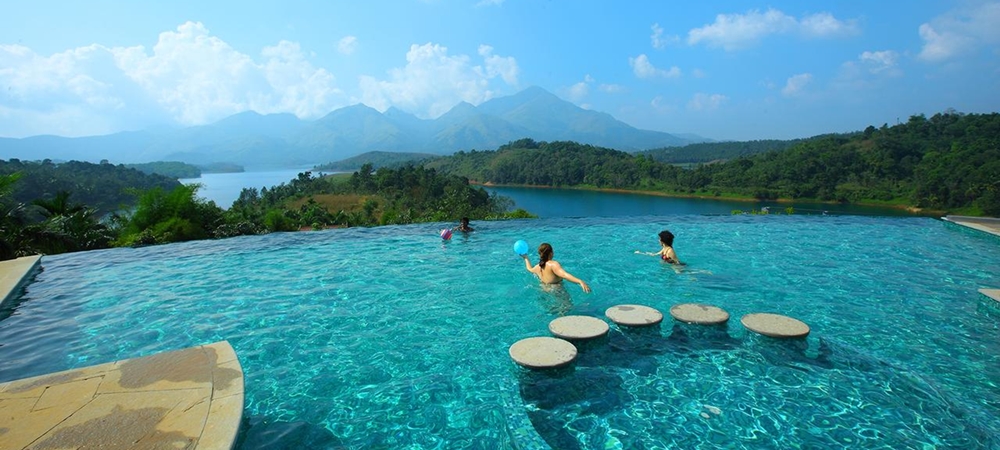 Because of a great inflow of travelers during summer, the state of Kerala is home to a number of exotic summer resorts. Each of these resorts feature spacious air-conditioned rooms, large sparkling pools as well as bars with cool and refreshing mocktails. The large French windows of the rooms offer shimmering views usually of lush greenery, serene water bodies or majestic hills. The pools are strategically placed so that you can appreciate a great view whilst enjoying a refreshing dip. The activities, both indoor and outdoor, will give you a chance to bring your childhood memories back to life, this time probably with your own kids. Some of the resorts even feature pool villas which take the experience to a whole new level.
See the best resorts in Kerala
Spend a day at the beach
Kerala beaches are anything but boring. Summers make them even more wonderful. If you feel like enjoying water sport activities like snorkelling or parasailing, you have the Kovalam and Varkala beaches. If you just prefer lazing on the sand and enjoying the magnificent view, there is the Marari Beach and the Kannur Beach. But if you wish to have a great summer holiday, we'd say you dive in and try the activities. It's time you let go of your fears if you have any. And we know you can; that's what summer does to you. Whether you want to go underwater or just have water splash at you, it's your choice. But do get some water on you; it's the best friend you can have during summer.
Click here to learn more about Kovalam Beach
Visit the hill station of Munnar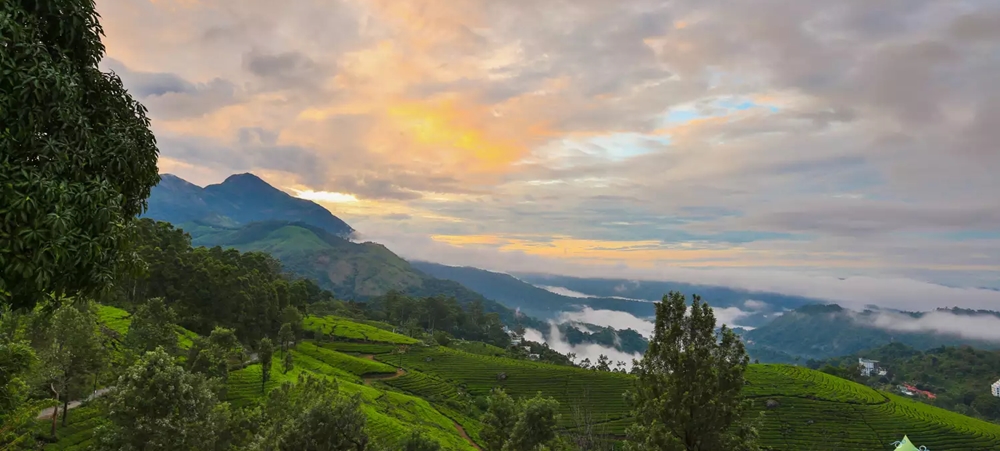 The picturesque hill station of Munnar gives you the perfect break from the summer heat. Mornings are still misty, clouds are just as friendly and tea gardens are drenched with dew as usual. Summer does nothing to raise the temperature of the place but the glistening sunshine does help in lighting it up. So the already magnificent views of tea plantations and lofty hills become even more glorious. You might even experience a slight drizzle during summer and if you do, consider yourself lucky.  It is nature's way of showing love. This might surprise you but it is during summer that most sightseeing can be done in Munnar. Stroll through the tea gardens, hike up the tallest hills, boat in the tranquil lakes and enjoy picnics against the backdrop of stately dams!
Click here to know more about Munnar
Take a backwater cruise through Alleppey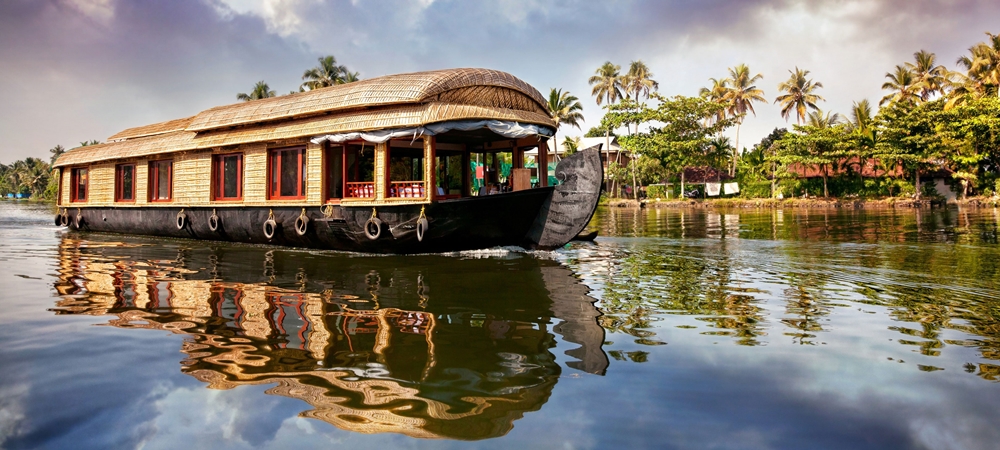 Pic Courtesy: Thrillophilia
The serene backwaters of Alleppey sparkle during the summer. You get clear views of the palm-fringed shores, the placid waters as well as the surrounding villages. They are so high definition that it feels like someone wiped your glasses really well. Apart from the crystal clear views, rowing a canoe or just enjoying a boat cruise is an experience to cherish during summer. The waters do a great deal to remove the sting of heat and make the atmosphere breezier than usual. And a houseboat cruise is just what your family would want. Since it has a roof, you don't have to worry much about the heat coming from top but you still enjoy the brilliant views. The air-conditioned rooms at the houseboat guarantee a good night sleep as well.
See how you can have an amazing backwater experience in Kerala
Visit the gorgeous view points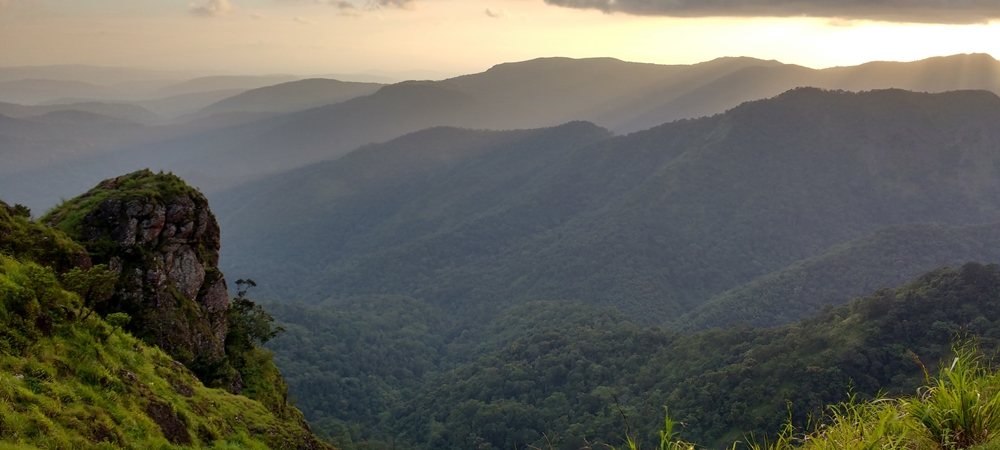 The entire state of Kerala is full of spectacular view points. Some of them are Echo Point (Munnar), Lockhart Gap (Munnar), Photo Point (Munnar), Pothamedu View Point (Munnar), Lakkidi View Point (Wayanad) and Nallamudi View Point (Valparai). Summers add a special charm to these view points because you actually get an obstructed view. Because of the bright environment, you can take some amazing pictures. It's a complete delight for photographers. A few photo fanatics visit Kerala during summer just to get the perfect shot at the view points.
Things to keep in mind before going on a summer vacation:
Carry a light hat and a pair of sunglasses for when you need them.
Always stay hydrated.
Wear light coloured cotton clothes.
Avoid peak afternoons for sightseeing.
(Visited 1,541 times, 1 visits today)