The month of November falls in the peak season for tourism in Kerala. The state has the most number of tourists during this season since most places in Kerala are open for visiting. The primary reason for this is its pleasant weather during the month. It is neither very hot nor very cold. And also, the monsoon is far gone; so the rains become infrequent. The average temperature during November is 270C. You can have the best experience of a Kerala holiday during your visit to God's own country during this season. So to make the most of your holiday, plan a visit this November.
Have a look at some specific benefits of visiting Kerala in November:
The weather in Kerala couldn't get any better
With the monsoon completely gone by November, the state does not experience heavy rainfall frequently. The rains are very rare. Even if they do occur, they are very mild. During the month of November, the weather is very pleasant. It is neither too cold nor too hot. So as you explore the various sightseeing attractions and exciting activities, you will not get tired very quickly. You can enjoy them to the full. And the nights have just the perfect temperature for a good night rest under a blanket.
All tourist attractions are open
During other times of the year, some tourist attractions may be closed because of inclement weather. At some places, there is a danger of landslides. At other places, there may be water clogging and the roads may be blocked. Because of such situations, many tourist spots are not recommended for visiting. It is either because they do not entertain visitors in the first place or because visiting them may not be ideal because they do not offer the best experience in those seasons. But that is not the case in November. Virtually every tourist attraction is open for visiting and each of them offers a worthwhile experience.
Trekking spots are open and offer an excellent experience
All trekking spots are open during the month of November. What makes trekking a must-try experience in November is the ideal weather. It is just perfect for trekking. You can really enjoy the views as you experience nature at its best. During the summer, trekking can be very tiring. And during the monsoon, the trails are slippery and the leeches can cause menace. But during November, the environment is ideal for trekking, offering the best experience imaginable.
Kerala in November – List of Best Places to Visit
Kerala's rich culture and tradition, extremely diverse topography and enthralling natural beauty make it a popular tourist destination. The states welcome visitors not only from other parts of India but also from all around the world. It finds a place among the top 100 holiday destinations in the world. It has rightfully earned the name "God's own country". When you visit the place, you will know why that name is no exaggeration.
Have a look at some of the best destinations to visit in Kerala
Cochin and Fort Cochin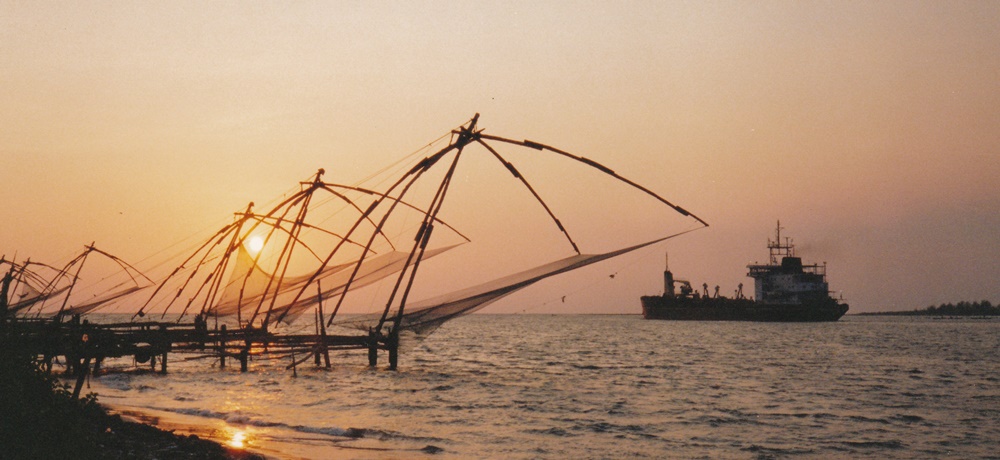 Image Source
Most Kerala tours begin and end in Cochin. Although Cochin is a modern city, its sightseeing attractions showcase great natural beauty and have historical significance. Very famous among the tourist attractions are the Jewish Synagogue and the Dutch Palace. All of the tourist attractions in Cochin are open for visiting during this season. So you have a wide variety of options to make a good itinerary.
Do not miss going to Fort Cochin during your visit. It features beautiful museums, palaces and buildings. Many travellers say that the best way to explore Fort Cochin is through a cycling tour.
The most famous attractions you can visit in Cochin are:
Santa Cruz Cathedral Basilica
Jew Town
Indo-Portuguese museum
Paradesi Synagogue
Mattancherry Palace
Tomb of Vasco-da-Gama
Activities to do in November: Since all the attractions are open for visiting, you can experience Cochin to full by visiting the museums, palaces and historic sites. Try the cycling tour of Fort Cochin if you are able to. Do not miss the Chinese Fishing Nets.
Munnar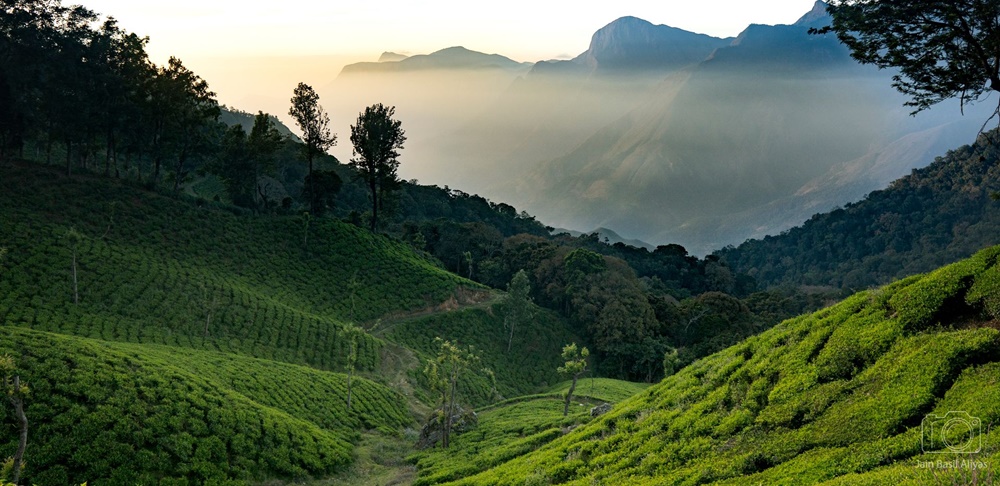 Image Source
The hill station of Munnar takes on a misty charm during the month of November. Walking through the tea gardens and driving on the winding roads will make you feel like you are amidst the clouds. The views are simply magnificent; you probably will not get such views in any other season. All attractions like lakes, dams, waterfalls, and viewpoints are open for visiting.
Look at some of the best locations to visit during your Munnar visit,
Top Station
Mattupetty Dam & Echo Point
Rajamala- Eravikulam National Park
Tea Plantations
Marayoor & Chinnar
Kundala Lake
Activities to do in November: We recommend you to try everything you possibly can. Visit the viewpoints, enjoy boating in the lakes and see the glory of the dams and waterfalls.
Thekkady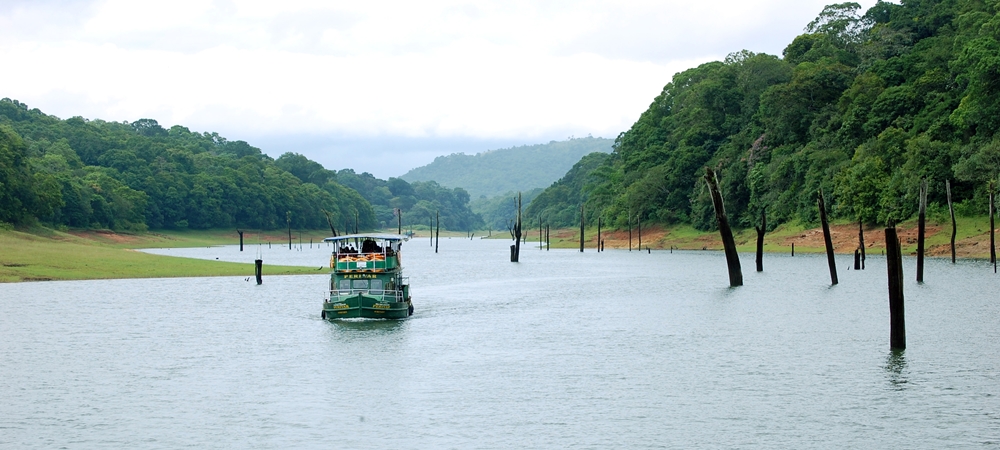 Image Source
Thekkady is a beautiful town famous for its aromatic spice gardens, serene lakes and wonderful wildlife. Periyar Lake is probably the most prominent attraction in the town. It offers a marvellous boating experience which allows you to absorb the beauty around you. The lake, forest and wildlife make for a spectacular environment. During the boat ride, you may see animals coming from the forest to sip water from the lake. It is an unforgettable sight.
Some of the best destinations to visit in Thekkady are:
Periyar National Park and Lake
Anakkara
Chellakovil Viewpoint
Vandiperiyar
Parauthumpara
Ramakkalmedu
Activities to plan in November:Â Boating at Periyar Lake is undoubtedly a must-try activity. You can never regret trying it. This season is also ideal for trying nature walks, trekking, camping and border hiking. There is no danger of leeches or slippery trails. The tiger trail at the Periyar Tiger Reserve is one activity you can try if you are an adventurer. Check out the full activity list at Thekkady here.
 Alleppey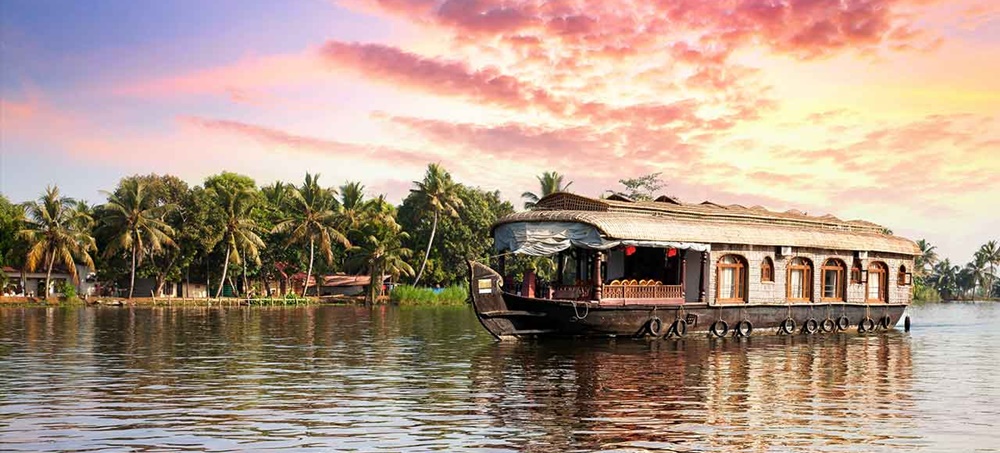 Pic Courtesy: MakeMyTrip
When you compare with other destinations in Kerala, Alleppey welcomes the most number of tourists. The pleasant weather during November adds to the beauty of the backwaters and the breezy palm trees. To get the best experience of the backwaters, you must certainly try the houseboat cruise. It is an experience of a lifetime.
Alleppey's best attractions are:
Alleppey Backwaters
Alleppey Beach
Marari Beach
Activities to plan in November: Houseboat cruise is the most popular activity in Alleppey. Your trip to Kerala will be incomplete if you don't try the houseboat cruise. But since the weather is extremely pleasant, you can even try canoeing or visiting the beach.
Kumarakom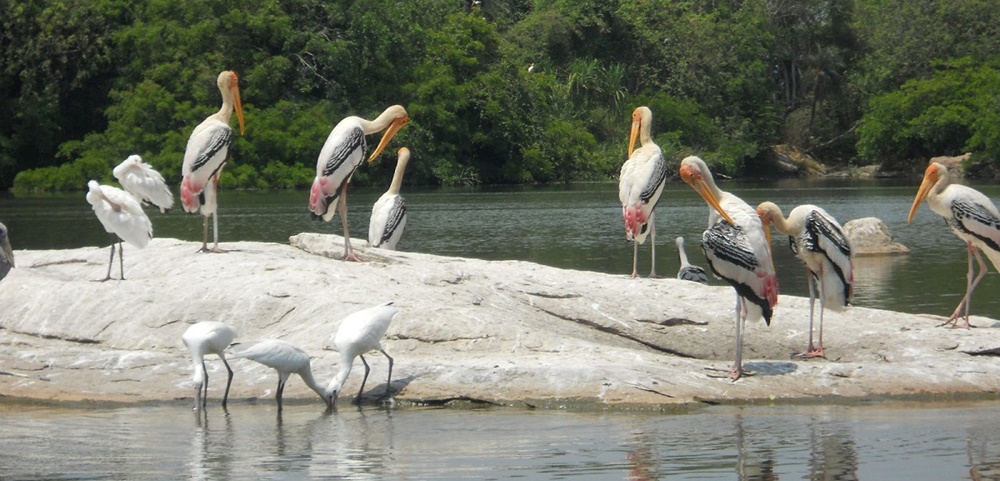 Image Source
The backwater village of Kumarakom is nothing less than a picturesque scenery nestling on the banks of the Vembanad Lake. The colourful houses and the lush greenery of Kumarakom make it very attractive. The village will give you an opportunity to experience the local life of Kerala as you interact with villagers, watch them go about their daily chores and enjoy the backwater cruises. The Kumarakom Bird Sanctuary is home to rare species of birds like wild ducks, herons, storks, etc.
Some of Kumarakom's best attractions are:
Kumarakom Backwaters
Kumarakom Bird Sanctuary
Vaikom Temple
Village Life
Paathiramanal Island
Activities to plan in November: Visit the bird sanctuary, enjoy backwater cruises and canoeing. Village walks and toddy shop visits will be a worthwhile experience too. The weather will suit each and every activity.
Wayanad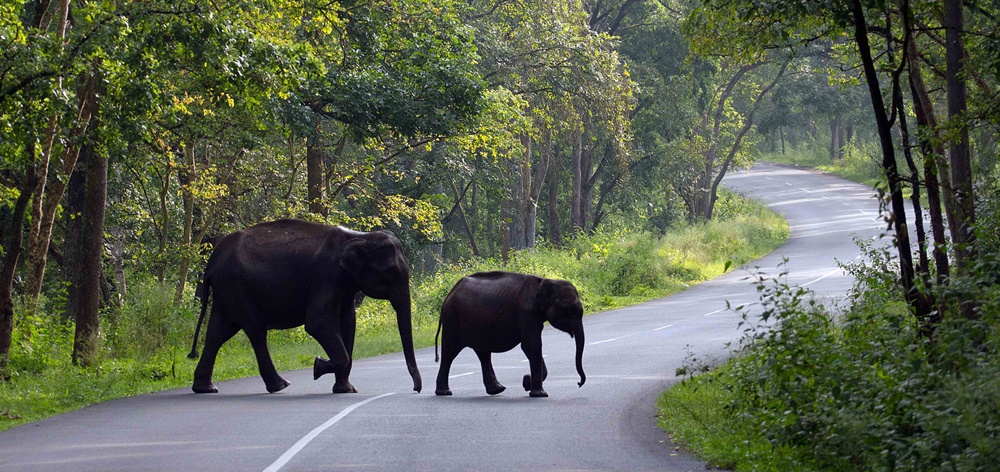 Image Source
Because of its raw natural beauty, Wayanad is one of the most unique hill stations not only in Kerala but also in the country. It has an amazing environment with winding roads, exotic wildlife, majestic hills and dense forests. A popular activity in Wayanad is trekking. And November is perfect for trekking. You come across spectacular views and challenging yet satisfying terrains during your trek in Wayanad.
Some of Wayanad's most exciting attractions are:
Banasura Sagar Dam
Kuruva Island
Chembra Peak
Edakkal Cave
Pookode lake
Muthanga Wildlife Sanctuary
Thirunelli Temple
Activities to plan in November: All the places you see above are worth visiting during your visit to Wayanad. But trekking is something you must definitely not miss. Try at least soft treks if you think the hard treks will be difficult for you.
Athirapally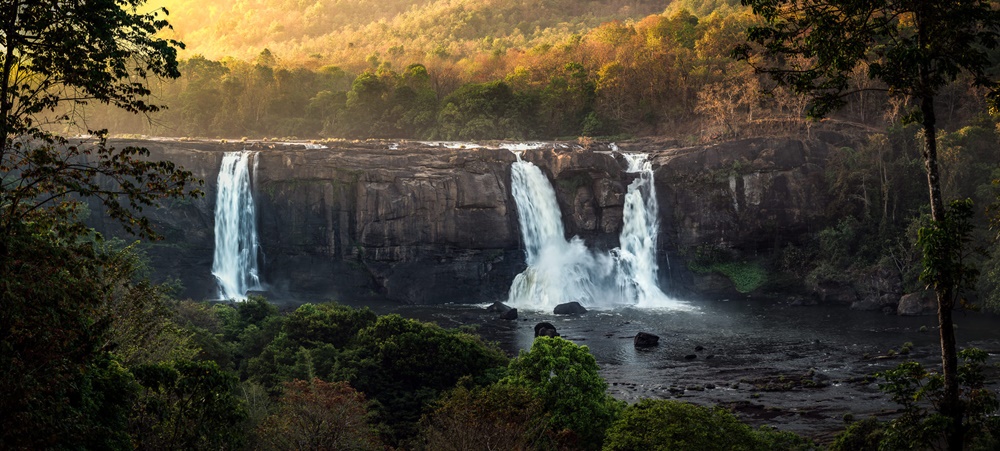 Image Source
Athirapally, home to the "Niagara Falls of Kerala", is one of the most majestic tourist destinations in Kerala. Although the falls are in full glory only during the monsoon season, visiting Athirapally in November is still a good idea. The falls are 80 feet high. Hearing the sound of the waterfall and feeling the cool spray in the area around can be such a pleasant experience.
Athirapally's major attractions are:
Athirapally Falls
Thumboormozhi Dam
Vazhachal Falls
Sholayar Dam
Activities to plan in November: Visit the waterfalls of Athirapally and take a camera along with you. While you're there, you will feel like you are in a movie. You can even visit the other falls and dams in the area.
Thiruvananthapuram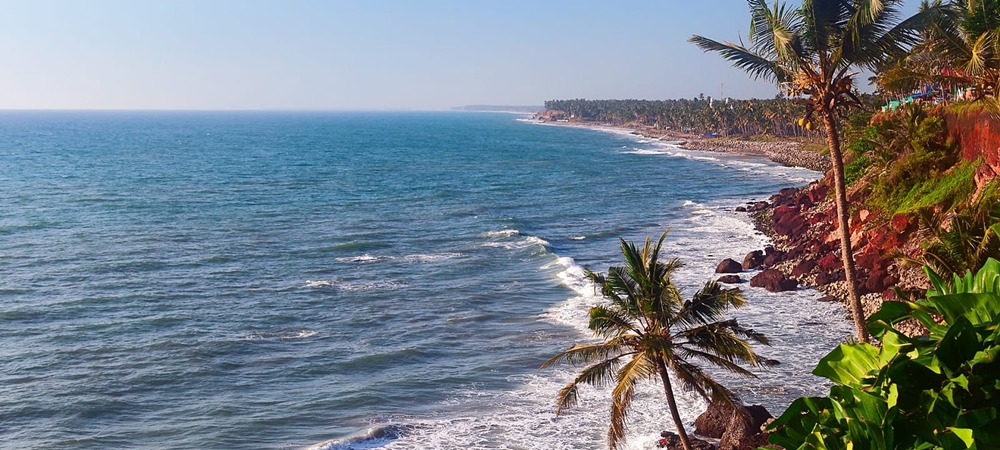 Pic Courtesy: Goibibo
The capital of Kerala, Thiruvananthapuram, is in the southernmost part of Kerala. It is famous for its heritage sites and beaches. Since it is well connected by road, rail, and air, the city is easily accessible. Tourists can see and experience the reminisce of Royal heritage of Travancore Kingdom and British colonial architecture. Kovalam and Varkala are two famous beaches in Kerala which attract tourist from all over the world. 
The top attractions in Thiruvananthapuram include:
Thiruvananthapuram City
Kovalam Beach
Varkala Beach
Poovar Beach
Ponamudi Hill Station
Sree Padmanabha Swami Temple
Agastyarkoodam Trekking
 Activities to plan in November: Since the weather will not be very hot, you will certainly enjoy the water sports activities and speed boating in Kovalam and Varkala beach. 
Kanyakumari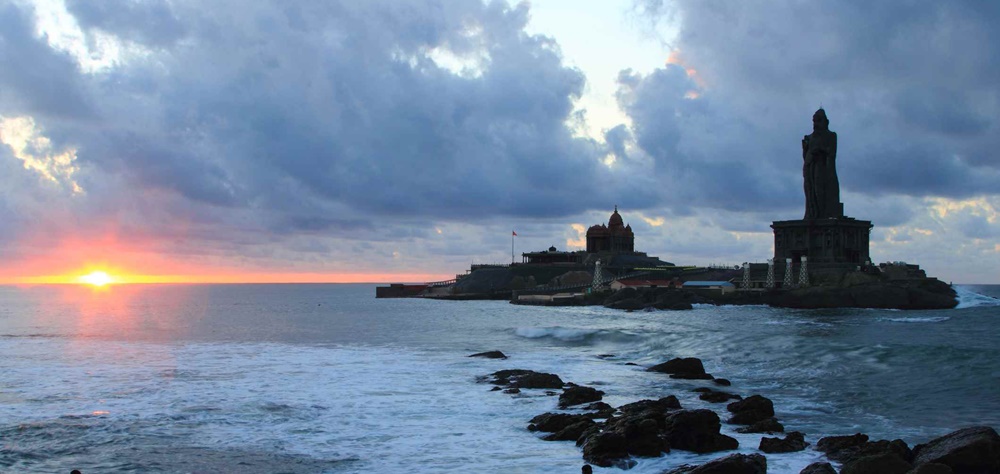 Pic Courtesy: TripSavvy
Kanyakumari is a beautiful town right at the tip of the Indian peninsula. It is the point where the Arabian Sea, Indian Ocean and Bay of Bengal merge together. The coastal destination welcomes visitors throughout the year.
There are plenty of attractions in Kanyakumari such as:
Thiruvalluvar Statue
Vivekananda Rock Memorial
Kanyakumari Devi Temple
Activities to plan in November: Plan visits to the top attractions, shopping for large shells, souvenirs, and collectables. Do not miss the spectacular sunset.
Kerala in November- Places NOT to Visit
Since the state of Kerala enjoys pleasant weather in the month of November, all tourist attractions are open for visiting. Also, the ideal weather makes your visit to these places very enjoyable. So you can visit any of the tourist destinations in Kerala without any issue. You do not have to avoid any destination.
Kerala in November- Top Activities to Do
The month of November, being neither too hot nor too cold is suitable for all kinds of activities in Kerala, Have a look at the most interesting activities you can enjoy during this month.
Houseboat Cruises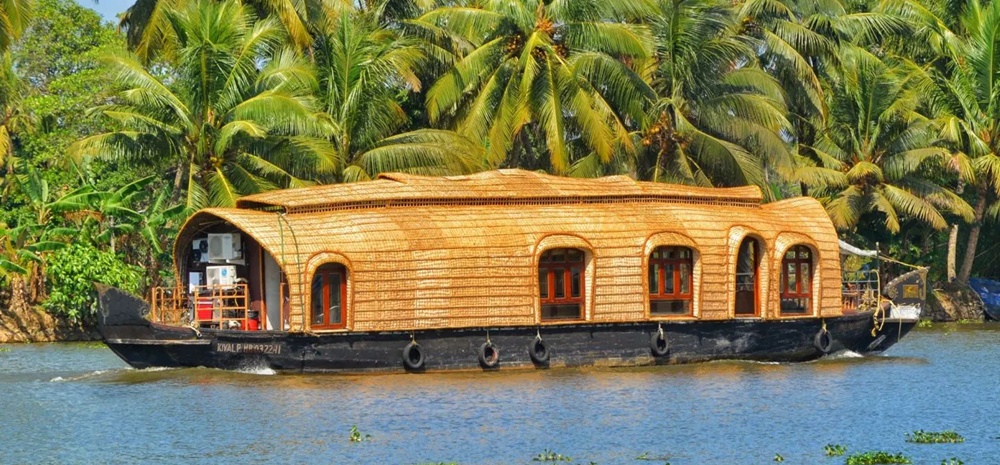 Image Source
Kerala's houseboats promise a great experience throughout the year. Because of the extremely pleasant weather conditions in the month of November, the houseboat cruise can be a memorable experience. The houseboat, cruising at a gentle pace, will offer scenic views all around. The houseboat usually had a traditional look but it features all the modern amenities inside. You will also enjoy the regular servings of food and snacks from the local Kerala cuisine.
The backwaters of Kerala offer two types of houseboat cruises to choose from. 1) 4-hour day cruise and 2) Overnight stay. You can also try canoeing and other backwater cruises. And since the weather will be pleasant, you will certainly enjoy these experiences.
The locations where you can get the best houseboat experiences in Kerala are,
Cultural Shows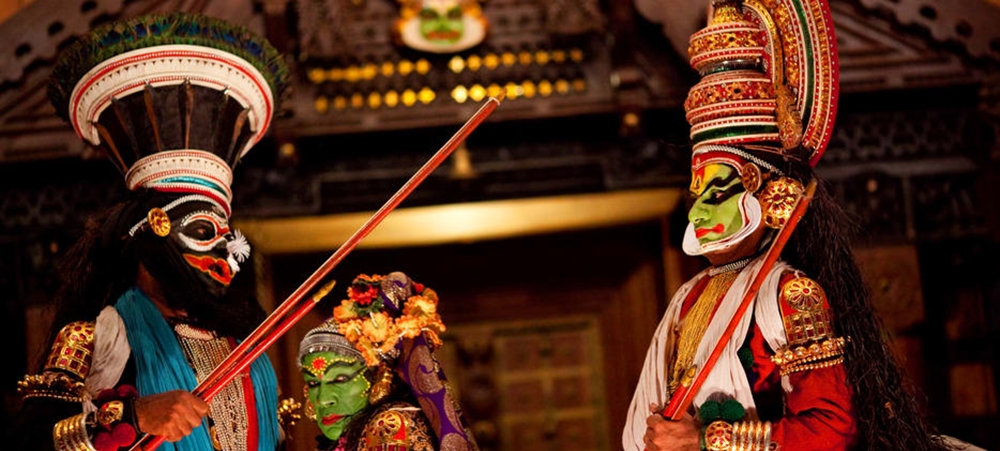 Pic Courtesy: Yatra
There are many cultural centres in the state of Kerala. They beautiful portray the culture and tradition of the state through dance forms, musical performances and dramatic plays. Kathakali and Mohiniyattom are two major dance forms in Kerala. Travellers can also enjoy watching Kalaripayattu – an ancient martial art form of Kerala. The show not only inform you of Kerala's culture but they also entertain you. A cultural show in Kerala may last for one hour and at some cultural centres, it may be for two hours.
Some famous cultural centres in Kerala are:
Punarjani Traditional Village
Cochin Cultural Center
Greenix Village
Mudra Cultural Center
Ayurveda Experiences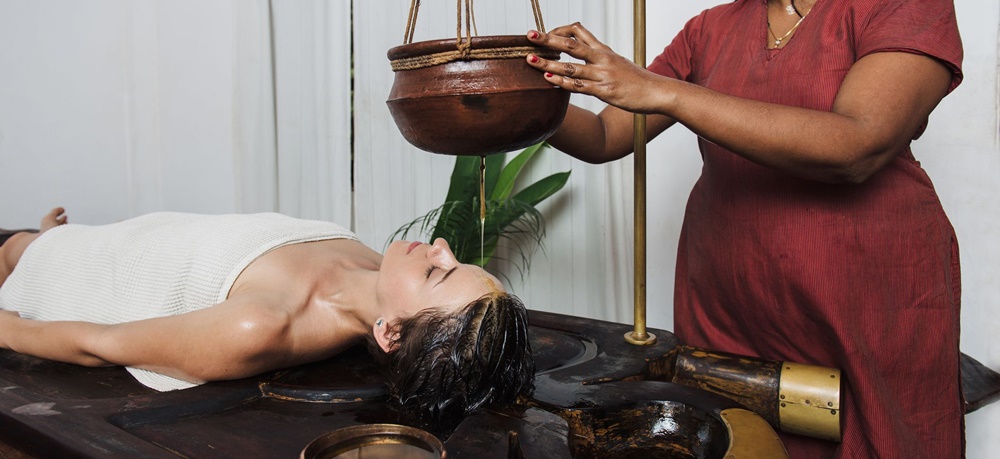 Pic Courtesy: TripSavvy
Many foreigners visit the land of Kerala to experience the healing of Ayurveda. The ayurvedic treatments use organic medicine and they follow unique methods. The treatments truly work. Many who experience Ayurveda will tell you why it is better than other types of medical treatments. Interestingly, Ayurveda does not just solve health issues but it also improves general health and rejuvenates and detoxifies the body. So you can certainly experience the rejuvenating effects of Ayurveda even if you do not have a specific health issue.
Some of the significant Ayurveda wellness centres of Kerala are located at
Alleppey
Cochin
Kottakkal
Thiruvananthapuram
Palakkad
Cooking Classes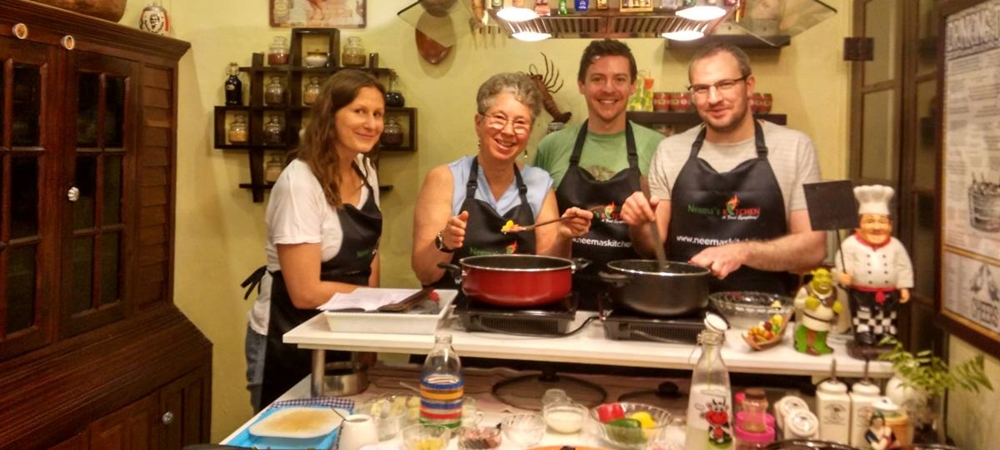 The Kerala cuisine, rich in spices and flavours, is a delight to tourists. If you would like to learn to cook some of the famous delicacies from the cuisine, you can attend a cooking class. At these class, you will see the preparation of delicacies along with a clear explanation of the ingredients and the method of preparation. In the end, you will also be served the food that was prepared.
Take a look at some of the best cooking classes in Kerala
Waterfall Visits

Although the waterfalls are in their full glory only during the peak monsoon season, a visit to them during the month of November will not disappoint you. The atmosphere is pleasant and the view of the falls along with the cool spray makes for a pleasant experience. And since the waterfalls are not in full force, you can get really close to them and take good pictures. Be careful, however, because some areas can be slippery.
The most famous waterfalls in Kerala are
Athirapally Waterfalls
Attukal Waterfalls
Soochipara Waterfalls
Vazhachal Falls
Chinnakanal Waterfalls
Cheeyappara Waterfalls
Wildlife Sanctuaries and Experiences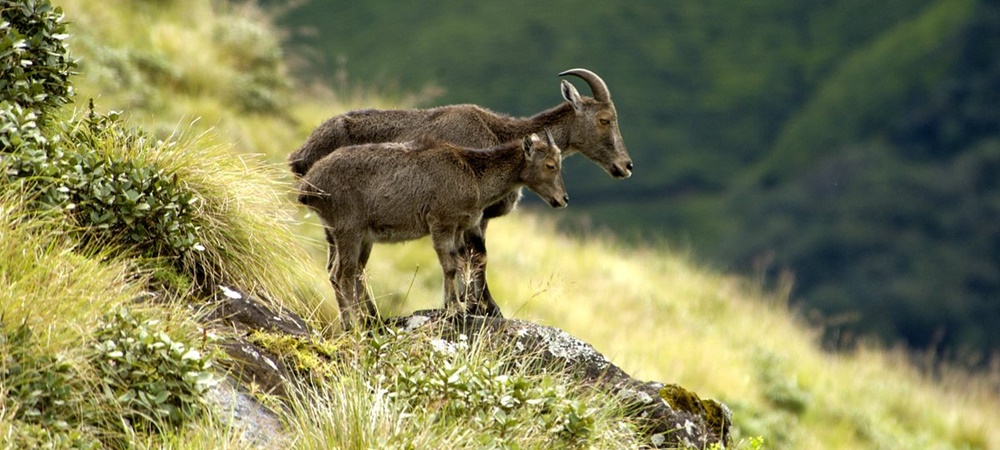 Image Source
All wildlife sanctuaries in Kerala are solely located in the Western Ghats. UNESCO, the UN's cultural agency, has added the Western Ghats of India to its list of World Heritage Sites. The Western Ghats is ranked 8th among the world's hottest biodiversity hotspots. The pleasant weather conditions of November create an ideal environment for visitors to experience the rich flora and fauna offered by the Western Ghats in Kerala.
Some of the most prominent Wildlife Sanctuaries in Kerala are,
Neyyar Wildlife Sanctuary
Eravikulam National Park
Aanamdui Shola National Park
Periyar Tiger reserve
Parambikulam Wildlife Sanctuary
Silent Valley National Park
Thattekkad Bird Sanctuary
Chinnar Wildlife Sanctuary
Muthanga Wildlife Sanctuary
Tholpetty Wildlife Sanctuary
Water Sports and Beach Experiences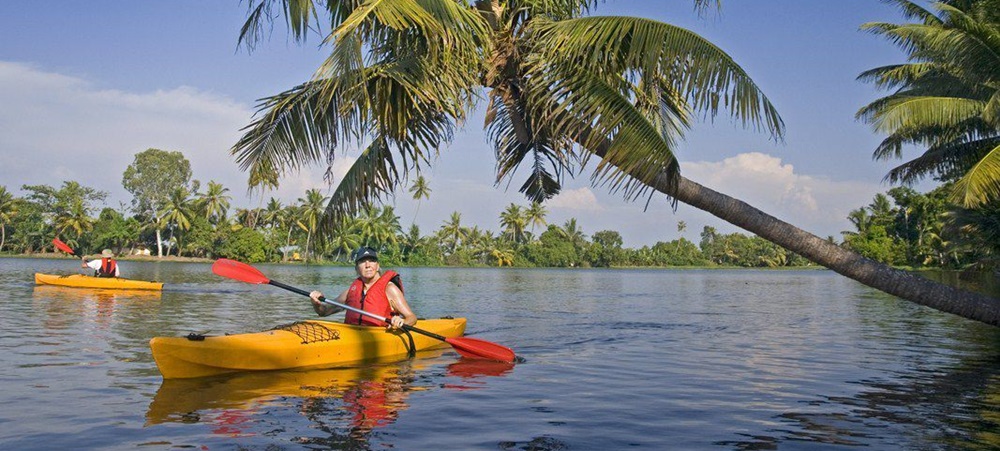 Image Source
The state of Kerala features several long beaches and each of these beaches is unique in its own way. So Kerala is a perfect destination for beach lovers. The month of November provides a pleasant environment so that visitors can completely enjoy the water sport activities at the beaches.
Best Place for Beach Activities in Kerala,
Varkala
Kovalam
Marari
Cherai
Fort Cochin
Kannur
Calicut
Village Walks and Local Life Experiences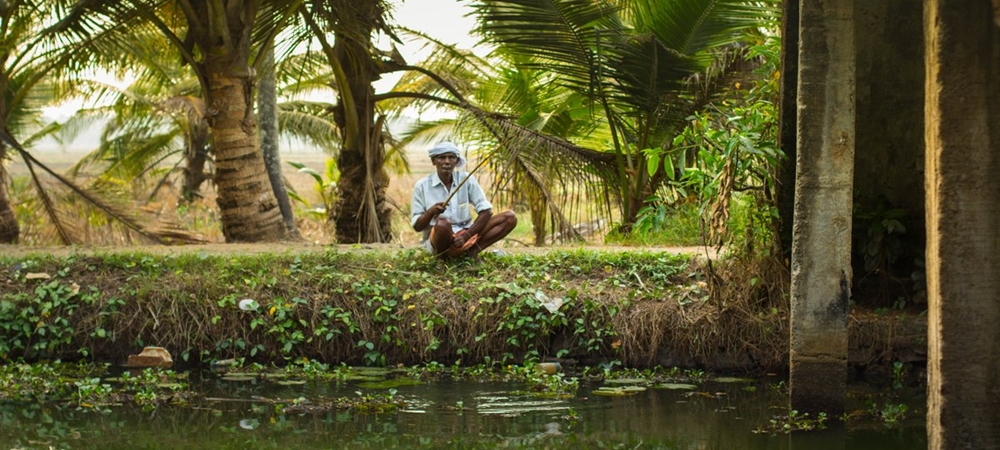 Image Source
Kerala's villages are the home of great artisans, weavers, and local craftsmen. If you are interested in experiencing the real local life of Kerala, you should find time in your itinerary to go for a stroll through the beautiful countryside of Kerala. Due to the pleasant weather in November, this month is the best time for village walks.
The most sought-after places in Kerala for village walks are, 
Kumarakom
Alleppey
Munroe Island
Fort Cochin
Photographic Walks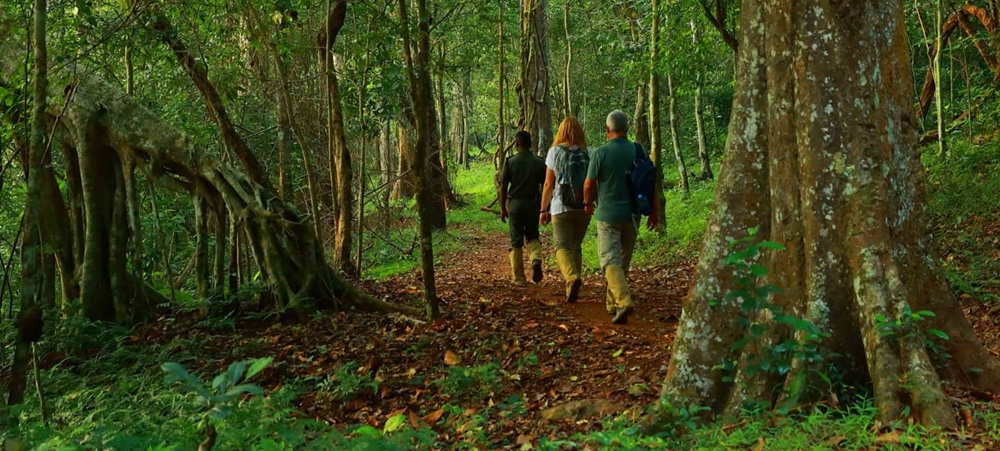 Pic Courtesy: Thekkady Tours
God's Own Country, Kerala is a photographer's delight. The photographs shot of Kerala's panoramic locales is listed among the best ones in the world including the Nat Geo Magazines. You can walk around the country and shoot brilliant photographs of your favourite locales. The month of November, being neither too bright nor too gloomy will offer good lighting for photographs.
Kerala in November – Activities to be avoided
Like we mentioned earlier, the pleasant weather during the month of November allows you to enjoy all types of activities in Kerala. So there is no activity which you specifically need to avoid in November. The only thing to keep in mind is that since November falls in the peak season for tourism, some activities may have long queues at entry. Many places will have much crowd.
Major Events and Festivals in November
Kerala Piravi
November 1 – Kerala Piravi marks the birth of the state of Kerala in India. The Kerala State was created on 1st Nov 1956,  after 9 years of the Independence of India. Before this, it was three major provinces namely Travancore, Kochin and Malabar.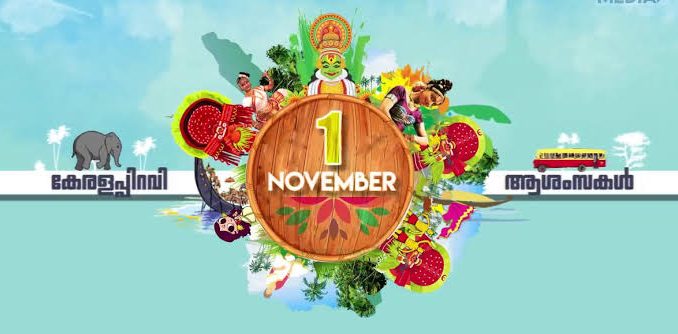 Although there are no prominent public celebrations, the state govt used to conduct several cultural and art programs in the capital state of Thiruvanthapuram.
Ashtami at Vaikom Temple
The Vaikom Mahadeva temple is to one among the most popular Shiva temple in southern India. This temple is located at a scenic place called Vaikom in  Kottayam district.  Vaikkathappan is the name given Lord Shiva at Vikom Temple by the devotees. The twelve-day annual celebration which falls in November/ December (Malayalam month of Vrischikam) is called as Vaikathashtami. This is arguably the most popular festival in Kottayam district.
What to Wear in November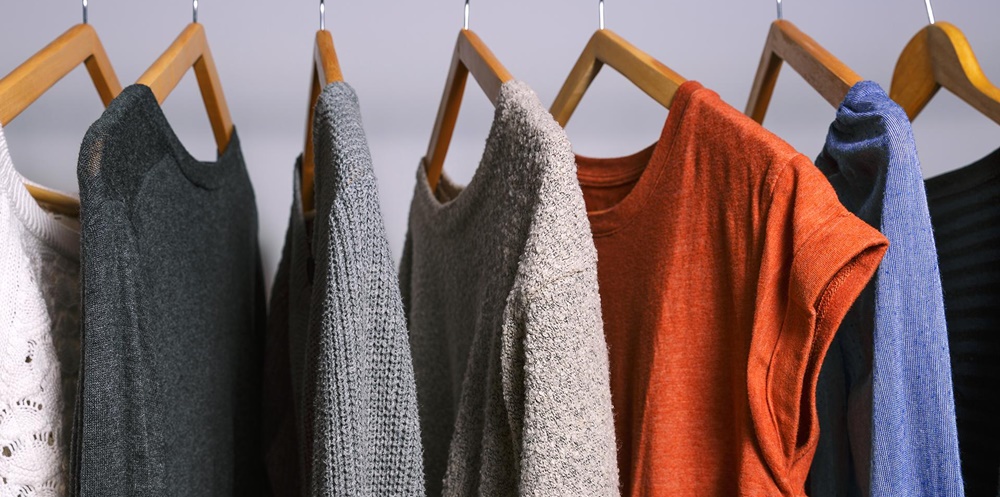 Image Source
Since the weather is extremely pleasant in November, you can wear tees and jeans or shirts of any material. Feel free to carry comfortable wear such as shorts or Capris for your tour. Women can also wear tees, frocks, dungarees, pants, and tops as per their comfort and convenience. While heading for hill-stations, you can carry some woollen clothes or a jacket. You would not need to carry hats, umbrella or sunscreen lotions during your tour in November.
Weather Conditions in November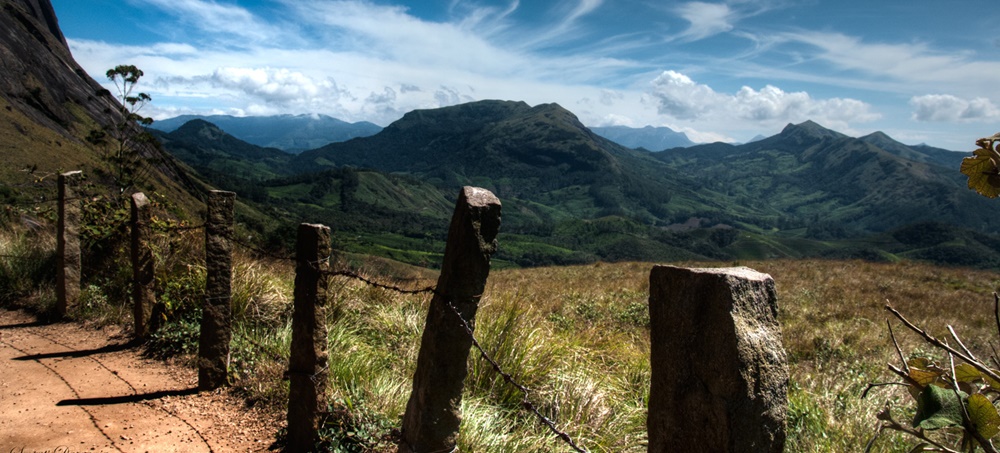 Pic Courtesy: SreeTours
During November, the weather conditions in Kerala are pleasant. The temperature is neither hot nor very cold. The humidity level will also be at a manageable limit. Generally, there are very few chances for rain during this season. The average temperature in Kerala during November is 27 C.
Pros in visiting in November
During the month of November, Kerala enjoys perfect weather conditions for a satisfying holiday experience. The weather is not too hot nor too cold. So you can enjoy sightseeing and activities without feeling tired very quickly. Also, the rains are very rare during this month. Even if it does rain, the rains are not very heavy. So the rain will not play spoilsport during your sightseeing. And because of the good weather, all tourist attractions are open as well as safe to visit. You can enjoy every type of activity during the month of November.
Cons in visiting in November
You must keep in mind that November falls during the peak season for tourism in Kerala. And because of this, the number of tourists visiting Kerala is more. So many tourist attractions and activities will have more crow than usual. Planning in advance becomes very important. You must carefully consider which places you would like to visit and what would be a good time to visit them so that you can avoid too much crowd. Another disadvantage of visiting during the peak season is that the tariff of hotels and resorts is higher than normal. Booking in advance may help to get the best price even during this season.
Planning Kerala Tour in November- Suggestions & Tips
Start planning your trip early
Do your research and find the best local tour operator / Travel Agent
Book the hotels, houseboats and desired room type in advance
Book your desired activities online or seek help from the operator
Ask the operator to reserve an experienced package handling professional chauffeur
Visit Kerala in November to get the best experience of tourist attractions and activities. You will simply enjoy the weather. Remember that since it is the peak season, there will be more crowd than usual. And also, the hotel tariff will be higher than normal. So you must plan your trip in advance. I hope this blog helped you to get an overall view of Kerala in November so that you can plan your trip well. Also, please share this blog with friends who are planning to visit Kerala this November! Enjoy travelling!
(Visited 572 times, 1 visits today)