Kerala's picturesque backwaters are famous across the world. Whether it's Alleppey, Kumarakom or other destinations, the backwaters are always on the 'must visit' list of the travellers. But most people associate backwaters with a houseboat ride only and don't look beyond. Interestingly, equally interesting experience to explore Kerala's backwater channels, lagoons, lakes is by a local Canoe or a Kayak. The rising demand for Canoeing and Kayaking among nature and village life-loving travellers is evident by a huge surge in travel operators offering these activities in the past few years. So what is it that these activities offer? Let's look at it.
Why Canoe or Kayak?
Canoeing and Kayaking offer you a high degree of mobility; it's altogether a different point of view. You get to explore those narrow channels where other conventional boats cannot even think of going. So, it offers you a heart-stopping exhilaration which is closer to nature, in total peace and serenity. You can catch a glimpse of a fisherman' daily chores, children rushing to school, people transporting their commodities, women washing clothes, the fish catch of the day or the other aspects of the village life- everything unfolds before your eyes.
Apart from the above, Canoeing and Kayaking offers you some key health benefits also. Since this is a low impact activity, it doesn't require any high level of physical endurance. It can bolster your aerobic fitness by improving your cardiovascular fitness and muscle strength, particularly in the back, arms, shoulder and chest, from moving the paddle. You also stand a chance to improve your leg and torso strength. By applying pressure to your legs and rotating your torso, you derive the strength to power a canoe or kayak. For people who value fitness, this is an enthralling and stimulating travel activity.
Check out the best options to explore the backwaters of Kerala!
Where to go?
While this activity is offered in many places, but Alleppey, Kumarakom and Kollam are the top 3 places where you have the best facilities to enjoy it.
Are you confused about selecting among Alleppey Vs Kumarakom?
Kumarakom
The neatly lined swaying coconut palms, lush paddy fields and slow village life makes Kumarakom, a tiny hamlet on the western banks of Vembanad Lake, a surreal place for Canoeing and Kayaking. Kumarakom is home to many exotic birds, and a moring canoe rise with a pair of binoculars will be a 'must-do thing' for the bird watches exploring Kerala.
Plunge Adventures
Image Source:Plunge Adventures
They have reliable Kayaking tours on the inland channels of Meenachil River. They offer two packages- Sunrise (starting at 7 am) and Sunset (starting at 4 pm). The nature tours are of approximately 2 and a half hour, and you cover a distance of 8 km.  The packages are priced at an affordable cost of INR 1500 per person only, and there's also an option to add a meal to it. For INR 300 extra, you can add a traditional Kerala Style Homemade Breakfast to your Sunrise tour while for INR 400 extra; you can add a traditional Kerala Style Homemade Lunch or Dinner to your Sunset tour.
For more information, check out their website.
Canoe Kerala Day Tours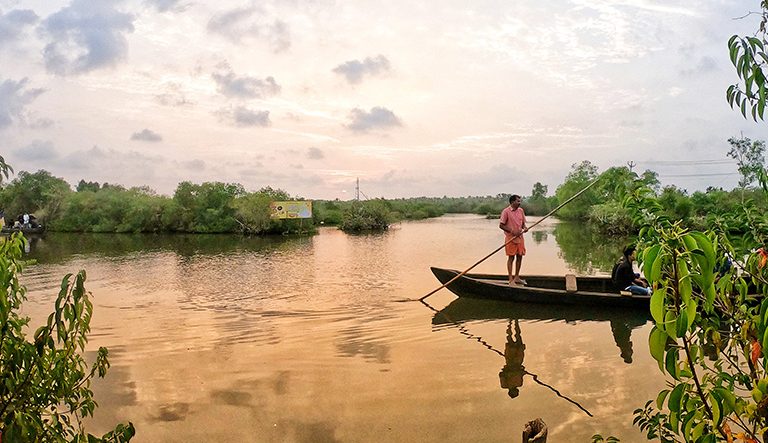 Image Source: Canoe Kerala
Canoe Kerala have more authentic and immersive packages on offer. They offer 3-hour rides through captivating canals in a motorised or local canoe. The different packages they offere are Sunrise, Sunset, Lunch and Combo cruise. Their check-in point is at Cheepunkal Bridge- Kumarakom.
Details of the Packages
The Sunrise package starts at 6 am and includes a Typical Kerala style breakfast, Black Tea/ Coffee with cookies and complimentary water bottle. Apart from the scenic beauty, this package also offers you an opportunity to watch toddy tapping. The price for this is INR 1400 per person.
The Sunset package starts at 6 pm and includes Hot Tea with Kerala snacks and complimentary water bottle. Apart from the mesmerising scenes, this package also offers you an opportunity for the village life and fly fishing experience.  A tuk-tuk ride to a nearby temple is also included in the package. The price for this is INR 1500 per person.
The sumptuous 4 hour Lunch cruise is something noteworthy here. It can be your perfect opportunity to spoil yourself in the lap of nature while coasting along your Shikkara and being served a delectable lunch.  Indulge in mouth-watering Keralite cuisine served on a banana leaf, just like it used to be in the grand old days. The duration of this package is from 11 am to 2 pm and you need not to worry about the heat as the Shikkara is fitted with a canopy at the top. You'll get the welcome with tender coconut water upon arrival, and there's also an option for visiting the local toddy shop as well. At INR 1750 per person, this is undoubtedly a value-for-money deal.
Canoe Kerala also offers a Full Day Canoe-Shikkara combo cruise, from 6 am to 3 pm which includes a typical Kerala Style Breakfast and Lunch. In this package, the Kerala Style traditional lunch is arranged from a backwater side restaurant.
For more information, checkout the website of Canoe Kerala
Alleppey
Kayaking and Canoeing are the most charismatic way of exploring the backwaters of Alleppey. It wouldn't take you long to understand the joy of simple living of the village life here. The fascinating network of narrow canals, lakes and rivers offers you some of the most captivating views of life in Kuttanad, the rice bowl of Kerala.
Kerala Kayaking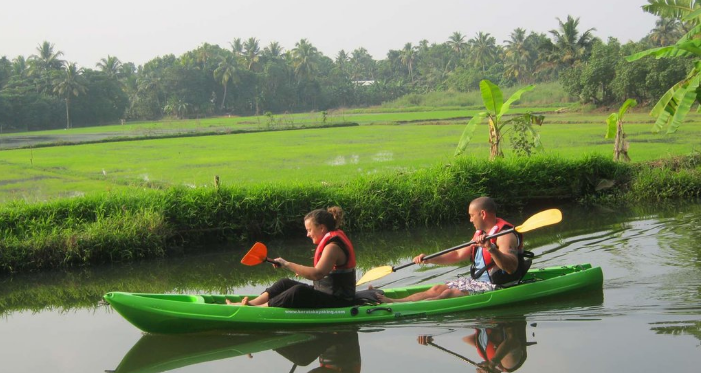 Image Source: Kerala Kayaking
They have three different Kayaking packages- 4 hours Morning, 7 hours daily and 10 hours daily tours. Â The 4-hour tour starts at 06:30 am and begins at Thottathodu bridge. This tour includes breakfasts, tea, juice and coconut water. Also, it is not fully paddling tour; you can paddle in narrow canals, and for the rest of the time you can sit on the support boat. The 7-hour tour starts at 11:30 am and has lunch, toddy shop visit, Village walk and swimming excursions in addition to the above. The 10-hour tour begins at 06:30 am and is a more extensive package which covers a more significant distance and has Breakfast and Lunch to it, apart from the above. You also get a chance to interact with villagers and visit an island on this tour.
For more information, check out their website
Oscar Cruise
Oscar Cruise offers both Kayaking and Canoeing, among their many options. They are very popular in the region and also provide Car Hire services. They have Kayaking tour from 06:30 am (includes breakfast), 10:30 am (includes lunch) and 02:30 pm (includes evening snacks) apart from the Day tour from 11:30 am. Oscar Crusie operate Canoeing tours at the same time, except the day tour which starts at 08:30 am. They have eco-friendly boats and are an excellent option to try out.
For more information, check out their website
Paddy Land Tours
Paddy Land ToursPaddy Land Tours have a variety of Kayaking and Canoeing options which are well supplemented by knowledgeable guides. For the convenience of tourists, they offer free pickup from the hotel within 5 km.
Their sunrise tour starts at 7 am and sunset tour starts at 2:30 pm apart from the One day tour in which a larger area is covered. Breakfast and Lunch are also included in the packages. One thing that makes Paddy Land Tours, different from the rest, is that they also offer an Overnight trip. It consists of a guided morning tour for 4 hours and then check-in to a local village house for the Lunch and the stay. You also have the chance to Kayak in the afternoon and evening hours in nearby canals after which you come back to your village house for dinner. Your breakfast will also be served here in the morning after which you shall take the ferry back to Alleppey. This is a beautiful way to live and experience the local village life.
For more information, check out their website
Kollam
Breathtakingly sandwiched between the mighty Arabian Sea on one side and the scenic Paravur Lake and Ithikkara River on another, Kollam will cast an impressive spell of magic all over you. What you can expect is unadulterated experiences at Kollam, whose pristine beauty has been well appreciated by legendary explorers like Marco Polo and Ibn Battuta.
Syzygy Ecoports
If you happen to be passionate Kayaking enthusiasts, then look no further. Unlike other tour operators, Syzygy Ecosports is a full-working paddle sports centre specialised in Kayaking. They have world-class equipment's including some of the Kayaking accessories imported from Europe. With a team of dedicated and qualified personnel, Kayaking with them would be fun yet safe. Their squad includes PADI certified professional diver and trainer with a certificate in Diploma in Sports Coaching from Sports Authority of India and a founder who himself is a pro at Kayaking. The man happens to be the only Indian to have kayaked 100 km in a day and is among established paddlers in India. The best thing about them is that they have a plethora of types of boats available with them.
For more information, check out their website
Munroe Island Backwater Canoe Tours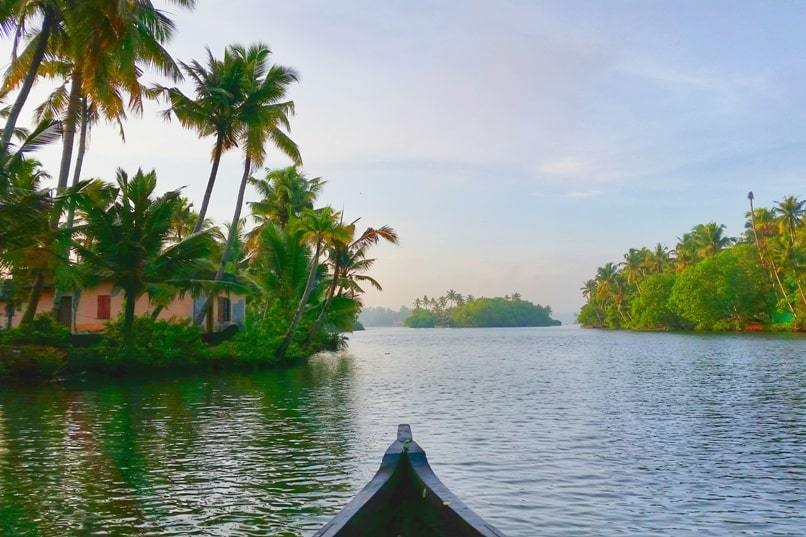 Image Source: Flashpackingkerala
A startup by a native Keralite, this tour offers you to visit the secluded Munroe Island. You can opt for the Morning tour, around 9-10 am or take the afternoon tour at 3 pm. They have 4 Punt type wide body canoes, and each boat can accommodate six passengers. Other long tours and customised packages are available on request.
For more information, check out their website
From the above list, if you ask me to select the best canoe experience, I would recommend Canoe Kerala at Kumarakom and Munroe Island Backwater Canoe Tours at Kollam.
Safety Tips before you hit the water:
Learn the correct way of paddling from your guide before starting on your own.

Identify the nearest location of the First Aid Kit.

Always wear a safety jacket and helmet (in case of Kayaking)

Some of the waterways in Kerala are narrow and full of aquatic plants. Seek local knowledge in knowing about the potential hazards in the proposed navigation channel.

Apart from checking Weather conditions, you may need to consider other factors like air and water temperatures, currents, tides and waves etc.

Going solo is adventurous but try to go with at least another partner. If possible, do inform others where you intend to paddle and when you expect to be back.

Dress for the conditions aptly. On a sunny day, apply 30+ SPF sunscreen to all higher exposed areas of skin.

Have plenty of water to avoid dehydration.

Before stepping in, check if all of your equipment is in good order.
(Visited 2,405 times, 1 visits today)