In the month of March, the state of Kerala starts to get really hot. Many choose not to visit the place during this time thinking that the weather is not suitable for a holiday. But if you choose the right places to visit and the right activities to take part in, then you can still have a satisfying experience. Also, travellers need to take the necessary precautions while visiting Kerala in March so that the heat does not affect them too much. This blog has all the information you need to help you plan your visit in March. First, let us look at some specific benefits of visiting Kerala in March:
â–ª Â Â  Opportunity to experience the land's culture and tradition
During March, the state of Kerala has several festivals. One thing you need to know about Kerala festivals is that they are very vibrant and colourful. They have processions, elaborate meals and many other traditions. Interestingly, tourists can take part in these customs and practices. You will enjoy experiencing these things if you visit Kerala in March.
▪    Pleasant weather in the hill stations
It is common knowledge that Kerala is home to beautiful hill stations with Munnar being the most famous. The weather here is not as hot as it is in other places of Kerala. It is very pleasant. In fact, the sunshine beautifies the hill stations even more. The tea gardens and lake shimmer and you get crystal clear view from the many viewpoints in these hill stations.
▪   Cheap tariff at hotels and resorts
Since March does not fall in the peak season for tourism in Kerala, the tariff of the hotels and resorts are quite low. So you can enjoy modern amenities and luxury facilities at a reasonable cost. If you choose a pool villa or a resort with a pool, wouldn't that be perfect for a summer vacation? You can get them for a very good deal. Because of this very reason, many visit Kerala during the month of March
Kerala in March- List of Best Places to Visit
Kerala is one of the 100 most beautiful holiday destinations in the world according to Nat Geo Magazine. And it truly deserves a place in that list. The small strip of land on the west coast of India has a culture so rich and topography is so diverse that it can captivate any traveller. When you tour the land, you will know why the locals call Kerala "God's Own Country".
Here are some of the best destinations to visit in Kerala
Cochin and Fort Cochin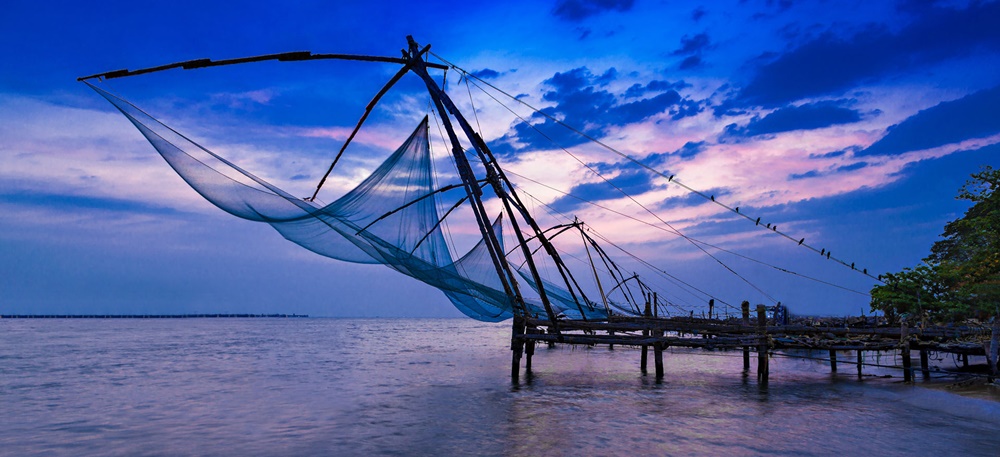 Image Source
Cochin is one of the most significant cities in the state. It has many sightseeing attractions that you can visit. But the heat can make it a bit exhausting. You can choose one or two indoor sightseeing options from the list of attractions that we have mentioned below. Cochin also has multi-cuisine restaurants, cultural centres, shopping malls, multiplexes and fast-food joints. Fort Cochin is an interesting place close to the city.
Some of the best attractions you can visit in Cochin are:
Indo-Portuguese museum
Fort Cochin Beach
Cherai Beach
Paradesi Synagogue
Santa Cruz Cathedral Basilica
Jew Town
Mattancherry Palace
Tomb of Vasco-da-Gama
Activities to do in March: Plan to visit the malls in Cochin, especially the Lulu Mall, to escape the heat. Another thing we would recommend is to visit the Chinese Fishing Nets during the sunset. It is a pleasant experience. You can also experience Kerala culture and traditional at the cultural centres in Cochin. Watch a cultural show in the evening. It is usually an hour long. Since the weather is pretty hot, plan more of indoor activities than outdoor ones. Try to avoid places where you have to walk a lot under the sun. You can enjoy outdoor activities if you visit them early in the morning or in the evening.
Some more about – Wonderla Cochin, Thattekkad Bird Sanctuary.
Munnar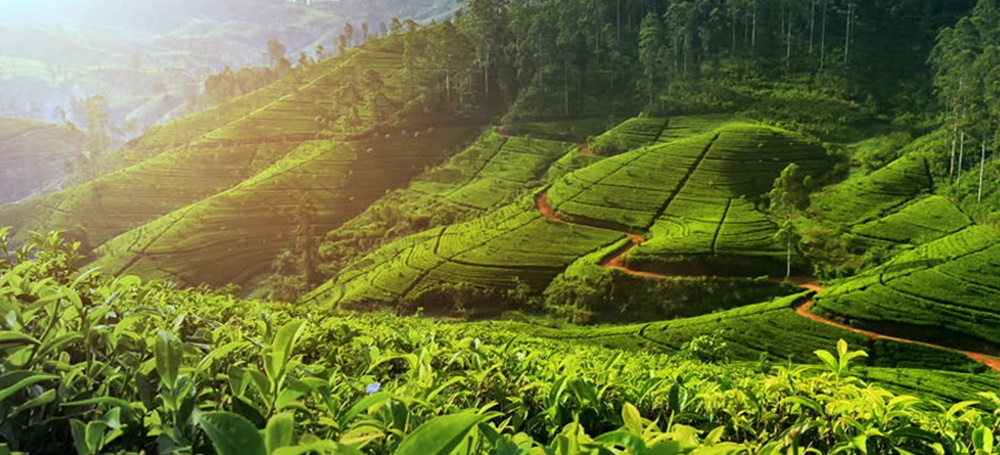 Pic Courtesy: KeralaHoneymoonTours
The hill station of Munnar has perfect weather conditions in the month of March, both during daytime and nighttime. The sunshine adds a shimmering look to the mountain slopes, tea plantations, lakes and dams. So the place does not just feel beautiful but also looks beautiful. You can see crystal clear views from the many viewpoints. At other times of the year, these views aren't very clear because of the clouds of the mist.
Here are some top locations to visit during your Munnar visit,
Tea Plantations
Mattupetty Dam & Echo Point
Rajamala- Eravikulam National Park
Marayoor & Chinnar
Top Station
Activities to do in March:Â  You can explore the hill station completely and visit all its tourist spots since the weather is ideal. We recommend you to visit the viewpoints, boat in the lake near the Mattupetty Dam and camp at Top Station. Please note that the Eravikulam National Park is closed during the month of March.
 Thekkady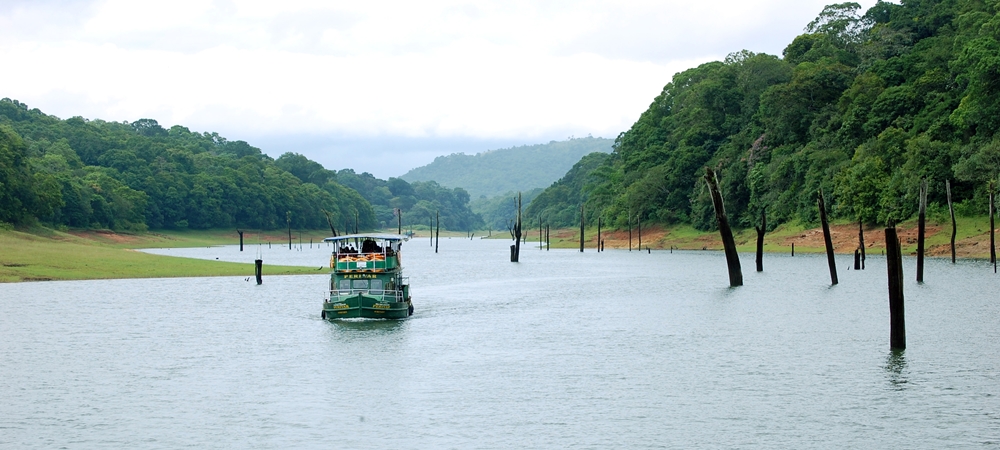 Image Source
Thekkady, one of the most popular destinations in Kerala, has great natural beauty. It features aromatic spice plantations, beautiful wildlife and serene lakes. The Periyar National Park in Thekkady is home to a rich variety of flora as well as fauna. You can spot a tiger in this park if you are very lucky. Almost all travellers visiting Thekkady try boating in the Periyar Lake. It is a great experience because of the spectacular panoramic views as well as the opportunity to spot wildlife.
Have a look at some of the best destinations to visit in Thekkady.
Periyar National Park and lake
Vandiperiyar
Anakkara
Chellakovil Viewpoint
Parauthumpara
Ramakkalmedu
Activities to plan in March: A great idea would be to visit Ramakkalmedu and Paruthumpara since they will have relatively pleasant weather conditions. You can also visit the famous Periyar Lake. It has options for bamboo rafting as well as boating. We wouldn't recommend bamboo rafting in the heat but you can certainly try the boat ride. The boat has a roof; so do not have to worry about the sun. Although Thekkady is famous nature walks, camping or border hiking, the month of March is not an ideal time for these activities because of the heat and the chance of forest fires.
 Alleppey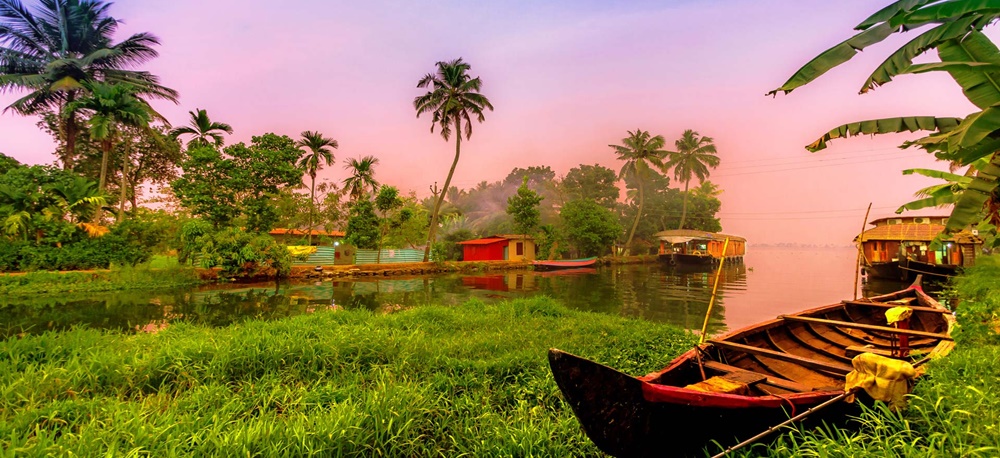 Image Source
Alleppey is the most visited destination in the state of Kerala Kerala. The serene backwaters and the lush green surroundings make the place exquisitely beautiful. To have a premium experience of the backwaters, Alleppey offers houseboat cruises all through the year. A houseboat cruise is undoubtedly an experience that you will remember for a lifetime.
Alleppey's best attractions are:
Alleppey Backwaters
Alleppey Beach
Marari Beach
Activities to plan in March: It probably goes without saying that the Houseboat cruise in Alleppey is a must-try experience. Try and stay overnight in the houseboat. But remember that the weather is quite hot. So choose AC houseboats only. In the backwaters, you can also try canoe rides and shikkara cruises. But we recommend them only during early mornings or evenings.
Kumarakom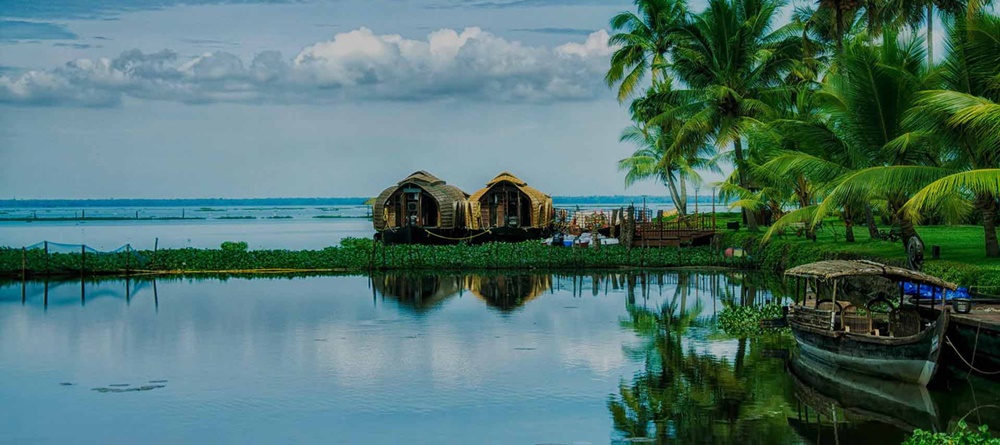 Image Source
Kumarakom is a purely scenic village located on the banks of the scenic Vembanad Lake. It is known to have an amazing village life. You will be pleased to see the quaint homes and the raw greenery and to hear the chirping of many delightful birds. Since the backwaters in Kumarakom has narrow canals, a canoe ride would be a wonderful experience. You can explore the backwaters and the villages to the full-on a canoe. Kumarakom is also home to a vast bird sanctuary with many rare birds like wild ducks, herons, Siberian storks etc.
Kumarakom's best attractions include:
Kumarakom Backwaters
Kumarakom Bird Sanctuary
Paathiramanal Island
Vaikom Temple
Village Life
Activities to plan in March: Enjoy houseboats cruises, but prefer AC houseboats because the weather will be hot. You can also enjoy bird watching, canoe rides, village walks, and toddy shop visits. But go for these activities early in the morning or during the evening.
Wayanad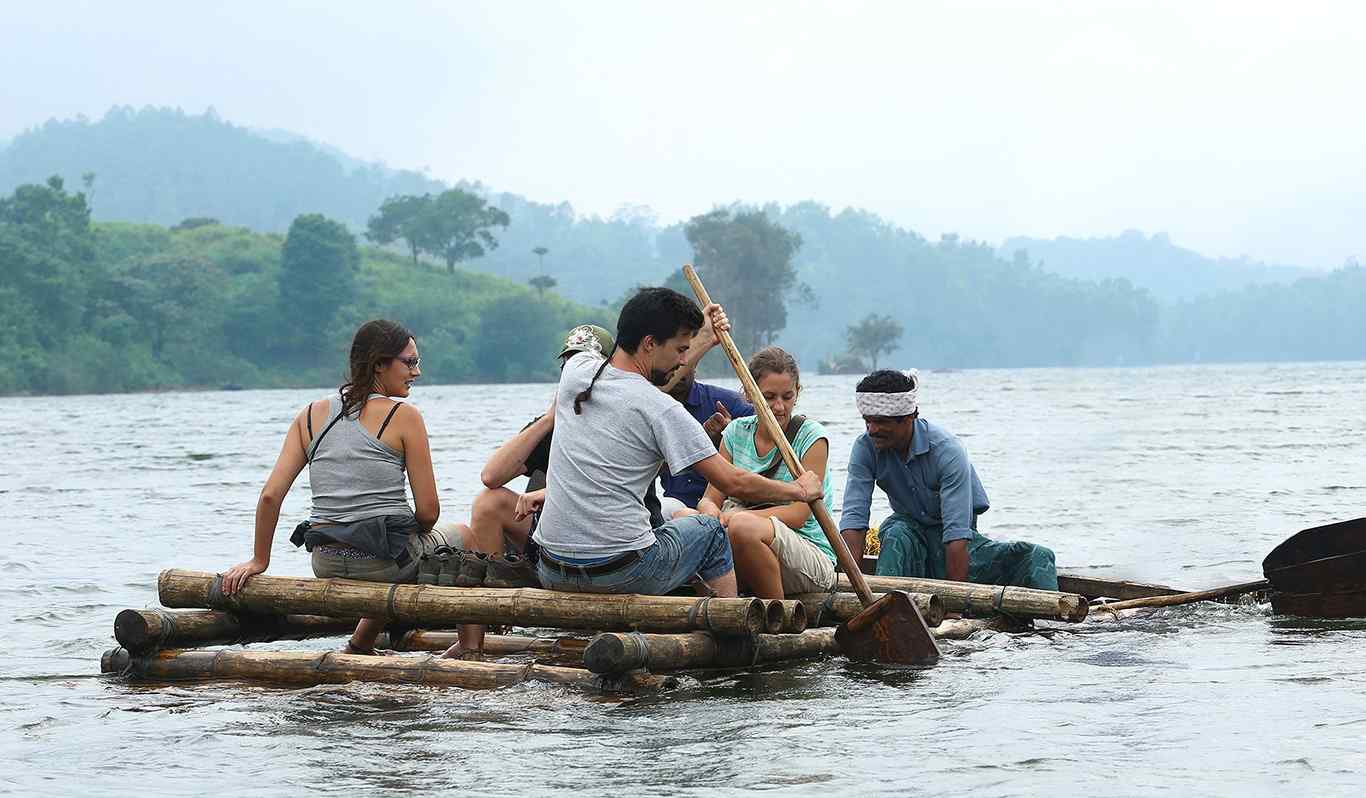 Image Courtesy: Sharoy Resort
Known for its raw natural beauty, majestic peaks and winding roads, the hill station of Wayanad is located in the Western Ghats. As you explore the hill station, you will come across waterfalls and plantations. Driving through the hill station is a unique experience in itself.
Wayanad's most beautiful attractions include:
Banasura Sagar Dam
Chembra Peak
Edakkal Cave
Kuruva Island
Pookode lake
Muthanga Wildlife Sanctuary
Activities to plan in March: You can plan visits to the caves. It would be great if you can visit the Banasura Dam and Pookot lake early in the morning or during the evening. But trekking and other adventure activities are not advisable in the month of March.
Kerala in March- Places NOT to Visit
Since the weather is pretty hot in the month of March, there are some destinations that do not offer the best experience. For example, the Kovalam Beach and the Varkala Beach, which are usually great, become too hot for visiting during this time. But if you are a beach person, then you can try visiting them early morning or during sunset. Also, none of the waterfalls may be worth visiting because they are anyways going to be dry. But if you are someone who loves waterfalls, then the Athirappally falls is the best option.
Eravikulam National Park is closed from the end of January up until April since it is the calving season for Nilgiri Tahr. So you need to find out from your tour operator or travel agent about the reopening dates.
Kerala in March- Top Activities to Do
Since the month of March will be quite hot in Kerala, you need to carefully plan out the activities you would like to take part in. If you choose the right activities, your holiday will be an amazing experience. Here are some of the best activities you can enjoy in Kerala in March.
Houseboat Cruises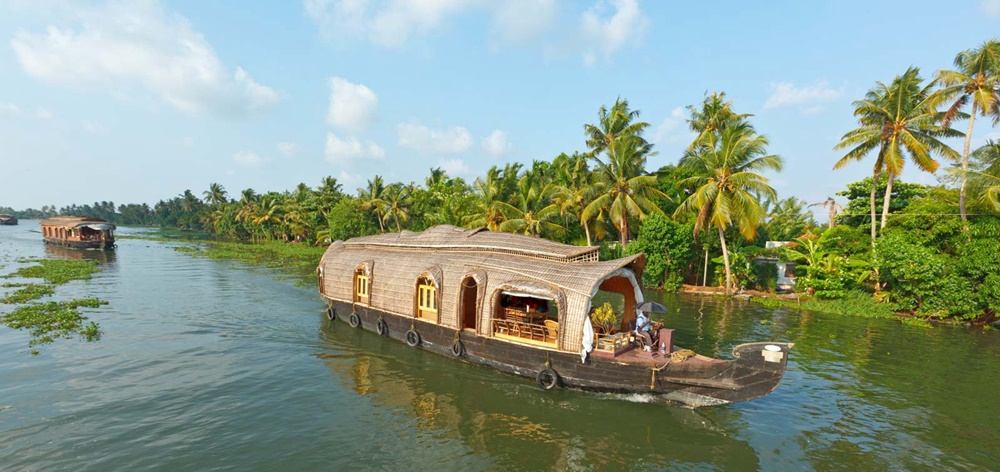 Kerala's serene backwaters are an important feature of the land's topography. When you go for a houseboat cruise, you will get a rich experience of the backwaters. The exquisite views, the delightful chirping of the birds and the luxury of a houseboat make for a memorable experience.
But remember that since March is a hot month, you need to take an AC houseboat especially if you are planning an overnight cruise. Otherwise, the humidity can be frustrating and the whole experience will turn out to be a forgettable one.
Also, note that Kerala backwaters offer opportunities for canoeing but the heat during March can kill the canoeing experience. But if you are an adventurer, we would still recommend the canoe ride.
The locations where you can get the best houseboat experiences in Kerala are,
Village Walks and Local Life Experiences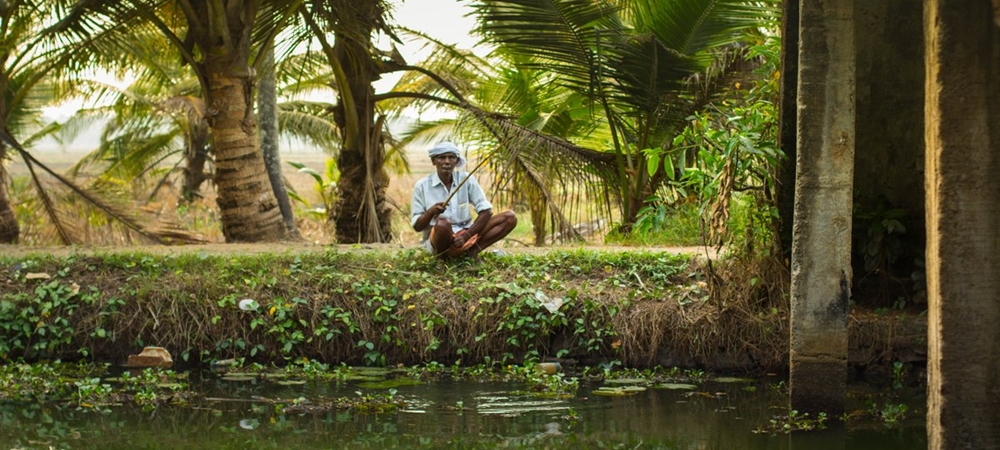 Image Source
A village walk in Kerala will give you an up-close-and-personal experience with the villagers. It is a humbling experience to observe their simple lifestyle and the joy with which they go about their daily chores. You will be thrilled to also observe the amazing skills they possess. Interacting with the villagers, visiting their homes and appreciating the raw natural beauty around makes the village walk a truly worthwhile experience. Although the month of March will be hot, a village walk is still worth a try because you are always having some of the other greenery around you.
The most sought-after places in Kerala for village walks are, 
Kumarakom
Alleppey
Munroe Island
Fort Cochin
Cultural Shows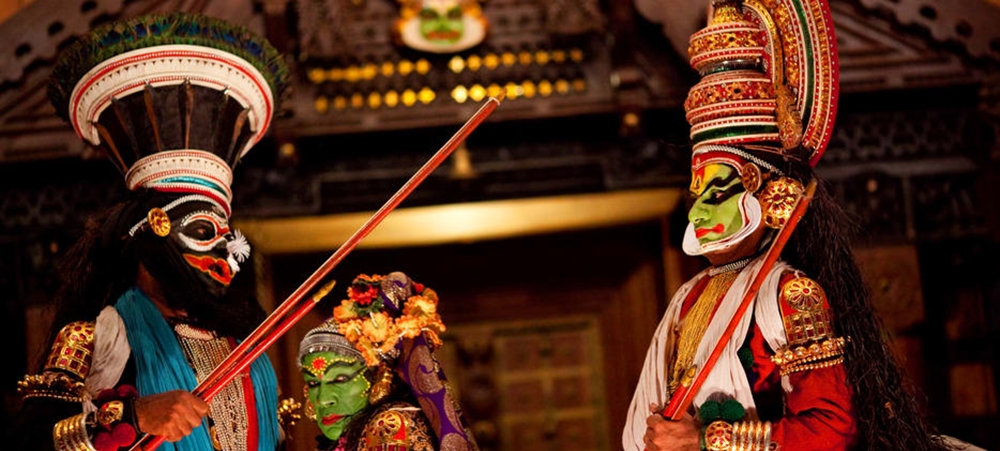 Pic Courtesy: Yatra
Since the month of March is not very suitable for outdoor sightseeing, you can enjoy cultural shows which are always held indoors. Kerala is home to a number of cultural centres. all of which do their best in exhibiting Kerala's culture. Through music, dance, drama and other performances, they showcase how colourful and rich the culture of Kerala is. Among the many performances, dance forms like Kathakali and Mohiniyattom are most famous. You might also enjoy watching the thrilling Kalaripayattu show. Kalaripayattu is an ancient martial art form which had its origin in Kerala. A typical cultural show in Kerala is one or two hours long. They not only inform you about Kerala culture but are also a treat to the eyes. Please note that during the month of March, Kerala has many festivals. You can take part in some of the customs.
Some of the most prominent cultural centres in Kerala are
Punarjani Traditional Village
Cochin Cultural Center
Greenix Village
Mudra Cultural Center
Cooking Classes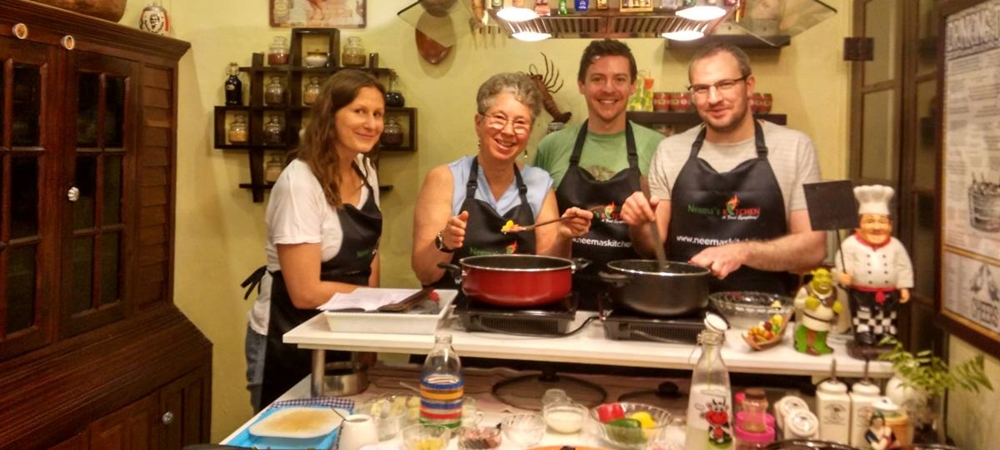 Kerala food is known to have a lot of variety and to be rich in flavours. What else can you expect since the land has a rich growth of spices? Many tourists, both local and foreign, fall in love with the food and become curious about the recipe. Cooking classes are of great help to such travellers. At these classes, you can watch the preparation of Kerala dishes and get a clear explanation of the ingredients as well as the method of preparation. The class ends with the students relishing all the dishes. The whole experience is engaging.
Take a look at some of the best cooking classes in Kerala
Kerala in March- Activities to be avoided
There are quite a few activities that you need to avoid in March because the heat can be bad. Long Treks can be exhausting. Camping in the forest or trekking in the forest will be a bad idea since there are chances of forest fires. And locals say that human interference is the very reason for forest fires. The beaches can be especially humid during the day. There are high chances of sunburn at the beach. You cannot enjoy the beach activities to the full because of the heat. But in case you are a beach lover, you can visit the beach early in the morning or during sunset.
Also, March is not a good time for Ayurveda as the heat will do nothing good for the therapies. And finally, you do not have to waste time visiting waterfalls since they will be dry anyway. But if you are crazy about waterfalls, then we would recommend the Athirapally waterfalls. It has water flowing all through the year. Please note the Eravikulam National Park is closed.
Major Events and Festivals in March
Attukal Ponkala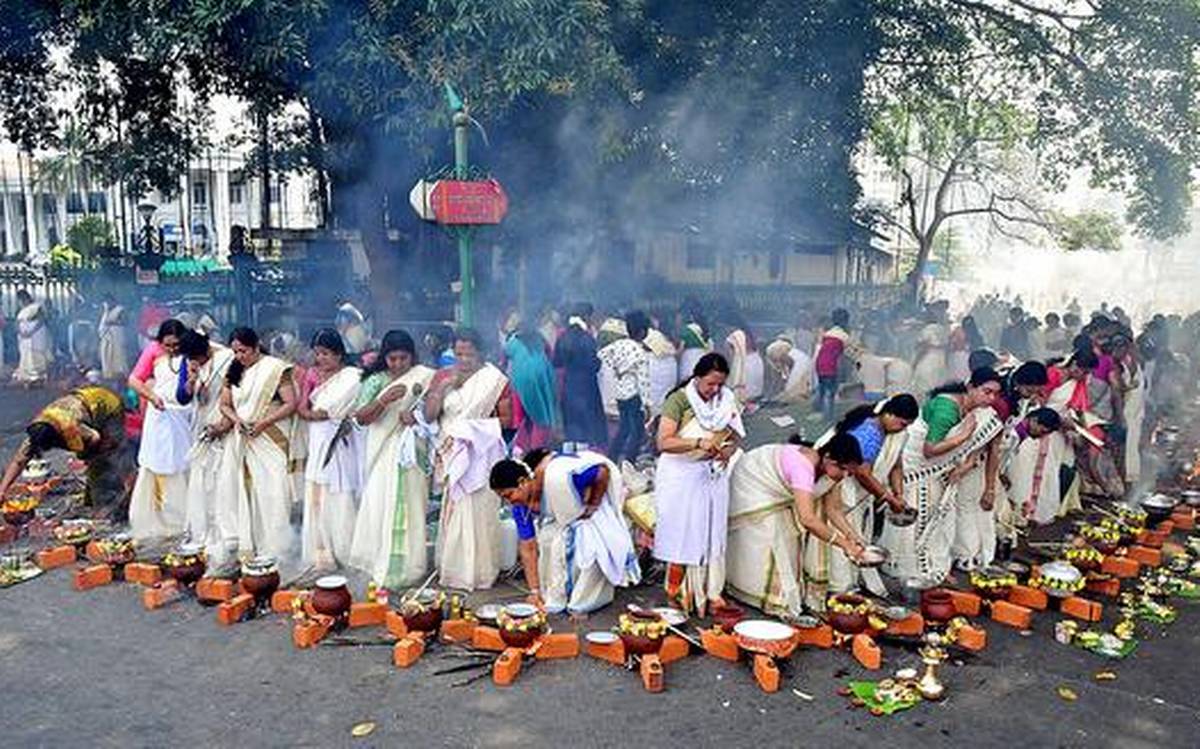 It is the most important festival of Attukal Bhagavathy Temple in Thiruvanthapuram, Kerala.  Its starts in Marakram- Kumbham (Feb-March) month of Malayalam calendar and it lasts for 10 days. During the Ponakala day (ninth day of the festival),  there will be a huge gathering of millions of women to offer Ponkala to the Goddess.
Kodungalloor Bharani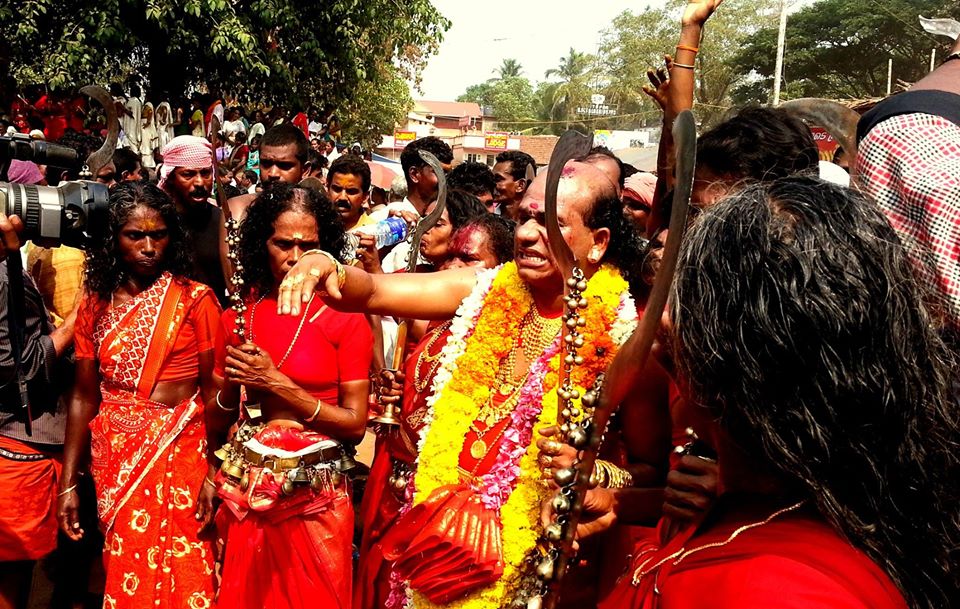 Kodugallor Bharani is the annual festival Sree Kurumba Bhagavathy Temple-Kodungalloor. This event takes place during March- April (Malayalam month -Meenam)
Aswathy Kaavutheendal is the main event of Barani festival. On this day many numbers of oracles will dance in trance to offer prayers to the goddess.
Thirunakkara Arattu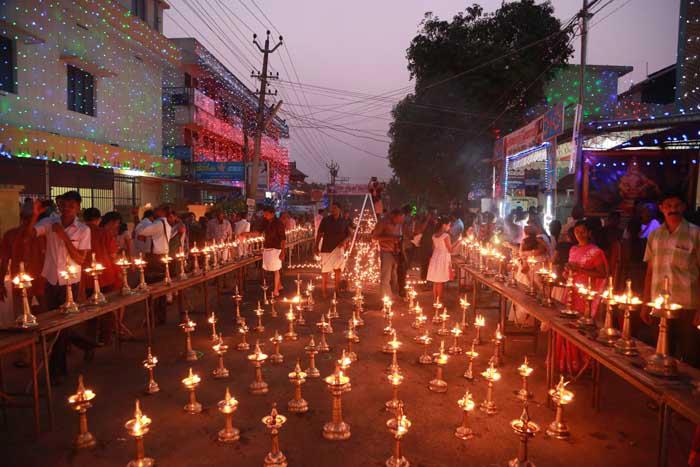 The 10-days annual festival at the Thirunakkara Mahadeva Temple ends with a procession of nine caparisoned elephants. This procession along with other dance and cultural forms like Velakai and Mayilattam is known by the name Aarattu.
Ezhara Ponnana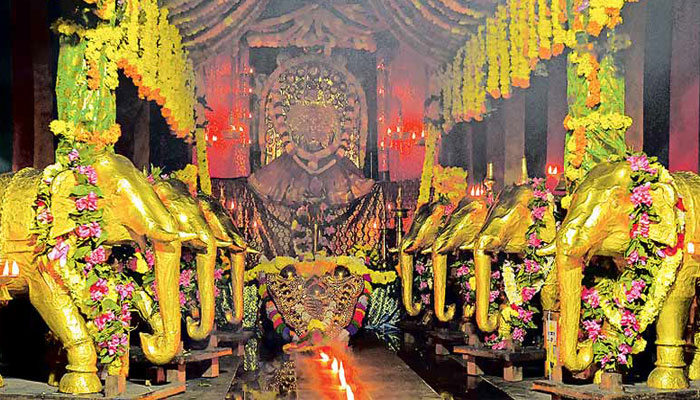 Courtesy: marunadanmalayali
On the night of eighth-day annual festive celebrations (February-March / Kumbham month in Malayalam) at Ettumannor Mahadeva Temple, "Ezhara Ponnana" procession is held.
The word 'Ezhara' in Malayalam means seven and a half and 'Ponnana' means Elephant in Gold. In the eight golden elephants, seven of them are of two feet high and the last one is of one foot only. Hence together they are known as Ezhara Ponnana!
Paripally Gajamela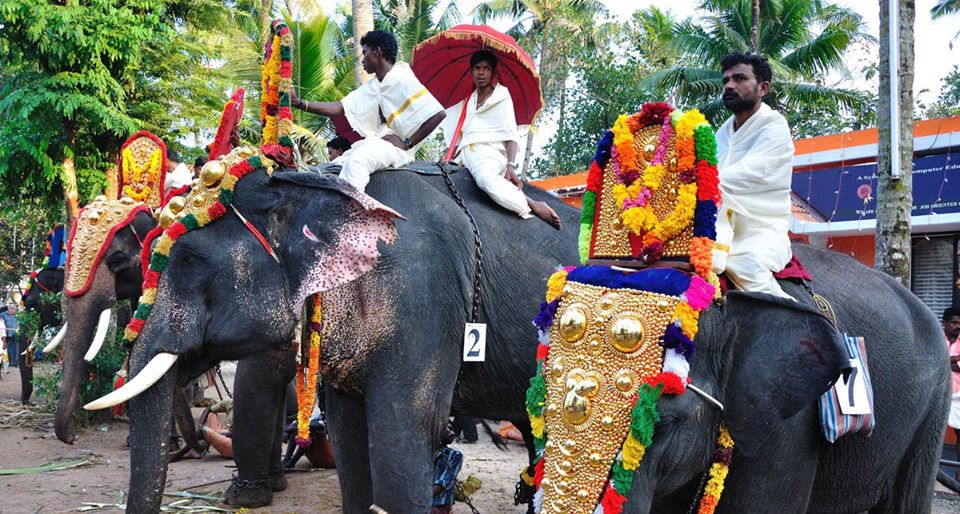 During the Gajamela, fifty number of caparisoned elephants do the parade as a tribute to the Goddess Bhadrakali. This procession is a part of the annual festival at the Kodimoottil Sree Bhagavathy
What to Wear in March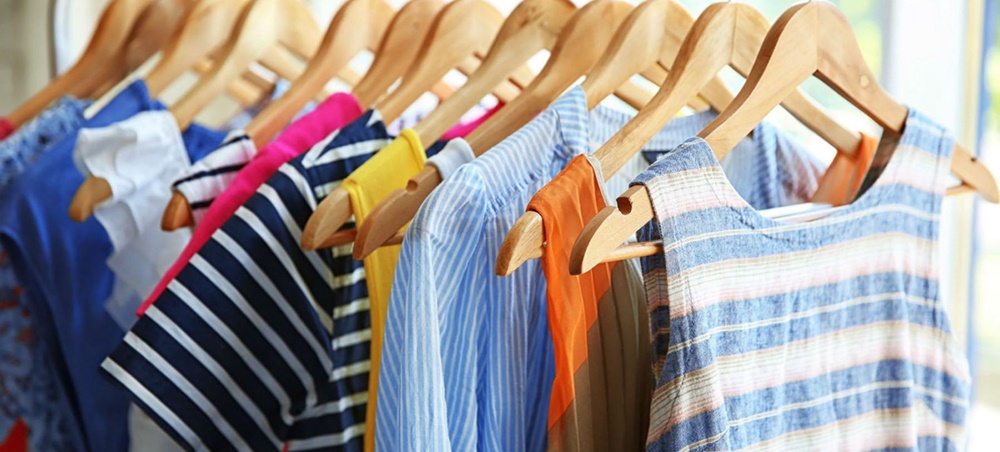 Image Source
During your visit in March, pack light-coloured cotton or khadi clothes. Feel free to carry comfortable clothing such as shorts or Capris for your tour. Women can wear tees, frocks, dungarees, pants, and tops as per their comfort and convenience. Carry hats, umbrella and sunscreen lotions since it can get hot during the day.
Weather conditions in March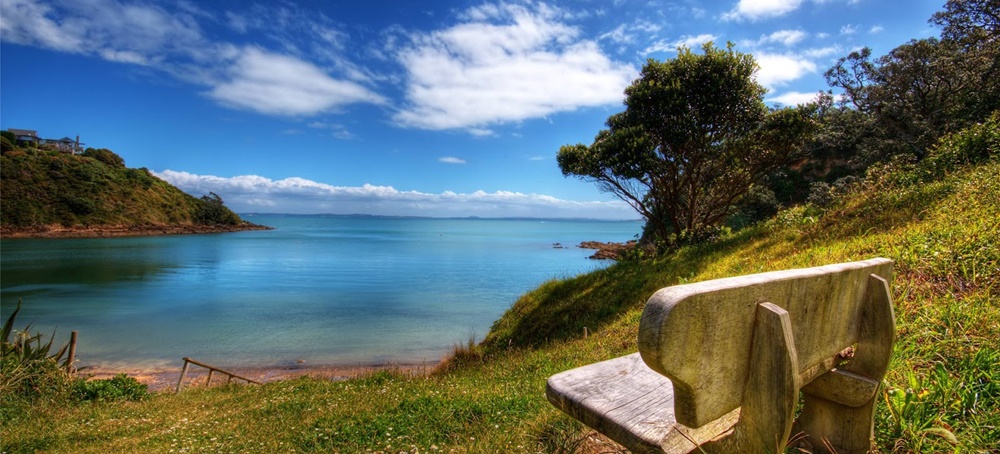 Image Source
Kerala gets hot in the month of March. It is the beginning of summer. And since it is a coastal state, the state gets humid as well. But the hill stations of Kerala will have ideal weather conditions. The sunshine along with the slight mist gives a glorious look to the hill stations. The beaches and backwaters, however, get pretty humid. During the middle part of the day, the temparature in Kerala can go as high as 33°C.
Pros in visiting in March
March is not the peak season for tourism in Kerala. So you can expect the tariff at the hotels and resorts to be relatively low. That can be a great advantage of visiting Kerala in March. You can enjoy premium accommodation at a reasonable price. Imagine staying in a pool villa or a luxurious AC room in a resort featuring a pool or in a hotel located amidst the hills! Remember that premium accommodation comes with premium facilities. You can enjoy all of it at a reasonable cost during March. Take a look at some of the best accommodations that Kerala has to offer.
Also, since it not the peak season, you do not need to wait on long queues at tourist spots nor do you have to face a lot of crowd. Advanced booking is usually not necessary for accommodation or activities.
Finally, you can be sure that the hill stations in Kerala provide the best escape from the heat. They are perfect for a summer vacation. In fact, the shimmering sunshine adds to the charm of these hill stations but the weather remains pleasant. So spend most of your time in these hill stations and your holiday in Kerala will not disappoint you.
Cons in visiting in March
Since March can be a really hot time, there are quite a few activities that you need to avoid. You will not be able to enjoy long treks, camping, canoeing and waterfalls visits. It is not the ideal time for Ayurveda not is it a good time for cycling, photography walls or any other type of outdoor sightseeing. There are high chances of forest fires and many chances of sunburn at the beach. You cannot survive in a non AC room especially if you come from a place which has cool temperatures. In the month of March, there are many festivals in Kerala. So you may come across some religious procession that can cause traffic jams and block of roads.
Planning Kerala Tour in March- Suggestions & Tips
Avoid public transportation since most of the buses do not have ACs
Make sure to select air-conditioned rooms at the hotel. Go for air-conditioned houseboats only
Select air-conditioned cabs for your transportation. Otherwise, long drives can become very unpleasant
Pack light cotton clothes only
Stay hydrated by drinking water at regular intervals
Eat more fruit and less chicken
Do not try sunbathing at the beach. You may get a sunburn
If there are rains, do not be tempted to get drenched. It can cause sickness and spoil the trip
Check out the best ways to beat the heat during the summer season in Kerala.
March is a hot month in Kerala. So keep in mind that if you want to enjoy a good holiday experience, you have to choose the right destinations and the right activities. And there are some places and activities that you might have to avoid. One of the biggest advantages of visiting Kerala in March is that you can experience luxurious living at reasonable prices since the tariffs will not be very high. And also, the hill stations will have ideal weather conditions and they look spectacular during the summer. So we recommend that you spend most of your time in the hill stations.
We hope the above tips will help you to plan a perfect holiday in Kerala this March. Please share the article with your friends who are planning his visit to Kerala in March! Keep Travelling!
(Visited 366 times, 1 visits today)