We all look for the best accommodations while we go on trips. Currently, the trend has changed – more people are choosing homestays rather than resorts and hotels. If a homestay or heritage hotel is able to give the true feeling of home away from your home, then why go for other alternatives? Most travellers like to live in homestay due to their comfort level and facilities. Kerala is dotted with homestays that welcome travellers with open arms. 
The homestays options can vary from a stay in colonial Bungalows, Heritage Homestays, Farm stays so on giving a remarkable experience throughout your adventure. 
Justifying the saying, Atithi Devo Bhava ( meaning 'Guest is God'), Kerala homestays are capable of giving the visitors heartwarming hospitality, great food and some fun times. Some of the homestays will even be quick to arrange different activities including trekking, wildlife spotting, sunset cruise, houseboat travel, beach walks, visits to forts and waterfalls close-by and so forth. 
Besides these, some hosts even give you live cooking lessons if you are keen on learning the assortment cuisine of Kerala. Here we are giving you an idea about the list of Best Heritage Homestays in Kerala!
Puthiya Kovilakam Heritage Homestay – Nilambur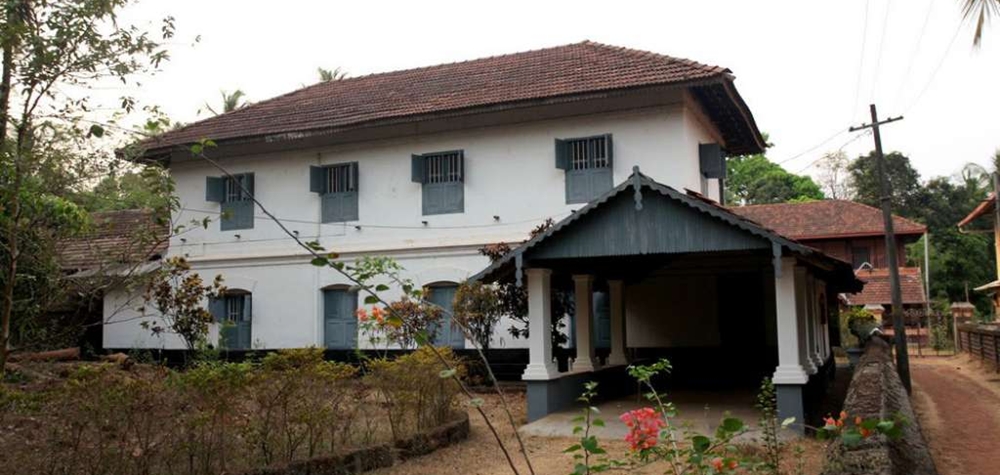 Image Source
Puthiyakovilakam Heritage Homestay is a 250-year-old heritage home revamped into premium heritage homestay situated at Nilambur. Nilambur is home to the world's oldest Teak Plantation and gives a brilliant getaway opportunity close to Wayanad. 
It offers a peek into the customs and culture of Nilambur's Royal Family. There are spacious bedrooms with traditional Kerala décor furnished with modern amenities. They serve traditional Kerala meals.
Activities offered to incorporate a visit to The Conolly's Plot – the world's oldest Teak plantation, Adyanpara falls, world's first Teak Museum, boat rides, see Kerala's longest hanging bridge, a visit to BioResources Park and Aruvacode Pottery Village. It is highly recommended for experimental and offbeat travellers.  Puthiyakovilakam can be ranged top among the Best Heritage Homestays in Nilambur.
Bungalow Heritage Homestay – Fort Kochi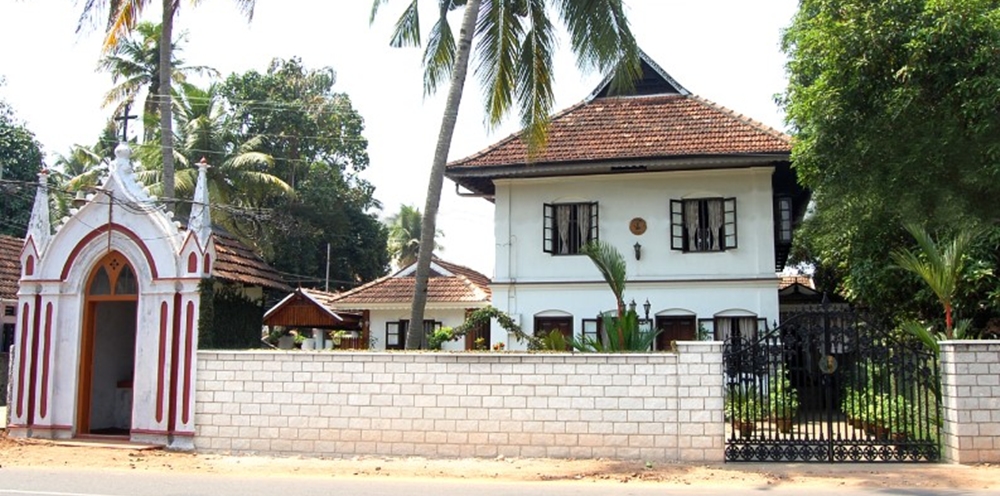 Image Source
Constructed in 1930, this heritage bungalow of Vypeen is a blend of Dutch, Portuguese, and Kerala architecture. The history is alive here even today. It is an experiential heritage homestay at Vypeen. There are 2 rooms, a Double Room with an attached washroom and a Twin Bedroom, with a roomy washroom. They serve authentic Kerala and Indo-Portuguese meals on prior request. The attic is a common recreational place for reading, indoor games like chess, etc.
Inbound travellers and those looking for the best heritage homestay experience are going to love this place. Additionally, it is full of antics and memorabilia. 
Read more about Bungalow Heritage Homestay
Vismaya Amritara – Kumarakom-Cherthala (Vembanad)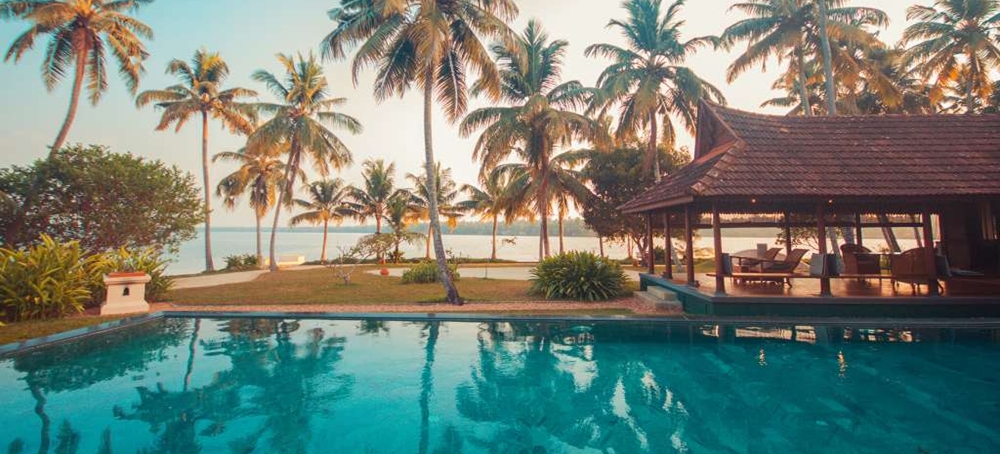 Image Source
Vismaya Lake Heritage is a 400-year-old property redesigned into premium lakeside heritage homestay situated on Vembanad Lake banks. There are two spacious AC rooms with traditional elaborate wooden décor and attached verandah. There is a private pool, indoor gaming options, as well as a library. They serve homely traditional meals. If you are looking for exclusive and serene lakeside stays, this place is just perfect. This one can be considered as one of the Best Heritage Homestay at Kumarakom along with Philippukutty Farmstay.
Read more about Vismaya Amritara
Philipkuttys Farmstay – Kumarakom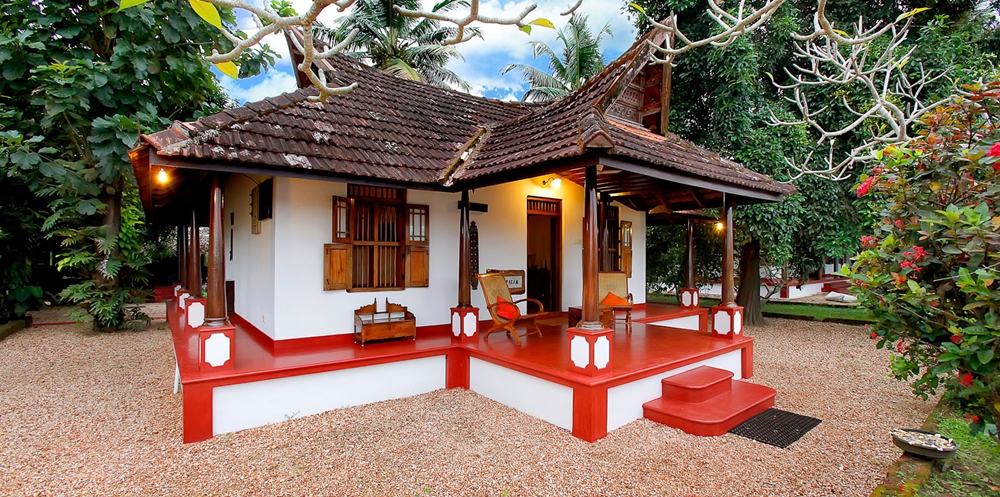 Image Source
Phillipkuttys Farm is a famous farm that overlooks a beautiful backwater canal at Kumarakom. It is an experiential backwater homestay with a 50 acre of a spice farm.
It is located on the farm island roughly 2 meters below the lake level. There are villas with a spacious bedroom, sit-out area, as well as a living room. They feature all the modern amenities. 
There are a lot of windows and doors in every villa that open to the farm, backwaters, and garden, letting the outstanding circulation of fresh air as well as interesting views from inside. They serve traditional Kerala food here. They also organize cooking classes for the guests who show an interest in learning the Kerala cuisine.
If you are a bird watcher, you will get ample opportunities to spot kingfishers, egrets, woodpeckers, cormorants, herons, teals, pheasants, crow, snakebirds, etc.
Activities include farm walks to find out about below lake level farming, cycling around the village, swimming, and fishing in the backwaters. This homestay is great for off-beat travellers and bird watchers.
Read more about Philipkutty's Farm
Dewalokam Farmstay – Thodupuzha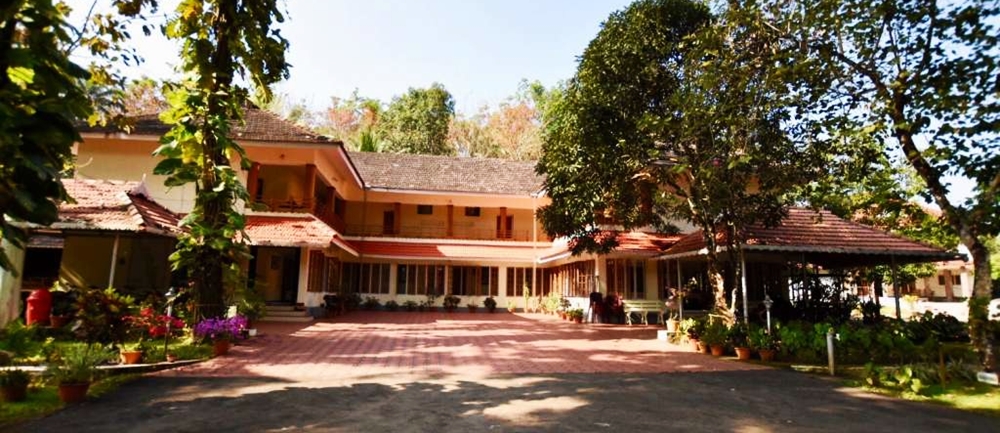 Image Source
Dewalokam Farmstay retreat is a natural farm in more than 10 acres of land where spices, fruits, vegetables, milk, fish, eggs, and meat is grown without pesticides and chemicals. You can discover fruits like Mangoes, lemons, Jackfruits, papayas, pineapples and water apples and also spices like Cardamom, turmeric, pepper, ginger, cinnamon, and nutmeg. For meat and dairy items, they have cows, goats, buffalos, pigs, chicken, Gini fowls, and turkeys. 
There are 4 houses at Kannadipuzha riverbank, and three out of these four houses are for the visitors. There are 15 double bedrooms. Activities available include Forest Trekking, rafting, gardening, etc. This one among the Best Heritage Homestays in Kerala state.
Read more about Dewalokam Farmstay
Mundackal Plantation Homestay – Thattekkad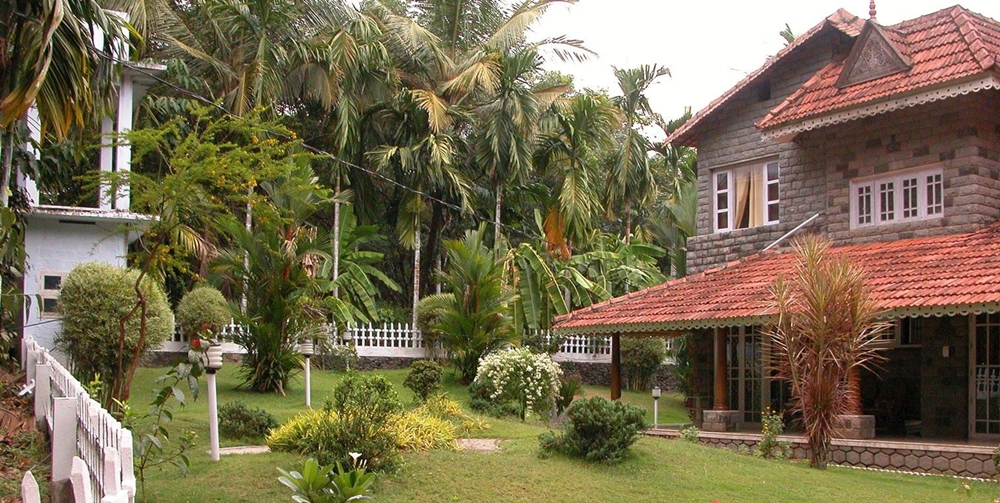 Image Source
Mundackal Plantation Homestay is a plantation homestay about 12 km from Thattekkad Bird Sanctuary. There are pepper, coconut, and rubber cultivation. It, therefore, is perfect for experiential explorers. 
There are five rooms categorised as Birds Nest Room and Plantation Room, equipped with required amenities. They serve traditional Kerala cuisine for meals. Activities include visits to Thattekad sanctuary for bird watching, campfire, cycling, hiking, learning about rubber tapping and processing, and also cookery classes.
Read more about Mundackal Plantation Homestay
Ayesha Manzil – Thalassery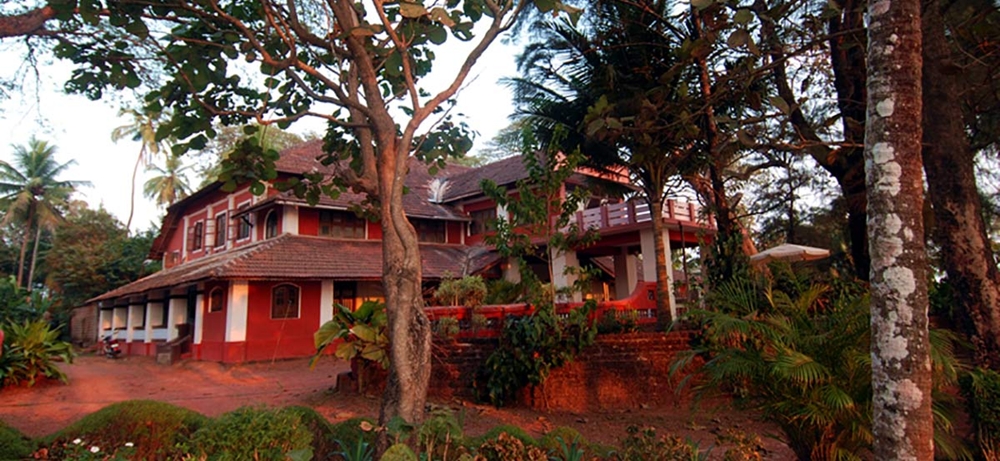 Pic Courtesy: triptoindia.com
Ayesha Manzil is a wonderful, colonial-style mansion that overlooks the Arabian ocean. Murdoch Brown in 1862 constructed it. Brown was an Englishman who came to Tellicherry as a trader of the East India Company. He created a 300 acre Cinnamon plantation, 10 km from this mansion, which still exists and is one of a kind. The rooms have period furniture, and the present has also gathered and restored family heirlooms and collectables. They have a private pool that looks like the traditional temple pools in Kerala. This one among the best heritage homestays in Kerala's northern region.
Kandath Tharavad – Thenkurissi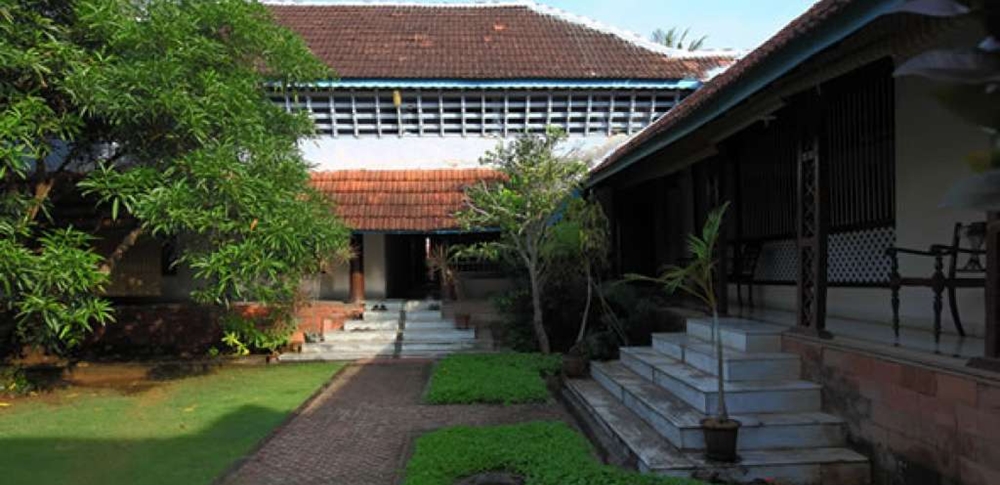 Image Source
Kandath Tharavad Homestay close to Palakkad is the ancestral home of the Kandath family and is near the rice paddy fields in provincial Kerala. The house is more than 200 years old and a classic as far as local architecture goes. 
They serve authentic Kerala food. Recreational facilities incorporate learning yoga, meditation, as well as refreshing Ayurvedic massage. They offer various activities like toddy tapping, cooking classes, houseboat rides and also a session with the family astrologer. Heritage travellers are going to love this homestay experience.
Hari Vihar – Calicut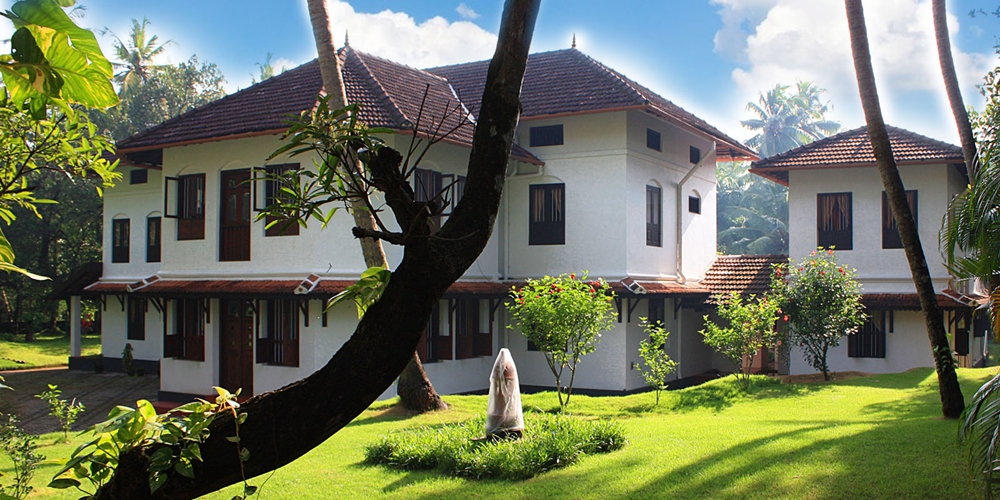 Image Source
Harivihar is one of the top Ayurveda Resorts, Panchakarma treatment centre as well as Yoga resort centre in Kerala. Harivihar (meaning the Abode of the Divine) is the place you can stop, reflect and restore the balance as well as the harmony of your body, mind, and soul. It is great for a peaceful getaway.
Maranat Mana- 16 Kettu – Manjeri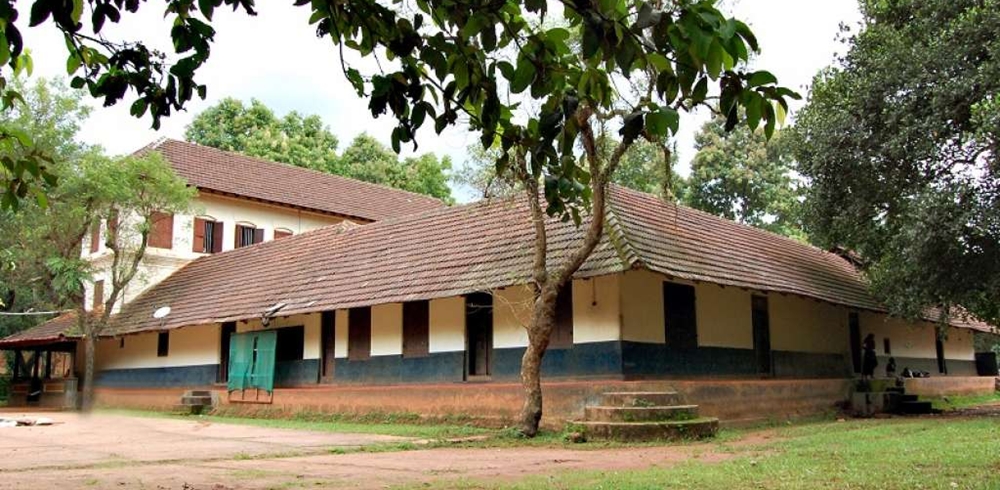 Image Source
Maranat Mana is a traditional Kerala Brahmin House-hold that is located in Pandikkad, the lower regions of the Western Ghats in Malappuram area. This homestay is an impressive structure with 4 courtyards constructed in the traditional Kerala decor as well as Vastu Shastra. The homestay offers a perfect and comfortable space for its visitors. Other than essential present-day amenities, the home offers facilities like homemade vegetarian food, yoga, ayurvedic baths, library, rubber and spice estate visits to give some examples. 
Sui House – Fort Kochi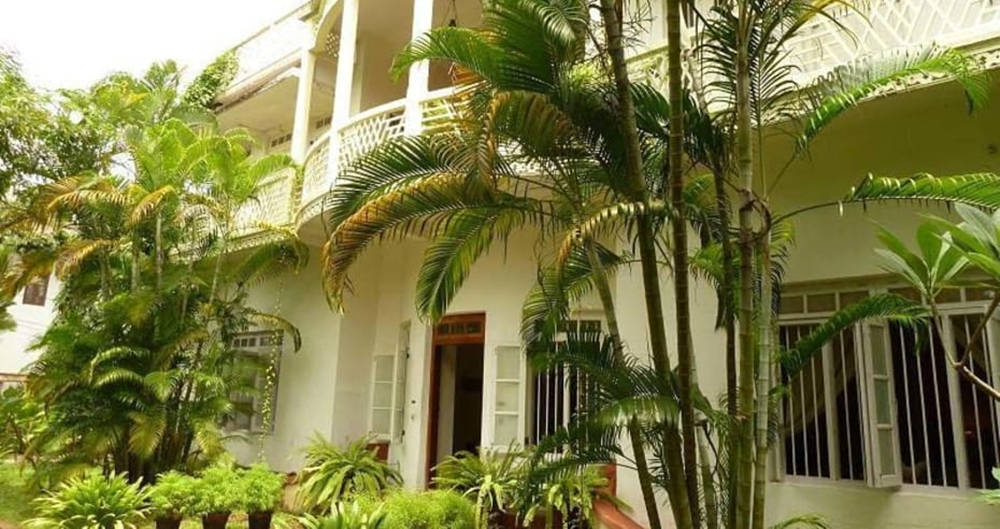 Pic Courtesy: Yatra.com
Sui House is built in the old colonial style. This is presently a homestay with the two front rooms redesigned to stylish rooms along with a drawing-room. The owner has changed the Sui House into a sophisticated and modern house coupled with his adoration for indigenous materials and antiques. They serve breakfast here every morning in the small courtyard outside, and the guests can also enjoy fusion cuisine for dinner.
Rippon Bungalow – Wayanad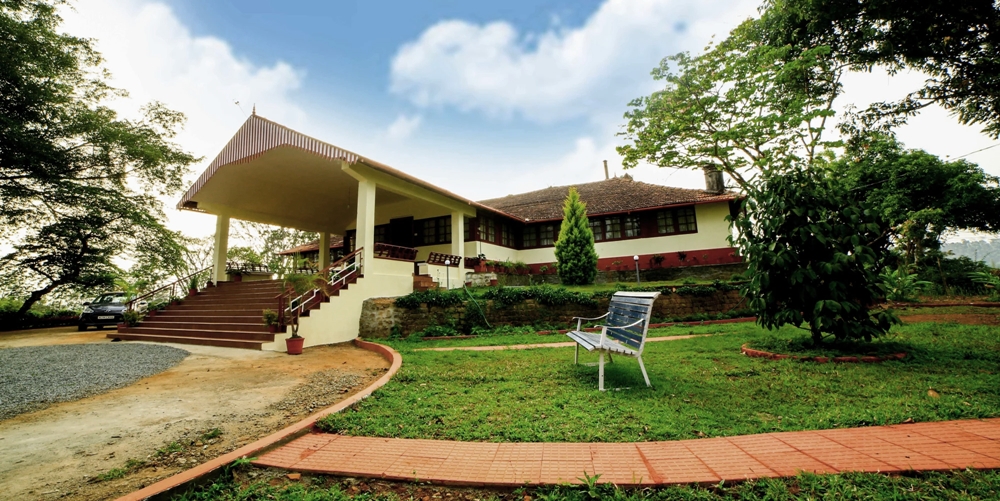 Pic Courtesy: Trivago
Perched in a tranquil town, encompassed by beautiful greenery and nature, Rippon bungalow is only a short walk from the major attractions of Wayanad. You will discover "The Teatours". It is the ideal stay for individuals who are searching for magnificent accommodation with a historic touch. 
Six exceptionally well-decorated rooms effortlessly accommodate everybody's personal needs. At 'The Teatours', they will take care of you in a comfortable as well as relaxed manner, an ideal mix of Kerala's hospitality and Wayanad's Beauty awaits you here. 
Read more about Rippon Bungalow
Kodianthara Heritage Home – Kumarakom
Image Source
Kodianthara Tharavadu was constructed by Uthup Ittiavira in 1850 and then, was redesigned by Crispin Uthup in 2002. Since it has backwaters all around,  the 2.5 acres of land rubber, vegetable and fruits farm is a perfect retreat for admirers of quietness and peace. It is likewise the perfect spot to savour the traditional Syrian Christian food. Farm Tour, Fishing, Cooking, Study of Kerala Architecture and culture, kayak ride in Backwater, Village visit, Bird watching, Visits to the nearby Church, Temple and Vembanad lake. This is one among the best Heritage Hometsyas in Kerala which is famous for its non-vegan food verities.
Read more about Kodianthara Heritage Home
Kalarickal Heritage Bungalow- Idukki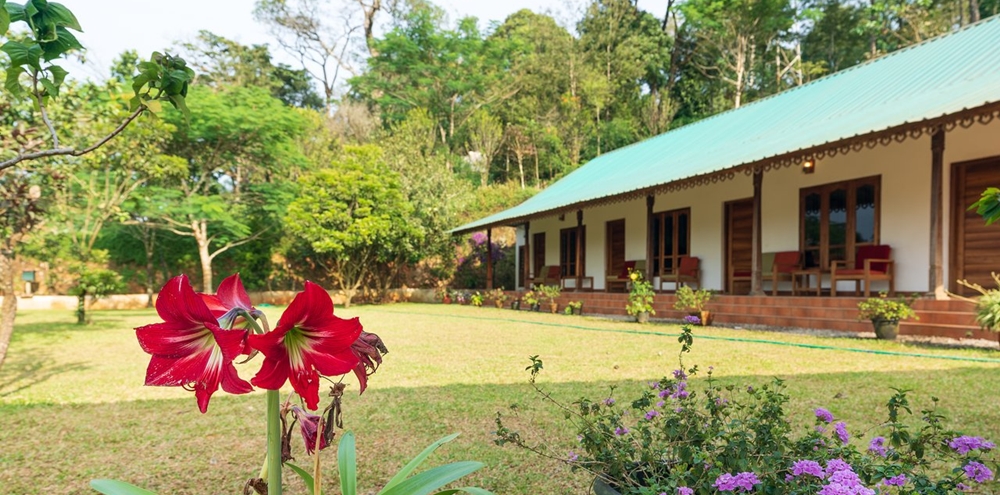 Image Source
Encompassed by cardamom estates, this homestay is an ideal escape to get closer to nature. A stroll in the cardamom farm with the host, fishing at a close-by pond as well as a bonfire is some of the activities that can be enjoyed here. Periyar Wildlife Reserve, Idukki Dam, and Munnar are close to this place. 
Read more about Karickal Heritage Bungalow
Emerald Isle – The Heritage Villa- Alleppey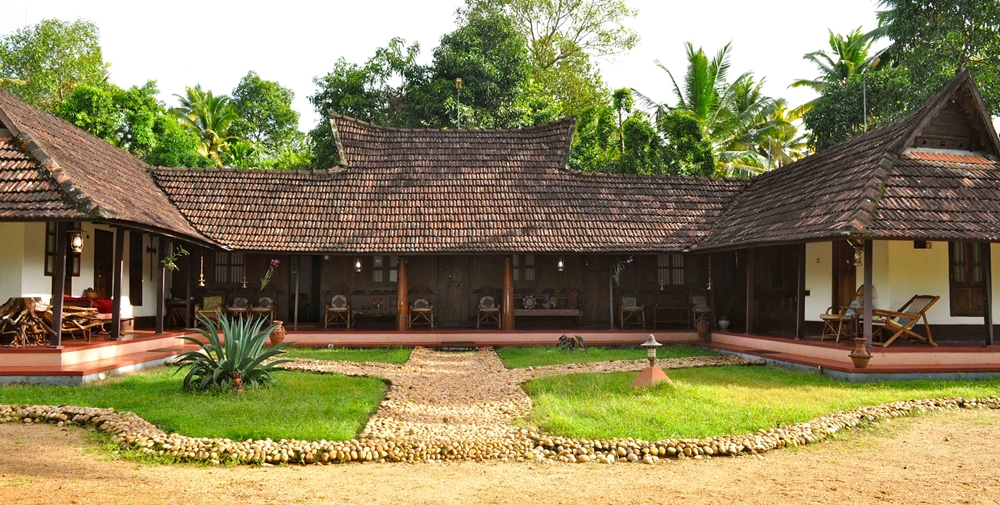 Image Source
In the wonderful backwaters of the Kuttanad district of Kerala is located Emerald Isle, an intriguing haven of peacefulness since it is far from the hustle-bustle of the city life, but just 10 km from the Alleppey town. Hidden on this wonderful island lies this beautiful heritage villa. It is an ancestral house on a 9-acre land. It also has extraordinary flora, countless butterflies and birds – this varied flora and fauna make for a noteworthy holiday, reasonable and exceptional. 
Amban Heritage Homestay- Kannur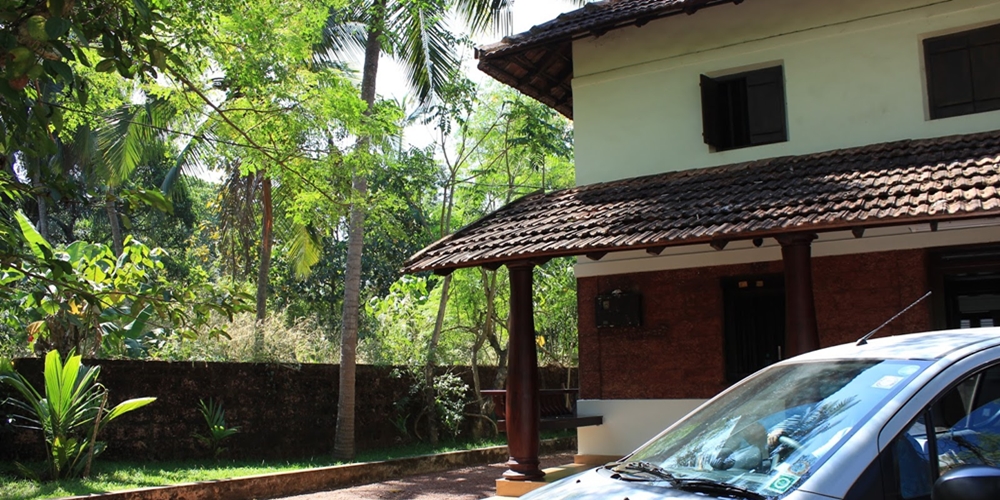 Image Source
This heritage home has lush greenery all around and is near well-known beaches like Muzhappilangad and Payyambalam. This is a perfect spot for a family get together. This 113-year old heritage house is an ideal mix of modern as well as old facilities. Also, Kerala breakfast is complimentary with the package. 
Tharavadu Heritage Home – Kumarakom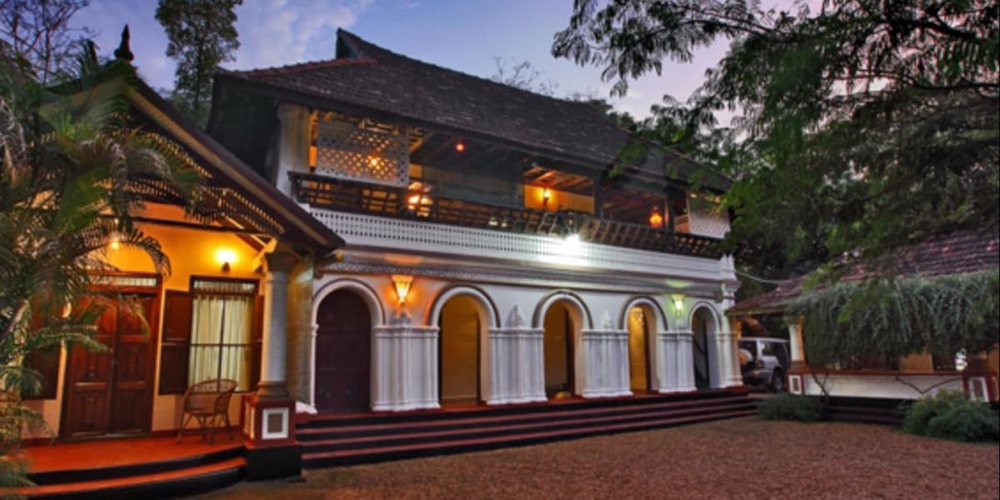 Pic Courtesy: redBus.in
It is a 120-Year Old Christian Bungalow revamped into a homestay by keeping its unique and original Heritage Structure. They offer homely food, stay, ayurvedic body massages, boat rides, and so on for the guests. It is located in the village of Kumarakom, which is famous for its beautiful backwater. 
Backwater Heritage Homestay- Kumarakom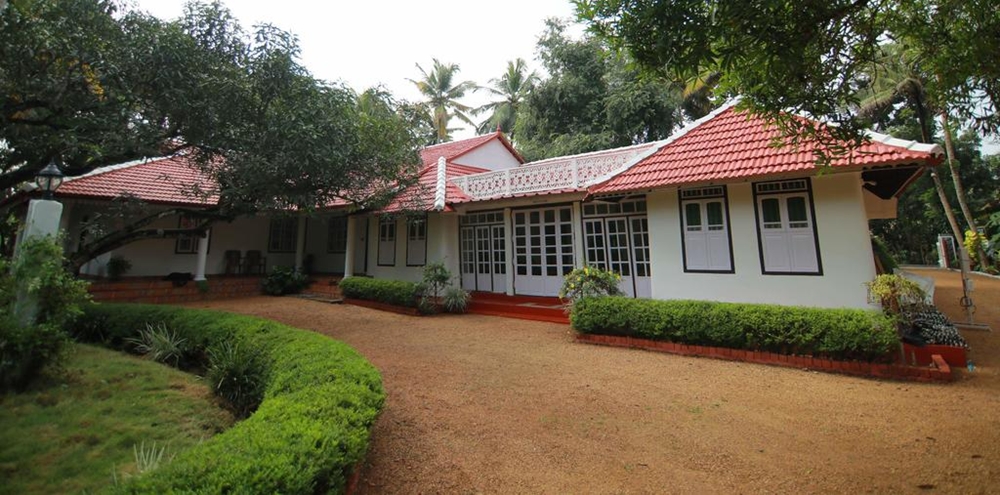 Pic Courtesy: booking.com
The Backwater Heritage Homestay is a private as well as serene accommodation situated in Kumarakom, far away from the city and its hustle-bustle. Visitors can enjoy traditional Kerala vibe alongside authentic and also tasty Keralan food. The homestay has a beautiful garden that makes for an extraordinary landscape. The wooden mansion has an old-world charm as well as modern amenities. Visitors can pick either Non-AC or AC rooms as per their convenience. 
Read more about Backwater Heritage Homestay
Nelpura Heritage Homestay- Alleppey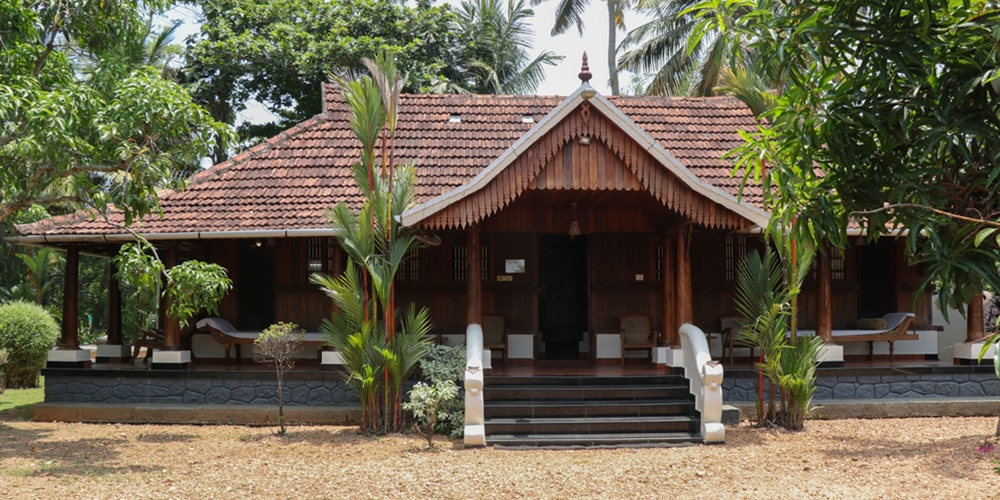 Pic Courtesy: MakeMyTrip
Nelpura is one of the best homestays in Kerala.  It is nestling on the banks of a canal leading to the Pamba River. An ideal escape from the cacophony of city life, the ideal homestay of Nelpura is a perfect retreat into the calming lap of nature. The building exhibits the fine highlights of traditional Kerala architecture as well as wood carvings. Activities include a village walk, narrow canal cruise, motorboat trips, bicycle ride, visit ancient temples and churches, cooking classes, ayurvedic massage, and so forth. Heritage, as well as history-loving travellers, will love this place. 
Castillo De Woods0 – Munnar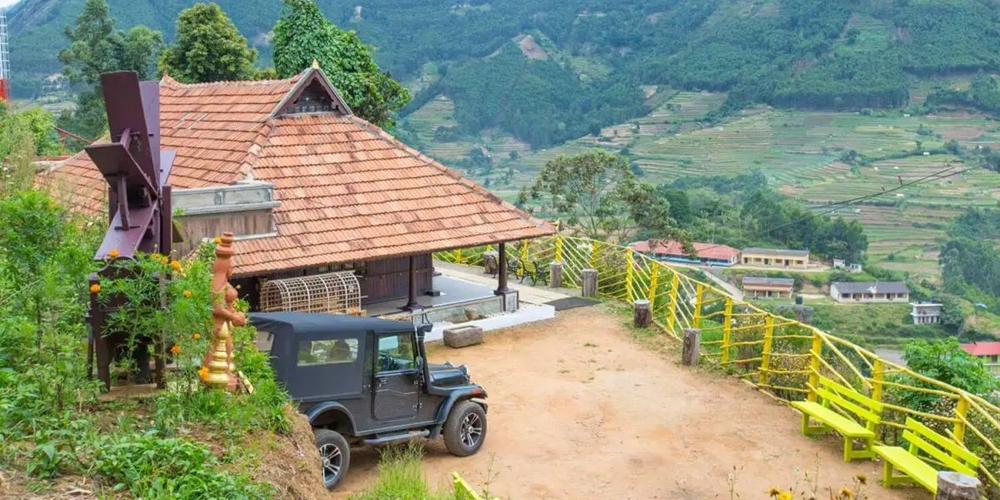 Image Source
Castillo De Woods is a lavish mansion in Vattavada, with hills and mountains all around. Wildlife explorations, as well as trekking, can be the most amazing past time here. The entrancing magnificence increases by a wide margin, particularly during the rainy season. The sheer beauty of this will make you fall short of words when depicting the accommodation, hospitality, and food of the host. Be sure to take a room that offers a mountain view so that you can enjoy nature even from the inside. This is one among the very few heritage Homestays in Kerala's hill station region.
Read more about Castillo De Woods
The Best Homestays in Munnar that You Should NEVER Miss!
Greenspaces Serviced Villa- Munnar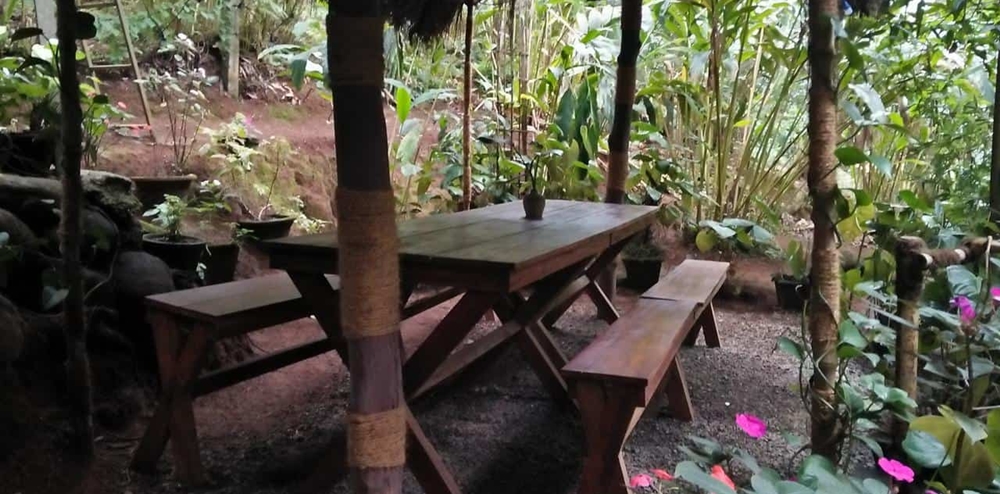 Pic Courtesy: resmyhotel.com
Greenspaces Serviced Villa is built with eco-friendly materials. Both floors and roofs are made of wood. Since it is in the midst of a cardamom farm, the homestay has an unmatched charm and natural beauty. The hosts serve delicious food and also go out of their way to keep the visitors comfortable. If you love peaceful accommodations, then be sure to check-in.
Do you know the Reasons why a homestay can offer the best accommodation experience!
(Visited 983 times, 2 visits today)