Hill stations are one of the most sought-after destinations for tourists across the world. Whether you are on a solo adventure trip, an unplanned trip with friends, a family tour or even on your romantic vacation, the hill stations of South India offer you a plethora of options to rejuvenate.
Here are the top 5 hill stations of South India: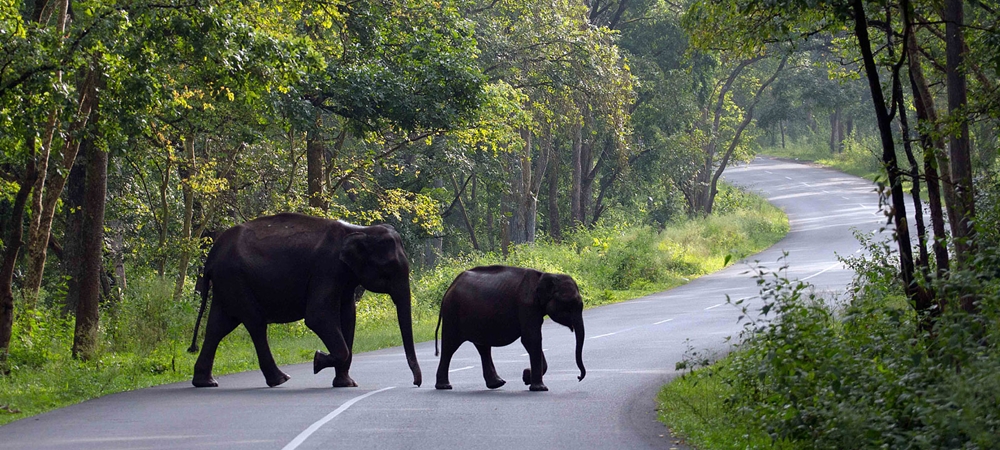 Image Source
Neatly tucked away in the forest borders of Kerala and Tamil Nadu, Wayanad happens to be a complete tourist package. Located on the windward side of the majestic Western Ghats, it is surrounded by lofty ridges, rugged terrain, as well as dense forests. With a conglomerate of thrilling waterfalls, serene lakes, charming resorts and homestays, picturesque plantations and historical caves, Wayanad also offers you many different ways to explore nature.
There are many things to do here but most tourists prefer to enjoy the peace and tranquillity of this quaint hill station. Others prefer to immerse in the cultural beauty of Wayanad as this place boasts its various tribal cultures and gives you a feel of jungle life. With an elevation of 2100 meters above sea level, Wayanad is breezy most of the time and also is a perfect place to witness wildlife such as elephants, tigers etc.
Nearest Railway station: Calicut, which is about 62 km away
Nearest Airport: Calicut International Airport, which is about 65 km away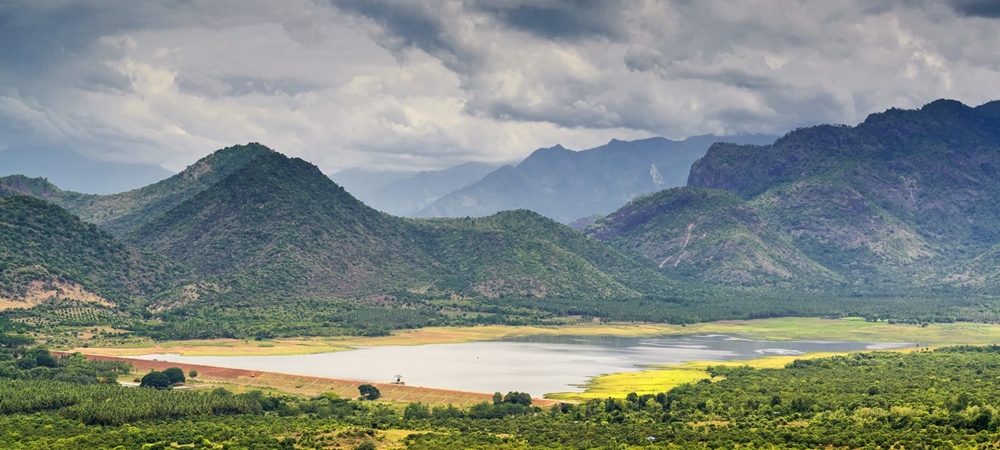 Pic Courtesy: Thrillophilia
Sweetly called 'The Princess of Hill stations', Kodaikanal is your ideal misty-clad mountain getaway with a wonderful climate. Located atop the Deccan Plateau in the state of Tamil Nadu, this captivating place is a much-needed break from your mundane city life. There are lakes, waterfalls, valleys, parks, rock pillars and many more sight-seeing places which you'll love to explore on your own. There are many activities which you can do here like boating, trekking, trails etc. The rolling hills, scenic waterfalls, and the vibrant culture make for an enchanting experience altogether.
Kodaikanal means the 'gift of the forests' in Tamil and you'll realize where it has come from when you witness the large presence of flora in this area. There are Pine, Pear, Eucalyptus, Acacia, as well as Cypress trees. The dahlias and water lilies found in abundance over here further enhances the beauty of this place. As a tourist hotspot, you can also shop for some of the handicrafts items or taste the homemade chocolates available here. At an altitude of 2100 meters above sea level, Kodaikanal's weather is cool and pleasant throughout the year.
Nearest Railway station: Kodairoad, which is about 100 km away
Nearest Airport: Madurai Airport, which is about 120 km away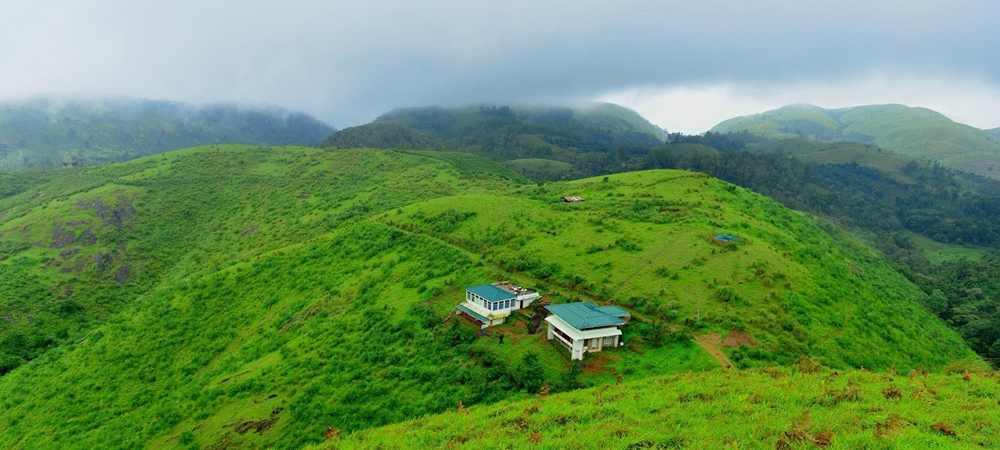 Pic Courtesy: Great India Tours
Unknown to many tourists for a long time, Vagamon has quickly covered up for the lost time to become one of the most astonishing hill-station discoveries of Kerala. Because of its pristine peaks and surreal scenarios, Vagamon is the place-to-be-in on your next Kerala trip. The lush green carpet of hills, velvet lawns as well as the occultism of this place is a moment to be captured with your senses. Recent discovery with no hints of modernity made this place among Top 50 places to visit by the National Geographic Traveller.
Adventure activities available here include trekking, paragliding, rock climbing, and mountaineering. The famous Vagamon pine forests are worth visiting along with its three famous chains of hills: Thangal, Murugal, and Kurisumala that are of pivotal religious importance for Hindus, Muslims, and Christians respectively. This also stands testimony to the perfect communal harmony of the society here. Located at an altitude of 1100 meters above sea level, temperatures are often reported on the lower side in winters.
Nearest Railway station: Kottayam, which is about 75 km from Peermede
Nearest Airport: Cochin International Airport, which is about 150 km from Peermede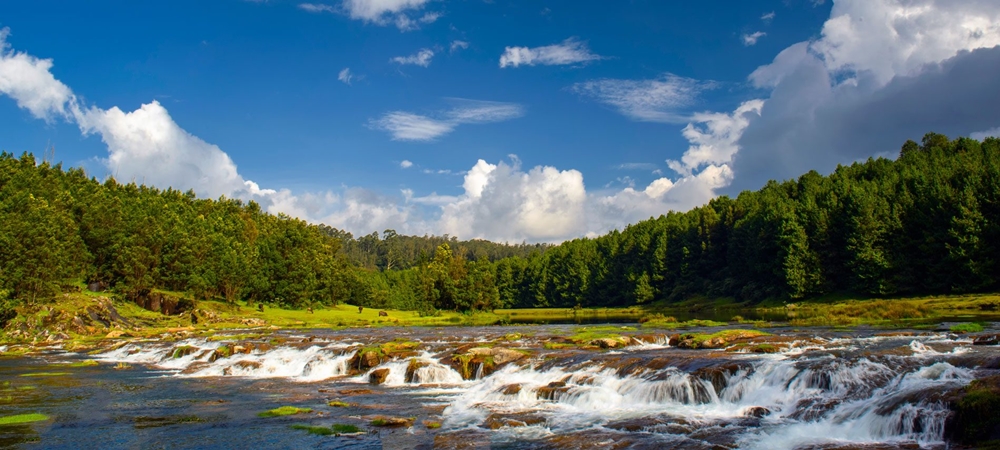 Pic Courtesy: Enchanting Travels
Rightly called 'the Queen of the Nilgiris', Ooty is marvelously charming and fascinating. It is very easy to get hypnotized by the spellbinding beauty of this place. Also known by the name of Udhagamandalam, Ooty promises you pure natural beauty from all the angles. There is a large expanse of water, right in the central Ooty where you can take pleasurable boat rides and then you can visit the Rose Garden which is home to more than 2000 varieties of roses. Tea-gardens, lakes, rivers, reserve forests, tribal huts, and museums dominate Ooty's landscape, making it a paradise for tourists.
But one thing that stands apart from the rest is the Nilgiri Mountain Railway. You ought to experience this spectacular journey which has the steepest track in all of Asia, to better understand the 'blue mountains'. The famous Bollywood song 'Chaiyya Chaiyaa' featuring Shahrukh Khan and Malaika Arora was also shot here. There are also a host of adventure activities you can take part in like trekking, hand gliding, angling etc. Located at an altitude of 2240 meters above sea level, Ooty has cold winters and pleasant summers.
Nearest Railway station: Ooty has its own railway station by the same name
Nearest Airport: Coimbatore International Airport, which is about 96 km away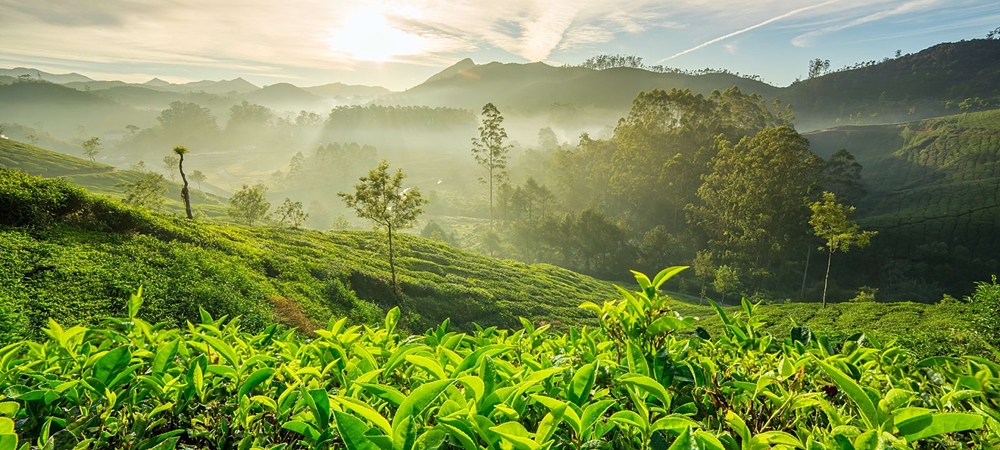 Pic Courtesy: Goibibo
Munnar is unarguably the only hill station in south India that can match to the 'Great Himalayas' in terms of beauty as well as popularity. Truly, a one of its own kind, your trip to south India is incomplete without a visit to this post-card picturesque town of Kerala. There is so much to explore and discover in Munnar that it is likely that you'll run out of time. The lush green tea estates where you can not only taste different kinds of fresh tea from different tea brands but also see how it is being made in the step-by-step process is a truly rewarding experience in itself. The Mattupetty dam, echo point, and Kalaripayattu show are some of top the sight-seeing places in Munnar.
The Eravikulam National Park and Salim Ali Bird Sanctuary in Munnar is home to some of the endangered specious like the Nilgiri Tahr. It was a summer resort for the British and has large patches of tea plantations all around. It is also home to the Neelakurinji's a beautiful blue flower which blooms only once in 12 years. Munnar also has the highest peak in South India, which is Aramudi at 2695 meters. Located at an altitude of 1450-2695 meters above sea level, Munnar has a very pleasant climate which makes travelling an enjoyable experience.
Nearest Railway station: Aluva, which is about 110 km away
Nearest Airport: Cochin International Airport, which is about 110 km away
6) Coonoor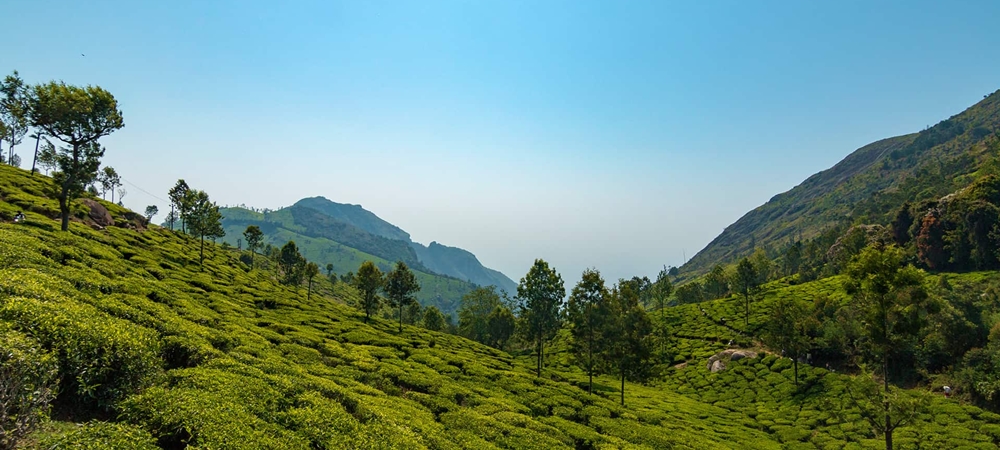 Image Source
Largely overshadowed by the massive popularity of its sibling Ooty, Coonoor is a surprise package. This Nilgiri hill station welcomes you with sceneries that will energize your body as well as your soul. The greenery itself will have a calming influence on your eyes while your lungs would thank you for the fresh air you'll have here. The simple local life here is sure to catch your attention and a general sense of serenity will accompany your sojourn here. Once here, you'll quickly realize there's a lot more to explore in Coonoor.
Whether be the famed Sim's Park or the adventurous Lamb's Rock, you have plenty of ways to be up close with nature. But you'll be really lucky if you manage to spot the Nilgiri Mountain Toy train emerging through the tea estates. Coonoor, at an altitude of 1850 meters, is indeed a great escape from the chaos and madness of city life.
Nearest Railway station: Mettupalayam, which is about 17 km away
Nearest Airport: Coimbatore International Airport, which is about 85 km away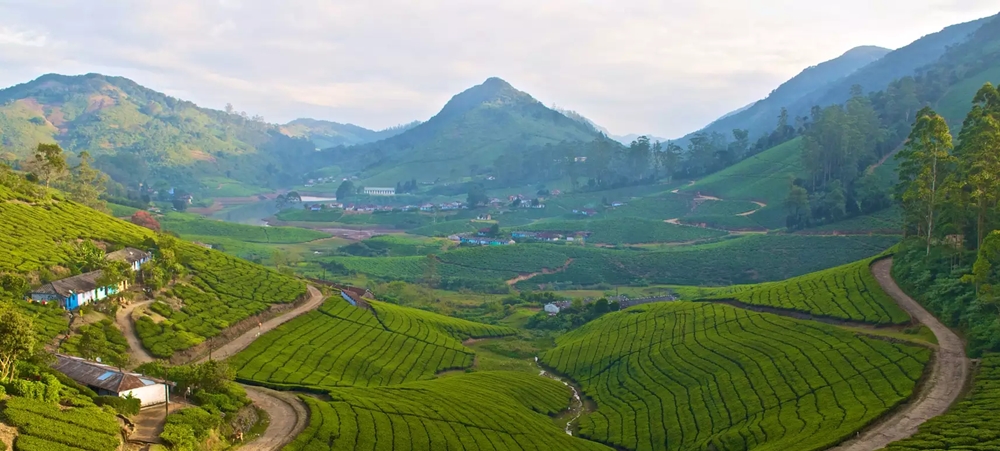 Image Source
Meghamalai, situated in the border district of Theni, is another sedating hill station which helps you unwind all your thoughts. Located just 2.5 hrs drive from the famous Periyar Tiger Reserve, Meghamalai has an abundance of flora and also a lot of fauna to impress the visitors.
Unlike many other hill stations, Meghamalai has something for wildlife enthusiasts also. Among its star attractions are the rare Great Indian Hornbill, the endangered Grizzled Giant Squirrel, Salim Ali's fruit bat, White-bellied woodpecker, as well as the enigmatic Hutton's pitviper snake. Better known as the 'High Wavy Mountains', Meghamalai offers you wondrous views of the Varusanadu Hills. The landscape is prominently dominated by large tea estates as well as craftily lined cardamom plantations. Located at an altitude of 1500 metres, Meghamalai has a pleasant hilly climate. This place will keep you busy with continuous exploration.
Nearest Railway station: Madurai, which is about 120 km away
Nearest Airport: Madurai Airport, which is about 126 km away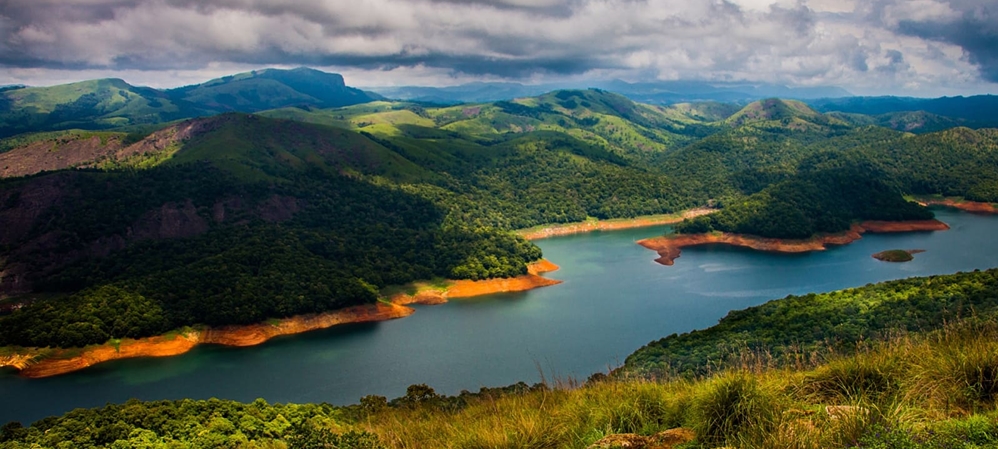 Pic Courtesy: Goibibo
Idukki, Kerala's second-largest district, has many feathers to its cap- like Munnar, Thekkady, and Vagamon. Life on a magnificent mountain peak, wandering along the slopes of lush green tea plantations of some of India's forefront tourist destinations might be the perfect holiday setting you are looking for. It's hard to resist falling in love with this densely forested mountainous region. A visit to the Eravikulam National Park might give you the rare opportunity of seeing the endangered Nilgiri Tahr and rare blue coloured Neelakurinji flowers that blossom only once in 12 years.
A boat ride in the silent Periyar river promises undisturbed close-up views of some of the wild elephants even if you're not lucky to spot a Tiger, which otherwise is in good population here. Do a bit of spice shopping in Thekkady and enjoy misty views of nature in Vagamon. We still haven't counted majestic waterfalls, the one-of-a-kind arched dam and other popular tourist hotspots in Idukki. With an average elevation of approx. 1200 meters, Idukki has an enjoyable climate.
Nearest Railway station: Kottayam, which is about 145 km away
Nearest Airport: Kochi International Airport, which is about 100 km away
Pic Courtesy: Holidify
Coorg, better known by the name 'Kodagu', is one of the major tourist hotspots in the Malabar region. Located near the Kerala border but in the Karnataka state, it is a nice offbeat destination if you want to also indulge in local culture apart from the regular sightseeing stuff. There are lots of indigenous and other ethnic groups which have their own unique attire and festivals. It's indeed a treat to watch them, only if you manage to take out time after seeing some scenic waterfalls like Abbey Falls and Iruppu Falls and other places like Tibetan Buddhist Golden Temple and some of the wildlife sanctuaries.
Apart from coffee, don't' forget to try the Kodagu cuisine which essentially consists of steamed rice balls. Wait a minute, did we forget to mention about Talakaveri, the famous place where Kaveri river originates. Well, plenty of things to see at a single place. With an altitude of 1100 meters, Kodagu has a moderate climate.
Nearest Railway station: Mysore, which is about 107 km away
Nearest Airport: Mangalore Airport, which is about 160 km away
Image Source
Sometimes the lesser explored places give you the real feel of adventure. This is where Valparai kindles with your expectations. Nestled in the Anamalai hills of the Western Ghats, Valparai easily beats the common myth that most of the Hill stations in the south give the 'same feel'. Valparai is very much different than Ooty, Kodaikanal, and even Munnar, thanks to its unique nature.
To set the record straight, Valparai is the only hill station in the world which has 12 dams and hydroelectric power stations. If that doesn't impress you, then you would be glad to know that Ecotourism is given more importance than regular tourism here. The place is filled with streams, valleys, dams, waterfall, as well as grasslands. You can explore its vast Flora and Fauna or simple visit other sightseeing places in Valparai. With an altitude of 1100 meters, Valparai is generally a cool hill station but experiences heavy rainfall during monsoon months.
Nearest Railway station: Coimbatore, which is about 105 km away
Nearest Airport: Coimbatore Airport, which is about 120 km away
11) Araku Valley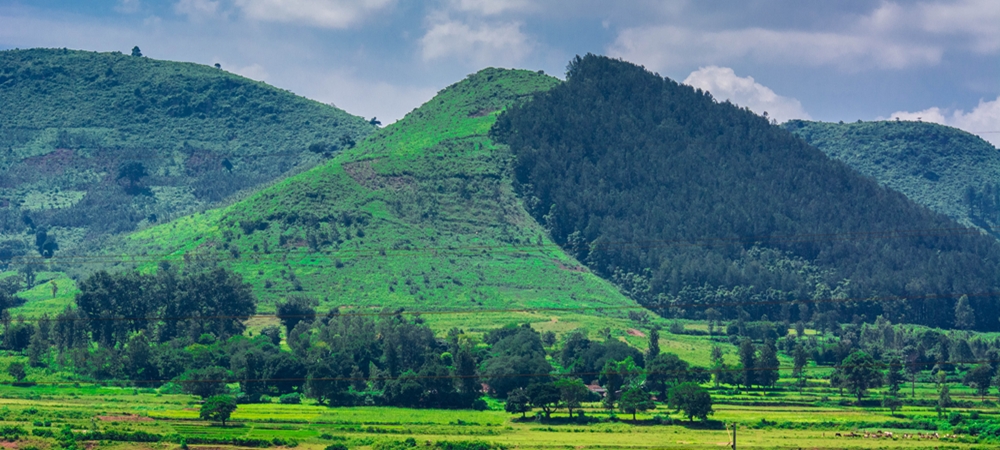 Image Source
Araku Valley in Andhra Pradesh is the most famous hill station of the Eastern Ghats. Basically a cluster of five valleys about 112kms from the coastal city of Vishakhapatnam, Araku Valley is your scenic date with nature. Araku Valley is an idyllic hill station with lush greenery, waterfalls, and streams. The Botanical Garden, Silk farm and Mulberry gardens are interesting places to explore in the day, apart from the not-to-miss Tribal Museum. With an average elevation of approx. 1000 meters, Araku Valley also has a cool climate.
Nearest Railway station: Araku Valley, which is about 2 km away
Nearest Airport: Vishakhapatnam Airport, which is about 115 km away
12) Ponmudi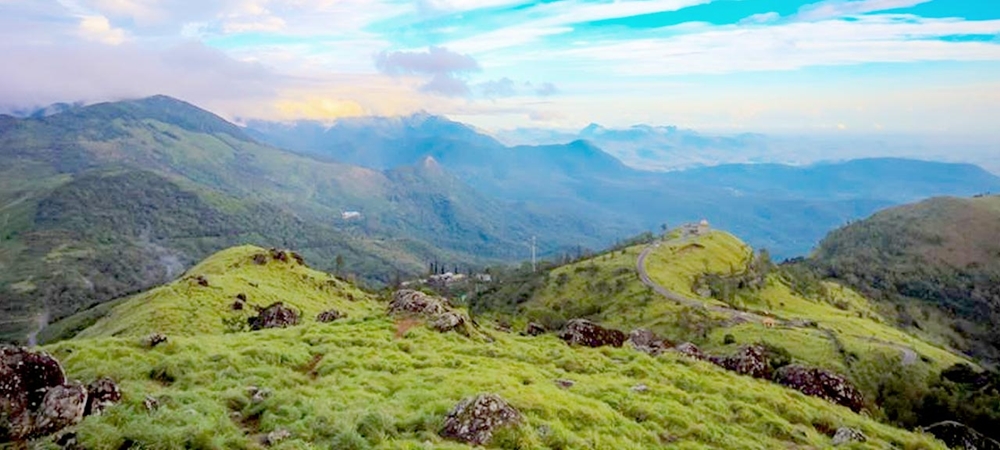 Image Source
Ponmudi, also known as 'The Golden Peak', is a hill station that is an extension of the Western Ghats and runs parallel to the Arabian Sea. It's a popular weekend picnic spot as its just 62 km away from the state capital Thiruvananthapuram. It's a relatively calm place, compared to other hill stations in Kerala, and thus provides a soothing experience to visitors. The most unique attraction of this place happens to be its flora and fauna. You can witness some rare mountain flowers, wild orchids, as well as exotic butterflies. Don't forget to stop and enjoy the breath-taking view of the Kallar river and Meenmutty Waterfalls. Ponmudi has an average elevation of approx. 1100 meters and has a typically cool hill station climate.
Nearest Railway station: Thiruvananthapuram Junction, which is about 61 km away
Nearest Airport: Trivandrum International Airport, which is about 67 km away
Have a look at a tailor-made itinerary that covers the hill stations of South India.
(Visited 2,583 times, 1 visits today)