January is a great time to visit Kerala, God's own country. While other locations in India like Manali, Leh, and Sikkim are bitten with frost during this month, the climate in Kerala is salubrious. No drenching rains or sweltering heat of the summer sun; so you can explore the best locations in Kerala and enjoy your visit.
Most of the tourist destinations in Kerala can be visited throughout the year. However, I'm here trying to explain in detail the advantages and disadvantages of visiting Kerala in January.
There are multiple benefits in planning your visit in January.
▪    Plan long tours across the naturally-endowed country.
The climate in Kerala is cool and pleasant during January. You can plan long vacations across the state during this season.
▪    No rains or harsh climate.
During rainy seasons, it is difficult to plan your tours to multiple locations. But, if you tour the state in January, you can plan visits to all your favourite destinations and prominent landmarks. You can also plan boat trips, hikes, treks or walks as you desire.
▪    The ideal time for backpackers, motor-bikers and cyclists.
During January, you can cycle along the state while the climate is pleasant. You will not get soaked in the rain or be tanned by the summer sun. In fact, there would be no need to carry an umbrella as protection against sun or rain.
Kerala in January- List of Best Places to Visit
God's Own Country Kerala is among the top 100 most beautiful locations in the world. You may be delighted to know that this naturally-endowed location can be visited throughout the year and the climate is most pleasant during January when there are no rains or summer heat.
Here are some top destinations to visit in Kerala during January.
Cochin and Fort Cochin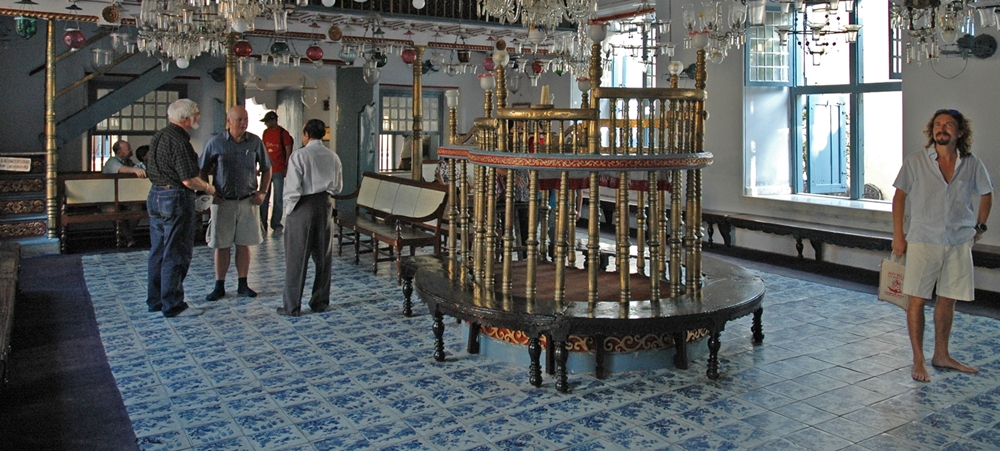 Image Source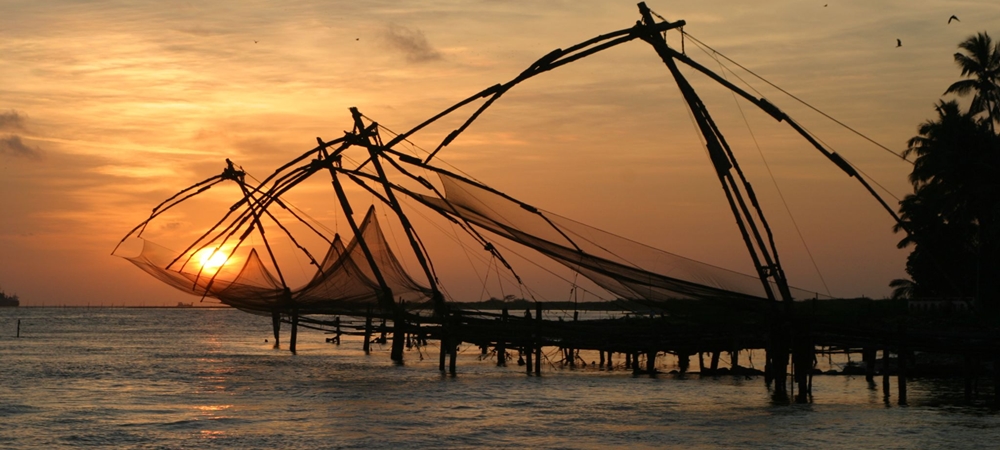 Image Source
Pic Courtesy: Holidify
Metropolitan Cochin is among the most developed cities in Kerala. The coastal city is the favourite of shoppers and sight-seers alike. You can find international airport (COK), shopping malls, multi-cuisine restaurants, fast-food joints, cinemas and all urban amenities in the developed city.
Fort Kochi is a popular destination for tourist and you can find beaches, palaces, historical monuments, museums and other landmarks in Fort Cochin.
Here are some top locations to visit during your tour to Fort Cochin:
Fort Cochin Beach
Indo-Portuguese museum
Mattancherry Palace
Cherai Beach
Paradesi Synagogue
Jew Town
Santa Cruz Cathedral Basilica
Tomb of Vasco-da-Gama
Activities to do in January: Plan shopping tours to the malls in Cochin while the climate is pleasant in January.
You can also explore the palaces, museums, attend cultural shows in different venues, walk around the streets, stroll on the beaches or plan photography tours etc. The climate in January is warm and cool; the temperature does not shoot up very high or fall below 16 degrees. 
Munnar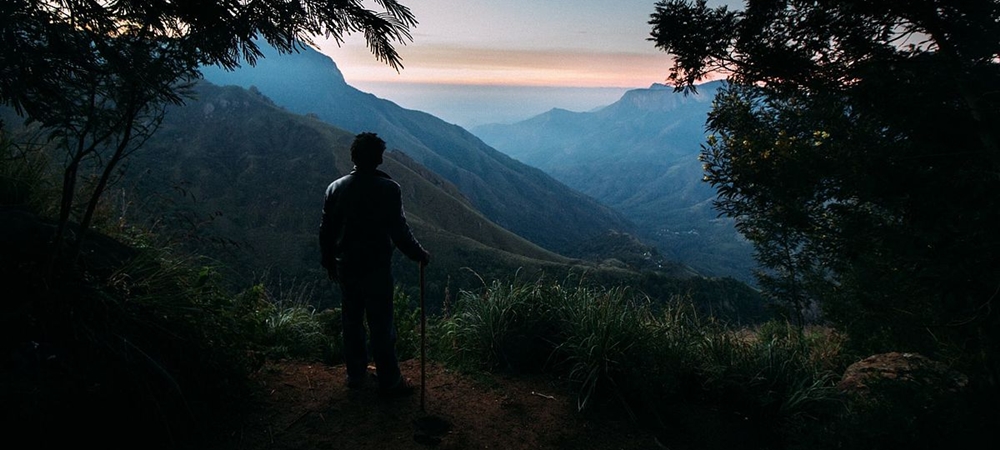 Image Source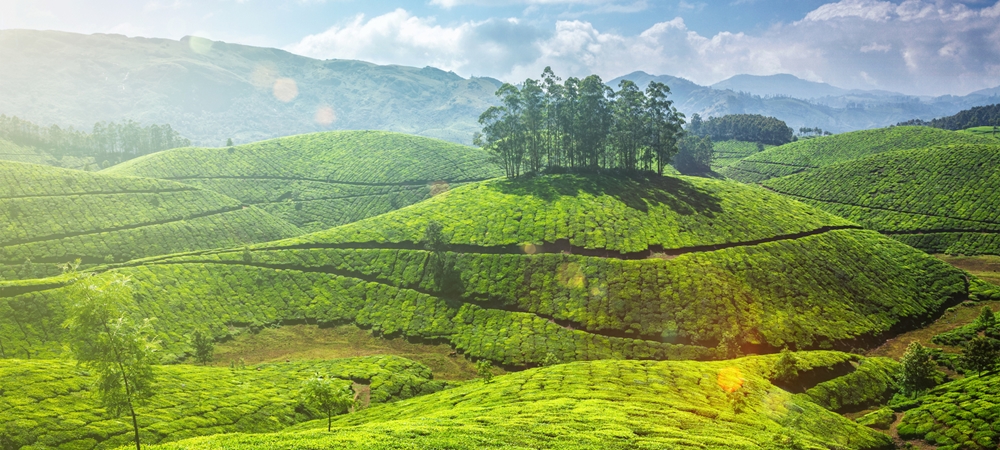 Image Source
With the temperature dropping to sub-zero degrees at night, Munnar can be among your top destinations to visit in January. The scenic tea plantations, evergreen mountain slopes, and beautiful dams make Munnar a must visit destination.
If you are averse of cold weather, then wait for a month or two and plan your visit to the hill station in March or other months.
Here are some top locations to visit during your Munnar visit,
Tea Plantations
Mattupetty Dam & Echo Point
Rajamala- Eravikulam National Park
Marayoor & Chinnar
Top Station
Activities to do in January: January is an ideal time for boating in the lakes and photography walks through the tea gardens. Also, try to visit the Tata Tea Museum. The Top Station will give you mesmerizng views.
 Thekkady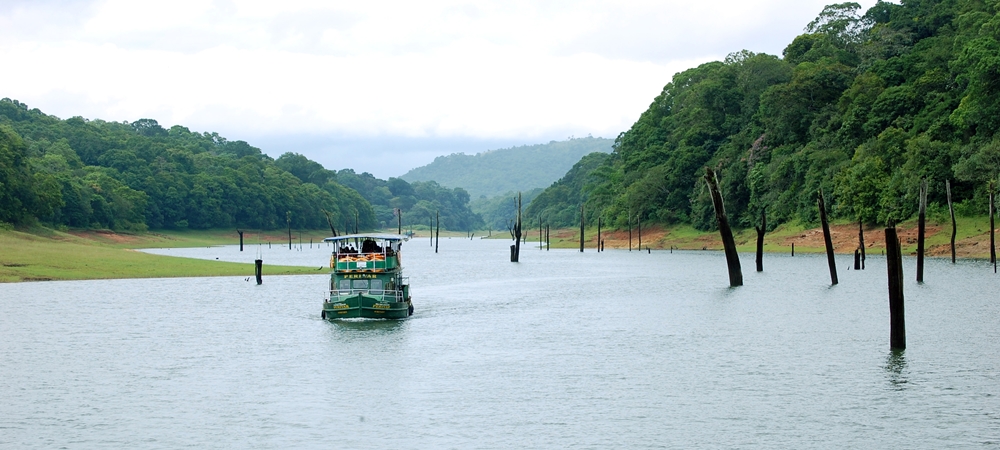 Image Source
Thekkady is a picturesque destination with dense forests and rich plantations. The famous Periyar National park and wildlife reserve is located here. The dense forests are a huge reserve of rare flora and fauna. Find 143 orchid species and thousands of flowering plants in the nature preserve.
There are plenty of places to visit and explore in Thekkady. Here are some most preferred locations in the destination.
Periyar National Park and lake
Chellakovil Viewpoint
Vandiperiyar
Anakkara
Ramakkalmedu
Parauthumpara
Activities to plan in January: You can plan plenty of activities in Thekkady during January when the climate is pleasant. Boarder hiking, Thekkady boating, Periyar Tiger Trails, Nature walks and Jungle Scouts are some of the activities offered by Department of Forest and Tourism.
 Alleppey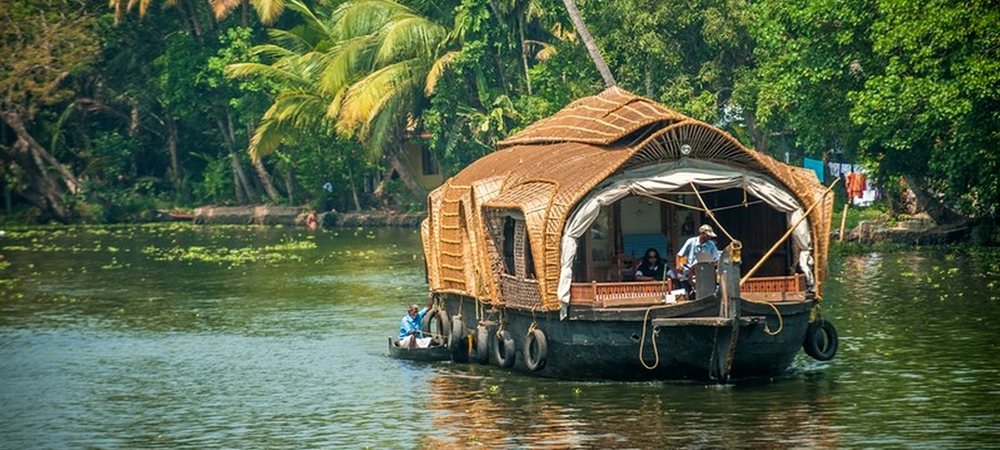 Pic Courtesy: Iris Holidays
Alleppey is ranked first among the most popular tourist destinations in Kerala. With its green landscapes and backwater expanse, Alleppey is a splendid and evergreen location which you can visit any time in the year. However, during rainy seasons, houseboat cruises might get suspended for a day or two.
The top attractions in Alleppey include:
Alleppey Backwaters
Alleppey Beach
Marari Beach
Activities to plan in January: Houseboat cruises is the trademark activity to enjoy in Alleppey. Because of the pleasant climate, you can bask in the warm sun and enjoy your cruise. The food menu in the houseboat makes it a must-have experience for foodies visiting Kerala. Shikkara and Canoe Cruises are the other economic option to enjoy the backwaters.
Kumarakom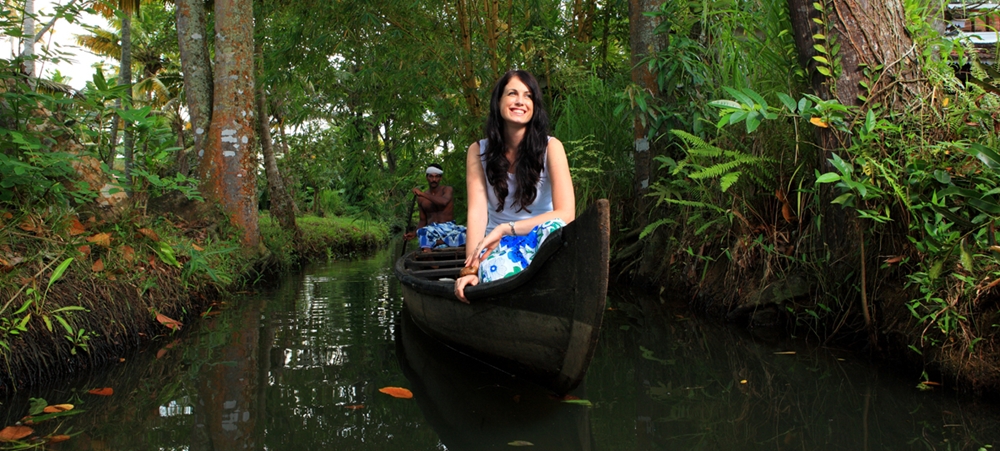 Image Source
Kumarakom is a famous backwater destination in Kerala located along the Vembanad Lake. You can enjoy traversing along the large water stretch with speed boats and also houseboats. A large bird sanctuary is located here and you can view rare species of migratory birds such as Siberian storks, wild ducks, herons, and other water birds.
The best part of Kumarakom is the unexplored canals and local life. But for exploring the beautiful canals you need to get a local canoe as bigger houseboats can't traverse through smaller canals. If you love birding you can't afford to miss an early morning canoe ride to the narrow canals. Take along your binoculars to spot some beautiful bird varieties.
The top attractions in Kumarakom include:
Kumarakom Backwaters
Vaikom Temple
Paathiramanal Island
Kumarakom Bird Sanctuary
Village Life
Activities to plan in January: Enjoy houseboats cruises, bird watching, canoe rides, local village experiences, toddy shop visit and much more. 
Wayanad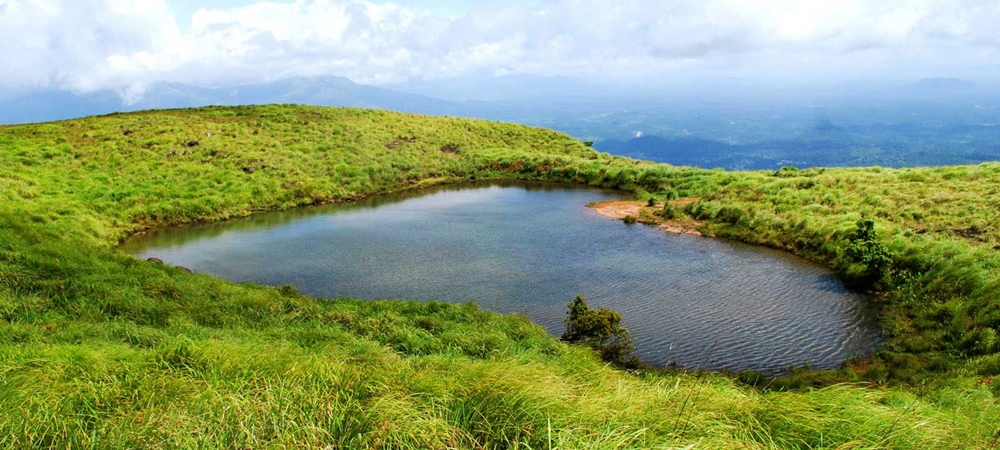 Image Source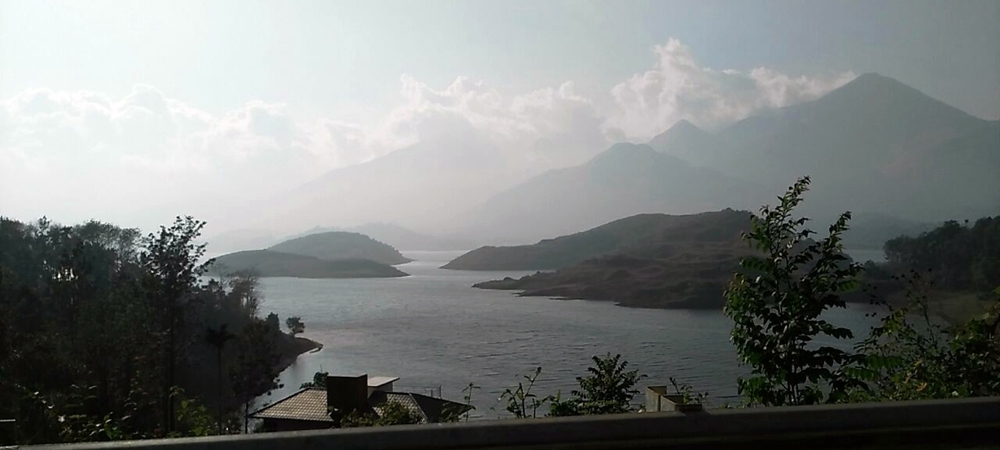 Pic Courtesy: Tripnetra
Wayanad is a verdant destination located in the Western Ghats. During your visit, you can explore the mountains, forests, waterfalls and tea plantations in this destination.
The top attractions in Wayanad include:
Banasura Sagar Dam
Chembra Peak
Kuruva Island
Pookode lake
Muthanga Wildlife Sanctuary
Edakkal Cave
Thirunelli Temple
Activities to plan in January: Trekking and adventure sports can be great activities to enjoy in Wayanad. Plan exploration to the locales, natural caves, wildlife sanctuary and temple during your visit. 
Thiruvananthapuram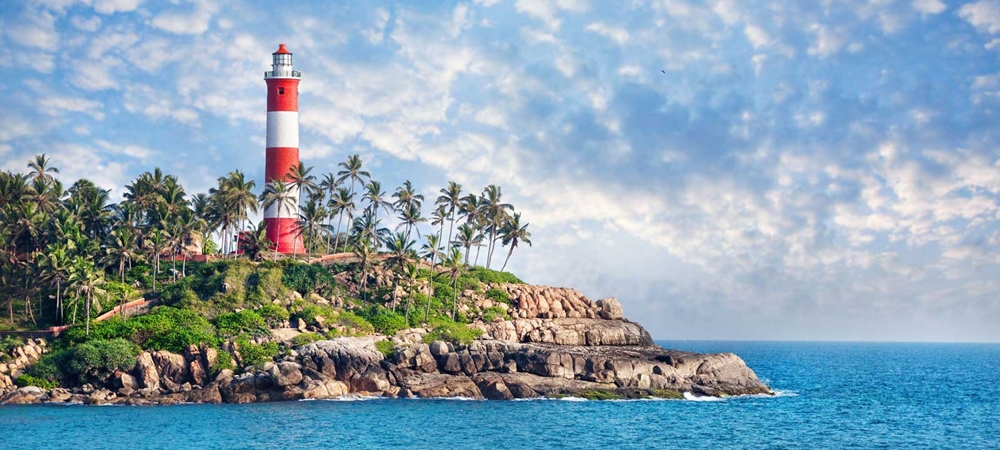 Image Source
Varkala Beach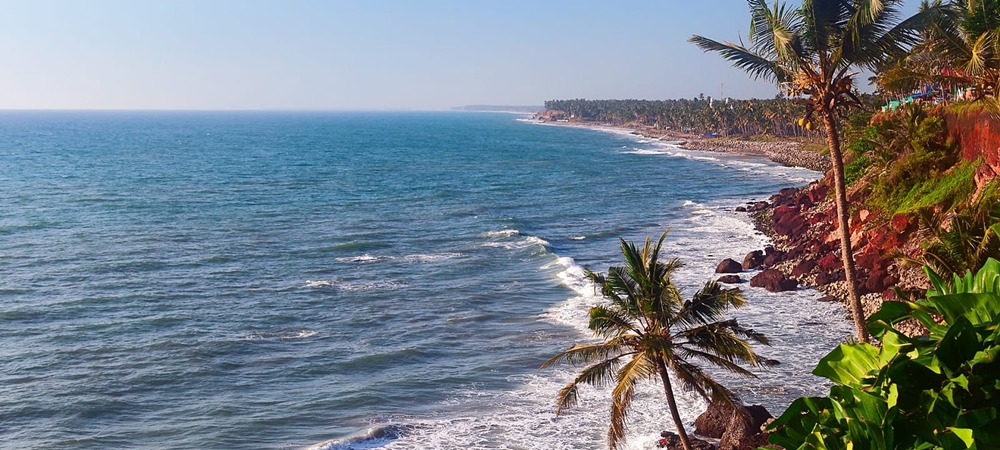 Pic Courtesy: Goibibo
Located in the southernmost part of Kerala, Thiruvananthapuram is a destination famous for its heritage sites and beaches. Thiruvananthapuram is a place well connected by road rail and air. You can see and experience the reminisce of Royal heritage of Travancore Kingdom and British colonial architecture. Kovalam and Varkala are two famous beaches in Kerala which attract tourist from all over the world. 
The top attractions in Thiruvananthapuram include:
Thiruvananthapuram City
Kovalam Beach
Poovar Beach
Ponamudi Hill Station
Varkala Beach
Sree Padmanabha Swami Temple
Agastyarkoodam Trekking
 Activities to plan in January: January is the best time for the city tour as the climate will be pleasant during the daytime. You can also try water sports activities and speed boating in Kovalam and Varkala beach. January is an ideal time for getting tanned on the beach. Agastyaarkoodam Trekking which opens only for less than 50 days (limited to 100 slots per day) in a year is available from mid of January till February end.
 Athirapally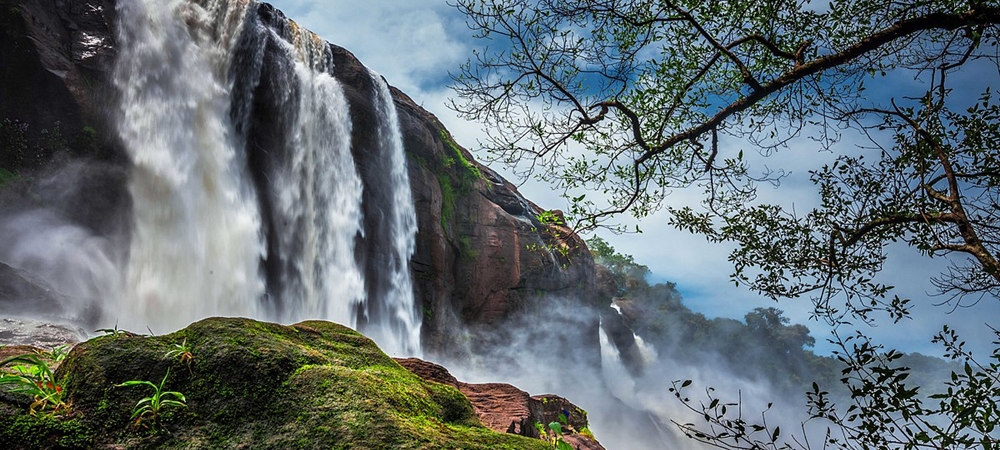 Athirapally is a scenic, enchanting destination where the cascading Athirapally falls is located. These waterfalls drop from a height of 80 feet and are the largest falls in the state. It is also known as Niagara of Kerala!
The top attractions to visit near Athirapply include
Athiraplly Falls
Vazhachal Falls
Sholayar Dam
Thumboormozhi Dam
 Activities to plan in January: Enjoy touring the waterfalls and photography. The waterfall will not be in it full might as it is during the monsoon. Still, it's an ideal time for visits and photography.
Kanyakumari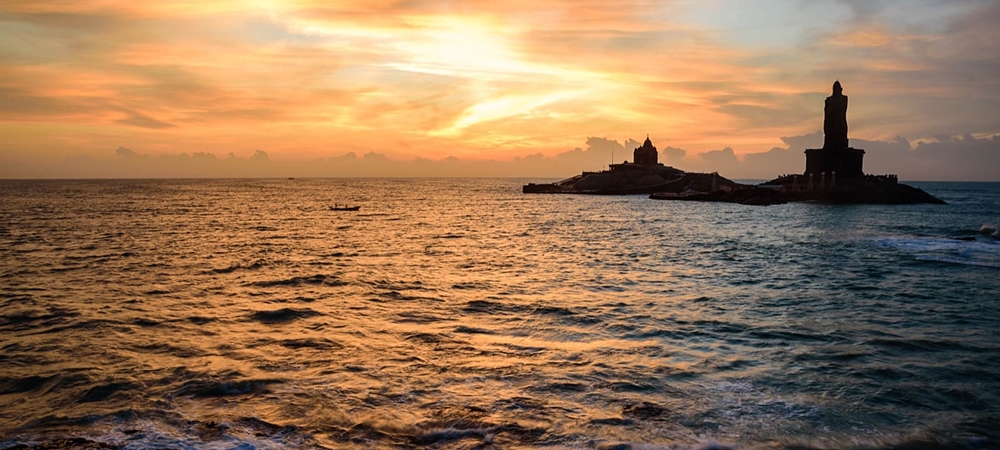 Kanyakumari is the southernmost point of India where the Arabian Sea, Indian Ocean and Bay of Bengal merge together. The coastal destination can be visited throughout the year.
There are plenty of attractions in Kanyakumari such as:
Thiruvalluvar Statue
Vivekananda Rock Memorial
Kanyakumari Devi Temple
Activities to plan in January: Plan visits to the top attractions, shopping for large shells, souvenirs, and collectibles. Do not miss the spectacular sunset.
Kerala in January- Places NOT to Visit
January is one of the best months in the tourism calendar of Kerala. All tourist attractions are open to visit. The climate is also very pleasant.
Eravikulam National Park might be closed from the end of January up until April since it is the calving season for Nilgiri Tahr. 
Kerala in January- Top Activities to Do
January is among the most pleasant periods in the year for planning adventure activities and explorations in Kerala. You can plan a host of adventures during the period as there are no heavy rains or summer heat that forces you to suspend your activities. It is also the best time for enjoying backwaters of Kerala.
Backwater Experiences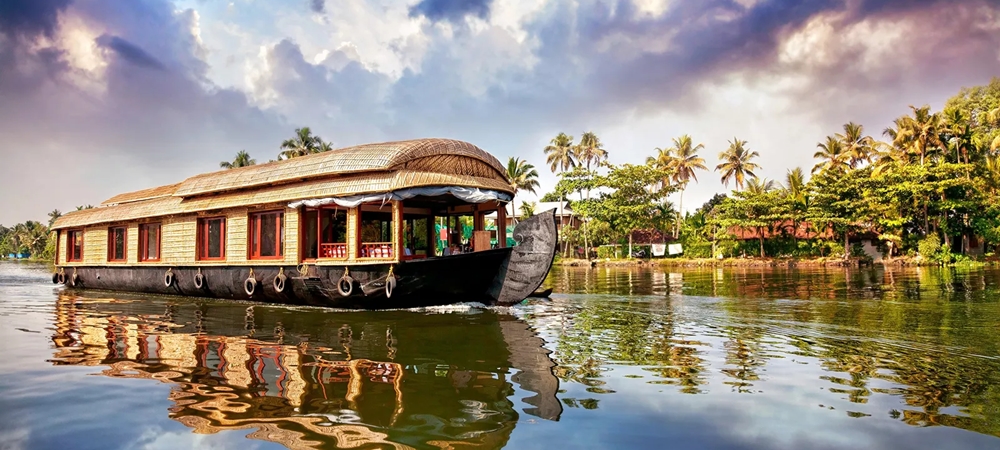 Pic Courtesy: Thrillophilia
Kerala is a popular destination for its large backwater stretch. You can explore its vast lakes and rivers with boat rides, houseboat cruises or even by paddling a local canoe.
January is an ideal period for boat rides as there are practically no rains and no scorching heat like in summer. The gentle climatic conditions make January the ideal time for backwater experiences while enjoying village life.
The locations where you can get the best backwater experiences in Kerala are,
Alleppey
Kumarakom
Astamudi
Neelesharam
Poovar
Trekking & Camping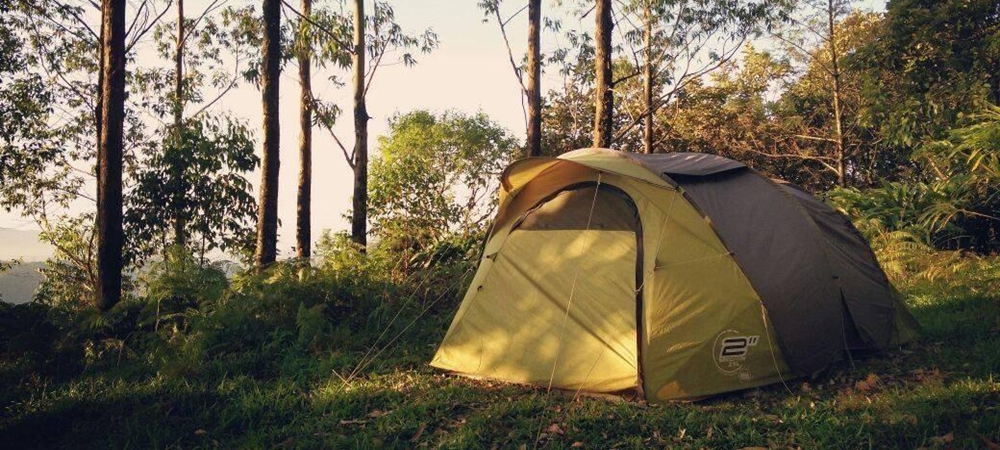 Image Source
Kerala blessed by its long stretch of hill stations offers a great opportunity for the adventure seekers to trek and camp in the wilderness. The full stretch of the Arabian Sea in the western side of Kerala make it a place with high humidity during the summer season. During the summer season (March through May), it is best to avoid trekking because the humidity can make you sweat profusely. But the climate is most pleasant during January. You can trek through the spice and tea plantations of Kerala and enjoy a good experience in the fresh atmosphere.
The places in Kerala which are ideal for Trekking are,
Meeshapulimala and Aanamudi – Munnar
Periyar National Park Trekking- Thekkady
Paithalmala – Kannur
Ranipuram – Kasaragod
Agastyrkoodam – Thiruvananthapuram
Chembra peak – Wayand
Dhoni Hills -Palakkad 
Ayurveda and Yoga Experiences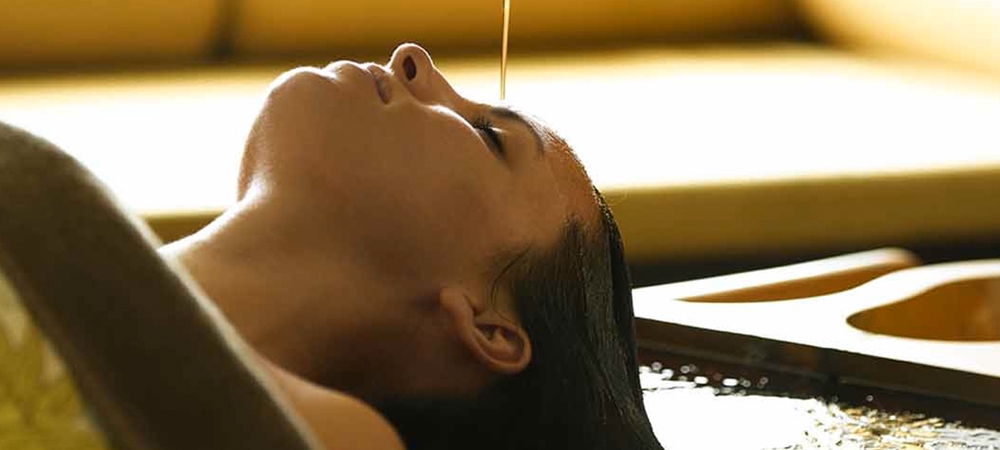 Image Source
Kerala is famous for its wellness and holistic treatments. During your visit, you may rejuvenate your mind and body through Ayurveda and yoga experiences offered by well-known Ayurveda centers in Kerala. The monsoon time in Kerala (June-July) is known to be the ideal time for long Ayurveda treatments. But January is also a good time to have a short yoga and Ayurveda holiday.
Some of the most prominent Ayurveda wellness centers are located at
Kottakkal
Thiruvananthapuram
Palakkad
Alleppey
Cochin 
Wildlife Sanctuaries and Experiences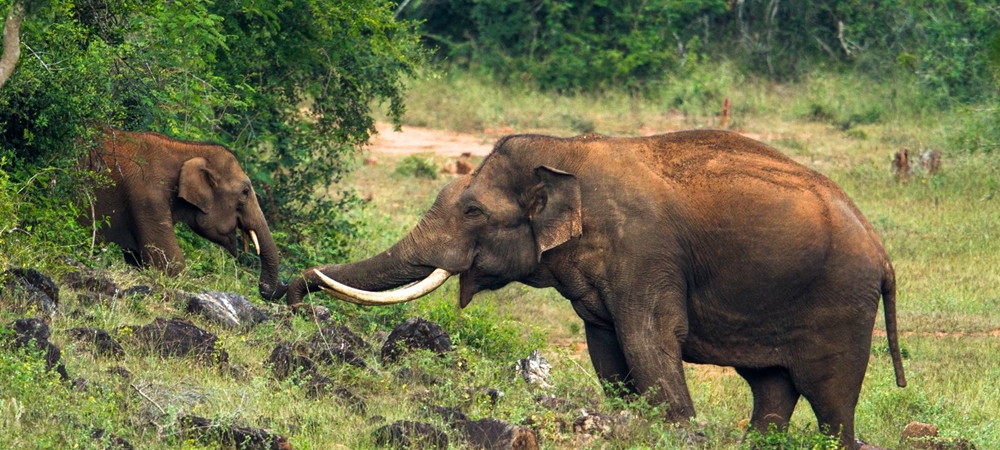 Image Source
All wildlife sanctuaries in Kerala are solely located in the Western Ghats. UNESCO, the UN's cultural agency, has added the Western Ghats of India to its list of World Heritage Sites. The Western Ghats is ranked 8th among the world's hottest biodiversity hotspots. The gentle climatic conditions in January make it one of the best times to visit and experience the rich flora and fauna offered by the Western Ghats in Kerala.
Some of the most prominent Wildlife Sanctuaries in Kerala are,
Neyyar Wildlife Sanctuary
Eravikulam National Park
Aanamdui Shola National Park
Periyar Tiger reserve
Parambikulam Wildlife Sanctuary
Silent Valley National Park
Thattekkad Bird Sanctuary
Chinnar Wildlife Sanctuary
Muthanga Wildlife Sanctuary
Tholpetty Wildlife Sanctuary
Water Sports and Beach Experiences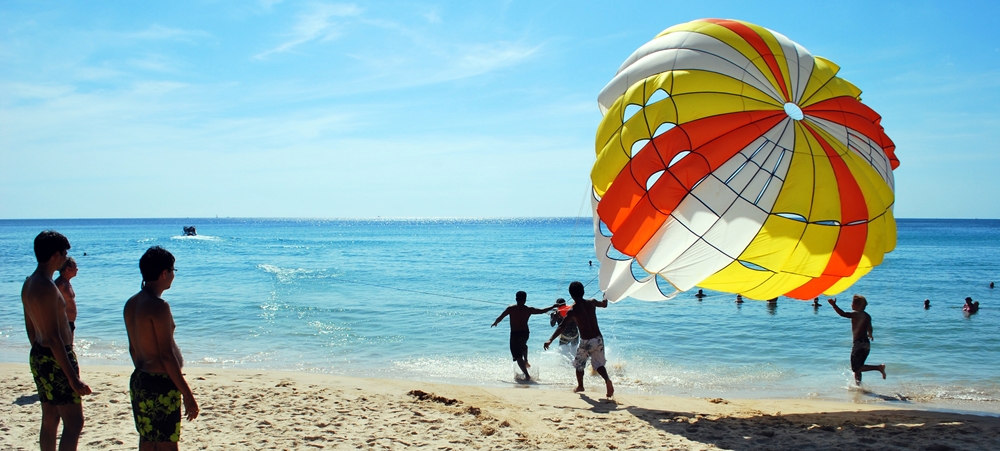 Pic Courtesy: Holiday India
Kerala is a place blessed with it sling stretch of beaches.  The Arabian Sea on the western side of Kerala makes it a favourite destination for beach lovers. Since January offers a pleasant climate it will be the best time for engaging in water sports and get yourself tanned without getting a sunburn.
Best Place for Beach Activities in Kerala,
Varkala
Kovalam
Marari
Cherai
Fort Cochin
Kannur
Calicut
Village Walks and Local Life Experiences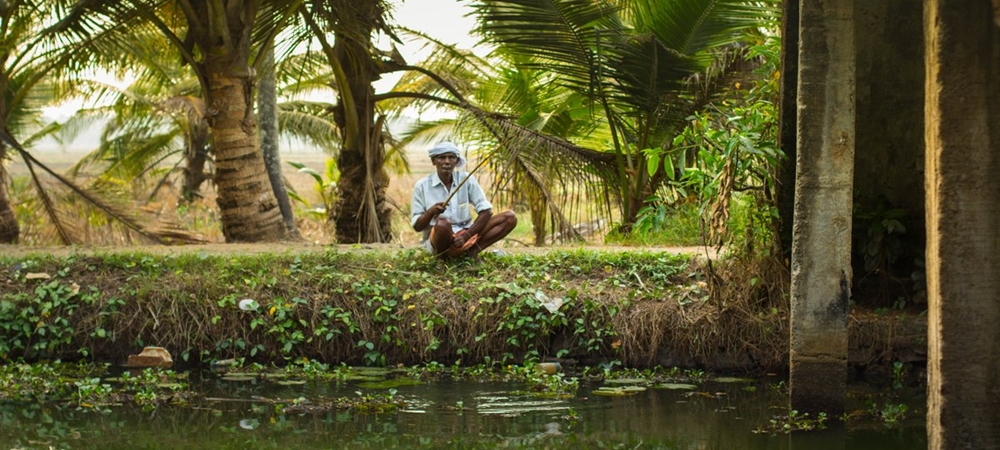 Image Source
The villages of Kerala are the home of great artisans, weavers and local craftsmen. If you are interested in experiencing the real local life of Kerala, you should find time in your itinerary to go for a stroll through the beautiful countryside of Kerala. Needless to say that January can be the best time for the village visits due to its clement weather conditions.
The most sought-after places in Kerala for village walks are, 
Kumarakom
Alleppey
Munroe Island
Fort Cochin
Photographic Walks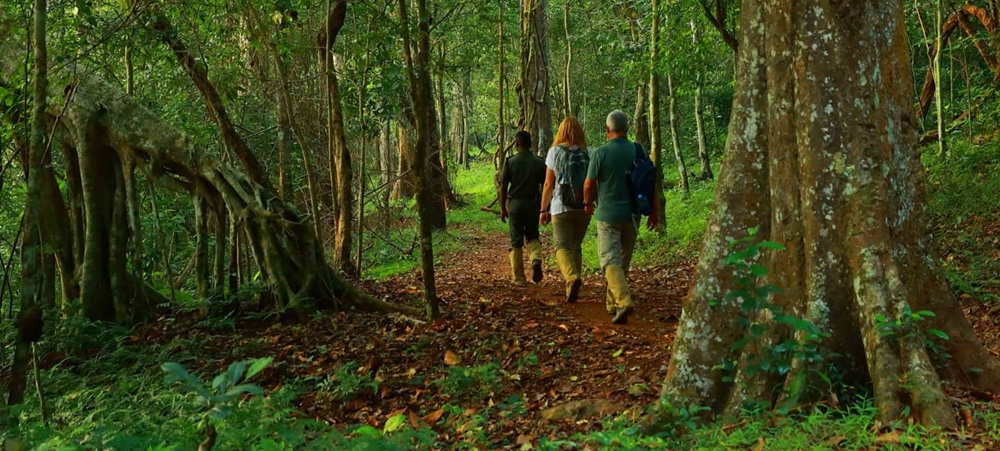 Pic Courtesy: Thekkady Tours
God's Own Country, Kerala is a photographers favourite. The photographs shot of Kerala's panoramic locales is listed among the best ones in the world including the Nat Geo Magazines. You can walk around the country and shoot brilliant photographs of your favourite locales. January is a cool season with ample lighting for good photography.
Kerala in January- Activities to be avoided
Trust me! All actives will be open for you. As previously said, do cross check the closing date of Eravikulam National Park in Munnar if you are planning a visit. 
Major Events and Festivals in January
Arthunkal Perunnal
Dates 10th Jan – 27th Jan
Venue: St. Andrew's Forane Church
Location: Arthunkal, Alleppey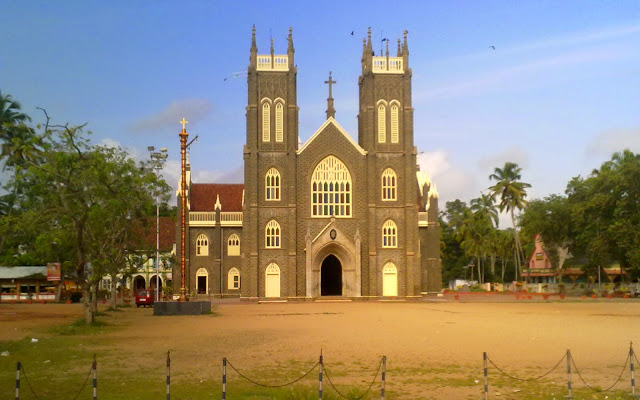 Image Source
The Arthunkal feast is a grand occasion for the pilgrims and visitors from across the country. The ten-day feast is held in January every year. The ceremonies include carrying the statue of St. Sebastian from the church to the beach; then the procession returns to the church. On the last day of the feast, many devotees crawl on their knees from the beach to the church and it is an inspiring view for the devotees. 
Adoor Gajamela
Event date: 18th Jan
Location: Adoor, Pathanamthitta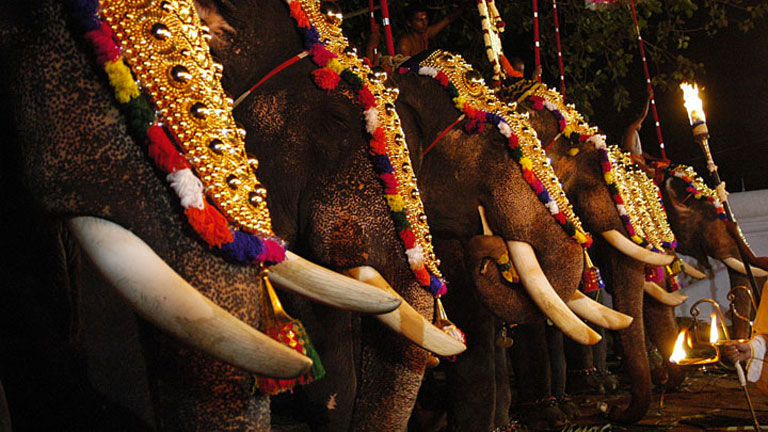 Witness a pageant of the magnificent elephants of Kerala. The elephants are adorned with splendid ornaments and appear pompous. 9 regal tuskers are paraded during the Gajamela. There are also cultural programmes conducted at the temple during this special event that extends to 10 days. The event is conducted at the Parthasarathy Temple in Adoor.
But, personally, I consider the use of elephants in temples and tourist locations as cruel, inhuman and animal abuse!
Nishagandhi Festival
Duration: 20th Jan to 26th Jan
Location: Nishagandhi Auditorium, Museum Junction, Trivandrum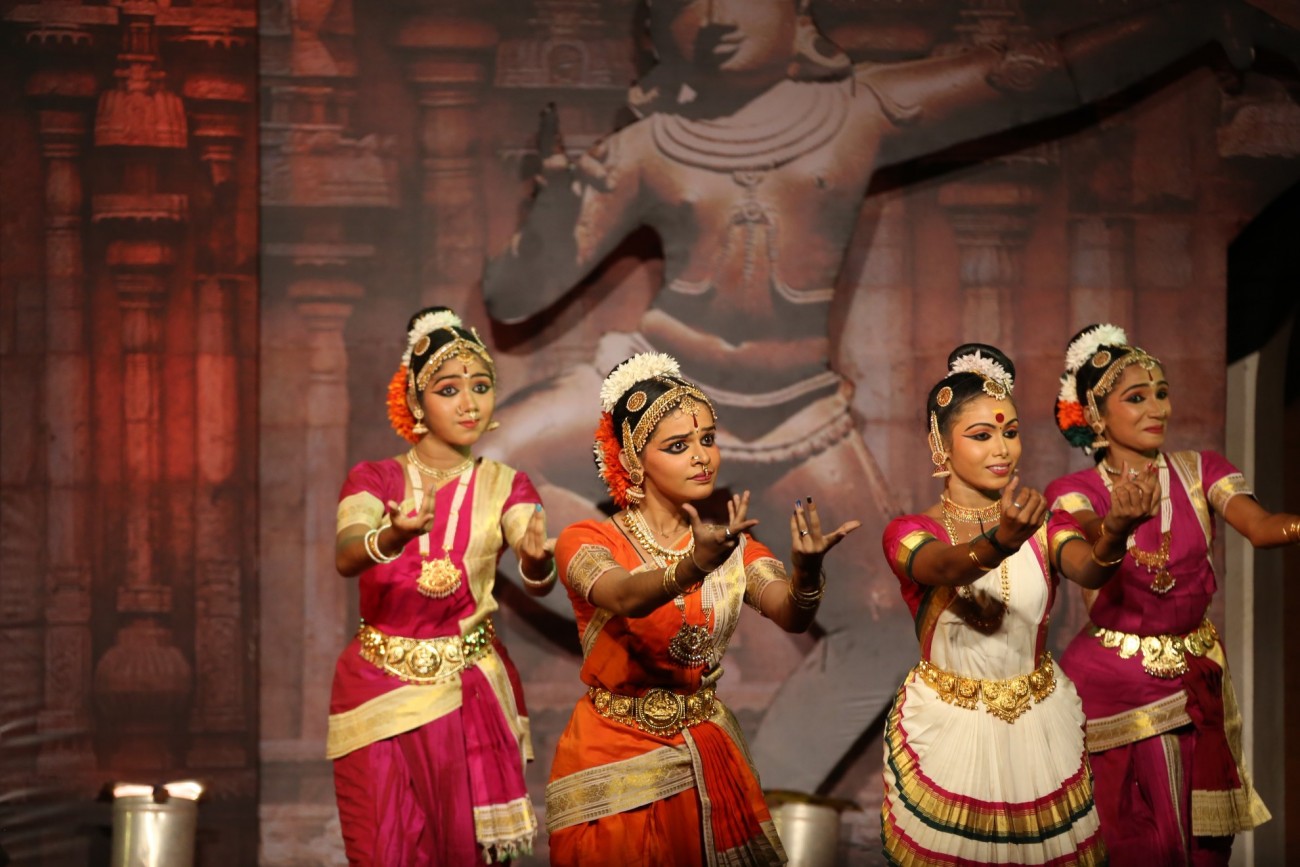 A cultural fiesta that extends to 9 days. It is scheduled at the premises of Kanakakunnu Palace in Trivandrum. The captivating performances include multiple dance forms such as Odissi, Kathak, Mohiniyattom, Bharatanatyam, Kuchipudi and Manipuri.
Cochin Carnival on New Year's Eve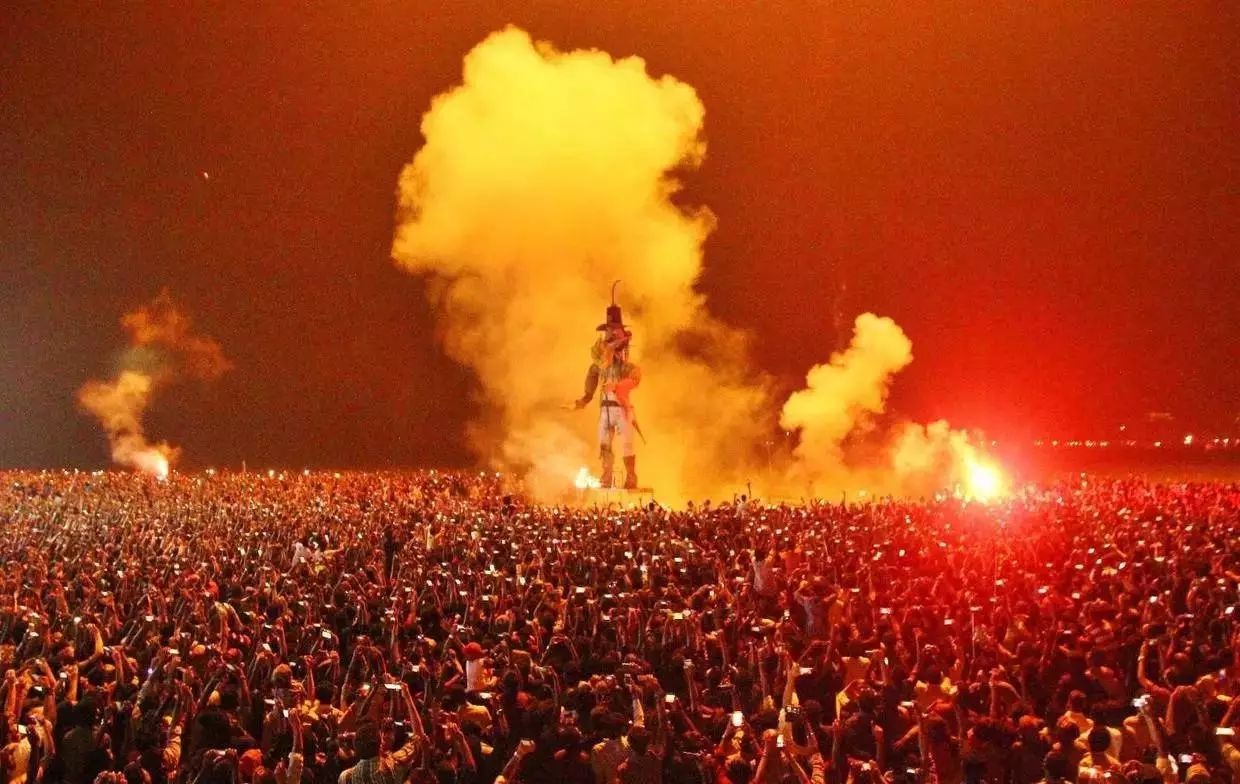 This carnival is held mostly during the last two weeks of December and finally ends on 1 January. Burning Pappanji at Carnival is a major spectacle awaited the crowd planning New Year Eve bash. The figure of an old man is set alight to mark the end of the previous year and welcome the New Year. Every year burning the Pappanji figure is a major event in Fort Kochi and it captivates the interests of the spectators.
What to Wear in January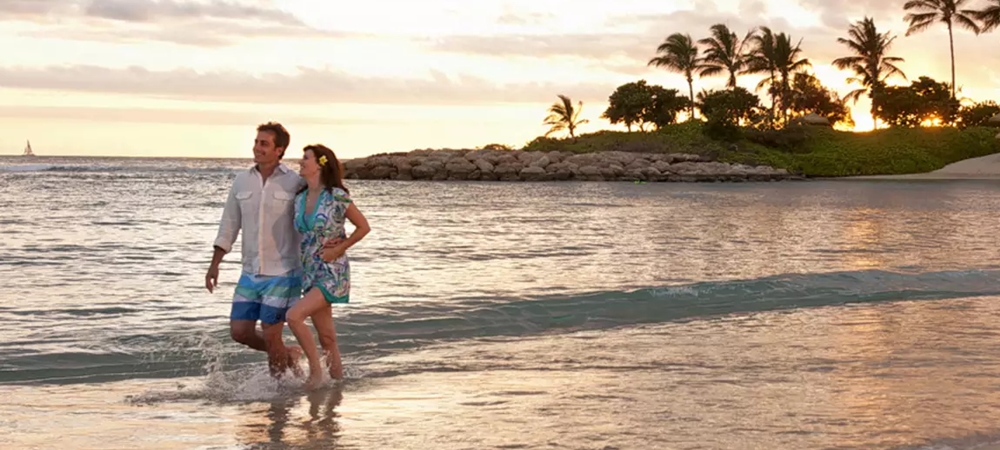 You can wear tees and jeans or shirts of any material as the weather is pleasant during your visit in January. Feel free to carry comfortable wear such as shorts or Capris for your tour. Women can also wear tees, frocks, dungarees, pants, and tops as per their comfort and convenience. While heading for hill-stations, you can carry some woollen clothes or a jacket. Generally, it is not required to carry hats, umbrella or sunscreen lotions during your tour in January.
Weather conditions in January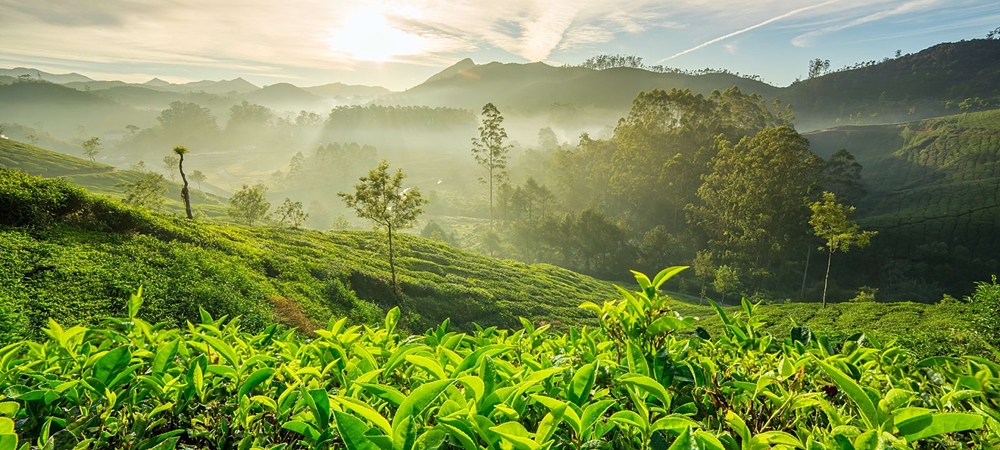 Pic Courtesy: Goibibo
During January, the weather conditions in Kerala are pleasant. The temperature neither shoots up nor does it go low. The humidity level will also be at a manageable limit. Generally, there are no chances for rain during this season.
Pros in visiting in January 
There are many advantages of visiting Kerala in January. With a pleasant climate, you can enjoy nature tours, jungle safaris, canoeing, excursions hikes and also attend cultural shows. There is no end to the plethora of activities and tours that you can enjoy in Kerala during the season. You can also celebrate your New Year and watch the major events conducted in the month of January.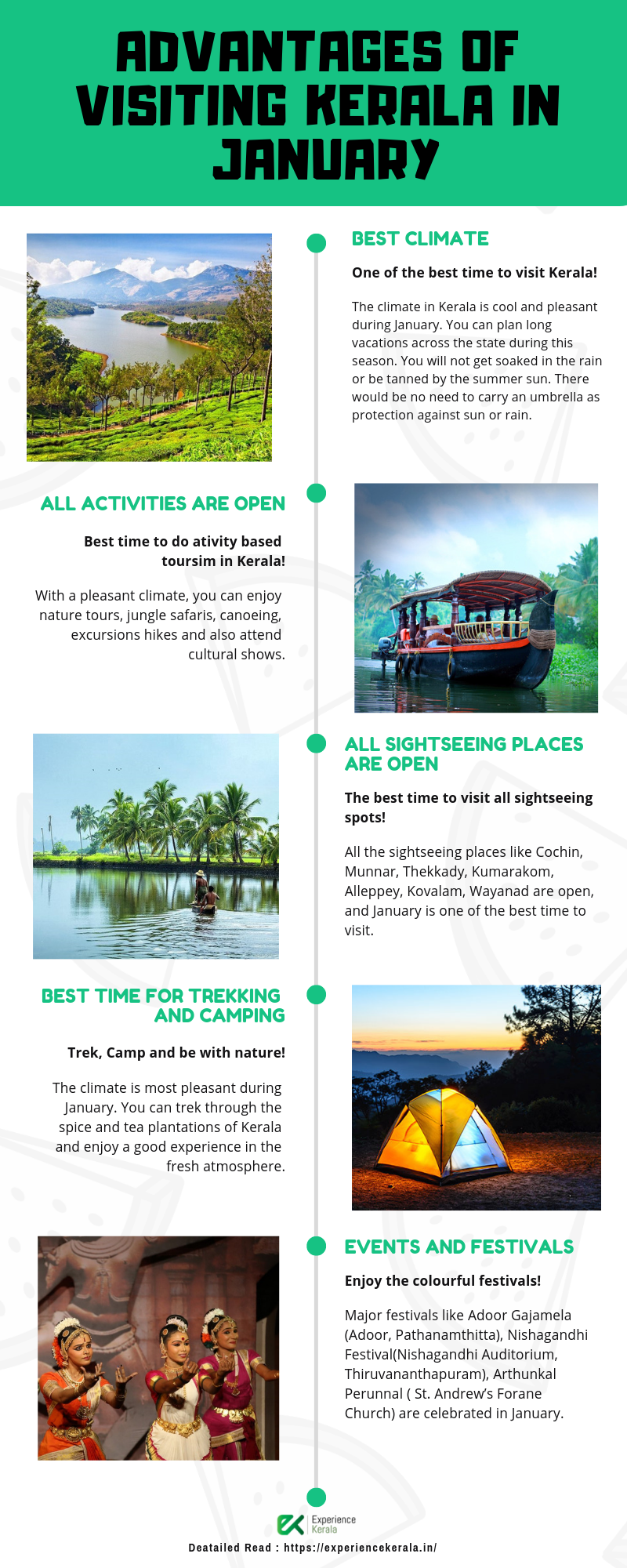 Cons in visiting in January
January is one of the most peak seasons in the tourism calendar of Kerala, the good hotels will be selling out at a faster rate. You will have to book in advance to get the best room type in your desired accommodation. Take a look in advance at the best accommodations in Kerala. Peak season rate will be applicable for booking in hotels and houseboats. These rates will be very high if we compare it with low season tariffs. During the peak season, the hotels will be running full and hence service quality might also get affected.  In some hotels, they hire interns or unprofessional staffs on a temporary basis to manage the rush. Most of these newcomers might not have any idea of the room types, amenities and basic rules of hospitality.
There can be a long queue in activity centers. So it's advisable to book in advance to avoid the queue. Activities like boating, rafting, jungle camping, cultural shows, and elephant rides can be booked in advance on your own or with the help of a local tour operator.
The houseboats and canoe rides have to be booked in advance from reputed firms. If you are planning a spot booking on arrival, you might end up compromising quality and service.
Try to contact a reputed tour operating company or travel agent. Ask them to reserve the best chauffeur for you. There is every chance of getting an inexperienced local taxi driver for your multi-day tour!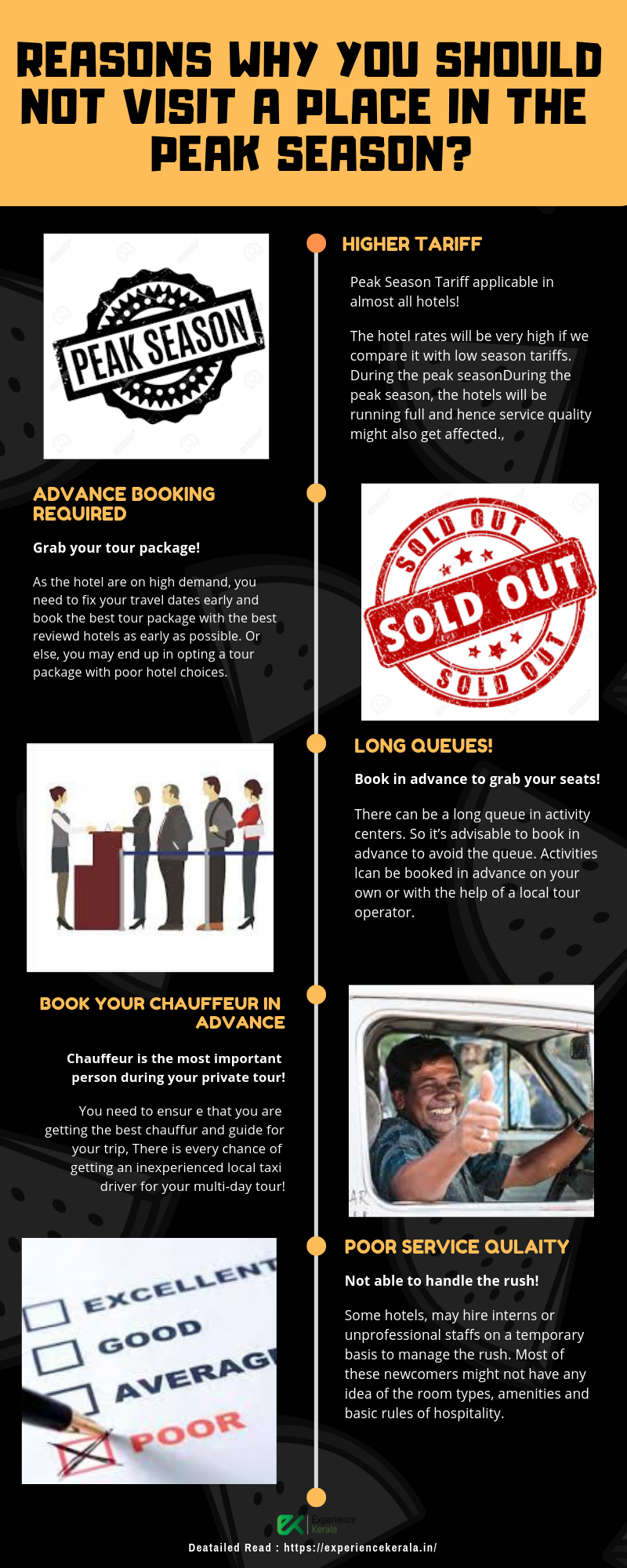 Planning Kerala Tour in January- Suggestions & Tips
Start planning your trip early
Do your research and find the best local tour operator / Travel Agent
Book the hotels, houseboats and desired room type in advance
Book your desired activities online or seek help from the operator
Ask the operator to reserve an experienced package handling professional chauffeur
Please make note that January is the peak season for tourism in Kerala. And because of that, the hotel tariff can be high. But you may be able to get rooms at relatively cheaper rates if you book them much in advance. The greatest advantage of visiting Kerala in January is that all the tourist attractions are open for visiting. And you can enjoy the tour even more because of the extremely pleasant weather throughout the state. I hope the above tips will help you to plan a perfect holiday in Kerala this coming January. Please share the article with your friends who are planning his visit to Kerala next January! Keep Travelling!
(Visited 2,010 times, 1 visits today)