Are you planning to visit Kerala? Are you aware of the activities that you can do there? Kerala is a state that has a plethora of choices because of the varied environment in it. There are mountains, rivers, and forests, all giving an equally impressive vibe that bids tourists to explore them. So, the need for an exploration oriented itinerary is necessary.
If you have not already planned your itinerary in detail, then you can refer to the list below to get some ideas. The list covers activities of a wide variety to ensure that there is something for everyone.
Trekking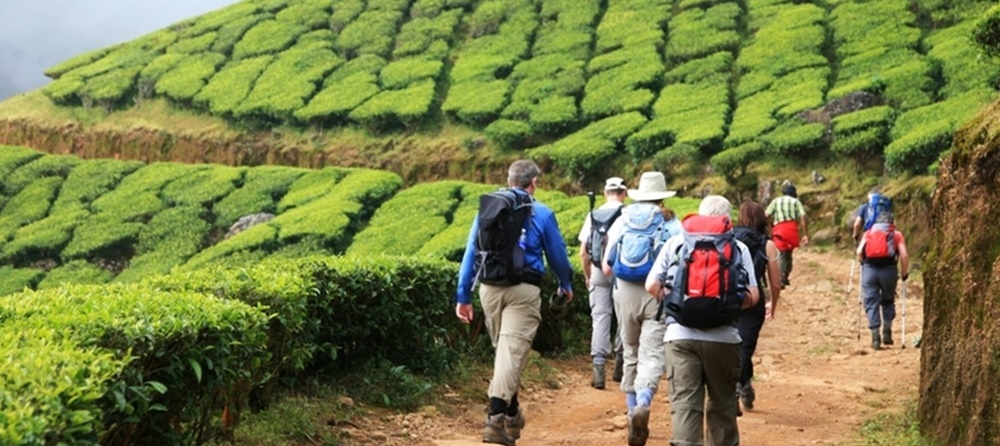 If you are a fitness enthusiast and a nature lover combined into one individual, you will adore the view you will witness when you reach the end of your trek. Not only the destination, but the journey will also be worth remembering as you walk past lush greenery only to end up in the crisp white clouds. The top trekking trains include Rajamalai, Top Station, Ramakalamedu, and Chembra Park.
Have a look at the best trekking spots in Kerala.
Camping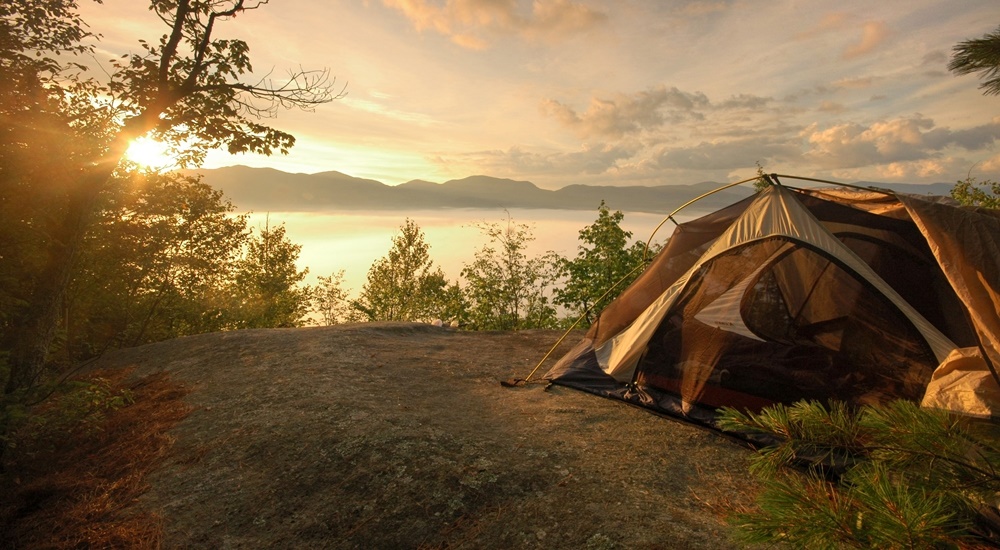 Who hasn't fascinated about a camp in the middle of a lush green field with starry skies above and a warm fire beside you? Or how about a treehouse that is equipped with modern facilities? You can go about the camping trip just as you like. The kind of dreamy camping trip you desire can be organized effortlessly by Nature Zone Resort, Monogram Resorts Wayanad, Orion Country Vagamon, and Dare 5000 Nature Camps.
Check out the best places for tent camping in Kerala.
Cultural Shows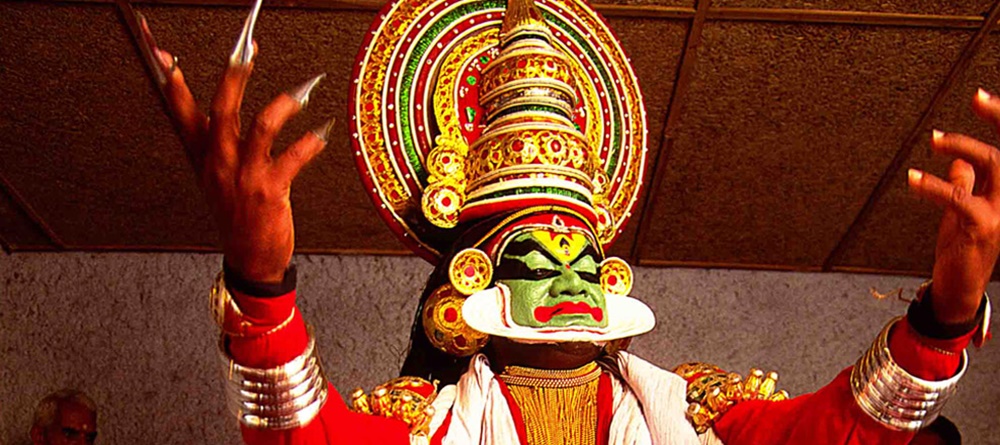 Image Source
Culture is an inherent part of Kerala. The culture of Kerala is proudly reflected in all of their activities. There are several cultural shows that showcase the culture and talent in Kerala. Whether it is a traditional dance performance or the showcase of the martial arts, there are several shows performing all these. The ones you must not miss are the shows at Cochin Cultural Centre, Punarjani Traditional Village, Greenix Village, and Kadathanadan Kalari & Navarasa Kalari Centre.
Look at the best cultural shows in Kerala.
Elephant Rides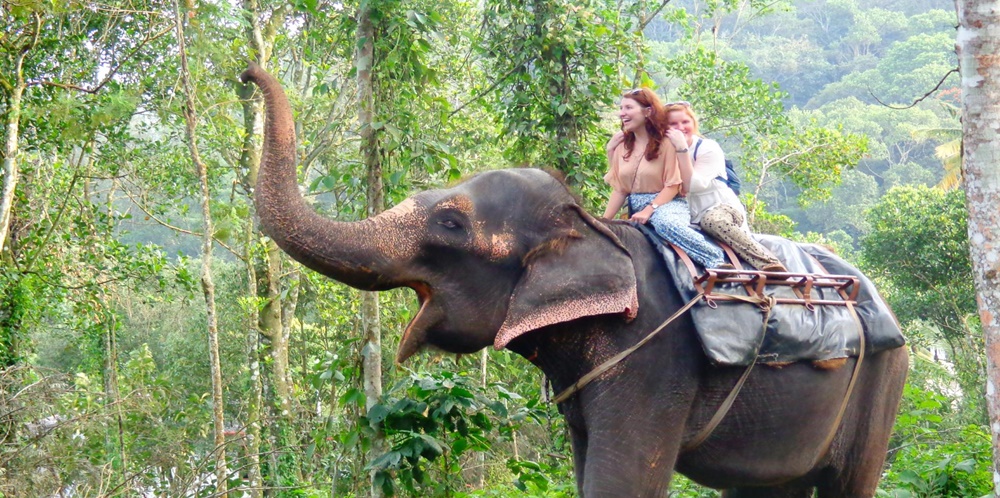 Image Source
Kerala is quite famous for its elephants and their rides. If you are going to visit Kerala, you must not miss a ride on the big friendly giant. Make sure you visit a place where elephants are genuinely cared for and not bred only for money. If you support the greedy institutions, they will flourish and continue to torment the silent creatures. Try visiting the Carmelagiri Elephant Park, Muthanga Wildlife Sanctuary, Elephant Junction, and Aanakoodu.
Take a look at places in Kerala that offer Elephant rides.
Paragliding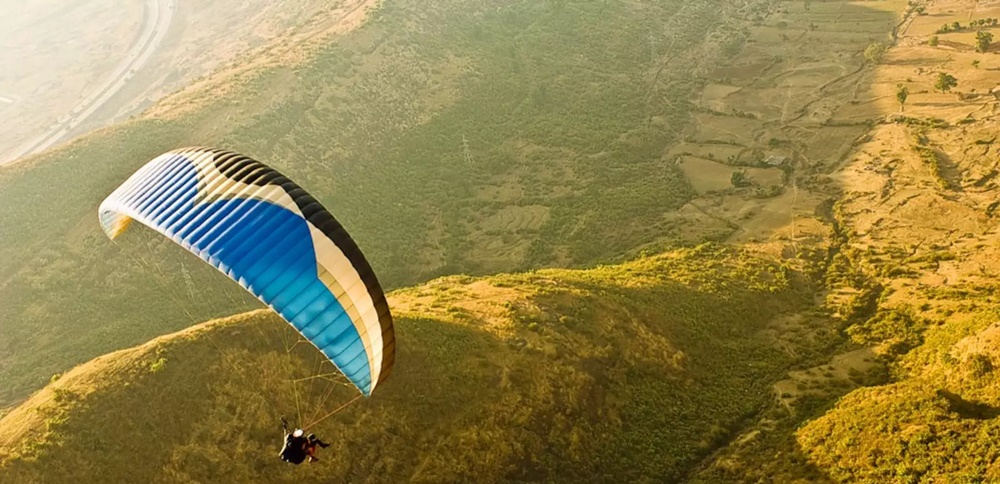 Image Source
As already mentioned, Kerala has mountains too. Therefore, paragliding seems to be an inevitable activity on this list. It is just too good to pass up. The most popular point for paragliding is Vagamon, which offers a mesmerizing and unforgettable view. The experienced staff handles everything expertly and makes it a memorable experience for you. Prepare for the experience of your lives as you sail through the clouds.
Read more about Vagamon
Boating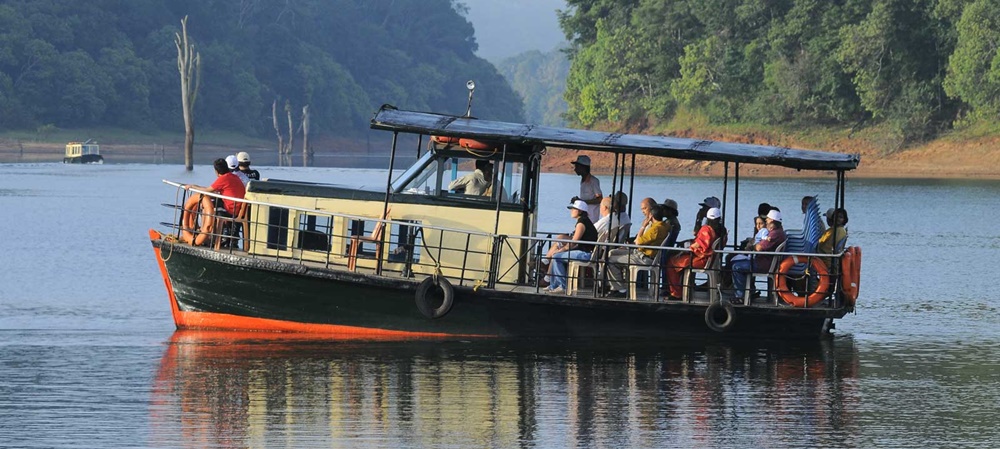 Image Source
Kerala is primarily a state that has a lot of water bodies and is situated next to the ocean. So, if we do not include any water activities on this list, it would be a shame. You can take a boat tour wherever you wish. Spend the day in your boat as you glide across the waters and witness untouched lush greenery. Make sure you don't get nausea from the rocking motion of the boat in advance or pack in a few anti-vomiting medicines beforehand.
Read about the best places for boating in Kerala.
Canoeing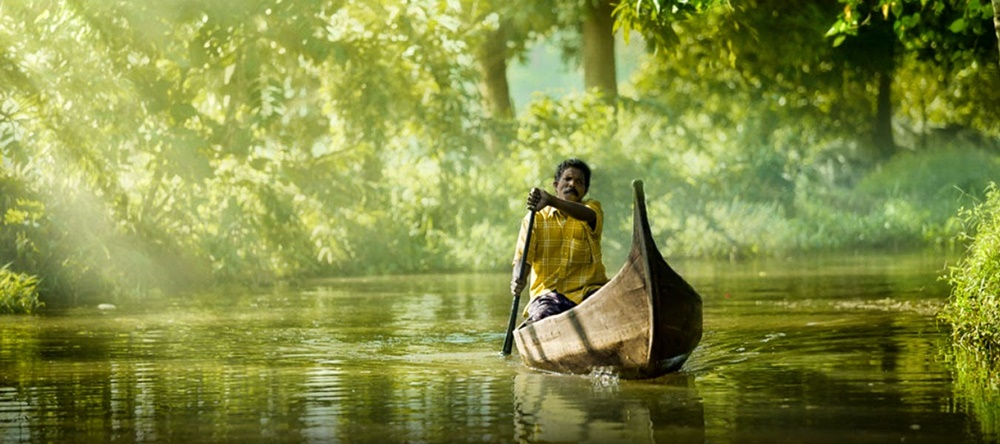 Image Source
Canoeing is a calm and graceful water activity. You can relax in the canoe with your friends and family. If you are travelling solo, this is a great way to meet new people and make new friends. Travelling in the backwaters of Kerala via a canoe is a slightly cheaper option compared to a houseboat. This is something you should consider if you are travelling on a budget and do not want to miss out on the backwaters.
Read why canoeing is a perfect activity for adventurers.
Kayaking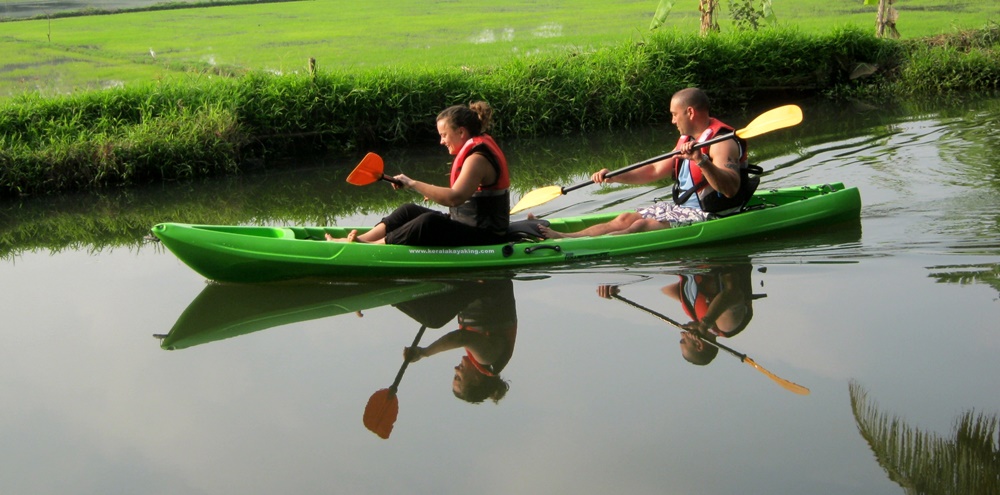 Image Source
This is regarded as one of the best water activities if you want to engage in something calm and on your own. There is, however, a supporting boat so that you can take turns on the kayak (if you're in a group). This size-efficient kayak can guide you through canals and passages that are impenetrable with a houseboat or cruise. You are also more close to the water and the locals that reside there.
Take a look at the best Kayaking spots in Kerala.
Houseboat Cruise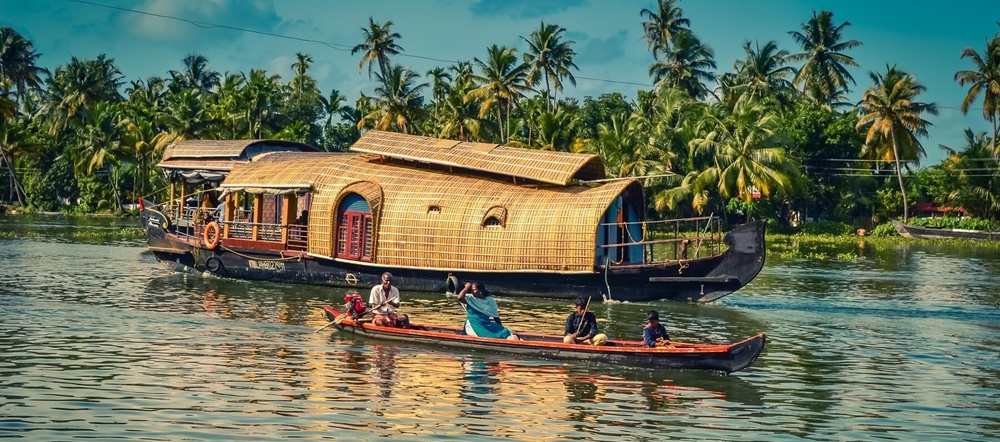 Pic Courtesy: Travelogy India
A houseboat cruise is a splendid experience for those who can afford it. Spend the entire day lounging in your houseboat as they take you through the picturesque backwaters. You can dine on your favourite delicacies while you are cruising, courtesy of the chefs on board. Spend a peaceful night in the houseboat and wake up the next morning feeling thoroughly recharged by the green wilderness.
Find out what happens on a typical houseboat cruise.
Cooking Class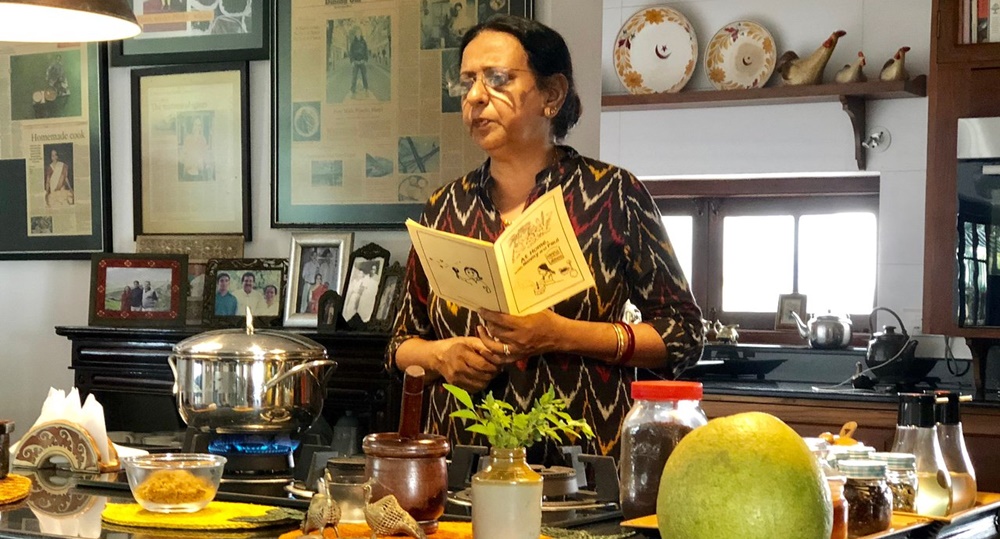 Image Source
Did your taste buds love the taste of the rich Sambar? Or was it the Palada Payasam that stole your heart? Don't be so quick to get sad; you can take all these flavours back home. Try out the various cooking classes in Kerala to get the hang of the preparation of these dishes. These classes are guaranteed to be an amazing culinary experience as it offers you a chance to learn the art of cooking in a completely different cuisine.
Check out the best cooking classes in Kerala.
Village Walks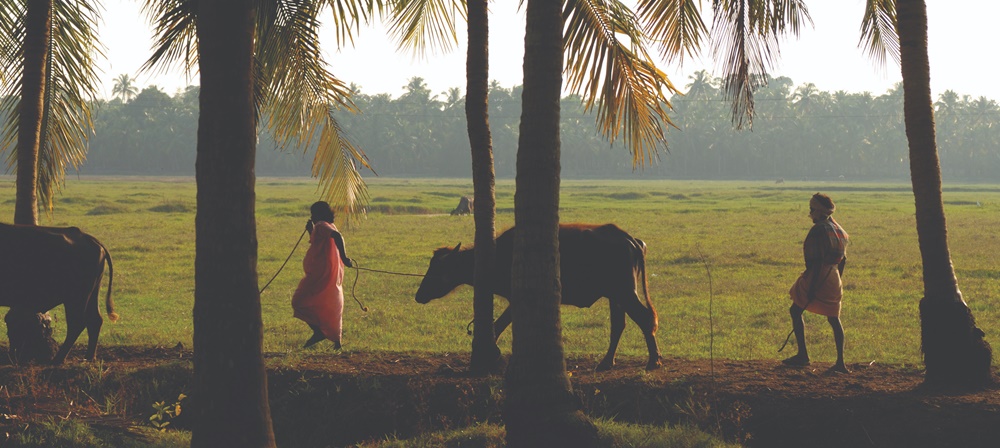 Image Source
A simple life is the best life. So, why not experience it while you are in Kerala? Take a walk through the roads of villages in Kerala to get a taste of village life. Try walking through different sections of Kumarakom, Alleppey, Kollam, and Rameswaram to experience Kerala's life at its finest.
Find out which places in Kerala are great for village walks.
Spice Plantation Visits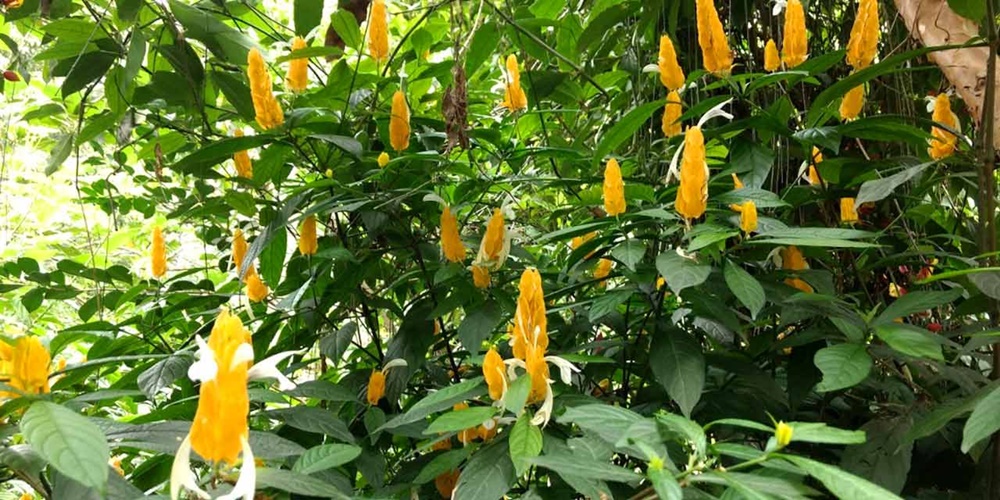 Image Source
Spices make an integral part of the Indian diet and are naturally the stars of the cuisine of Kerala. Families are known to pass down the secret Sambar recipe through the generations. So, is this why the traditional family Sambar tastes so good? To understand where it all started, take a trip to the local spice plantation to visit and witness the exotic spices in all their originality.
Read about the best spice plantations in Kerala.
Yoga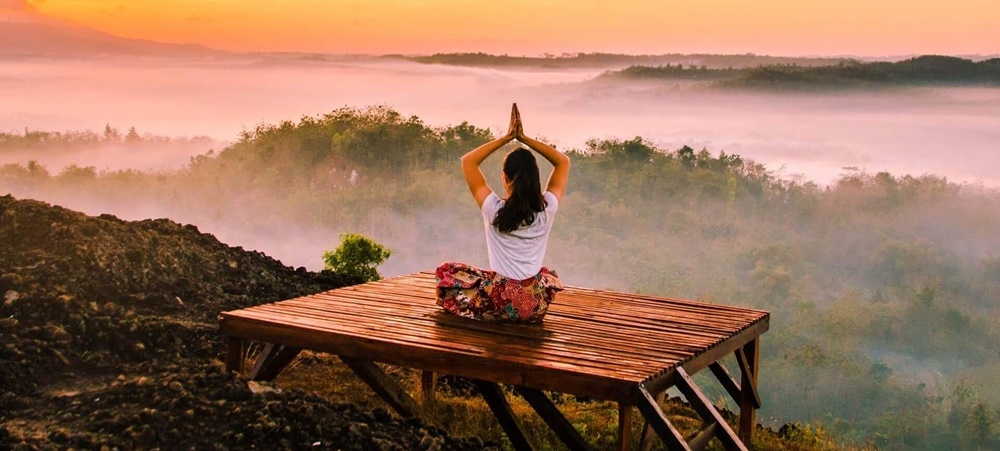 The health of the body is of prime importance, and there is no better way to achieve it than through yoga. You can take yoga sessions all through the duration of your trip, and you are guaranteed to return home with new vigour in your steps.
Ayurveda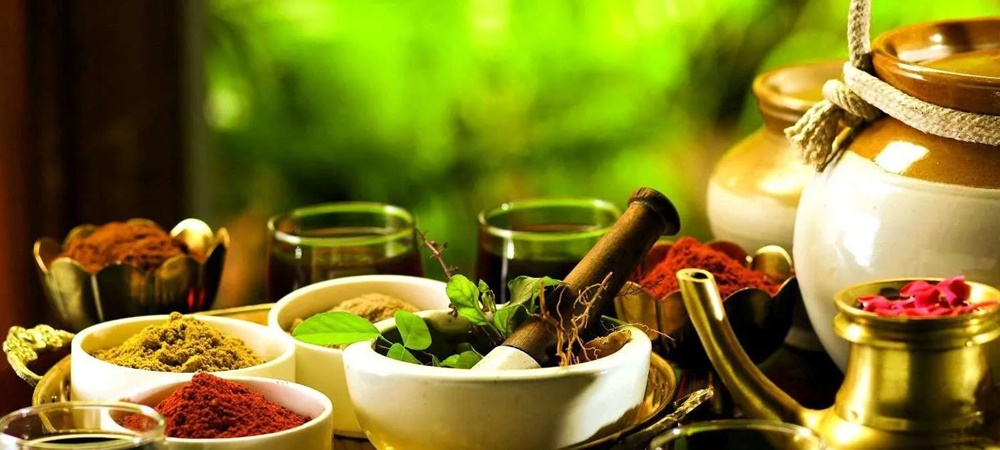 Image Source
Many travelers from all over the world visit Kerala to experience rejuvenation through ayurvedic therapies. Some even take ayurvedic treatments for alleviating health concerns. Ayurvedic treatments are known to be effective and do not have side effects because they use organic medicine and the methods have been tested and proved effective for some thousands of years.
Look at the best ayurvedic centers in Kerala.
Bird Watching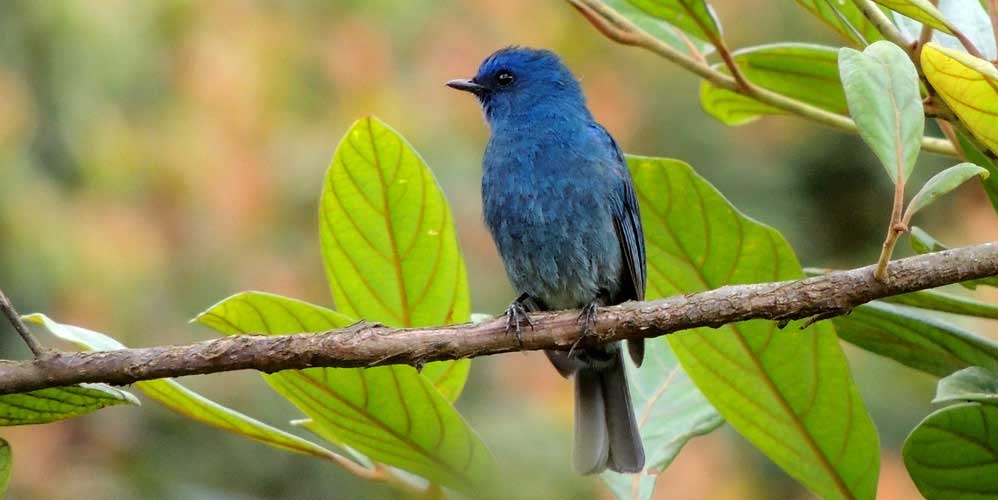 Image Source
Kerala is known for the exotic birds and animals present in its wildlife reserves. Take some time out from your schedule to watch some of the annual avian visitors of Kerala. You can visit the Chinnar Wildlife Sanctuary, Kumarakom Bird Sanctuary, Thattekad Bird Sanctuary, or the Tholpetty Wildlife Sanctuary for this purpose.
Check out the best bird-watching spots in Kerala.
Cycling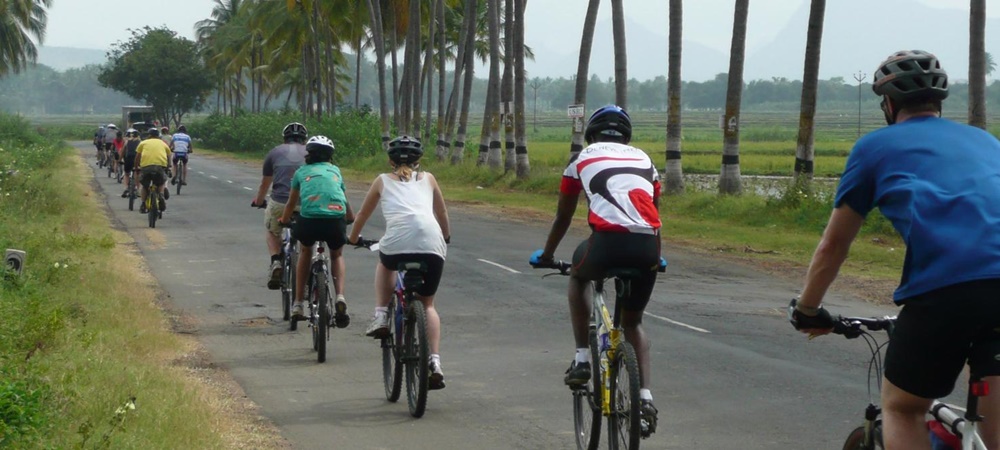 Image Source
Forgo the petroleum-run vehicles for the environmentally friendly alternative. Taking bicycles for sightseeing in the city ensures that you get to enjoy the tourist hotspots at your own pace. You can go on an exclusive cycling trail such as Munnar to Annamalai or Valparai to Athirappilly to enjoy the scenic beauty it offers.
Have a look at the best places for cycling in Kerala.
Jeep Safaris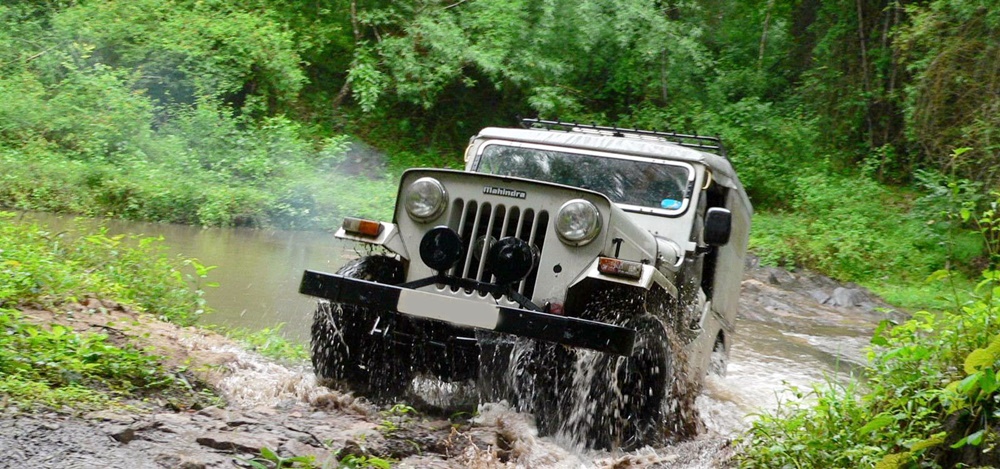 Image Source
If you can go bird-watching at a bird sanctuary, then you should definitely go for a jeep safari in the wildlife reserves. There is nothing like enjoying a ride in the middle of animals as you watch them in their natural habitat going about their daily routine. Try out the jeep safaris in Tholpetty Wildlife Sanctuary, Gavi Forest, and Munnar for the ultimate experience.
Read about the jeep safari experience in Kerala.
Fishing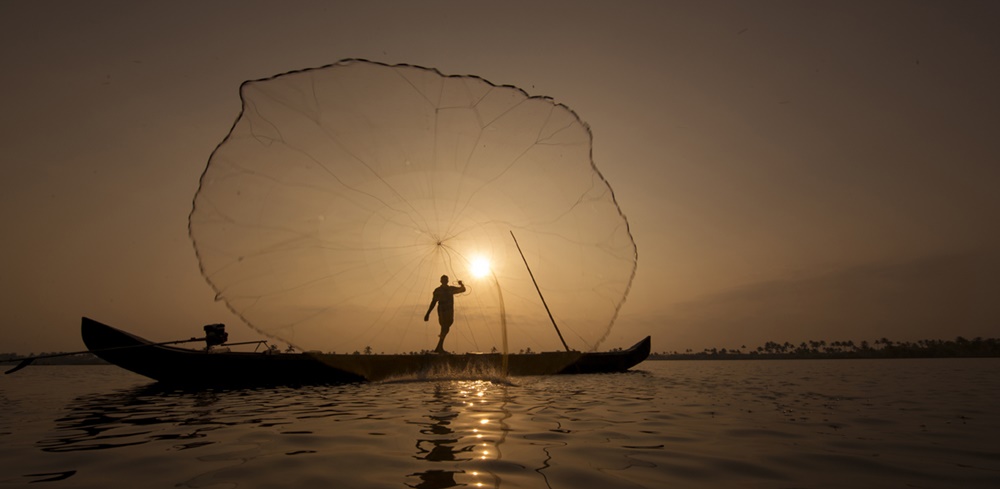 Image Source
Everyone should enjoy a little fishing trip at least once in a lifetime. Even if you do not capture any fish, the memories will stay with you for a lifetime. If you manage to catch a fish, you can have it for dinner if you want to. The top fishing spots include Kochi and Alappuzha.
Local Family Visits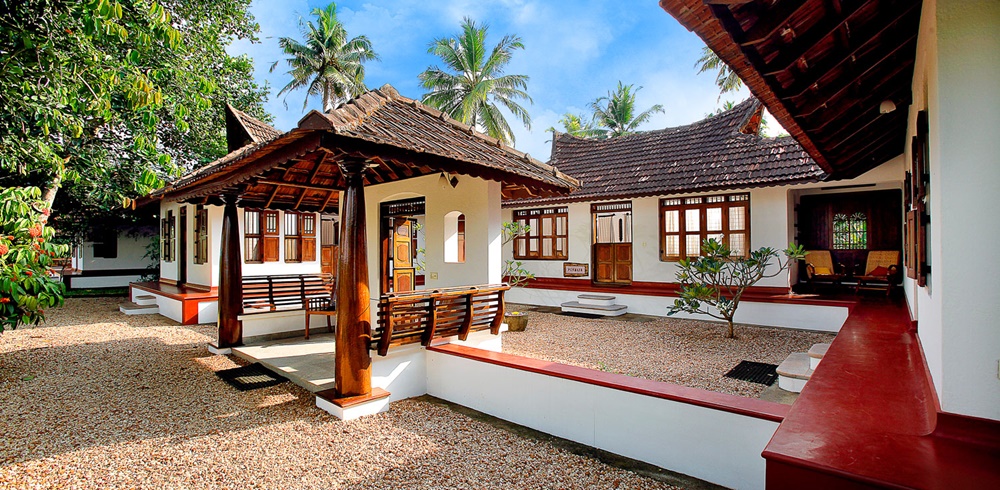 There is nothing better than a completely authentic experience of Kerala when you decide to stay with a local family or visit them. From teaching you about the festivals of Kerala to enjoying authentic home-cooked meals with you, this stay with the local family is sure to expand your mind in terms of cultural diversity.
Toddy Tapping & Toddy Shop visit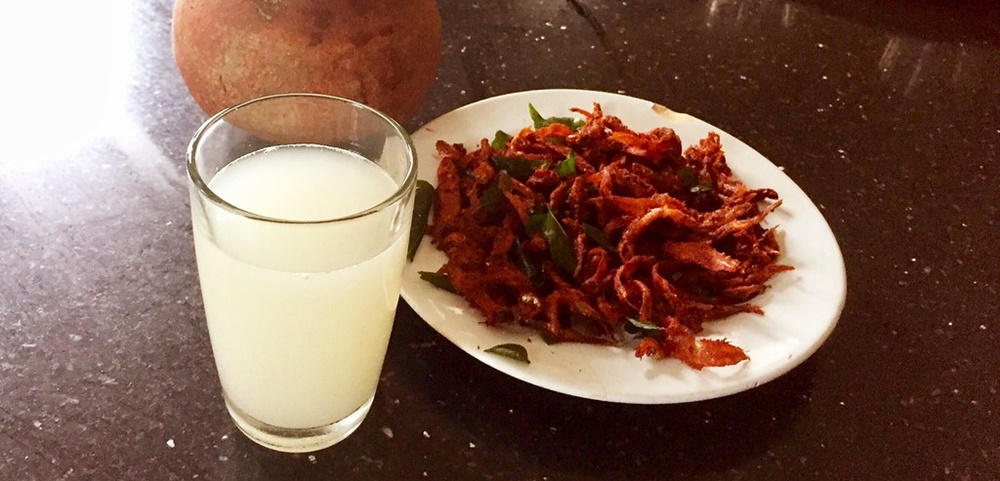 Image Source
Toddy is an iconic alcoholic beverage of Kerala that is worth savouring. Learn to carefully select the appropriate palm trees for toddy tapping before the actual process begins. You can buy toddy from the many shops that specialize in this.
Take a look a the best places for toddy in Kerala.
Scuba & Snorkeling (Kovalam)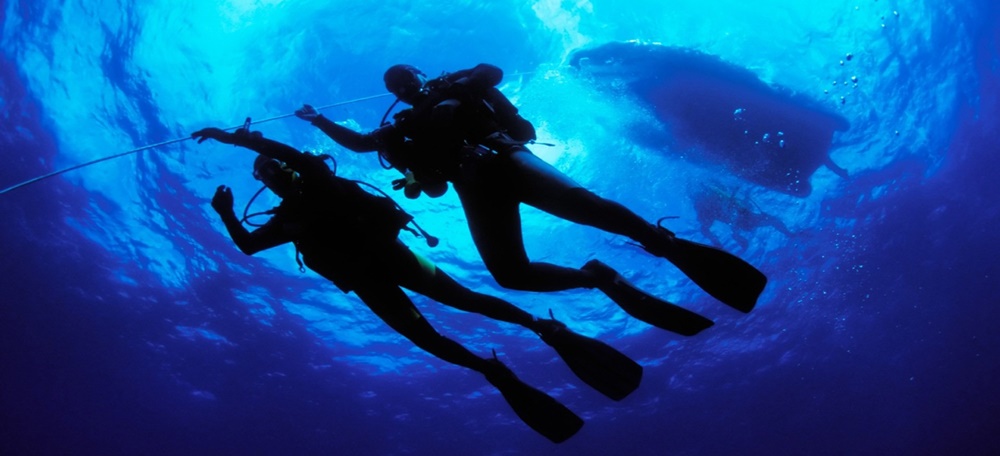 Image Source
Scuba diving and snorkelling are the staple activities of any traveller visiting any coastal place. Discover marine wonders as you immerse yourself in the depths of the blue waters. Make sure you are availing the services of a certified professional and that all the safety equipment is intact.
Read more about Kovalam
Speed Boating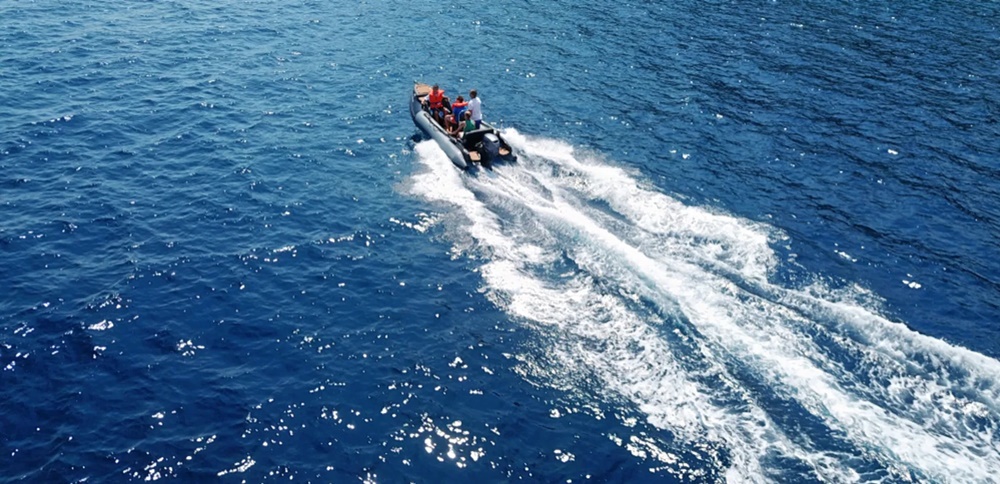 Pic Courtesy: Thrillophilia
If stepping into the water isn't your cup of tea, you can go for a ride on a speed boat. Enjoy the salty wind in your hair, and the oceanic spray across your face as you whip across the water.
Shopping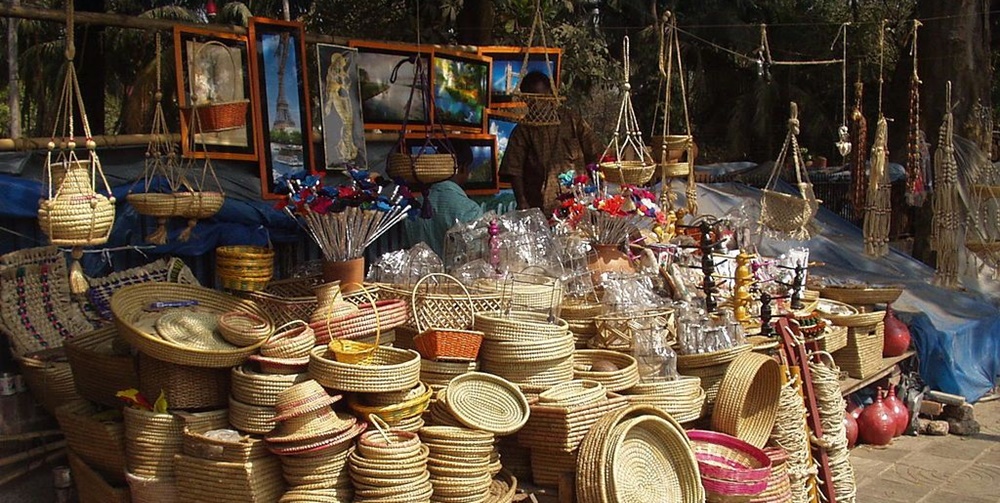 Image Source
Shopping doesn't always have to be related to clothes. In Kerala, you can shop for tea, coffee, spices, banana chips, cashew nuts, Kasavu Mundu, jewellery, aroma oils, and handicrafts.
Find out the best things you can buy from Kerala.
(Visited 405 times, 1 visits today)